---
INSTANT POT VEGAN MINESTRONE SOUP
RECOMMENDED VIBE:
Here's an album I thought you might enjoy while cooking this recipe ?
---
Healthy AND Hearty!
Minestrone soup is about as comforting as it comes! Savory, tomatoey goodness with tender beans and delicious pasta – YUM!
Gather it up!
As always, I strongly recommend that you take a quick inventory of the ingredients and gather everything together before you get started. Not only does this ensure that everything is within reach when you need it, but it also gives a great reminder to look over the recipe before you start! (Sorry to sound like your 7th grade social studies teacher ?, but reading all of the directions before you begin DOES have its value!)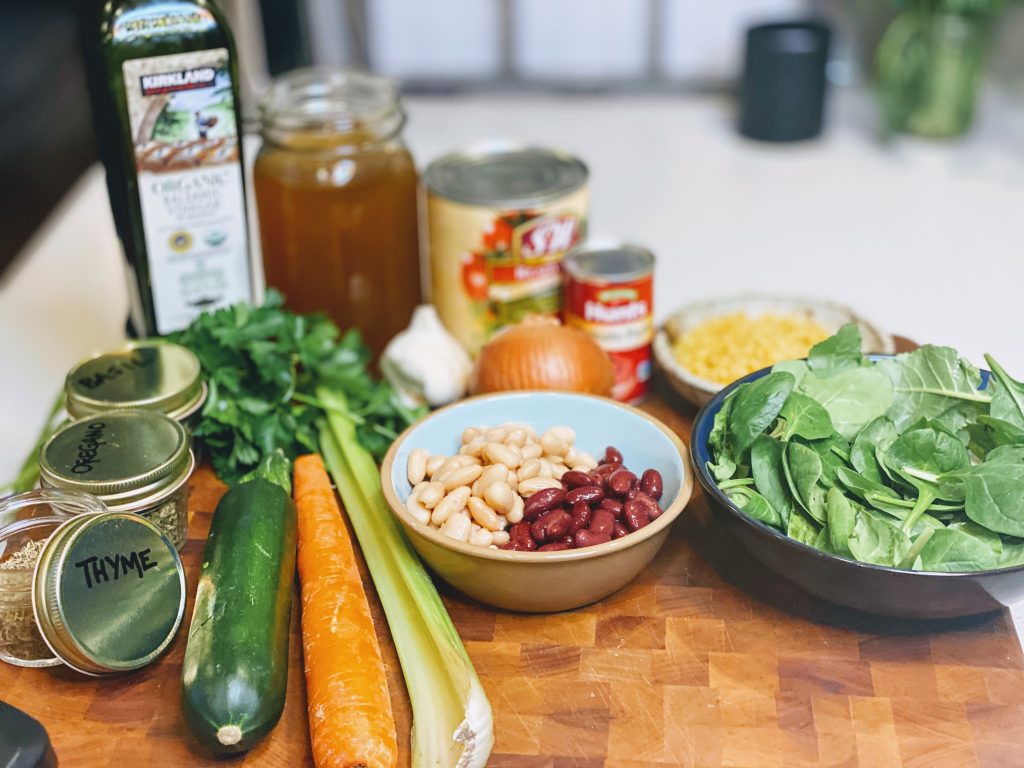 Prep time
Once you've gathered up everything you'll need for your vegan instant pot minestrone soup, the next step is to measure things out and do any chopping and prepping needed. Then, all you have to do is grab each ingredient as you need it! I recommend having a set of inexpensive prep bowls that you can use in the kitchen – they will make your life a lot easier, I promise!
Let's get to it!
This vegan instant pot minestrone soup recipe is truly easy, and ready in minutes!
Start by setting your instant pot to the SAUTE mode. Pour your oil into the pot, and wait for it to heat up until the oil is shimmery.
Add the onions and garlic and stir constantly for 2 minutes or so. Just enough time to 'wake up' the garlic and start to soften the onions a bit.
Next, add all the remaining ingredients EXCEPT the zucchini, beans and spinach. Give it a good stir to combine and then secure the lid on the instant pot, making sure that the valve is set to SEALING.
Press CANCEL on your instant pot to turn off the saute mode. Then, set to MANUAL on HIGH PRESSURE for 2 minutes. Yes, only 2 minutes! Now, it will take the instant pot a few minutes to heat up and build pressure. The 2 minute clock doesn't start until things get to full pressure.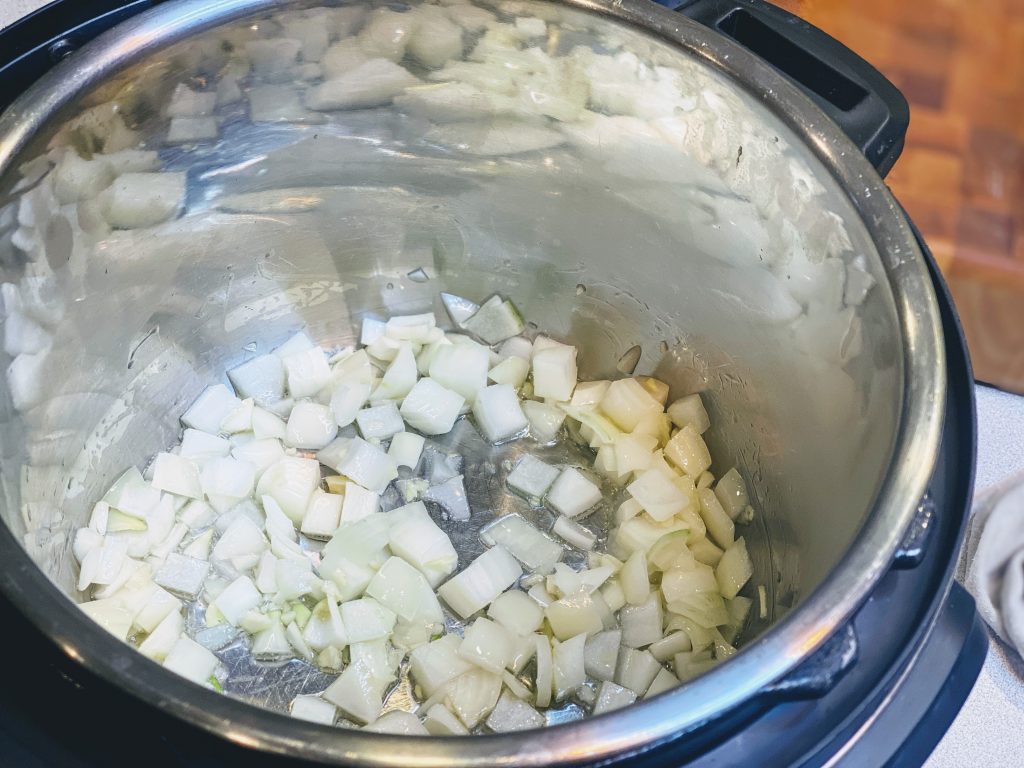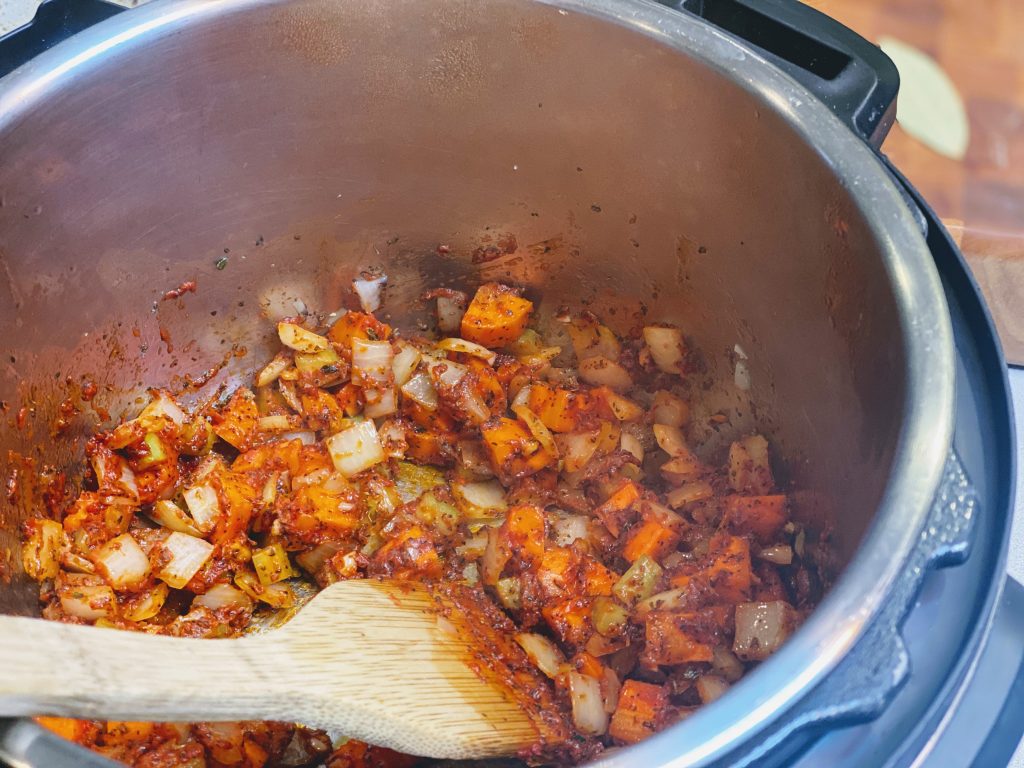 Next steps
Once the instant pot has reached pressure and then cooked for 2 minutes, go ahead and manually release (aka 'quick release') by switching the valve from SEALING to VENTING.
CAUTION: When you manually release the pressure from the instant pot, there will be a large rush of steam from the valve. Be sure that your hands and face are not near the valve. I like to use a spoon or utensil to move the valve, and I also like to put a folded towel over the top so that the steam doesn't steam up the cabinets, windows, eyeglasses, etc.
After the quick release, remove the lid and add the beans and zucchini. Press CANCEL to end the current mode and then press SAUTE. Cook the soup for 5 minutes to soften the beans and zucchini.
Finish it off!
After 5 minutes of cooking the beans and zucchini, it's time to add the final ingredients to your vegan instant pot minestrone soup. Add the spinach (kale works great, too!) and give it a good stir – it will wilt down almost immediately. Add the vinegar and stir it through before tasting.
This is the time to make any last-minute adjustments. You can add salt & pepper as needed, and this is also the perfect time to add more water if you like your minestrone on the thinner side.
Soup's on!
We love this vegan instant pot minestrone soup with a loaf of good crusty bread and a glass of red wine. If you like, you can garnish with some chopped parsley and grated parmesan cheese. (Parmesan is not vegan!) If you have a bottle of 'good' olive oil for finishing things off, a drizzle of that would be excellent as well!
Try this delicious vegan minestrone soup with these recipes from Food By Joe:
Check out these delicious recipes from Food By Joe: