---
PAN FRIED DOVER SOLE FILLET
RECOMMENDED VIBE:
Here's an album I thought you might enjoy while cooking this recipe ?
---
Simplicity
I sometimes forget how delicious a simple piece of fish can be! A quick pan fry works with many types of fish, and this method for pan fried Dover sole fillet can be applied to any thinner white fish like tilapia, trout, and even smaller pieces of halibut and cod.
The reason I say 'smaller pieces' is that, once a fillet gets thicker than ½" or so, it takes longer to cook all the way through, and that can cause the outside to burn before the inside is cooked. If you think your fish is on the thicker side, just cook at a slightly lower temperature (just below medium) and the outside will cook a bit more slowly, allowing the inside a chance to keep up!
Crumbs or no crumbs?
For this pan fried Dover sole fillet method, I am using some of my own homemade bread crumbs, which come from Wonderful Wife's delicious sourdough loaves. You can use any sort of bread crumbs, but if you are going with store-bought, I highly recommend going with panko-style breadcrumbs for maximum crispiness.
You can also do this method without breadcrumbs! If you want to go that route, just ignore the egg and breadcrumbs and just dredge lightly in seasoned flour. The cook time will be very similar and you'll still get some crispness on the exterior – just a bit less crunchy!
Gather up your ingredients
As always, I highly recommend that you take a moment before each recipe to look through the ingredients and gather everything you'll need. That way, you know you have enough of everything, and it will all be easily in reach when you start cooking.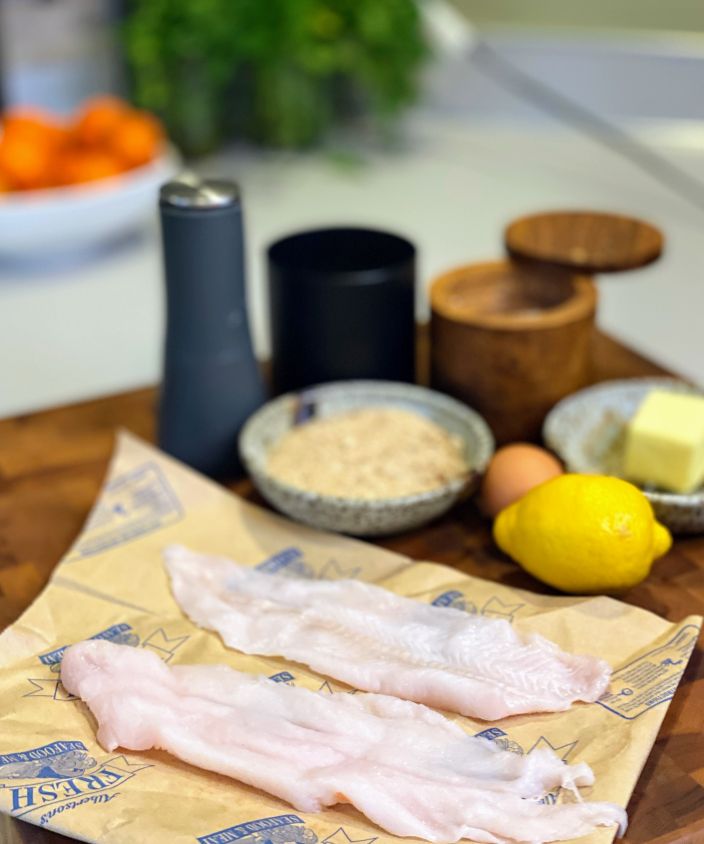 Quick rinse
Start by giving the Dover sole fillets a quick rinse in cold water, and pat them dry completely with a paper towel. I also use this to run my hands over the surfaces of each fillet to be sure there are no large bones or scales left behind.
Tis the season
Season both sides of each fillet with salt & pepper, and set them aside while you get the breading materials ready.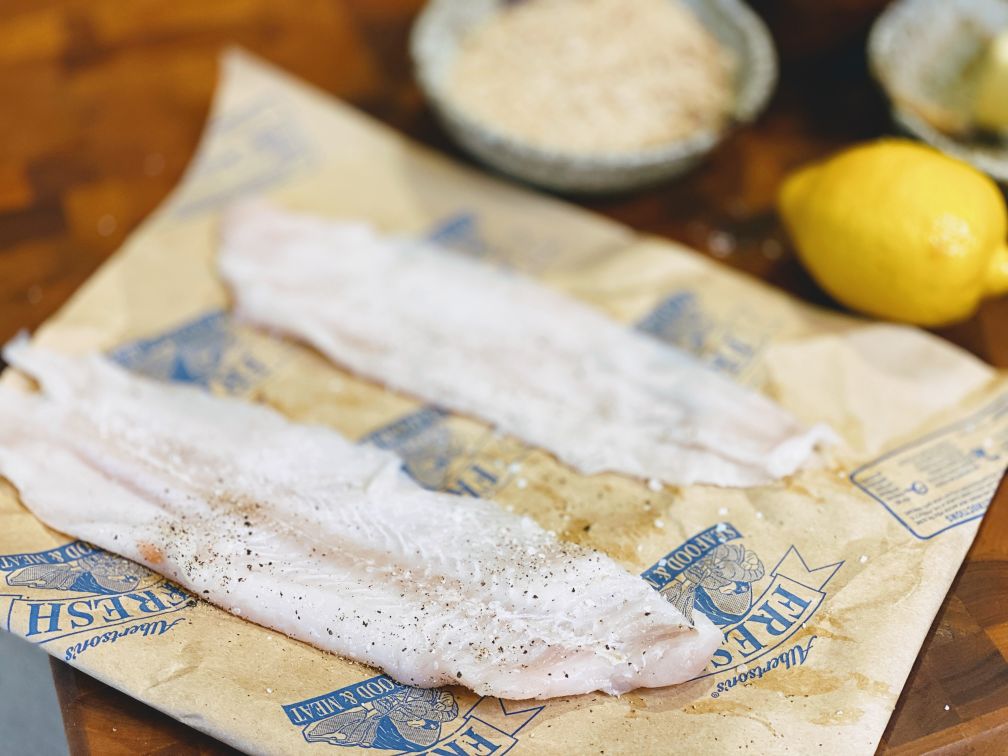 Flour & eggs & breadcrumbs OH MY!
To set up the dredging area for your pan fried Dover sole fillet, you'll need 3 shallow plates or containers. You want something flat enough to lay the fillet down, but not so big that the breading spreads too thin.
FIRST is a simple flour dredge. Add a pinch of salt and a few turns of black pepper and give it a stir. Spread it out as evenly as you can in your first dish.
SECOND is an egg wash. This is just a lightly beaten egg! Crack it onto your dish and use a fork to beat it up a bit.
THIRD is the breadcrumb dredge. If your crumbs are not seasoned, go ahead and add a pinch of salt and a few turns of pepper.
Step 1: Flour
For the flour step, just lay the fillet in the flour and press to make sure the flour gets into every nook & cranny. You don't need to be in a hurry on this step. Just make sure you've gotten all of the surfaces floured, and give it a shake to let any loose flour fall off.
Step 2: Egg
Once your fillet is dredged in flour, it's time for a quick egg bath. Just run the fillet through the egg on each side, fully wetting the flour but not washing it away.
You don't want to leave the fillet sitting in the egg – that will wash a way all of the flour we just added!
Step 3: Breadcrumbs
The last layer is breadcrumbs. At this point, the flour and egg are providing a perfect 'glue' to get the breadcrumbs to adhere! Just like with the flour, you just want to lay the fillet in the breadcrumbs and press gently to make sure everything is coated. You can flip the fillet over to get the other side, or just sprinkle crumbs on top and pat them down with your hands.
Be sure you have enough breadcrumbs! You want them to completely coat and 'dry up' the egg wash. If you end up with soggy, sticky fillets, you have too much egg and not enough breadcrumbs. In a pinch, just run under cool water, pat dry, season and start again with the flour!


Fry time!
These pan-fried Dover sole fillets will cook in butter melted over medium heat. A stainless steel pan works well for this, or a nonstick skillet.
Heat the pan over medium heat, and then add the butter, Let it completely melt until it stops foaming.
Lay the fillets in the pan carefully. If you are making more than 2 filets, work in batches so that you don't overcrowd the pan.
The Dover sole fillets will cook for 2-3 minutes per side.
What to watch for
You want there to be a good sizzle in the pan, but you don't want the butter to be spattering or burning. If the pan seems too hot or the fish seems to be cooking too fast on the outside, slide the pan off of th eheat and add another teaspoon of butter or oil to cool the pan. Nudge the burner down a bit and return to the heat.
Once both sides of your pan fried Dover sole fillets have cooked for 2-3 minutes and gotten a nice golden brown, transfer them to a paper towel to cool 2-3 minutes before serving.
Easy, FAST and delicious!
All told, these pan fried Dover sole fillets can be ready in around 10 minutes. Give this simple method a try with your favorite white fish!
Check out these delicious recipes from Food By Joe: