---
RECOMMENDED VIBE:
Here's an album I thought you might enjoy while cooking this recipe ?
---
What to do with that discard from your sourdough starter…pancakes!
The popularity of homemade bread, especially sourdough, really took off in 2020, as many of us discovered the joys of a slower pace and relished in domestic bliss. The result of this trend is (hopefully) that millions have discovered how easy and rewarding it can be to maintain your own sourdough starter at home. Another result is that we are all eagerly looking for ways to utilize the 'discard' from our sourdough starters. There are so many great uses, but so far my favorites are these simple sourdough pancakes.
I confess I am not the bread baker in the house. That is the realm of Wonderful Wife, who has become the resident expert in all things bready and yeasty. Not only do I have fresh bread on the regular, but I also get to explore the endless uses for bread, day-old bread, and discarded sourdough starter. (For a great way to use a day-old loaf, check out my recipe for Homemade Sourdough Croutons.)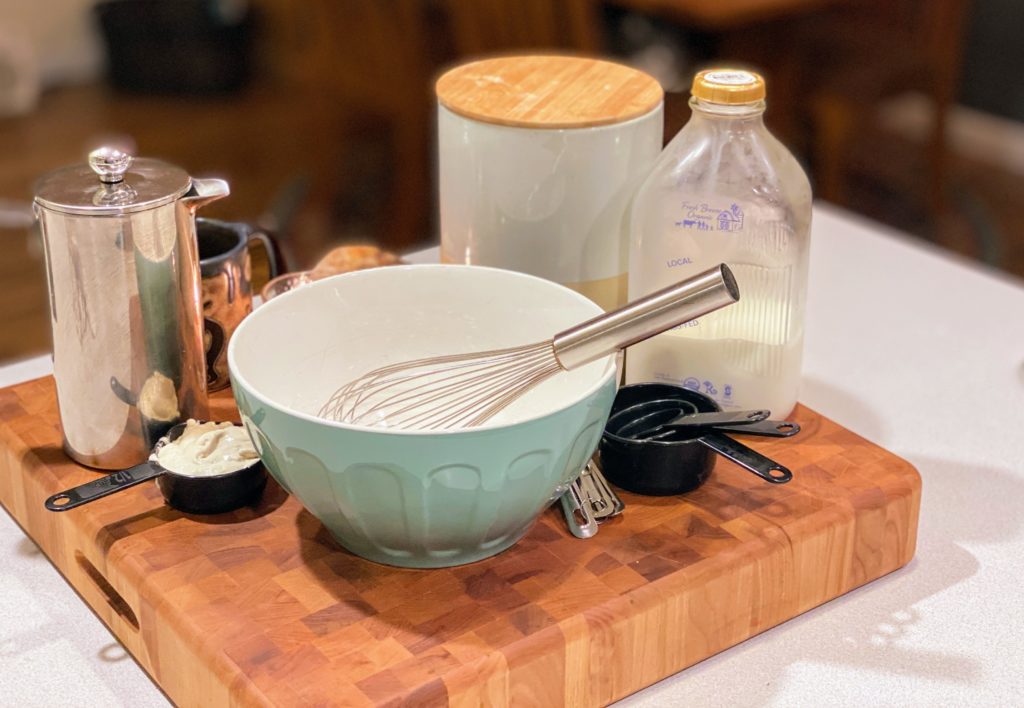 The night before…
I know, I know. OVERNIGHT RECIPES! So complicated. Sometimes, yes, I get it – planning ahead and doing complicated steps is what you want to avoid. But bear with me here, the night-before step in this recipe could not be simpler. Like, under 5 minutes! You will be more than rewarded with tangy, fluffy goodness, I promise.
If you don't want to wait overnight, at least give these 4-6 hours to sit and do their thing. We've been known to start these early in the day and have them for dinner (or dessert!).
So, before you head to bed, put 1 ½ cups of flour in a bowl with a cup of milk and ½ cup of your sourdough started discard. Cover with a clean towel, and leave out at room temp overnight. That's it! You don't even have to worry about getting it perfectly combined. Give it a stir to mix things up, and you're good.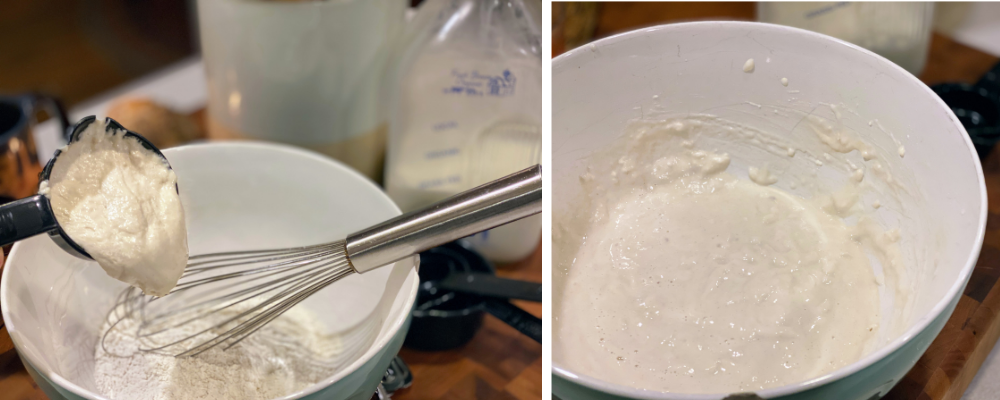 In the morning!
(Or whenever you choose to enjoy your delicious and simple sourdough pancakes)
After a night on the counter, you should see some good bubbling action happening!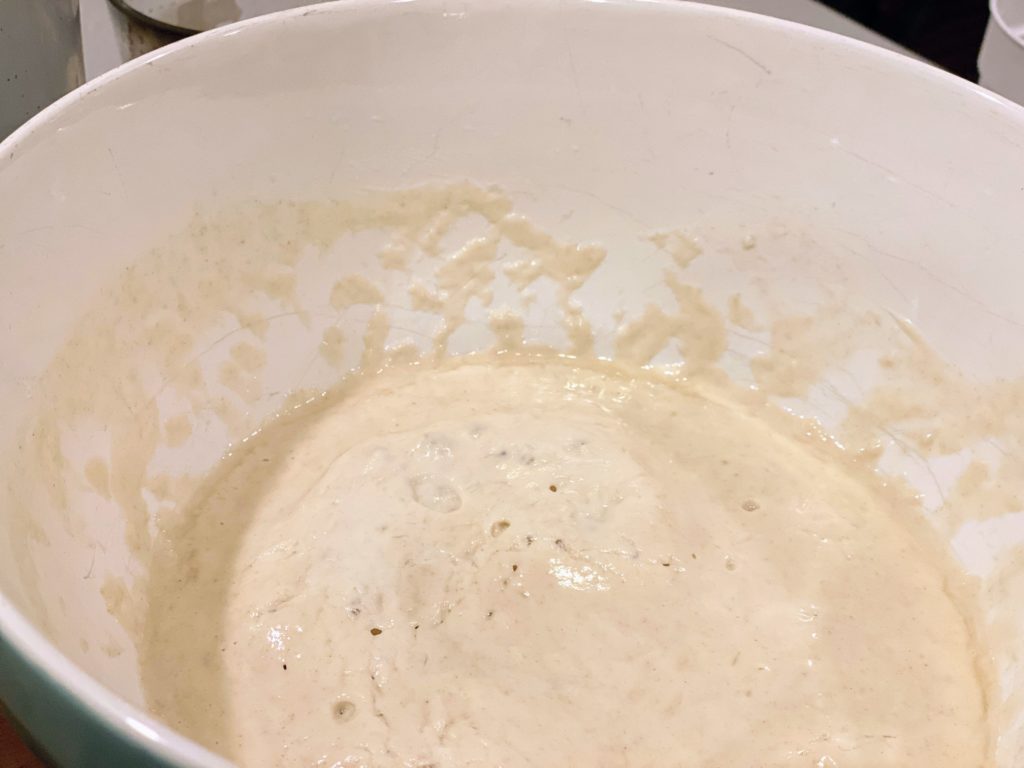 Melt the butter in a medium-sized bowl. A 30-second zap in the microwave should do it. Tip: place a paper towel over the container to avoid splattering in the microwave.
Give the melted butter a few minutes to cool, so as not to cook your eggs. While it cools, gather the rest of your ingredients together.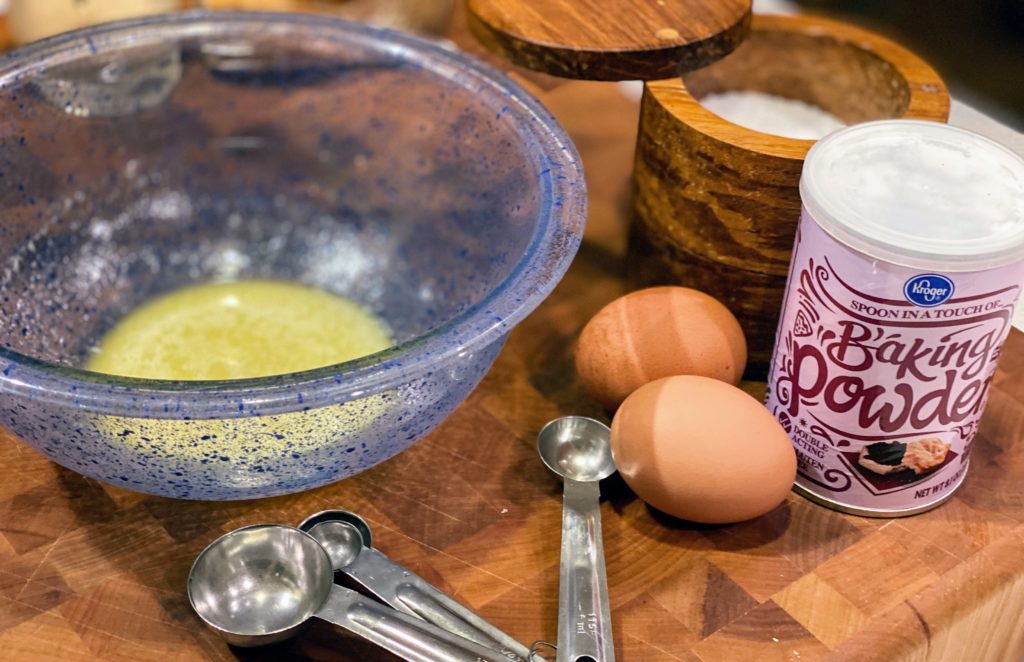 Once the melted butter has cooled a bit, add the remaining ingredients and whisk until fully combined and smooth. Add this mixture to the flour mixture and gently fold to combine. You don't want to mush the batter to the point where you pop all of those bubbles you created. Again, perfect blending is not needed here – just folding to combine.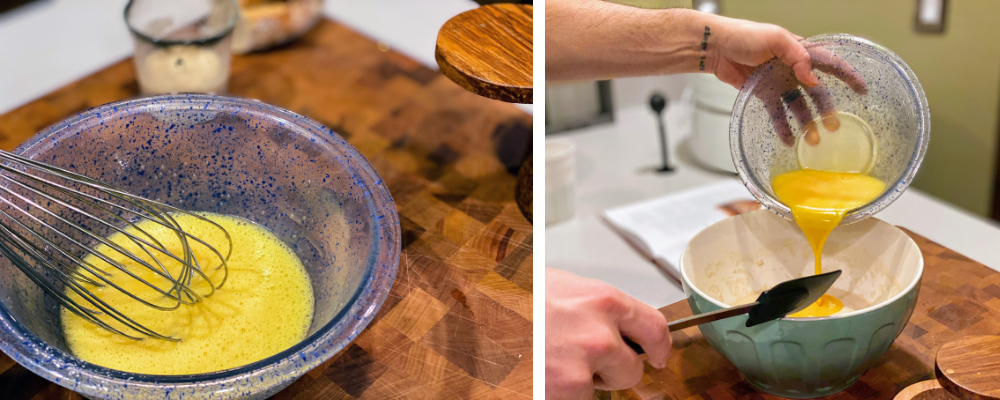 Another (little) rest
Once all of the ingredients are combined, set the batter aside to rest for another 10 minutes. Again, bubbles of gas in the batter are a good thing, so we want to give it every chance to work.
Heat your griddle
I prefer an electric griddle for these sourdough pancakes, both for the nonstick surface and also for the open, flat working surface. To start with, set your griddle to 375 and let it heat up for 10 minutes. If you're working on a stovetop, medium heat is best.
Get cookin'
When you're ready to cook, turn the temperature down to 360 or so. Place a little butter or oil on the griddle and spread it around. Using a ¼ cup measure (I'm using a ¼ cup scoop), pour the batter onto the buttered surface. On my griddle, I have room for 3 at a time.

Eagle eye
Once you've started your first batch of sourdough pancakes, simply watch them! In 2-3 minutes you should see the edges start to get just a bit crispy, and you will see the small bubbles begin to pop on the uncooked side. Wonderful father-in-law says the magic number is 7 burst bubbles. 🙂
Do watch for signs that the heat is too high. The butter might make a little smoke, but if it seems like the pancakes are burning, turn the heat down 10-20 degrees.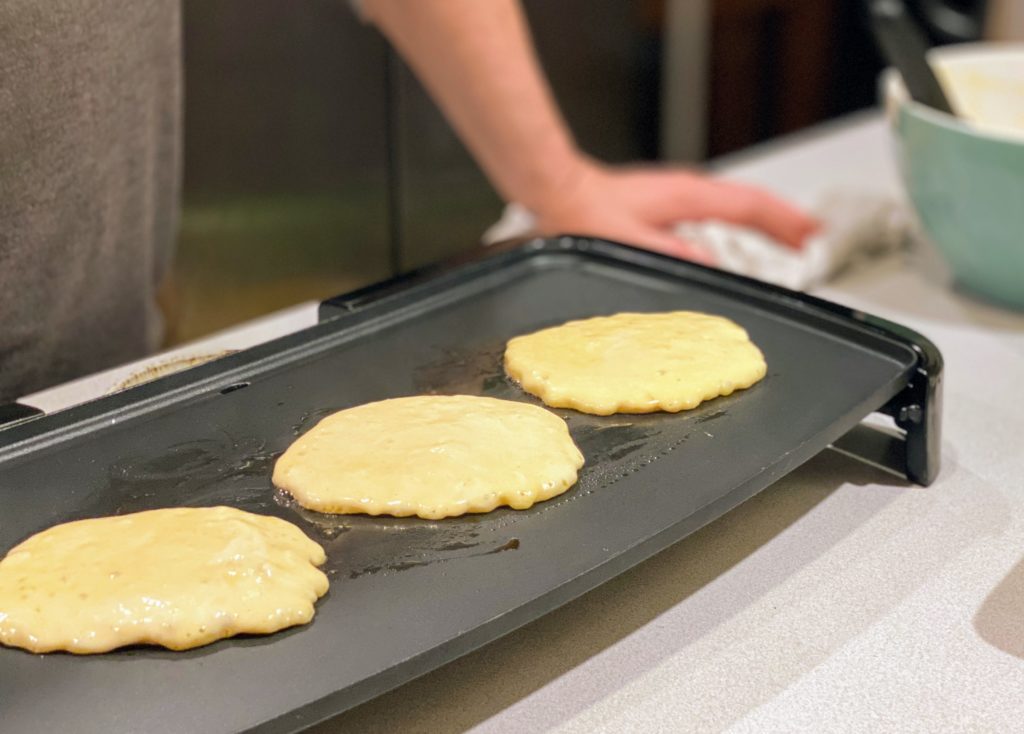 Flip it good
Once you're satisfied that the first side is golden brown and you've seen some bubble-popping happening, give them a flip. Peeking underneath is allowed, but you want to avoid flipping these more than once, so be sure things are done before flipping.
The second side usually cooks just a little faster than the first.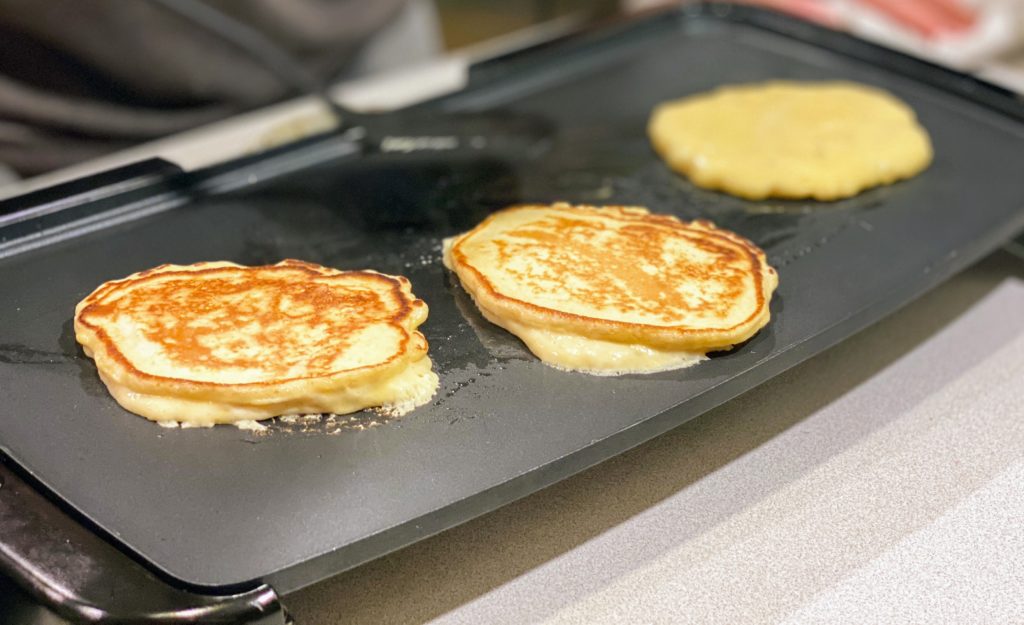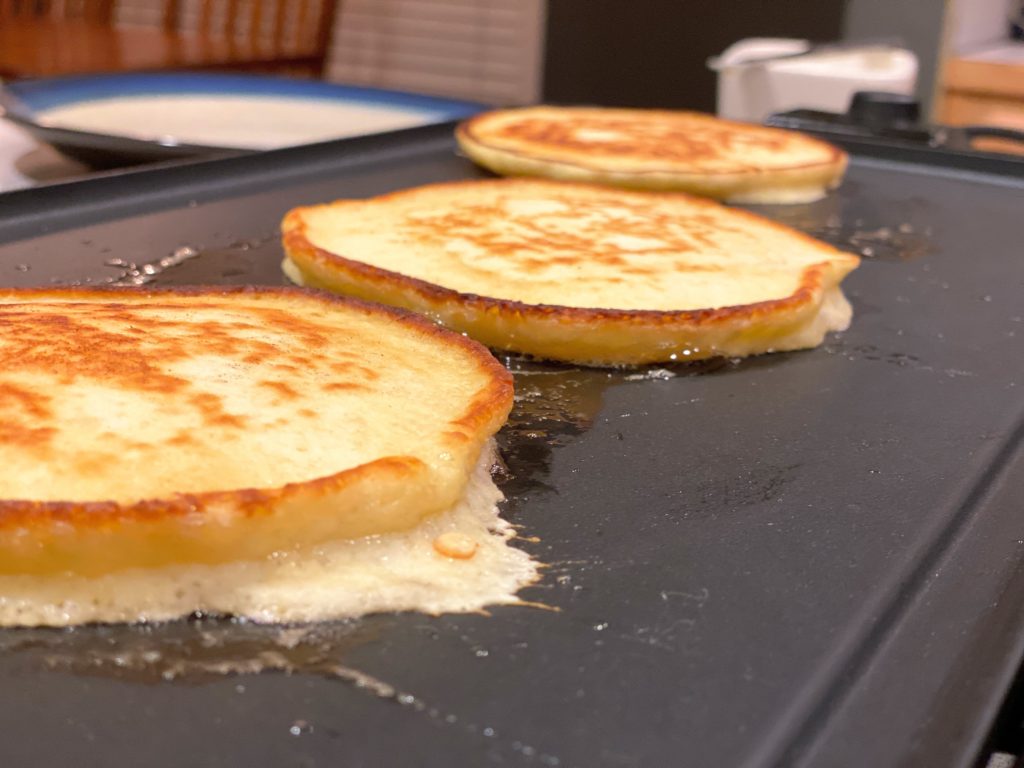 Enjoy your simple homemade sourdough pancakes!
As the pancakes finish cooking, transfer them to a plate or warm oven – but ideally serve them immediately. I hope I don't have to tell you what to put on your pancakes! I am a purist – butter and good maple syrup. Wonderful Wife likes hers with toasted pecans. Jam? Apple butter? Honey? Berries? Knock yourself out. Whatever you top these with, you will fall in love with the amazing fluffiness and marvelous tang of these super simple sourdough pancakes.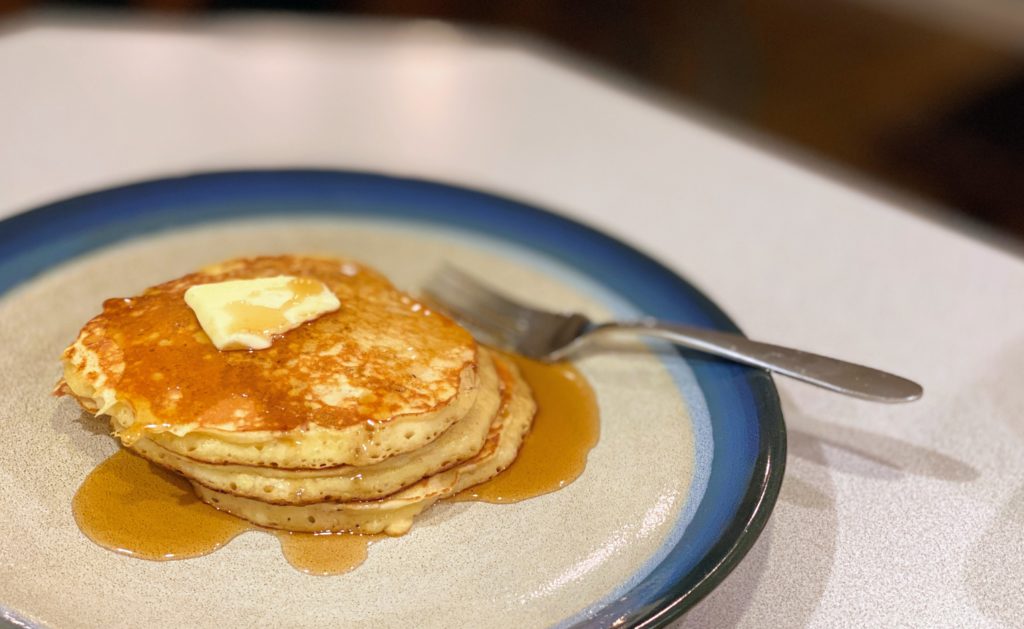 Check out these delicious recipes from Food By Joe: