---
RECOMMENDED VIBE:
Here's an album I thought you might enjoy while cooking this recipe ?
---
Vegetarian, Vegan, and Very, Very Good
This incredibly fast & easy vegetarian chili is a true pantry-pull recipe. Meaning that it is the perfect dish for when you don't have a ton on hand and you're not sure what to make. I suppose I should call it a pantry, crisper and freezer-pull, since those are the areas that get cleaned out when I make a big pot of vegetarian chili. If you get produce deliveries, have an abundant garden, or belong to a CSA or something similar, this is a great way to use up extra veggies!
I'm using onion, celery, black and kidney beans, frozen corn and fresh zucchini. Why? Because that's what we had on hand! You could use green beans, mushrooms, peas, carrot, bell peppers, or any number of veggies. Just keep to roughly the same quantities of total veggies.
Gather your ingredients
If you've read any of my recipes, you know that I am a big proponent of doing all of the prep work before beginning. Fancy chefs call this 'mise en place', which just means 'everything in its place'. I like to use small bowls to measure and prep all of my ingredients before I begin any cooking. That way, I'm less likely to forget a step, and I can sip my wine and visit with Wonderful Wife instead of frantically chopping once the clock is ticking.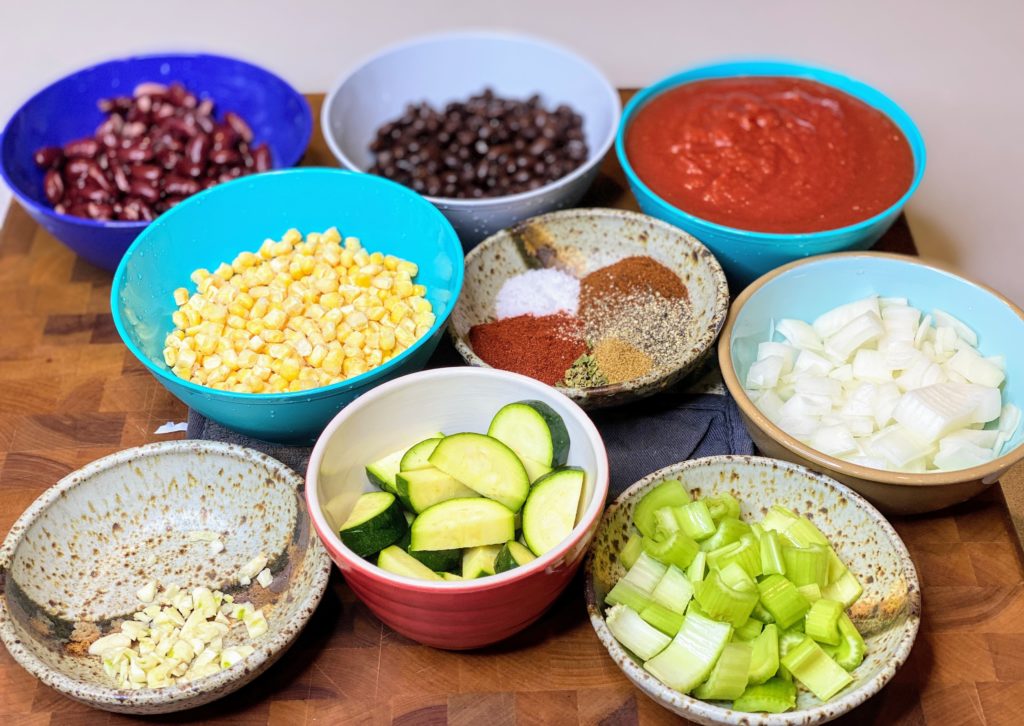 Premix your spices
For this Fast & Easy Vegetarian Chili recipe, all of the dry spices go in together in a single step. Go ahead and measure them out into a bowl, so that it's easy to sprinkle them in.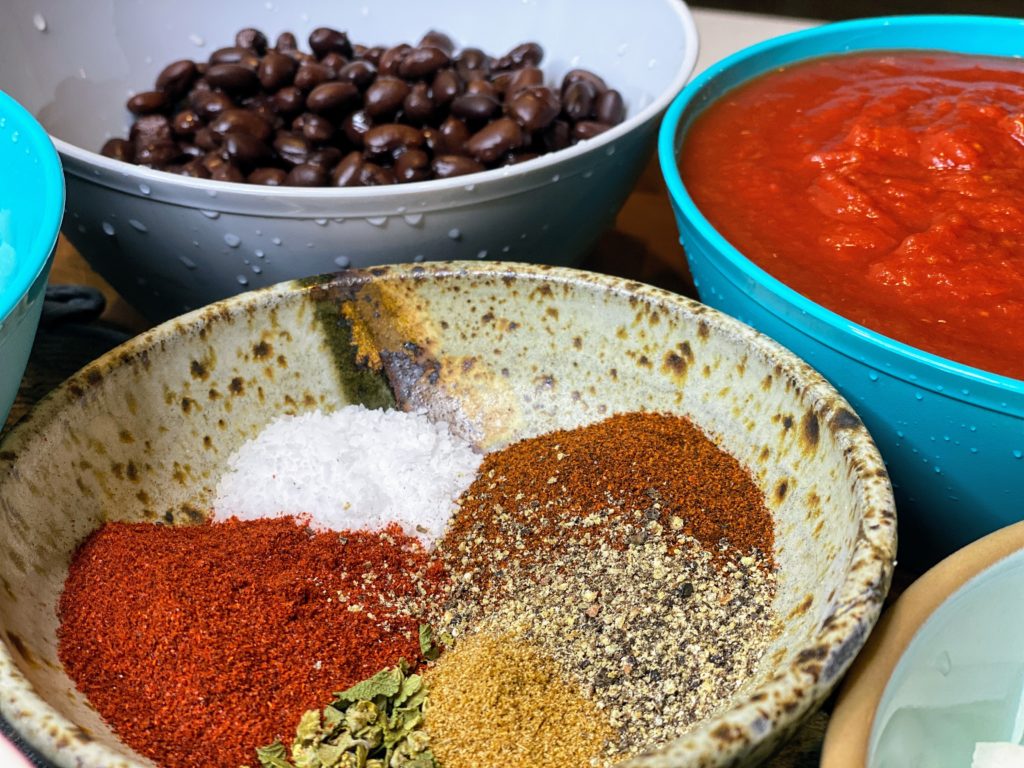 Familiar beginnings
Like many soups and stews, chili starts with sauteing some aromatics – in this case onion, celery and garlic – in a fat of some sort – in this case, canola oil. The purpose here is to just soften them up so they begin to break down a bit, release their flavor, and also release the natural pectins and sugars that will help thicken our chili.
Aromatics are key to building flavor and texture. The classic french 'mirepoix', made up of carrot, onion and celery, is a widely used beginning to many world cuisines. In Louisiana-style cajun cuisine, a combination of onion, celery and green bell pepper – known as 'the holy trinity' – forms the basis of classic dishes like gumbo and jambalaya.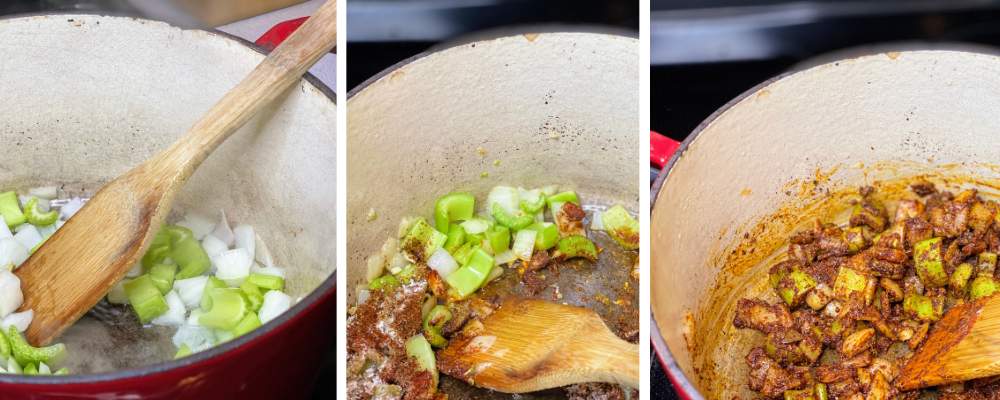 Hold back the garlic
When cooking at heat levels higher than medium or so, it's wise to hold back the garlic and let the other aromatics cook a bit first. Garlic tends to burn and turn bitter if cooked at high temperatures. You'll often see the garlic added for just a minute or so before the liquids or other ingredients are added. This gives a chance for the garlic to cook slightly and release its aroma for a short time.
We'll do the same thing with our fast & easy vegetarian chili. Cook the onion and celery for 4-5 minutes, until it starts to get shiny and slightly translucent. Then add the garlic and cook, stirring constantly for 1 minute before adding the flour and dry spices.
After adding the spices, stir constantly as the raw spices cook a bit and really infuse the onion and celery.
Once the spices have cooked out for 1-2 minutes, add the tomatoes and water. Stir to combine everything, and make sure to scrape up any good, sticky bits from the bottom – we want those!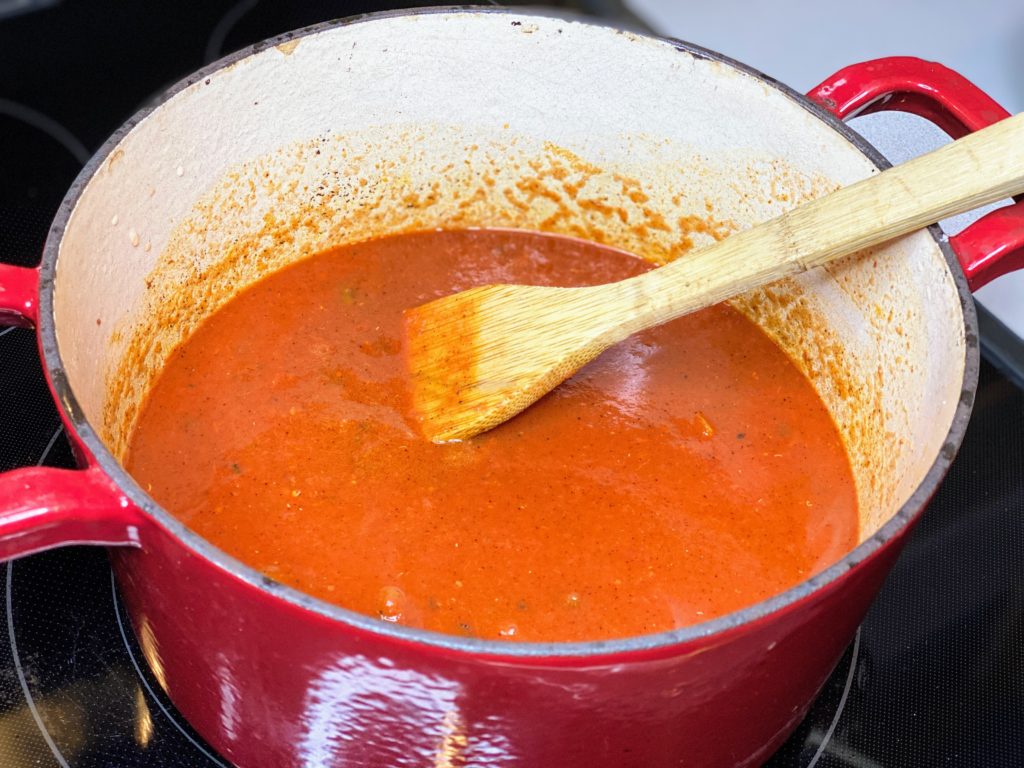 Bring to a boil, then simmer
Bring the chili to a boil over medium to medium-high heat. Allow it to boil gently for 1-2 minutes, This helps the flour do its job and start thickening things up.
After things have been at a gentle boil for a minute or two, add the beans and vegetables and reduce the heat to low.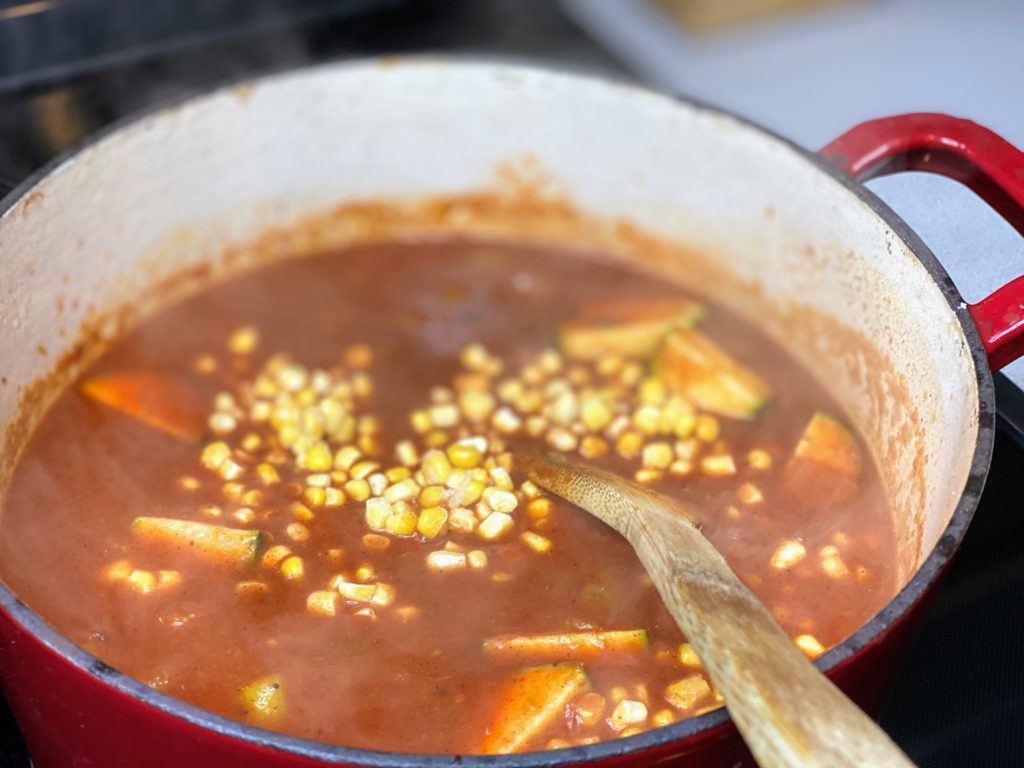 Simmer the vegetarian chili, uncovered, for 30-35 minutes until you get to your desired thickness.
Serve with a dollop of sour cream, some shredded cheddar cheese, and some fresh cilantro. We love it with our green hatch chili cornbread.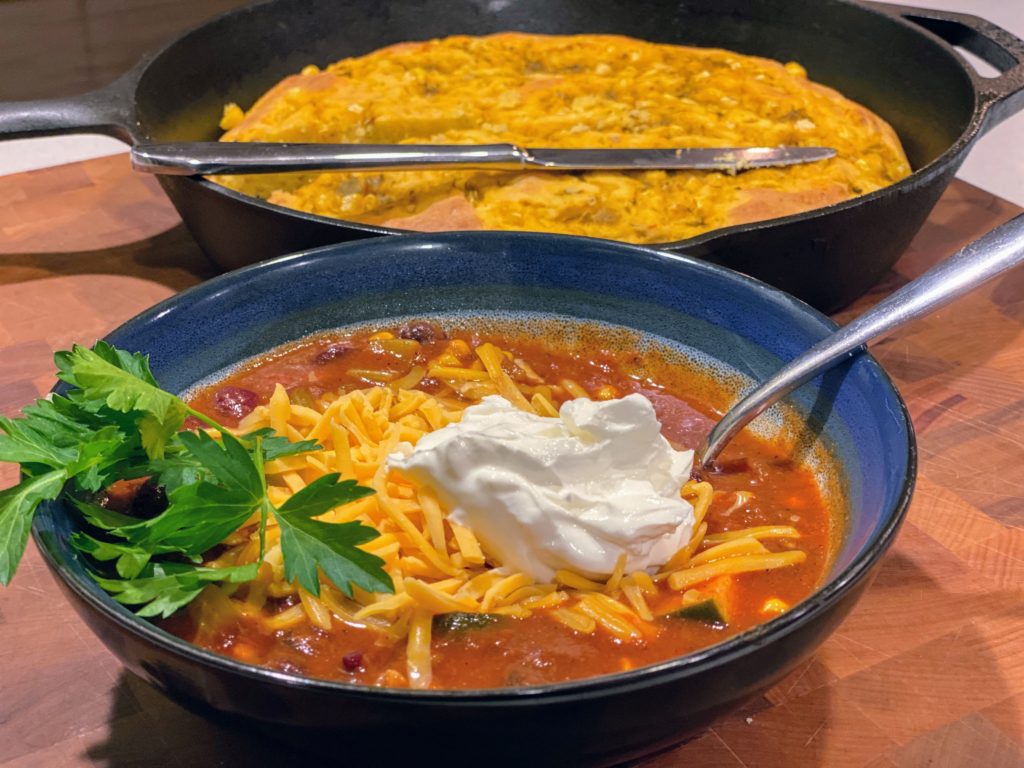 Check out these delicious recipes from Food By Joe: