---
RECOMMENDED VIBE:
Here's an album I thought you might enjoy while cooking this recipe ?
---
A new method for crispy herb garlic bread!
I came across this new method for achieving perfectly crispy garlic herb bread, and I can't wait to share it with you!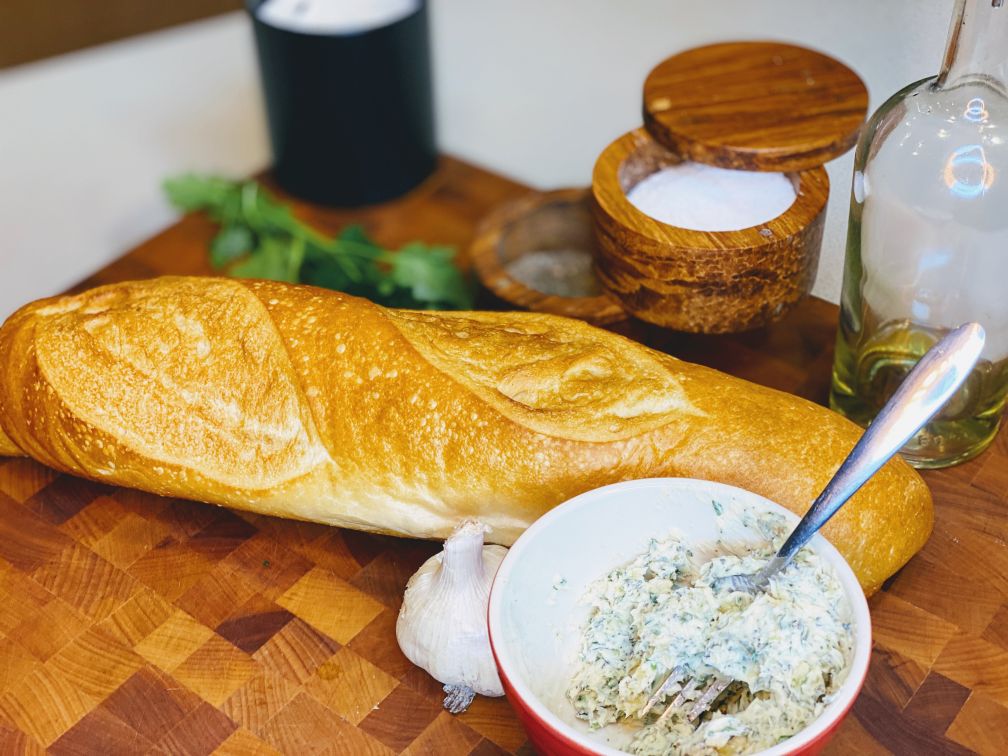 Good bread = good garlic bread
I mean, I'm sure that wonder bread would taste pretty good if you toasted it and slathered it with garlic herb butter. (Truth: a dirt clod would taste good if you toasted it and slathered it in garlic herb butter). That being said, you will enjoy your crispy garlic herb bread the most if you start with great bread. A good Italian or french white bread is great, but I prefer sourdough.
Butter up!
I'm using my own recipe for delicious garlic herb butter, but you can change it up however you like, or even use a pre-made garlic butter. In a pinch, you can even use plain butter and sprinkle a little garlic powder and kosher salt over the buttered bread before cooking this crispy garlic herb bread.
To make the butter, just put all of the ingredients into a bowl and use a fork to mash and mix until everything is well incorporated.
Cut & slather
Slice the loaf in half lengthwise and set it on an UNLINED sheet pan. Pop this in the oven and cook for 4 minutes.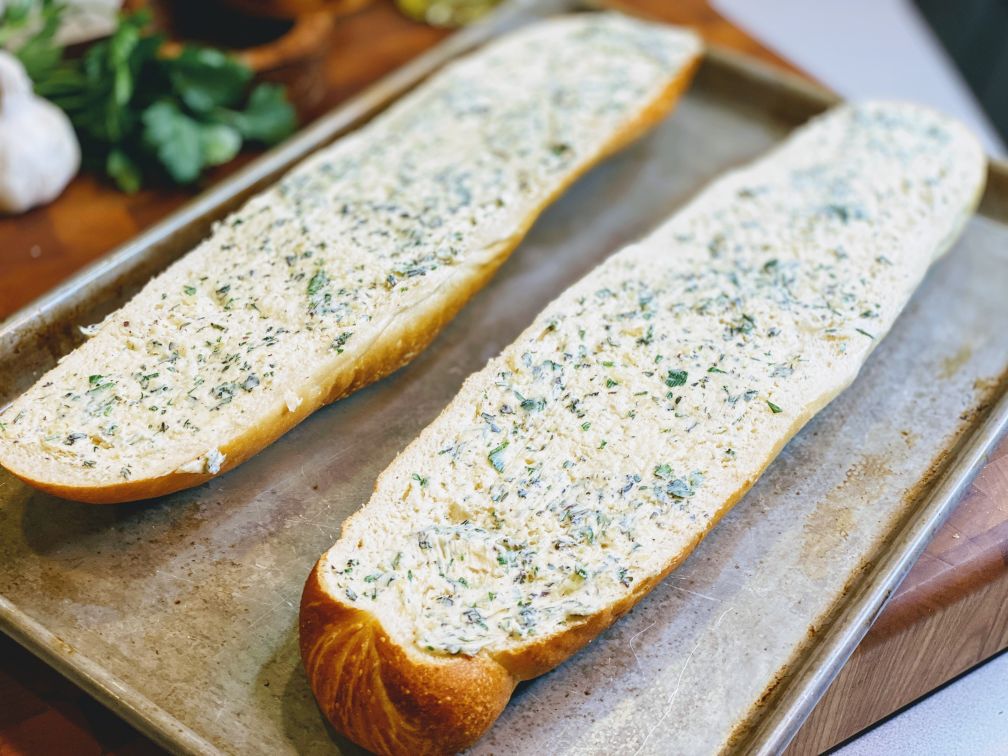 Here comes the twist
More like a flip, really. At the 4 minute mark, take the bread out of the oven and flip it over so that the buttered sides are flat against the hot pan.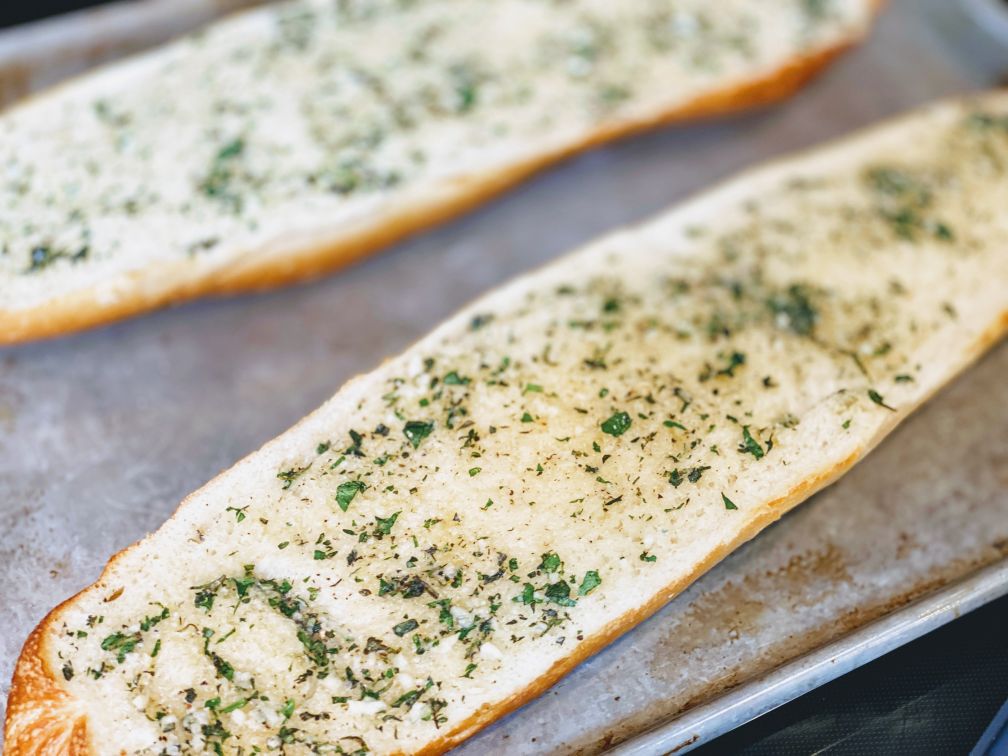 Weigh it down
Take a second baking sheet and place it on top of the bread. Give it a little press to make sure the bread is in good contact with the pan. Pop the whole thing (including the top pan) back into the oven. Cook for another 6 to 10 minutes until the buttered sides are perfectly golden brown and crispy.
Try this crispy garlic herb bread alongside…
Print
Crispy Garlic Herb Bread
Try this different method to achieve perfectly crispy garlic herb bread every time! Use my garlic butter recipe or try one of your own!
1

loaf of bread, I prefer sourdough!

1

stick unsalted butter, softened

4

–

6

cloves of garlic, crushed or minced very fine

2 tbsp

chopped parsley

1 tbsp

chopped thyme

1 tbsp

chopped oregano

1 tsp

finely chopped rosemary

1 tsp

kosher salt

½ tsp

black pepper
*Most any combination of herbs will work. Try not to exceed 5 tablespoons of fresh herbs total.
Instructions
Preheat oven to 450 degrees

Place butter, garlic, herbs, salt & pepper in a bowl. Use a fork to mash/mix 

Slice the loaf of bread in half lengthwise and place cut side up on an unlined metal  baking sheet

Bake cut-side up for 4 minutes at 450 degrees

Remove the baking tray from the oven and turn the bread over so that the cut/buttered side is flat against the hot pan

Place a second metal baking sheet over the top of the bread, press down gently, and leave the second pan in place as a gentle weight for the rest of the cooking 

Return the pan to the oven for 6-10 minutes, until the bread is crispy and golden brown. If you remove the bread and it is not toasted enough, return to the oven and check every 2 minutes or so until it reaches your desired level of toastiness
Check out these delicious recipes from Food By Joe: