---
RECOMMENDED VIBE:
Here's an album I thought you might enjoy while cooking this recipe ?
---
Seriously Easy
Hi. My name is Joe and I use store-bought pie crusts. Not always, not always – there are certainly occasions when scratch is the only way to go. But for a quick dessert like this flat apple pie recipe, pot luck share, or even a brunch treat, frozen pie crusts will more than foot the bill, and it's likely that even the most discerning palates will never be the wiser.
Truly, scratch-made pie crust is as much about nostalgia and pride as it is about creating 'perfect' pie crust. There will never be a universally-accepted pie crust, yet we all feel we have 'the' recipe. There are times to honor Grandma and there are times when expediency wins out. This seriously easy flat apple pie recipe is one of those times.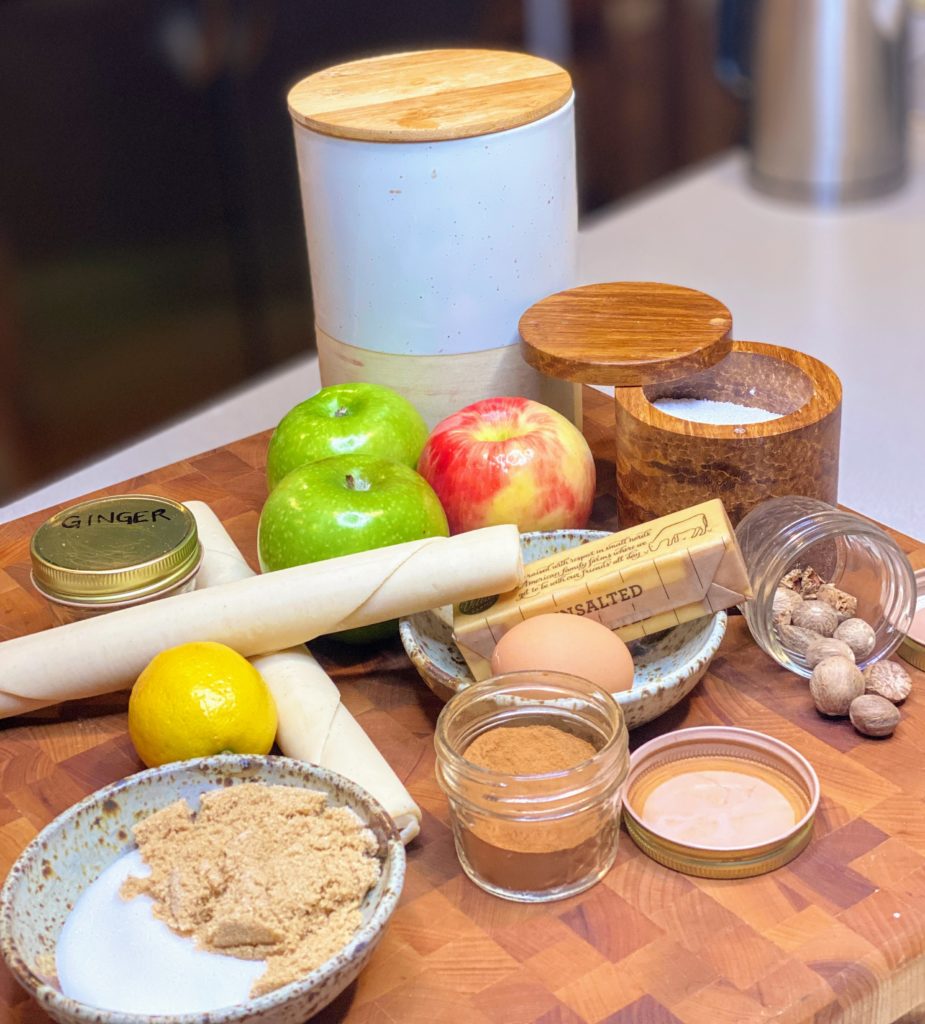 Flat is where it's at
I may never go back to making pies in pie dishes. This flat apple pie recipe is simpler and far easier to cut, serve and eat!
Apples to apples
Three good-sized apples will be plenty for your seriously easy flat apple pie recipe. Today I'm using 1 Honeycrisp (sweet and light) and 2 granny smiths (tart & firm).
I recently got a y-shaped vegetable peeler and it has made peeling even tough veggies SO much easier! I love my OXO brand peeler. Give the apples a peel and cut them in quarters.
Set each quarter on one of its cut sides and use a knife to CAREFULLY cut the core off at a 45-degree angle. There's a good explanation of this technique here.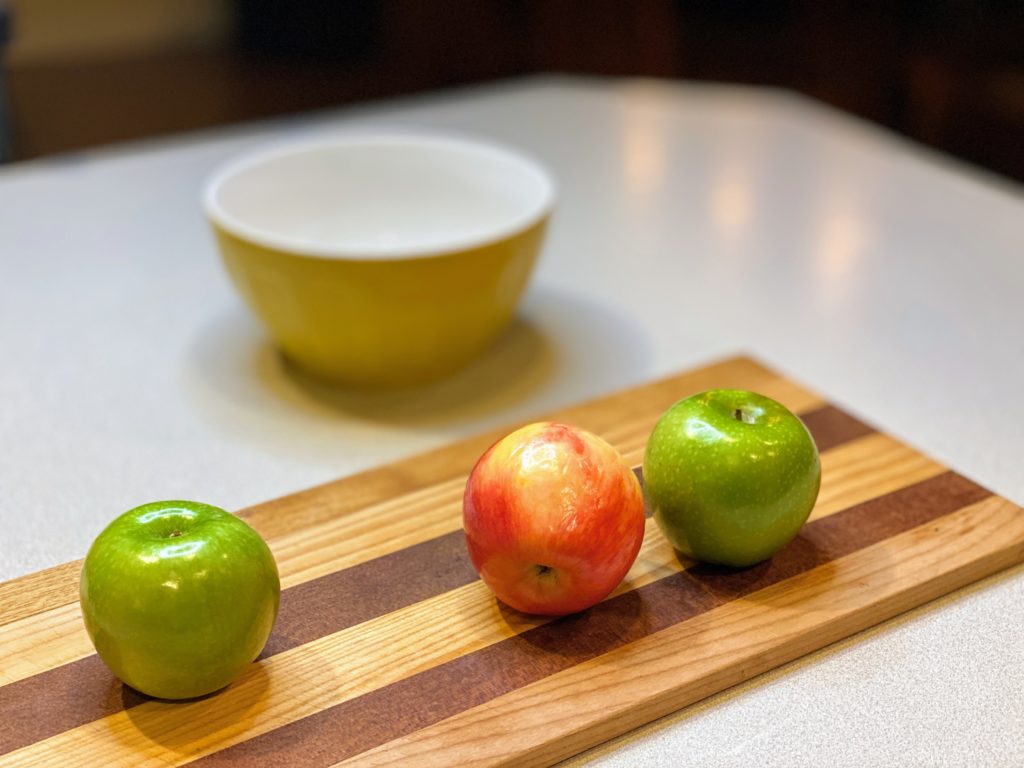 Place your sliced apples in a bowl and add the lemon zest, lemon juice, white & brown sugars, flour, cinnamon, ginger, and nutmeg. Give things a good stir to coat the apples and set aside.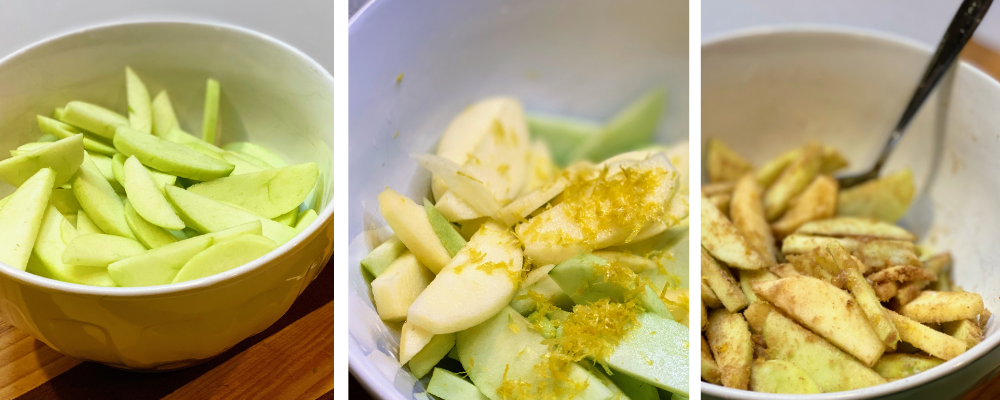 The Crust
Frozen pie crusts are incredibly simple to work with, and they are the key to this seriously easy flat apple pie. We try to always have a pie crust, a box of frozen puff pastry, and some frozen phyllo dough in the freezer at all times. They are so simple and versatile and great for last-minute treats that are fare more impressive than difficult. Premade crusts are perfect for this quick and seriously easy flat apple pie.
Follow the package instructions for thawing and unrolling your crusts. They want to stay nice and cool – so after you flatten them out, pop them back in the fridge until you are ready to work with them. Be careful about stacking them on top of one another – they will stick! To save space, just put a layer of parchment or plastic wrap in between.
When you're ready to begin, put one of the crusts on a sheet pan lined with parchment or a silicone baking mat.
Egg wash!
This simple step is highly recommended. Not only does egg wash help with a golden shine on the crust of your seriously easy flat apple pie, it's also good as a "glue" to help seal up your seriously easy flat apple pie. To make your egg wash, just crack an egg into a small bowl and beat it lightly with a fork. Some people add a splash of milk or cream – that's optional!
Use a pastry brush (or your fingers) to spread a thin layer of egg wash around the rim of the bottom crust – the outer 1″ or so.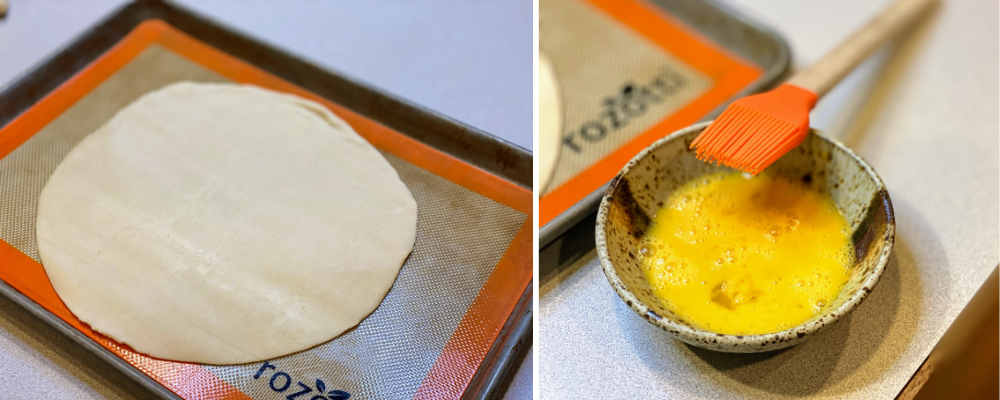 Use a fork to very gently press around the crust – this will help form a good seal when we add the top crust and pinch them together.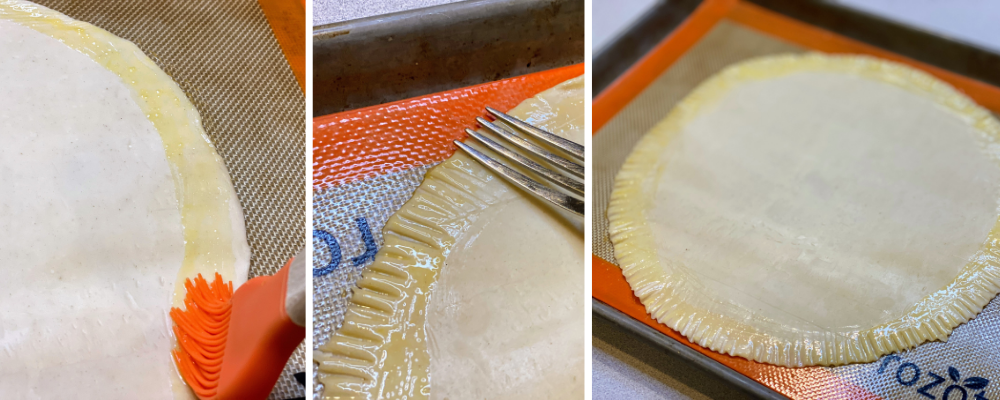 Pour (or carefully arrange – you do you!) your apple mixture in the middle of the bottom crust. Leave at least 1″ of space around the outside.
Place a few small pats of butter on top of the apples – around 1 tablespoon or so it total.
Lay the second crust over the top of the apples and gently press it down over the apples. Stretch the top crust very gently if necessary – you want it to leave ½" or so of the bottom crust exposed.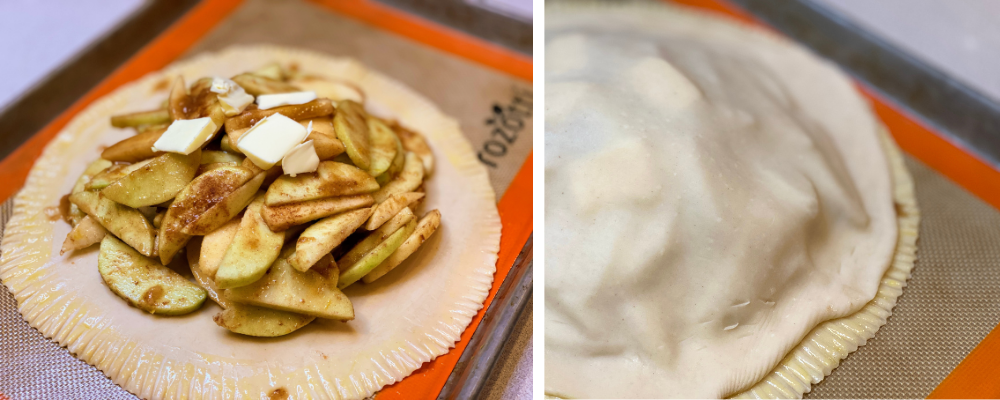 Use your hands to carefully roll the exposed bottom crust up over the top crust, and pinch to crimp as you go. You want a nice seal all around.
Don't worry about perfection! This is a RUSTIC pie! 😉 The seal is the main thing – we don't want any leakage!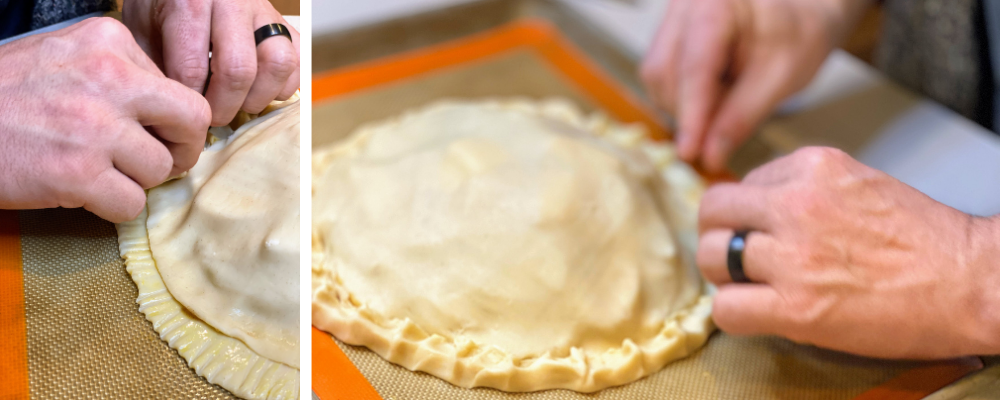 Finishing touches
Use a sharp knife to cut a few vent holes in the top crust – this allow steam to escape without cracking the crust!
Brush the remaining egg wash over the entire pie, being careful not to seal up your vent holes!
Optional: sprinkle a pinch of coarse salt over the top crust before baking.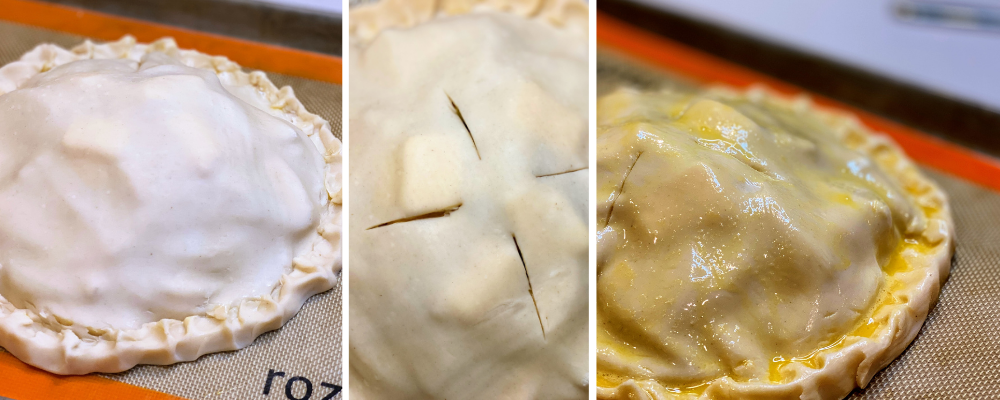 Bake!
Place the pie in a 375-degree oven for 40-50 minutes, until the crust is evenly golden brown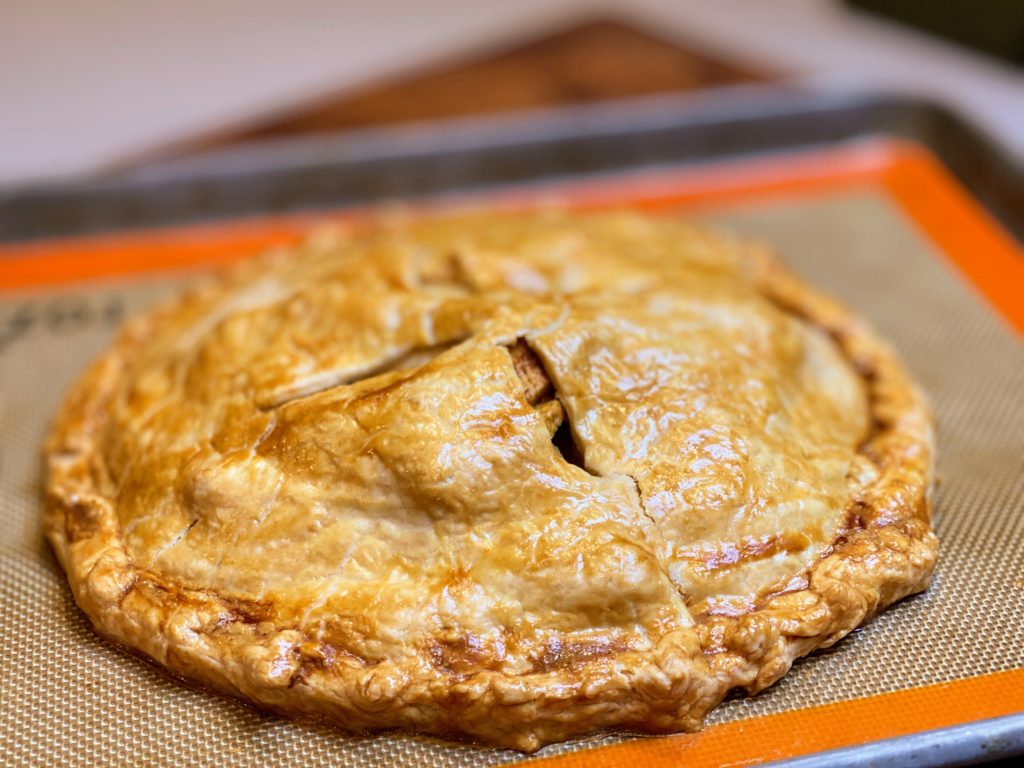 Cool it!
Let the pie cool for at least 45-60 minutes before cutting into it.
Enjoy this seriously easy flat apple pie. It's ridiculously delicious and SO fast and easy, you will wonder why you don't make it more often! (I always do!)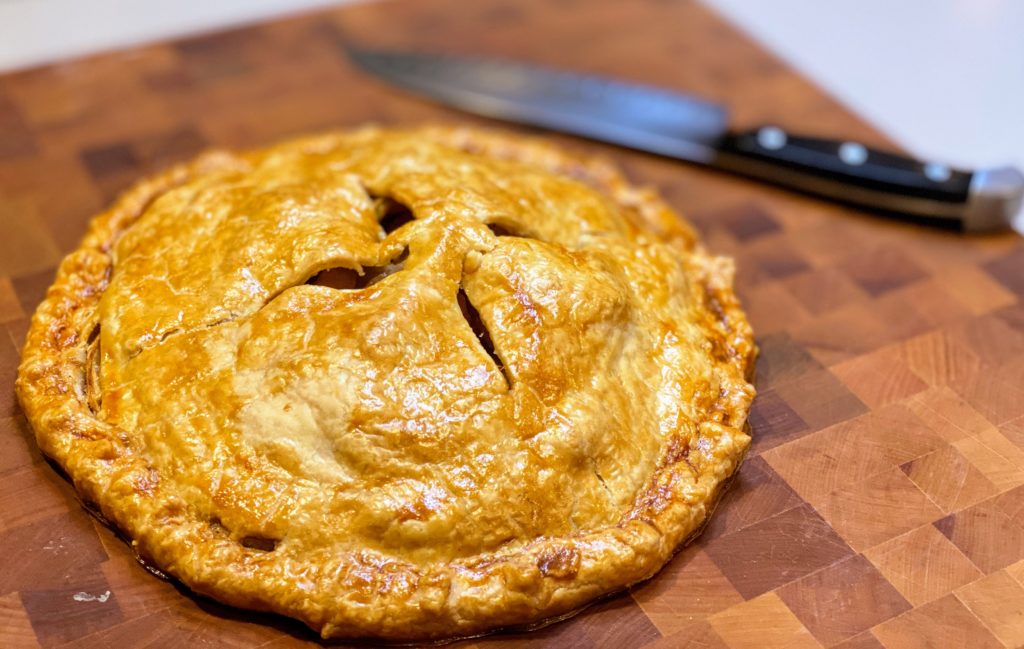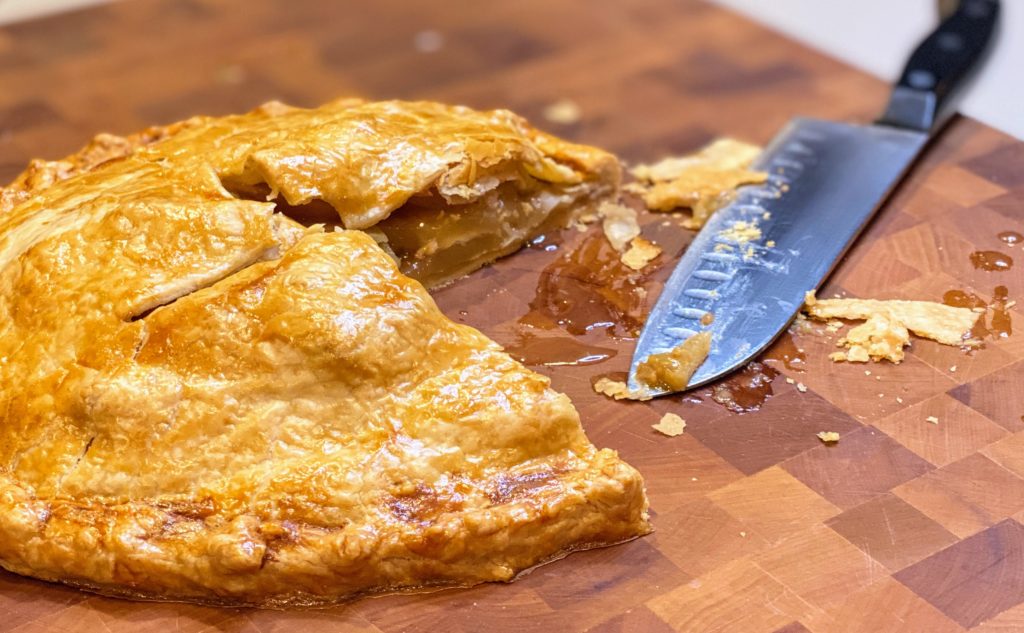 Try these other delicious recipes from Food by Joe:
Check out these delicious recipes from Food By Joe: