---
CHEESE STUFFED MANICOTTI RECIPE
RECOMMENDED VIBE:
Here's an album I thought you might enjoy while cooking this recipe ?
---
No pre-cooking needed!
A few months ago, I finally tried my lasagne without pre-cooking the pasta. I was skeptical but it turned out amazing! So, I figured why not try the same method with other types of pasta! (Jumbo shells work great, and you could actually do this same recipe with shells!)
Simple ingredients
I'm using some of my simple tomato marinara sauce, but you could use a store-bought sauce! In fact, all of the other ingredients are really easy to grab as well! The shredded mozzarella is actually ideal for pasta bakes because it has less moisture. The prep for this cheese stuffed manicotti recipe is minimal, just mix up the filling, stuff the shells, load them in the pan and bake!
As always, I start by gathering all of my ingredients together before any cooking happens. It gives me a chance to read the full recipe and make sure I'm not missing anything. You don't want to be racing around once the cooking starts!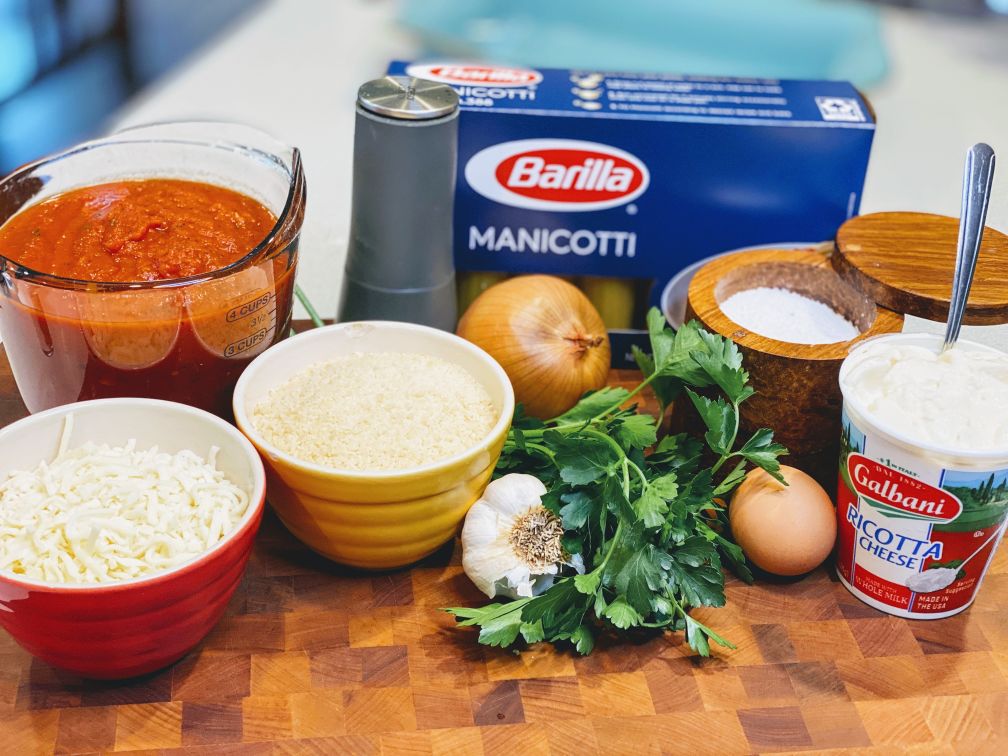 Chop chop
The onion, garlic and optional parsley are the only things that require cutting up for this cheese stuffed manicotti recipe. You should try to mince the onion and garlic as fine as you can. Because we are not pre-cooking it, we want to make sure the pieces are small enough to cook. If you're concerned, you could go ahead and cook the onions & garlic in a little oil over medium heat for 5-7 minutes to give them a head start.
Build the filling
Tip: when mixing up fillings or tossing things in oil or dressing, I like to use a bigger bowl than I need. This makes the mixing/tossing much easier.
Start by adding the ricotta to a large bowl. Then, add the onions, garlic, egg, parsley, oregano, salt, pepper, 1 cup of the mozzarella, and 1/2 cup of the parmesan. Give it all a good stir to combine!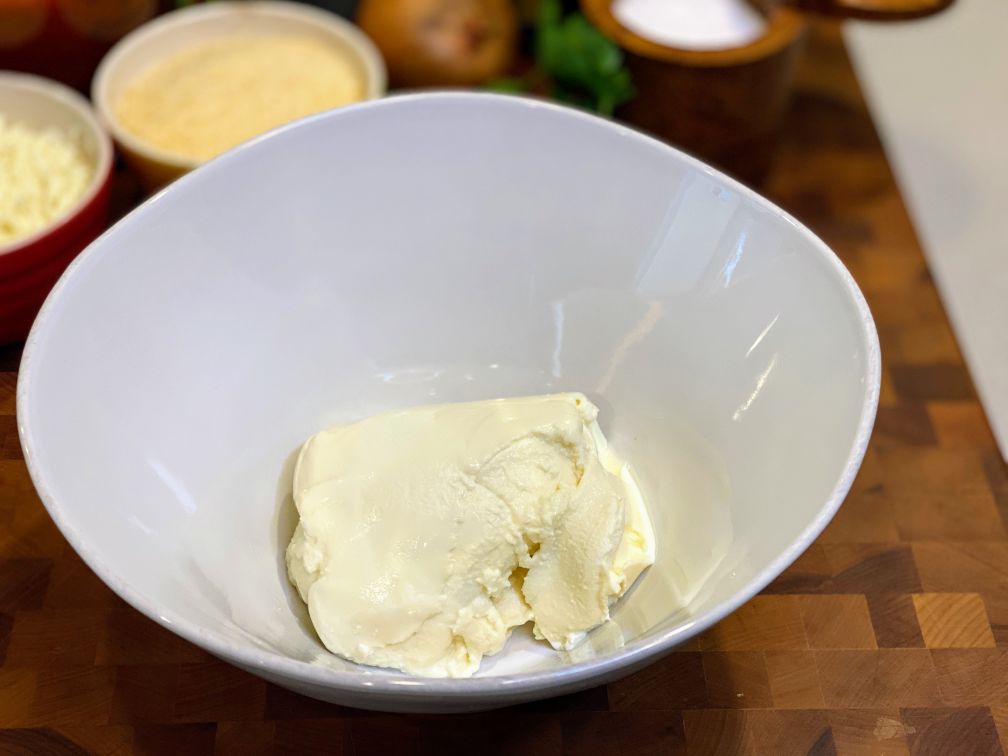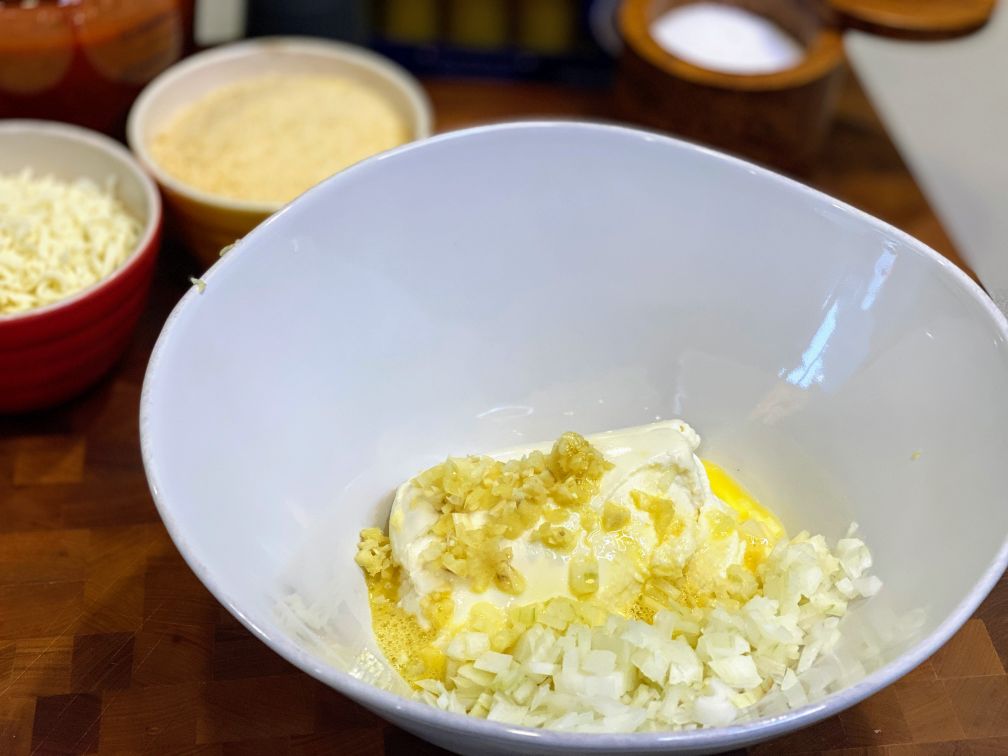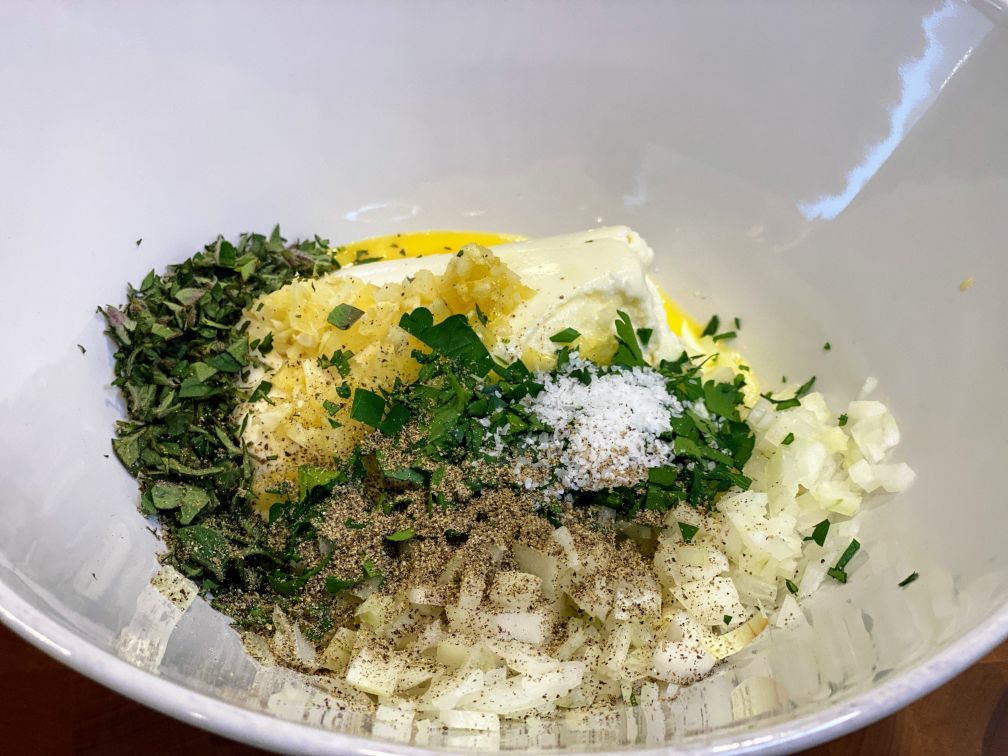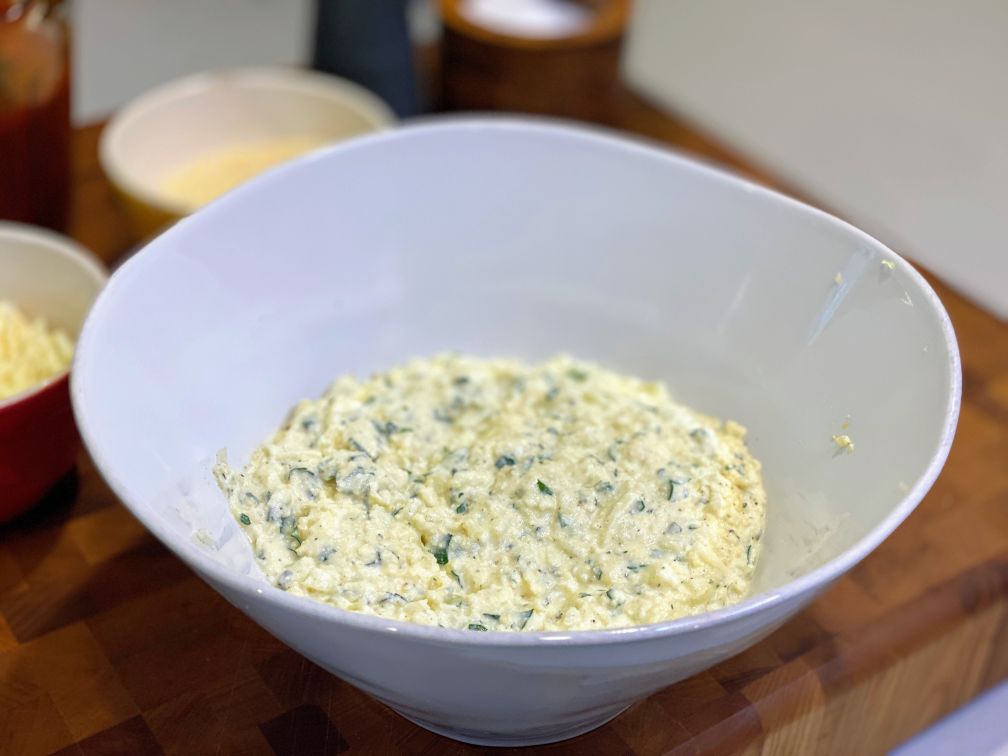 Assembly
Start by spreading 1 cup of the marinara sauce in the bottom of a casserole/baking dish.
To fill the shells, I just use a small spoon. You could use a pastry bag (or a ziploc bag with the corner cut off) to squeeze the filling into the manicotti shells, but I find that spooning it in, while a bit messy, is much faster and less fussy.
Depending on the exact size & shape of the shells, arrange them in the pan in a single layer. Pour the remaining sauce over the top and spread it to all the corners.
Tip top
Spread the remaining mozzarella on the top, followed by the remaining parmesan. I like to add some chopped parsley to the top as well, but that's optional!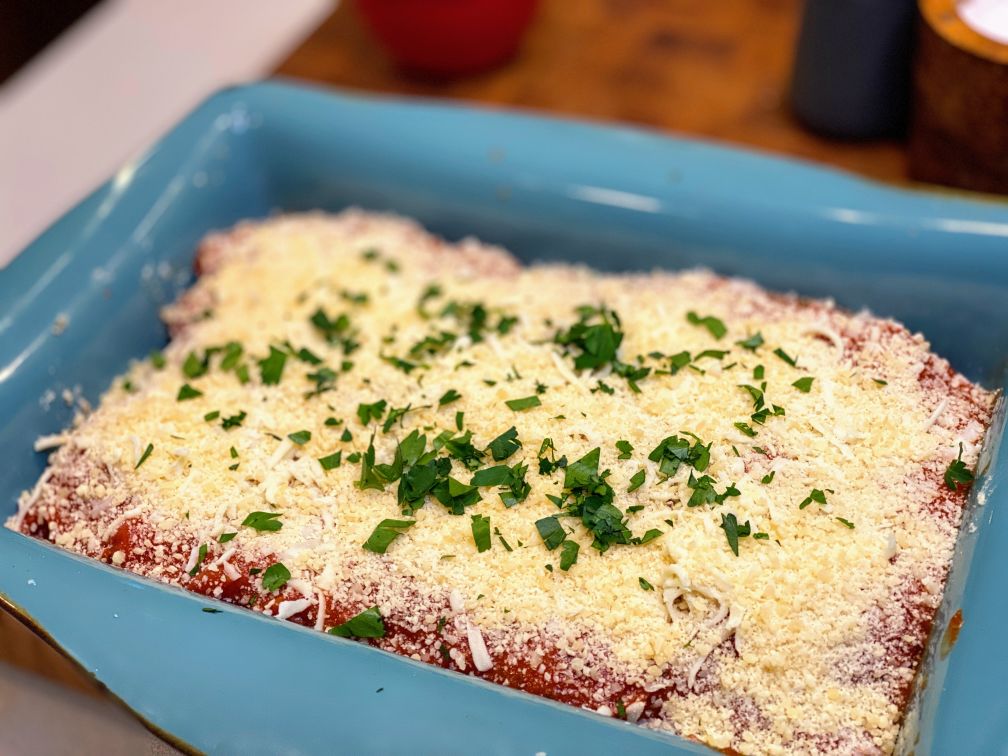 Pasta: Undercover ?
For the first part of the baking, keep your cheese stuffed manicotti under wraps! This will keep heat and moisture inside where we want it!
After 45-50 minutes, when you remove the cover, the top will be ooey-gooey and the cheese should be completely melted!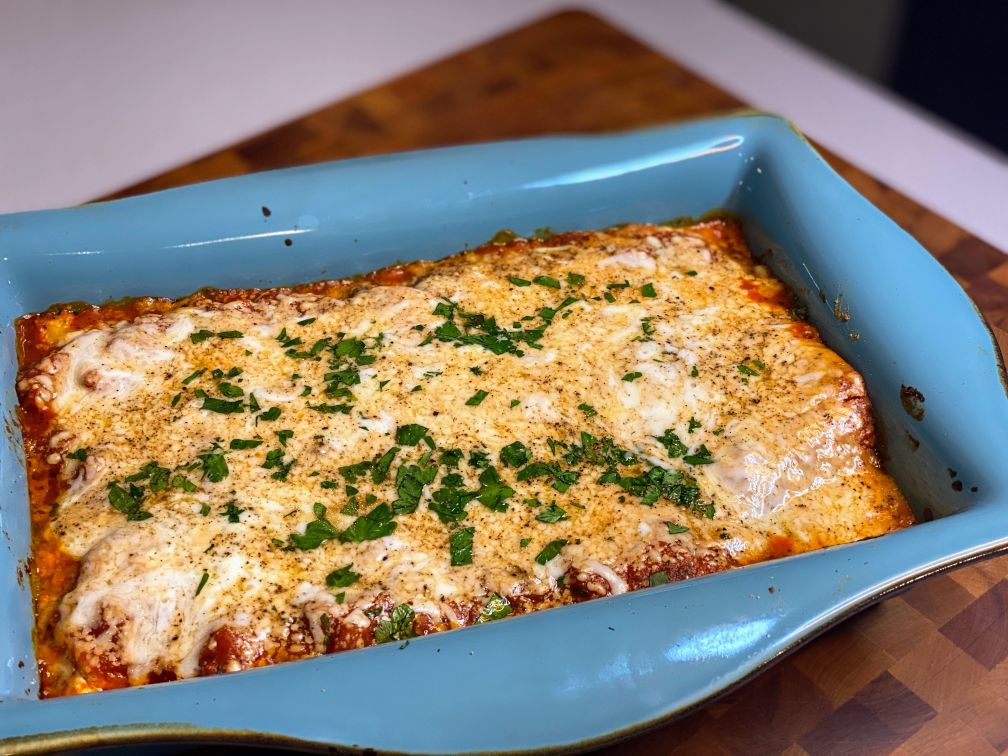 Pasta: Uncovered!
Pop the dish back in the oven without its cover. Set a timer for 10 minutes and come back to check on it. It may take anywhere from 10-20 minutes to get toasted to your satisfaction.
The cheese stuffed manicotti will be LAVA HOT at this point, so you definitely want to give it a minute to cool down. I would say at LEAST 10 minutes.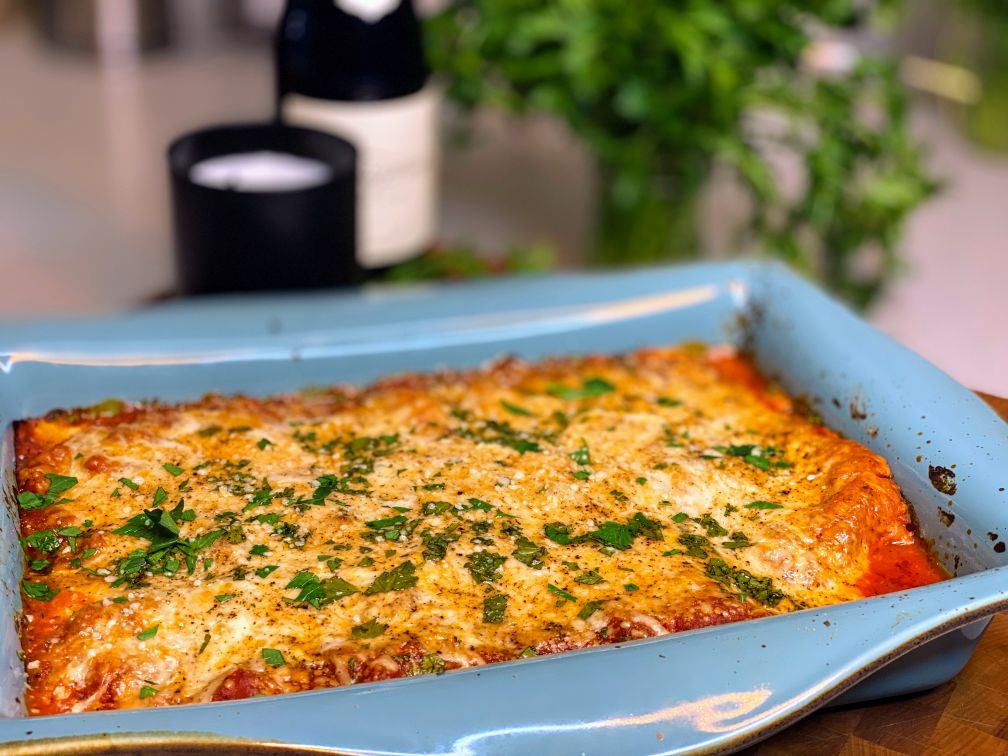 Check out these delicious recipes from Food By Joe:
Print
Cheese Stuffed Manicotti Recipe
This cheese stuffed manicotti recipe is an easy and delicious vegetarian dinner option! No need to pre-cook the pasta – so simple!
1

carton (15 ounces) ricotta cheese

1

small onion, finely chopped

1

clove of garlic, finely minced

1

large egg, lightly beaten

2 tablespoons

minced fresh parsley

2 tablespoons

minced fresh oregano

1/4 teaspoon

pepper

1/2 teaspoon

salt

1 ½ cups

shredded mozzarella cheese, divided

1 cup

grated Parmesan cheese, divided

4 cups

marinara sauce

1

package (8 ounces) manicotti shells
Additional parsley, optional
Instructions
Preheat oven to 350 degrees
In a large bowl, combine the ricotta, onion, garlic, egg, parsley, oregano, salt, pepper, 1 cup mozzarella cheese, and 1/2 cup parmesan cheese. Stir to fully combine
Pour 1 cup of the sauce into the bottom of a casserole dish
Fill UNCOOKED manicotti shells with ricotta mixture and arrange them in the dish on top of the sauce
Top with remaining 3 cups sauce, ½ cup mozzarella, and ½ cup parmesan
Bake covered for 50 minutes
Remove the cover and bake uncovered an additional 15 minutes until the cheese is bubbly and starting to toast a bit. 
Allow to cool 10 minutes before serving
Garnish with chopped parsley and parmesan cheese