---
RECOMMENDED VIBE:
Here's an album I thought you might enjoy while cooking this recipe ?
---
A Nostalgic Classic!
This Vegan Lentil Sloppy Joes Recipe is satisfying and definitely ticks all the boxes: savory, hearty, slightly sweet, and comforting!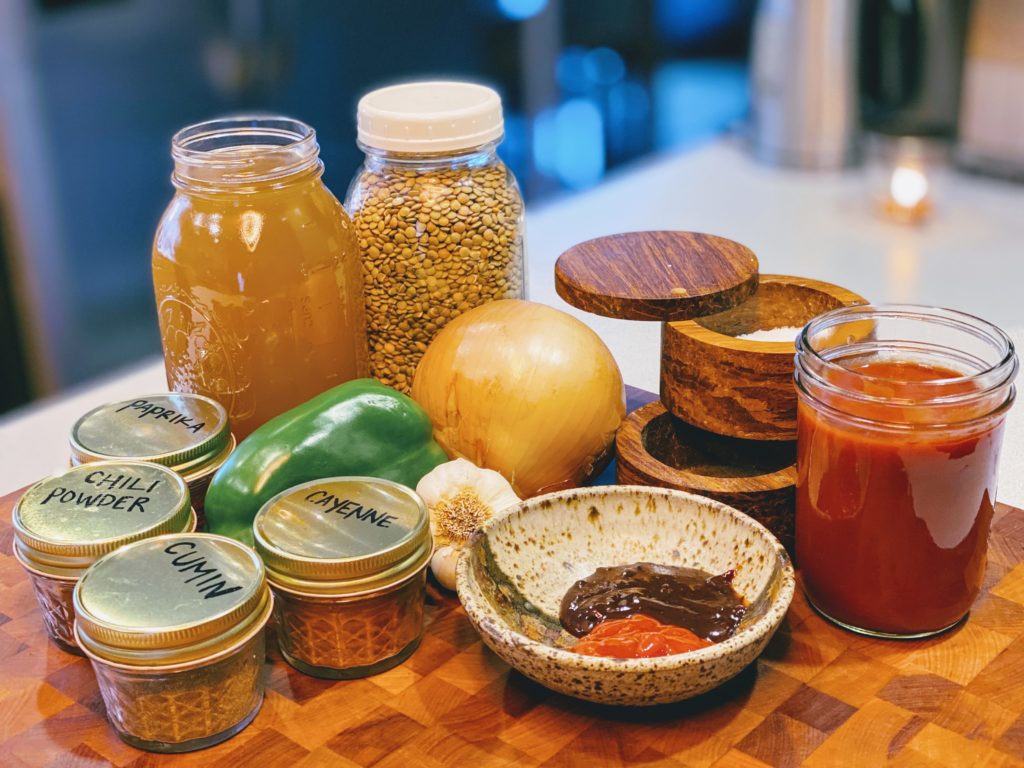 Check your lentils!
You could use canned lentils for this Vegan Lentil Sloppy Joes Recipe – but the dry ones are so easy, and so much more economical! Cooking lentils is easier than cooking rice, because they cook in more liquid than they need, and then get drained. This takes away the guesswork!
First, pour your lentils onto a large plate or tray, and give them a good inspection – sometimes a pebble or bit of debris remains.
Once they have passed inspection, rinse them well under cold water.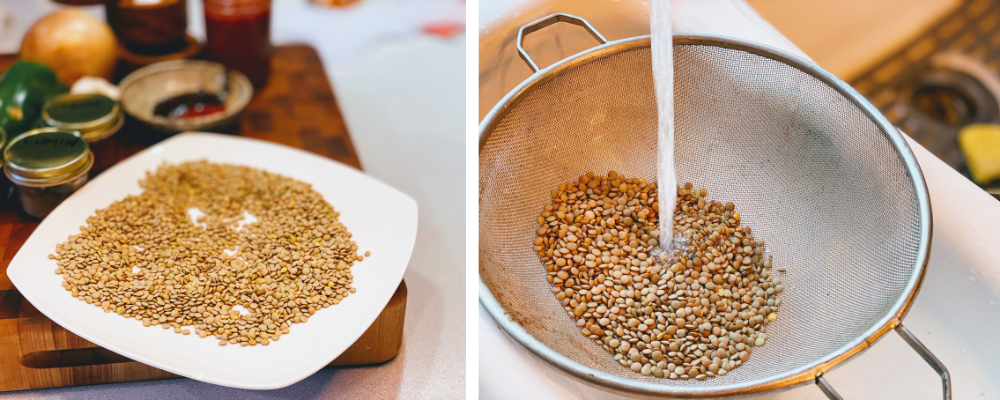 Pour the lentils, water. and stock into a medium sauce pan. You want to do this when the liquid is cool and let everything come up to temperature together.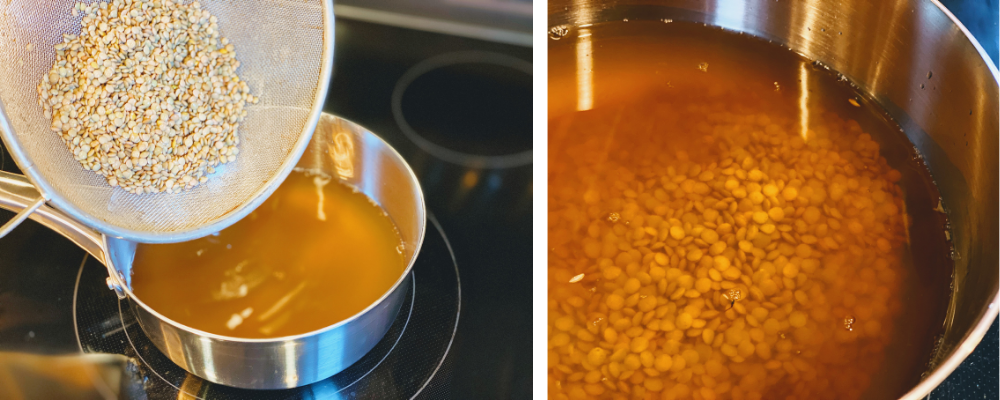 Pu the pan over medium-high heat and bring to a boil. As soon as the liquid boils, give the lentils a stir and turn the heat down to a simmer. Let the lentils simmer for 18-20 minutes, and then give them a taste – they should be cooked through but they should hold their shape and not be mushy.
When cooked, drain off the excess liquid with a colander or strainer and set aside.
Prep your veggies
While the lentils simmer is a good time to prep you r remaining ingredients. Give the onion and green pepper a chop – how finely you chop them depends entirely on your taste – how do you want the final product to feel? If you like bigger chunks of veggies, leave them bigger. For this Vegan Lentil Sloppy Joes Recipe, I like a more uniform texture – so I aim for a lentil-sized chop.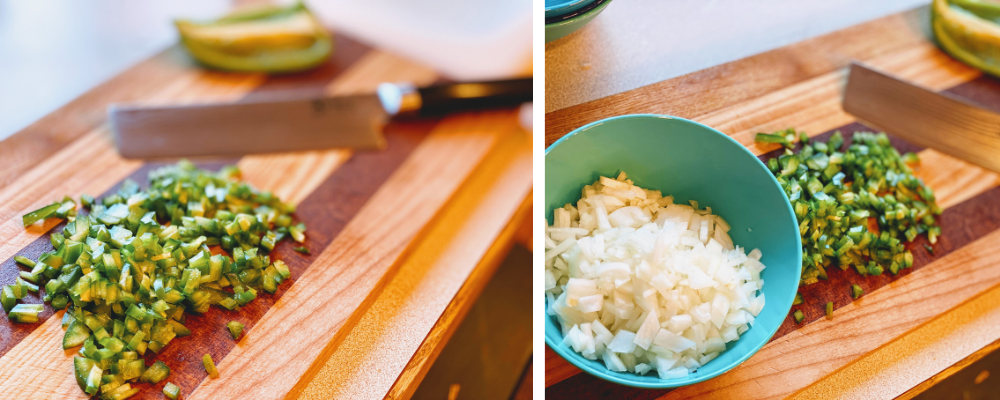 Place a large saute pan or dutch oven over medium heat. Once it has heated up, add the oil to the pan and wait for it to get shimmery before adding the onions and peppers to the pan.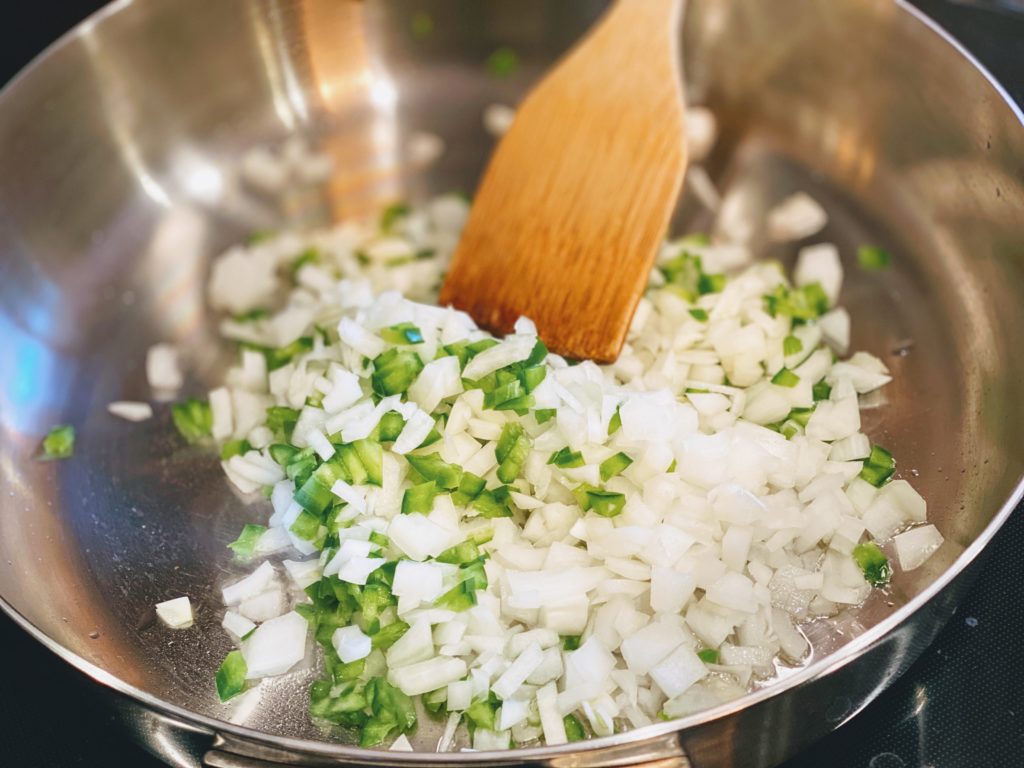 Cook the onions and peppers, stirring every minute or so, until they are softened and translucent. We're not looking to brown these.
Wait until the onions and peppers are cooked to add the garlic. This keeps the garlic from burning and getting bitter. That's not likely over medium heat, but its a good practice to hold the garlic back to the last minute or so of cooking. Stir constantly for a minute or so until the garlic is fragrant, and then add your spices to the pan.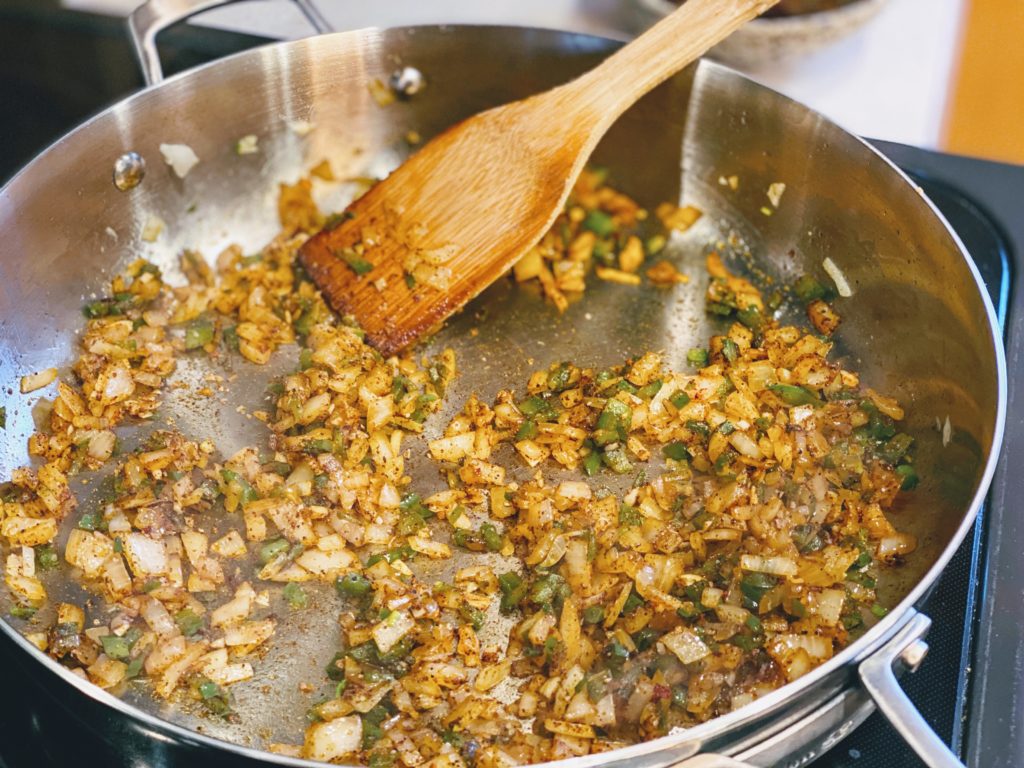 Cook the spices over medium heat, stirring constantly, for 2 minutes. This allows the spices to 'bloom' and releases their oils, and it also cooks them through so that you don't have a raw spice taste in the final dish.
Get all the good bits!
Once your spices have cooked through for 2 minutes, add the tomato sauce, ketchup and BBQ sauce to the pan. Give this a good stir and be sure to scrape up all the browned bits from the bottom of the pan.
Add the cooked lentils to the pan and stir to combine. At this point, we are just heating everything though and getting things to our desired consistency. If things are too runny, keep cooking over medium heat until the sauce thickens up. If the sloppy joes are too thick, add a few tablespoons of water or vegetable broth to thin things out.
Buns out!
Turn your oven on to BROIL and place the top rack about 6″ to 8″ from the top of the oven. While the oven heats up, spread a thin layer of mayonnaise (or vegan mayo!) on each bun and place them cut-side up on a sheet pan.
WAIT. Mayo?? Yes, mayo. Trust me. More spreadable and you get the same crispiness as butter,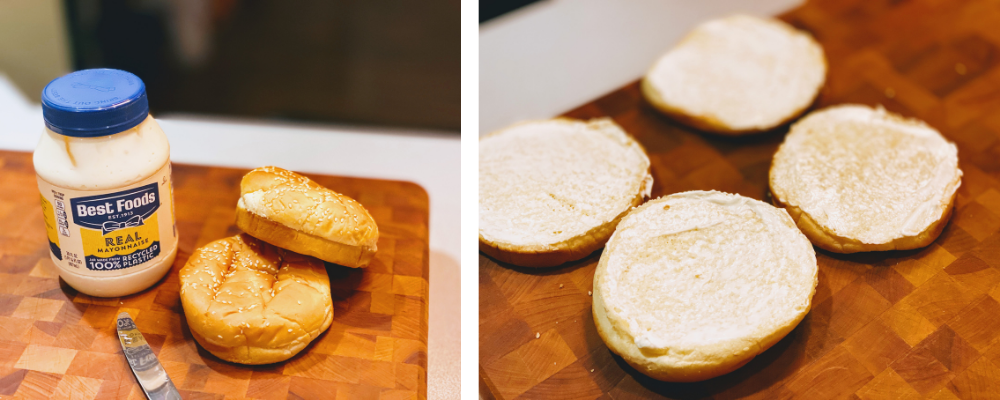 Keep an eye out!
Pop the buns under the broiler for around 2-3 minutes. Temps can vary greatly from oven to oven so watch these closely and do not walk away.
When you pull the buns out, let them rest for a minute or two before adding toppings. If they are slightly cooled, they firm up and stand up better to toppings!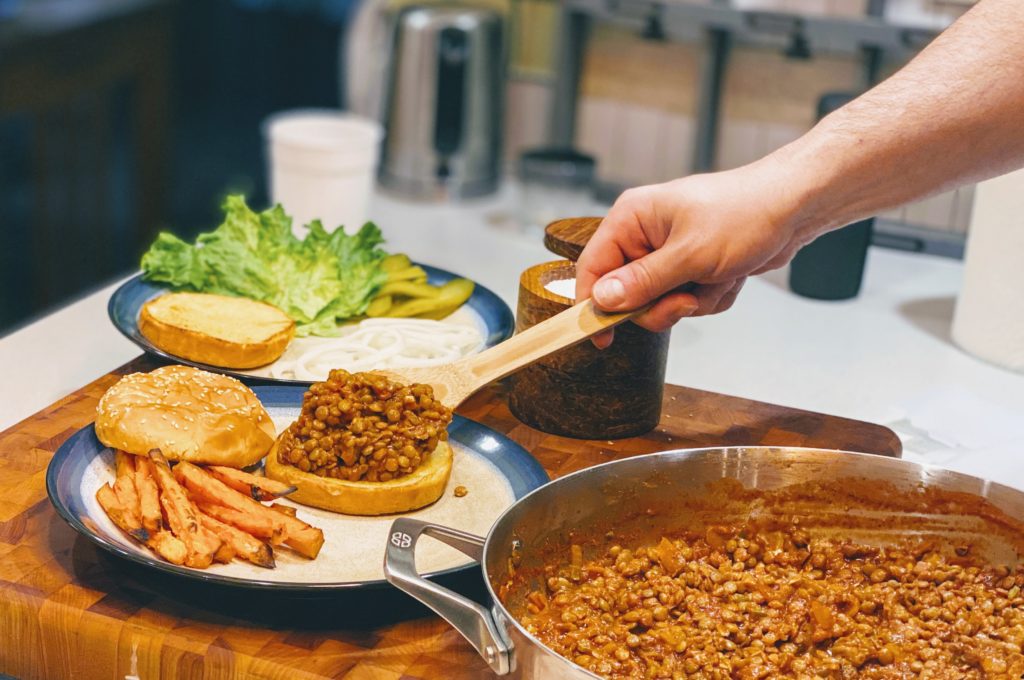 TIP: Contrary to the above photo I find that placing the lettuce UNDER the sloppy joe mixture helps keep the bun from getting soggy! (See below ?)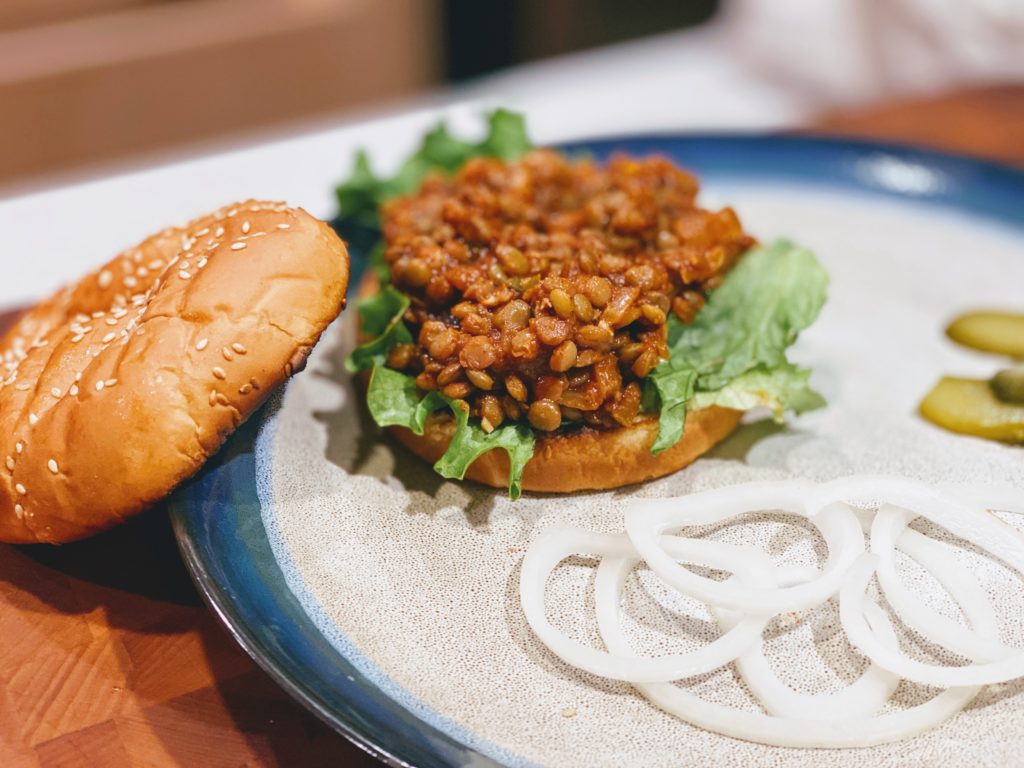 Top or not!
If you want to really relive your school cafeteria days, go ahead and keep things simple. We love to top ours with some sliced onion, pickle, and lettuce. Yum!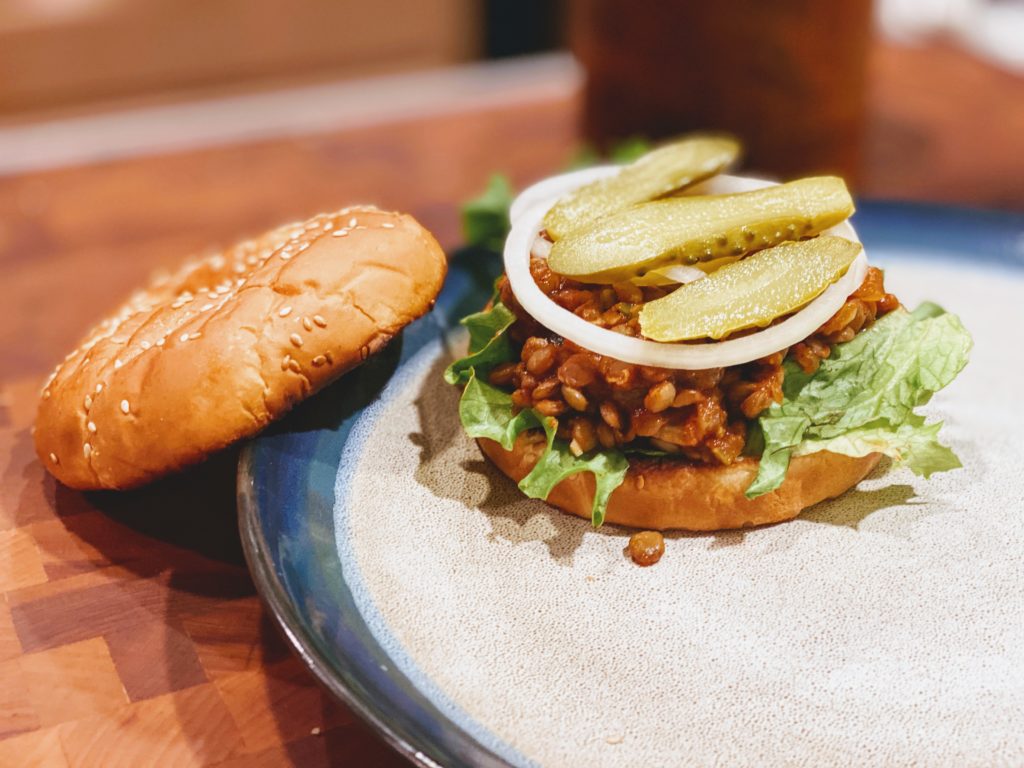 On the side
Try serving these with some potato wedges, a baked sweet potato, or some crispy sweet potato fries!
Check out these delicious recipes from Food By Joe: