---
RECOMMENDED VIBE:
Here's an album I thought you might enjoy while cooking this recipe ?
---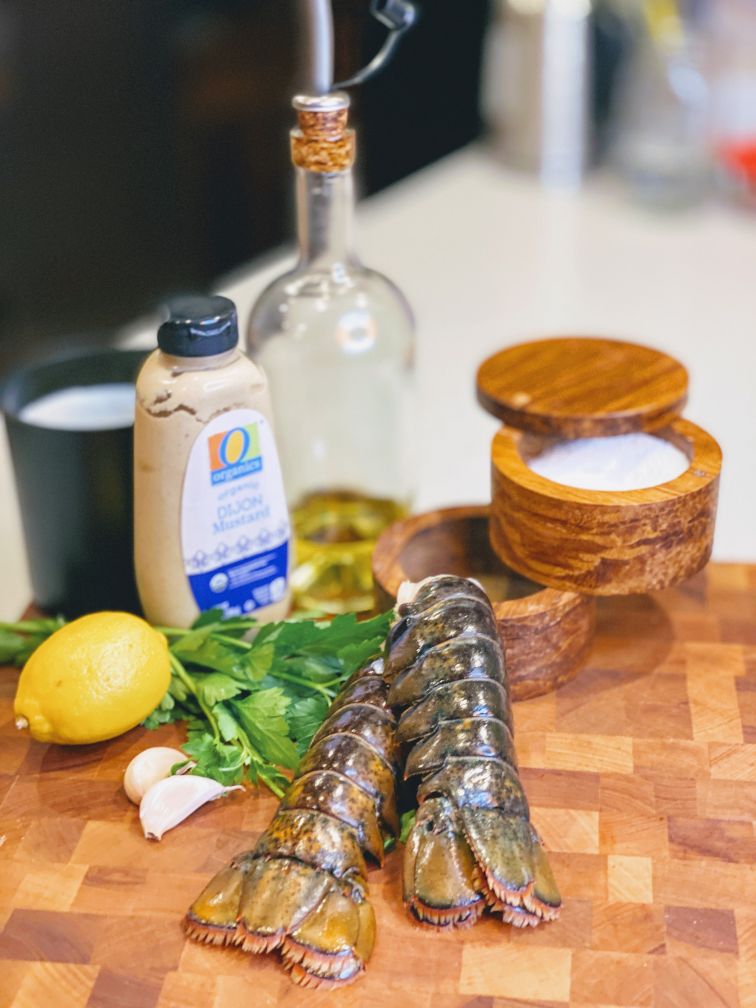 Ooh fancy!
Lobster is a treat to be sure – but these days it is more affordable than you might think. My local supermarket has sales frequently that make these broiled lobster tails a totally reasonable seafood option. The tails in the photos are 4 oz tails that I got for less than $5 each.
Not only are these lobster tails affordable, but this method of broiling means you can have them ready to eat in under 15 minutes!
Snip, snip
The most challenging thing about these broiled lobster tails is snipping the top shells and getting the meat lifted out. Once you've tried it, you'll get a feel for it fast. Worst case scenario, you pull the meat completely out of the tail – you can still set it back on top of the tail to cook! Here is a great short video that shows how to prep these lobster tails.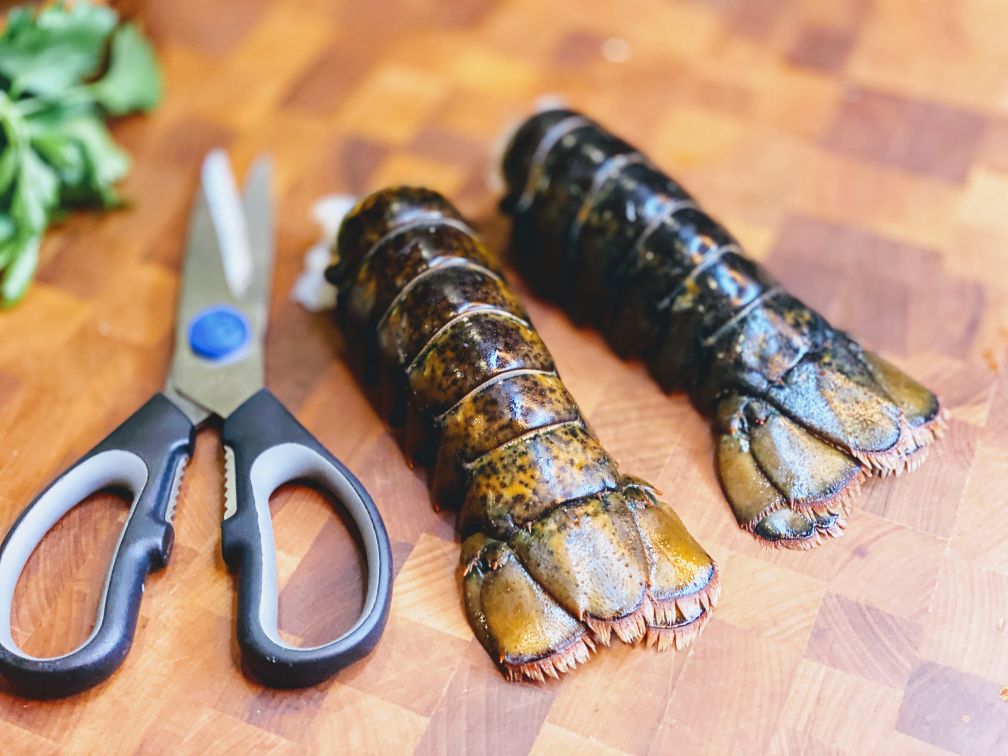 Mix up the marinade
These broiled lobster tails only need a bit of help in the flavor department. Truth be told, you could cook these with little to no seasoning and they would be delicious.
Just pop all of the ingredients into a bowl and mix it up – that's it!
Drizzle & broil
Spoon the marinade over each of the lobster tails, and then put a pat of butter on top of each one. A teaspoon of butter per tail is plenty. I like to sprinkle a little smoked paprika over each of them as well. This is optional, but the hint of smokiness brings a lot of depth to the flavors in these broiled lobster tails.
Place the lobster tails on a baking sheet and pop in the oven for around 1 ¼ minutes per pound. Since mine were around 4 ounces each, I aimed for 5 minutes. I ended up cooking them for 6 minutes, since I did not want to leave them undercooked. You know they are done when the meat is opaque all the way through and slightly firmed up.
Serve these broiled lobster tails immediately, with melted butter and a squeeze of lemon. I love to serve them with some crispy garlic herb bread!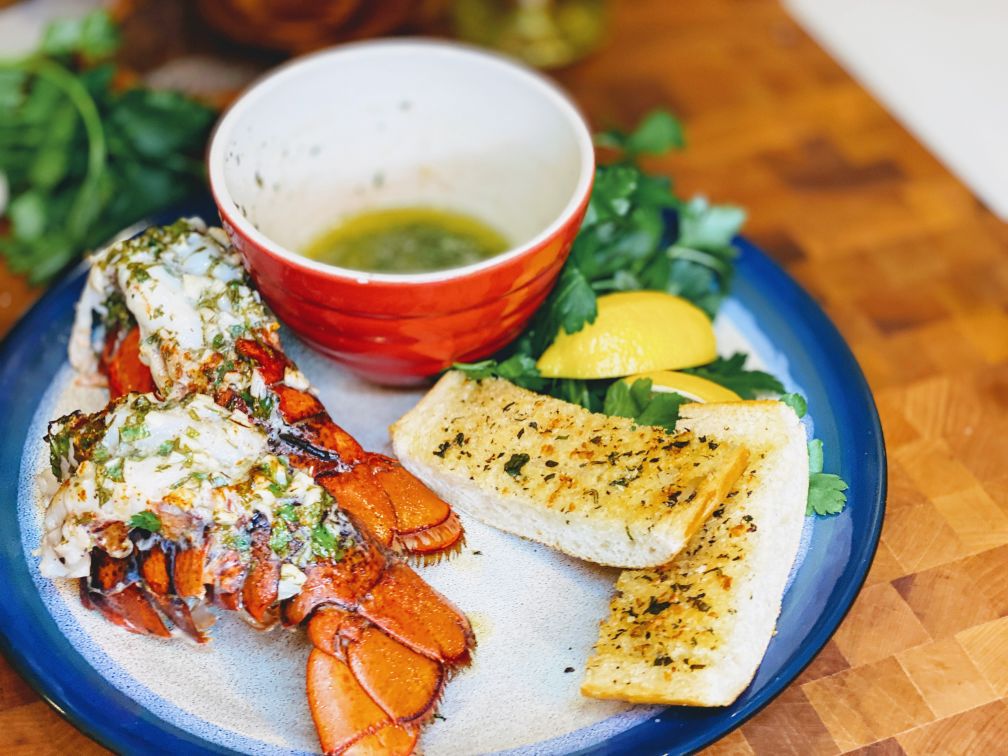 Print
Easy Broiled Lobster Tails
You won't believe how simple these easy broiled lobster tails are! In under 15 minutes you can enjoy a decadent treat!
2

–

4

lobster tails

1 tbsp

fresh parsley, chopped

2

garlic cloves, pressed or minced very finely

1 tsp

dijon mustard

1

pinch kosher salt

1/8 tsp

black pepper

1 1/2 Tbsp

olive oil
Juice of

1

lemon

2

–

4

tsp butter (

1 tsp

per lobster tail)

1

pinch smoked paprika per lobster tail
Instructions
Set oven to broil and place top rack so that your lobster tails will be 6"-8" from the top of the oven
In a bowl, mix together parsley, garlic, mustard, salt, pepper, olive oil, and lemon juice
Using kitchen shears, carefully cut up the center of the lobster tail shell, stopping just before you reach the tail. Pull the shell apart and slide your fingers around the tail meat to free it from the shell, stopping before you reach the tail. Gently pull the exposed meat up above the shell, squeeze the shell together beneath the meat, and lay the meat on top of the slit in the shell
Place the lobster tails on a sheet pan or rimmed baking sheet and spoon the herb mixture over each of the tails 
Top each lobster tail with approximately 1 teaspoon of butter, and sprinkle a pinch of smoked paprika over each one
Place the pan under the broiler and broil for 1 ¼ minutes per ounce (ex. 4 oz = 5 minutes under the broiler)
Lobster is done when the meat is opaque throughout and slightly firmed up. 
Top with additional chopped parsley and a squeeze of lemon
Check out these delicious recipes from Food By Joe: