---
RECOMMENDED VIBE:
Here's an album I thought you might enjoy while cooking this recipe ?
---
This EASY Garlic Herb Butter is so fast, so easy, and SO yummy
Compound butters are one of the easiest ways to infuse tons of flavor into your cooking. This easy garlic herb butter can be used on steaks, sandwiches, seafood, potatoes, for toasted garlic bread, or just as a spread for your favorite hearty bread.
Use your favorite herbs
This easy garlic herb butter recipe uses parsley, oregano, thyme and rosemary. You can use whatever herbs you like – chives, tarragon, marjoram, basil – you name it!
What are the components of easy garlic herb butter?
Butter! Start with good quality unsalted butter. You'll want to fully soften your butter by leaving it out in a warmish spot for a few hours. You can also soften butter in a microwave on low power.
Garlic! Use as much as you dare! I used 6 relatively small cloves – around 2 tablespoons minced.
Seasoning! Chefs often refer to adding basic salt and pepper as "seasoning" – as a base layer of flavor, you'll want some salt. You can leave the pepper out if you prefer.
Herbs! Go wild. Use whatever herbs you love, or use what you have on hand! Try not to exceed 5 tablespoons or so of chopped herbs in total.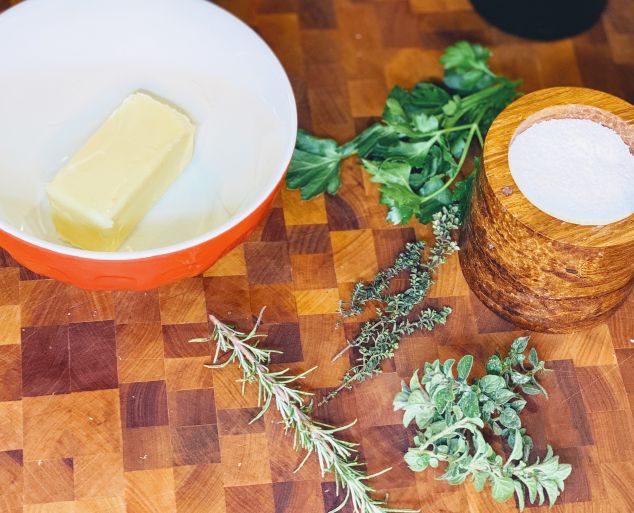 Crush that garlic!
You want the garlic to blend with the other ingredients as much as possible, so smaller pieces are better. This is a great time to pull out that garlic press. Crushed or pressed garlic works great for this!
Chop those herbs!
The best way for flavors to meld in your garlic herb butter is to keep everything nice and small. Try to get a nice fine dice. This is especially true for woody herbs like rosemary. Biting into a big piece of rosemary can be a bit strong, so chopping it extra fine is a great idea for this recipe.
Mash up!
After you have added all of your ingredients to a sturdy bowl, use a fork to mash things together. Depending on how soft your butter is, you may need to do this a few times, waiting a few minutes in between for things to soften.
Give it a rest
Your easy garlic herb butter will taste best if you give it some time to really meld together. If you're planning to use the butter right away and you want it soft, just leave it out on a counter and give it a stir every once in a while. If you will be storing it for later use, or if you need to have it chilled for another recipe, scoop it onto a piece of plastic wrap, shape into a rough log shape, and roll it up tightly in the plastic like a tootsie roll. Pop that in the fridge or freezer, and you will have garlic herb butter whenever you need it!
Put it to good use!
You can use this easy garlic herb butter on steaks, seafood, potatoes, for toasted garlic bread, or as a spread on your favorite hearty bread!
Check out these delicious recipes from Food By Joe: