---
RECOMMENDED VIBE:
Here's an album I thought you might enjoy while cooking this recipe ?
---
An untarnished reputation
Despite its questionable nomenclature, classic meatloaf holds a revered position among a surprising number of folks, from super-foodies to fast-foodies. It has all the hallmarks of a dish that would turn off picky eaters. Right down to the dubious use of the term 'loaf'. (which everyone knows is one of the most hated words in the English language.) 😉
There's something about the savory, homey deliciousness of classic meatloaf that epitomizes comfort food. I chalk that up to its family- and budget-friendliness. Even the pickiest of eaters often have a soft spot for this classic. Its ability to feed a large group with very little expense makes it an ideal family dinner. That alone contributes to its status as a near-universal fave.
Options
There are a gazillion variations of meatloaf, and I suppose we are all committed to our own version. I confess that it's not a food that I enjoy experimenting with. Dear Old Dad has his standard recipe that I've known since childhood. Something about the simple combo of onions, Worcestershire sauce, and seasonings evokes memories of family dinners. Dad has always used Johnny's Seasoning Salt – that's what I was aiming for with my own all purpose seasoning blend.
Controversial take: I do not like glaze of any kind on my meatloaf. I'm not above dipping my bite of meatloaf in a bit of ketchup, but I have never been a fan of slathering on a ketchup-based coating. I don't love the texture or the sweet flavor. I much prefer to get a little color on the outside and let things get just the slightest bit crispy.
The one variation I support in full is using ground turkey instead of ground beef. If you opt for turkey I recommend adding 1 tablespoon of softened butter or olive oil to the mixture, to help maintain moisture. Turkey has significantly less fat than beef, and that means that it can get dry.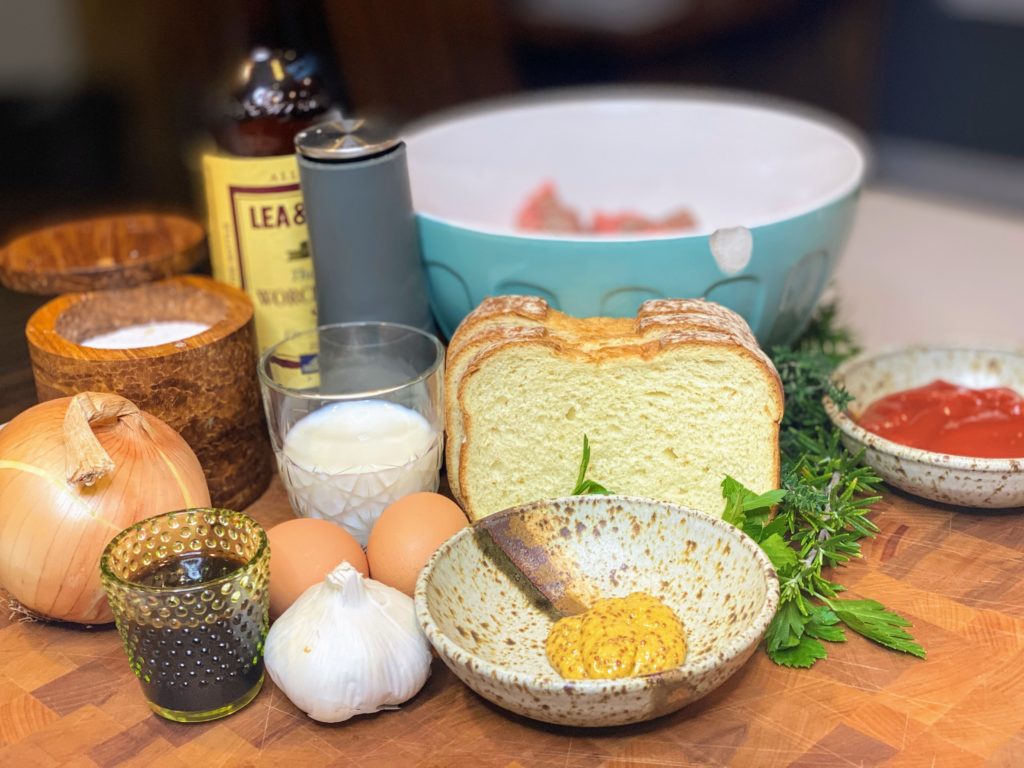 Gather your ingredients before you begin
As always, I recommend gathering, measuring, and prepping all of your ingredients before you begin. This step really helps me to have a relaxing and joyful cooking experience. This classic meatloaf recipe is not a demanding one, but I'd rather spend any lulls sipping a glass of wine and enjoying family, and not racing around chopping and measuring. One of the reasons I consider this the BEST classic meatloaf recipe is that it is very simple and stress-free.
Think about your hardware
You can use a loaf pan or a flat surface such as a sheet pan or broiler pan. My reason for staying away from a loaf pan is that it holds all of the fat and moisture in the pan and boils the meatloaf rather than letting it cook and brown all around.
Don't worry, your meatloaf won't dry out if you use this method.
You can simply cook on a lined sheet pan, but even that tends to leave you with a soggy bottom, so the method I prefer is cooking on a rack or broiler pan. Since I don't have a broiler pan, I fashioned a reasonable facsimile using a baking rack and aluminum foil:
Line a sheet pan with foil
WRAP a baking sheet in a double layer of foil (This keeps the meatloaf from sticking to the rack)
Place wrapped baking rack on lined sheet pan.
Use a fork or the tip of a knife to poke multiple holes in the foil-wrapped baking rack.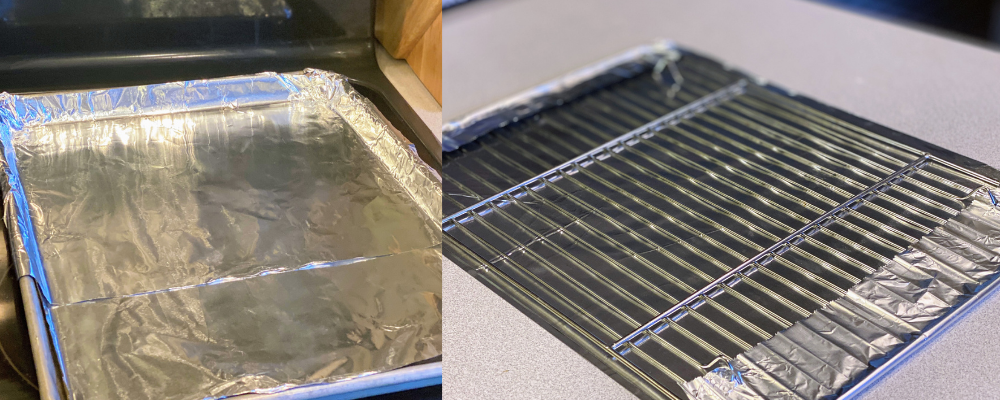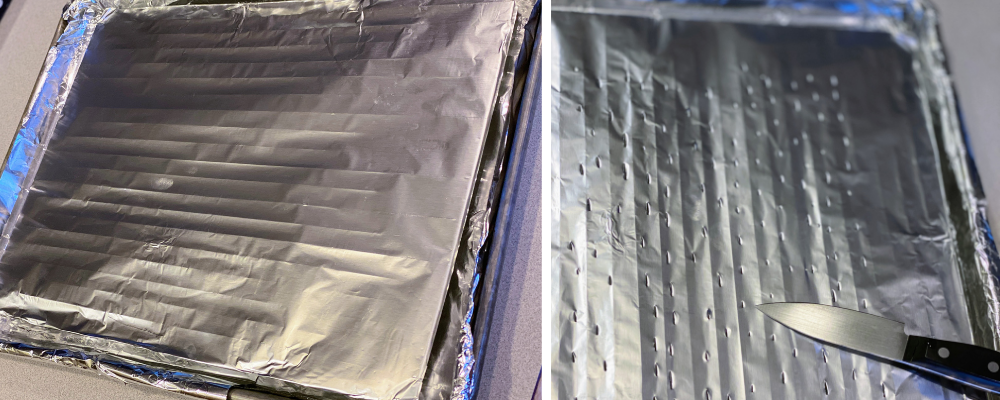 Soak the bread in milk
I like to do this step before I start chopping/prepping, so that the milk has a chance to fully absorb into the bread and break it down. You don't want solid pieces of bread in your classic meatloaf. Since there is variety in the size, shape and moisture level of breads, you should be sure that the ½ cup of milk in this recipe is enough to completely soak the bread.
If all of the milk is absorbed and there are still dry parts of the bread, add milk 1 tablespoon at a time until you have a fully moist and spongy mixture. Not soup – there shouldn't be pools of milk.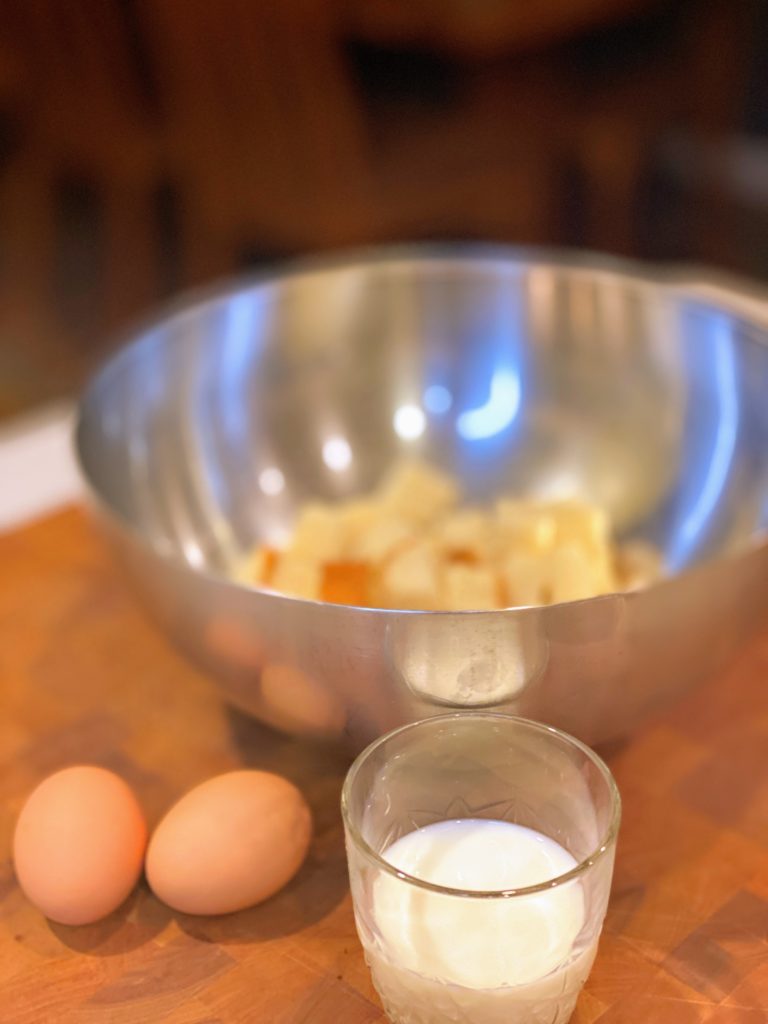 Finish prep
Once your pan is squared away and the bread is soaking in milk, you can turn your attention to preparing the rest of the ingredients for the best classic meatloaf recipe you will ever need.
Cook the onions and garlic
Place a pan over medium heat and allow it to fully heat up. Add butter or oil to the pan and allow to melt/heat though. Sauté the onions and garlic, stirring frequently, until softened and translucent. 4-6 minutes. Remove pan from heat and set aside.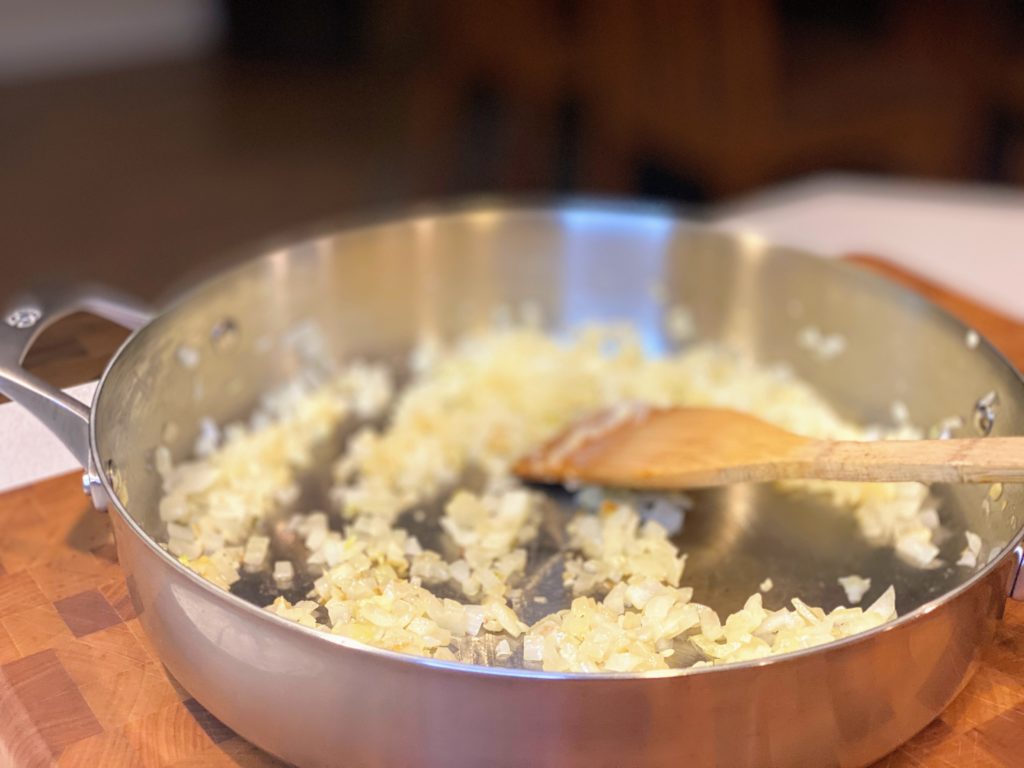 Mix it up
Add all remaining ingredients for this classic meatloaf recipe EXCEPT THE GROUND BEEF to the milk/bread mixture and mix thoroughly. By fully blending these ingredients before adding the meat, it is easier to combine your final mixture without over-handling the beef. I find that clean hands are the best tool for this. I have memories of helping Dear Old Dad with this step and freezing my fingers because the ground meat had just come out of the fridge.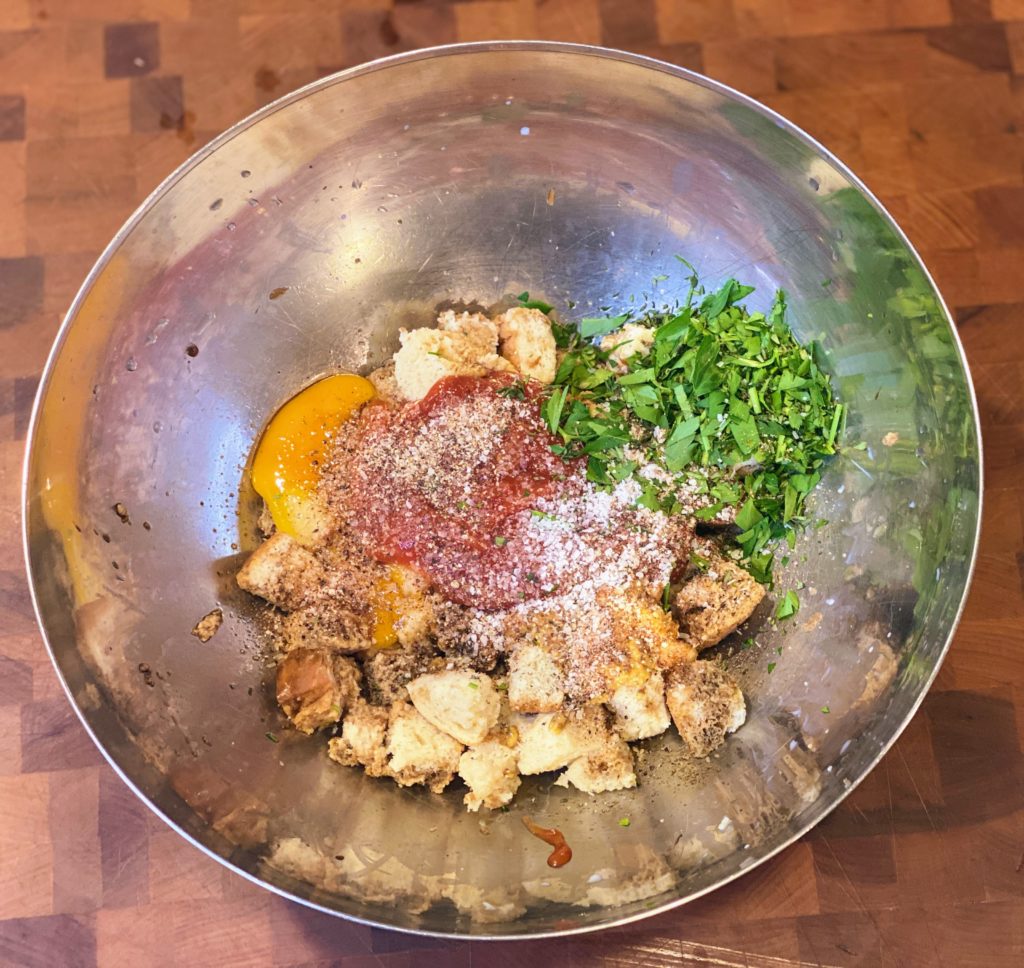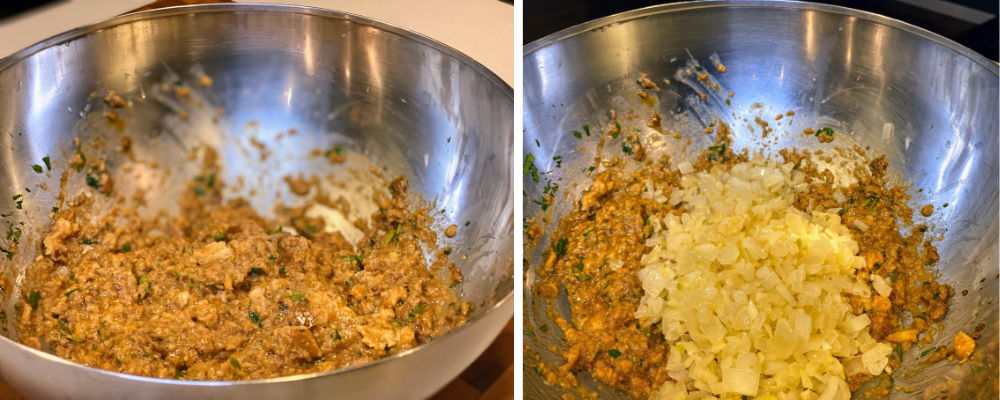 Once everything is well incorporated, add the ground beef, broken up in pieces. Then use your hands to incorporate the ground beef in with the rest of the ingredients.
I actually don't mind a slightly dense texture to my meatloaf. Compared to a standard burger, this should have a more uniform/smooth texture. This helps the final product hold together and be 'sliceable'. If you are worried about the texture being to smooth, use a wooden spoon to fold things together, or hold your fingers like a claw and keep your hand flexed as you combine. This will keep things from getting too smushed.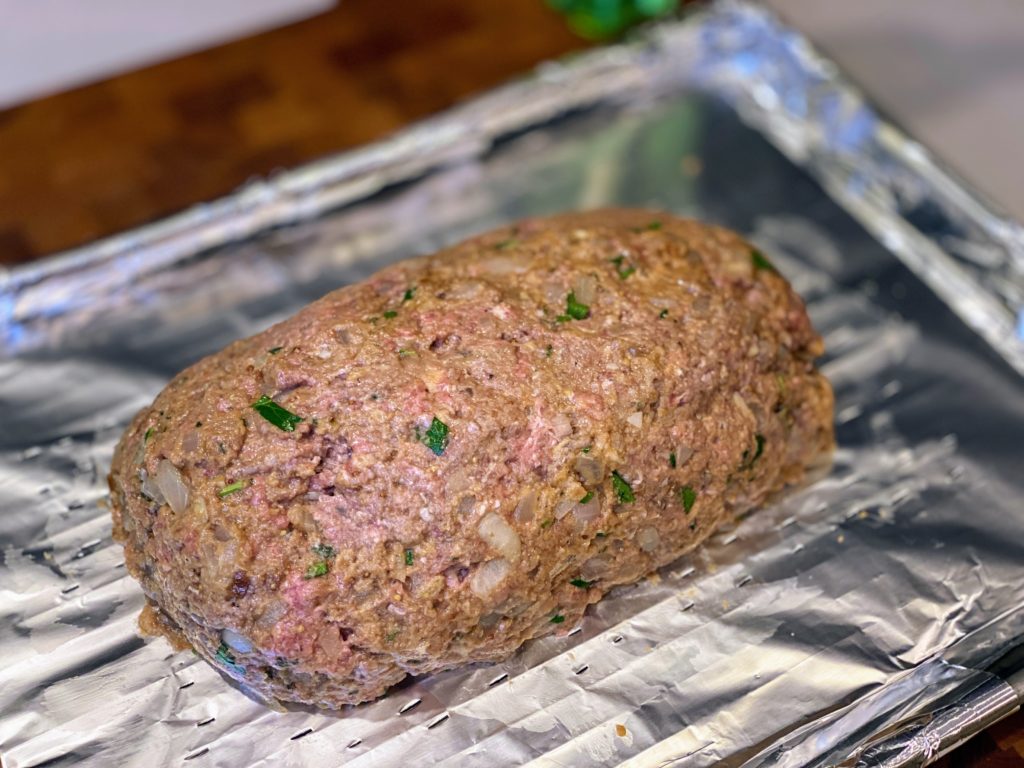 Once your mixture is combined, transfer it to your prepared pan and shape into a loaf that is the same thickness from end to end. If the loaf is too tapered in shape, the ends will overcook before the middle is up to temperature.
Place your delicious and classic meatloaf into a 350-degree oven for 1 hour, or until a probe thermometer reads at least 160 degrees in all parts of the loaf.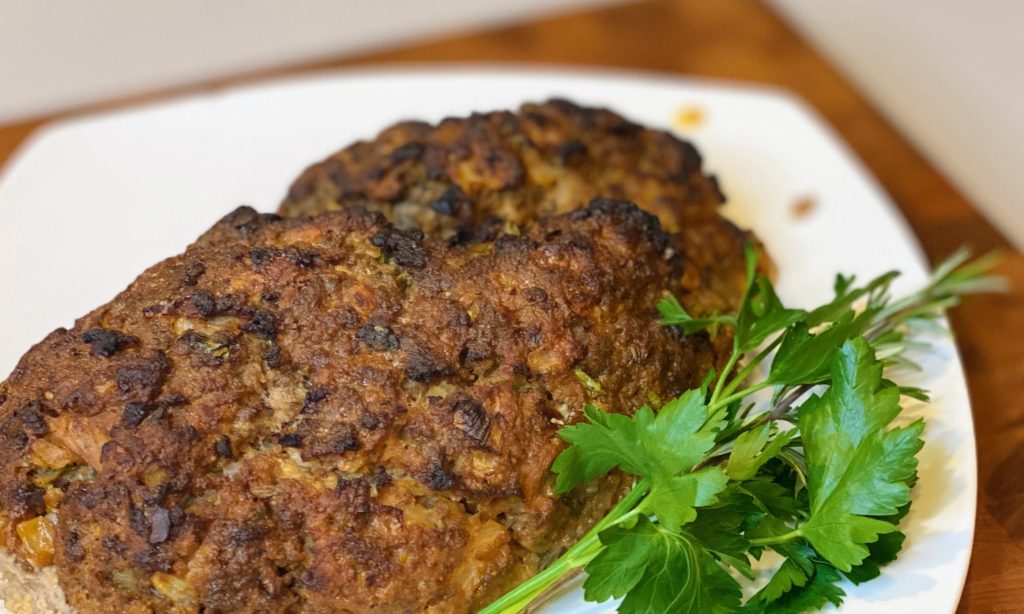 Time for a little R & R
When you take the meatloaf out of the oven, let it rest for 10-15 minutes before trying to cut into it or transfer to a serving dish. Serve with ketchupor your favorite BBQ Sauce (we love to dip this in Food By Joe's Sweet & Spicy BBQ Sauce.)
I suggest serving this classic meatloaf with some potato wedges, twice-baked potatoes, or baked sweet potato.
Check out these delicious recipes from Food By Joe: