---
VEGAN BBQ JACKFRUIT PULLED "PORK"
RECOMMENDED VIBE:
Here's an album I thought you might enjoy while cooking this recipe ?
---
OK, I'll bite…
I avoided this. I'd seen the videos & recipes using jackfruit to replace meats, but I was hesitant. Not sure if it was the name, the look, or the constant warnings about the smell – but I admit I was a hard sell.
The funk factor
As someone particularly sensitive to smells, I was fixated on the 'funk' that everyone seemed to mention when working with jackfruit. There always seem to be warnings and caveats about rinsing to get rid of the smell. So, my confidence was not high when I cracked that first can.
Does it have a smell? Yep. Is it objectionable? Maybe? Barely? Not to me. It smells a bit like artichoke hearts. However you choose to describe it, there was definitely not a funky or off-putting smell. They smell like vegetables. Certainly nothing that would compete with the strong flavors in this vegan bbq jackfruit pulled "pork" recipe.
Get it together
As always, I strongly recommend that you take a moment before any recipe to fully read the recipe and gather together all of the ingredients. This way you know you have enough of everything. If you need to make any substitutions, it's best to think about that now, and not when the cooking begins. Downtime in the kitchen is for visiting and sipping wine, not running around hunting for ingredients!
For this vegan bbq jackfruit pulled "pork" recipe, you will only need FIVE INGREDIENTS and one of them is water!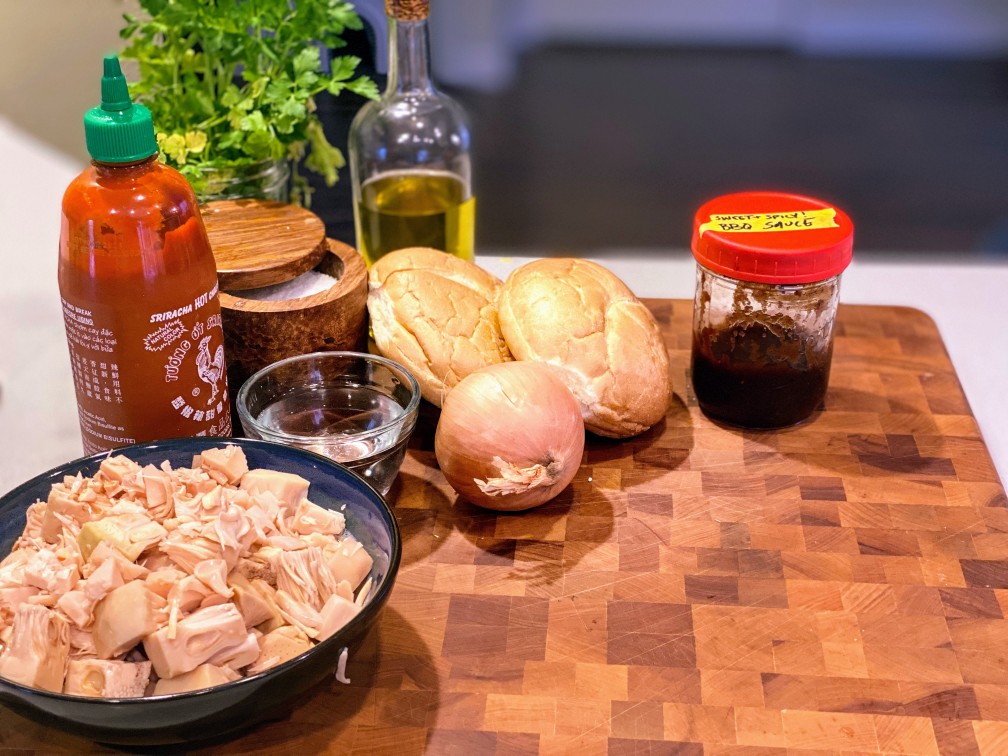 Getting jacked up
Rule # 1 with jackfruit is to always give them a good long rinse under cool water. You will find canned jackfruit in water or in brine. Either will work fine, just be aware of the salt level and adjust if needed. I used the brined variety, and o I gave it an extra minute or two of rinsing.
The jackfruit comes cut into wedge-shaped pieces, with a tougher core section on one end. You can leave this as-is if you want, but I choose to snip those ends off and dice them up into smaller pieces. The rest of the chunk will "pull" nicely but the core pieces can stay chunkier if you leave them alone. By cutting them off and chopping up the core pieces, you will get a more consistent texture.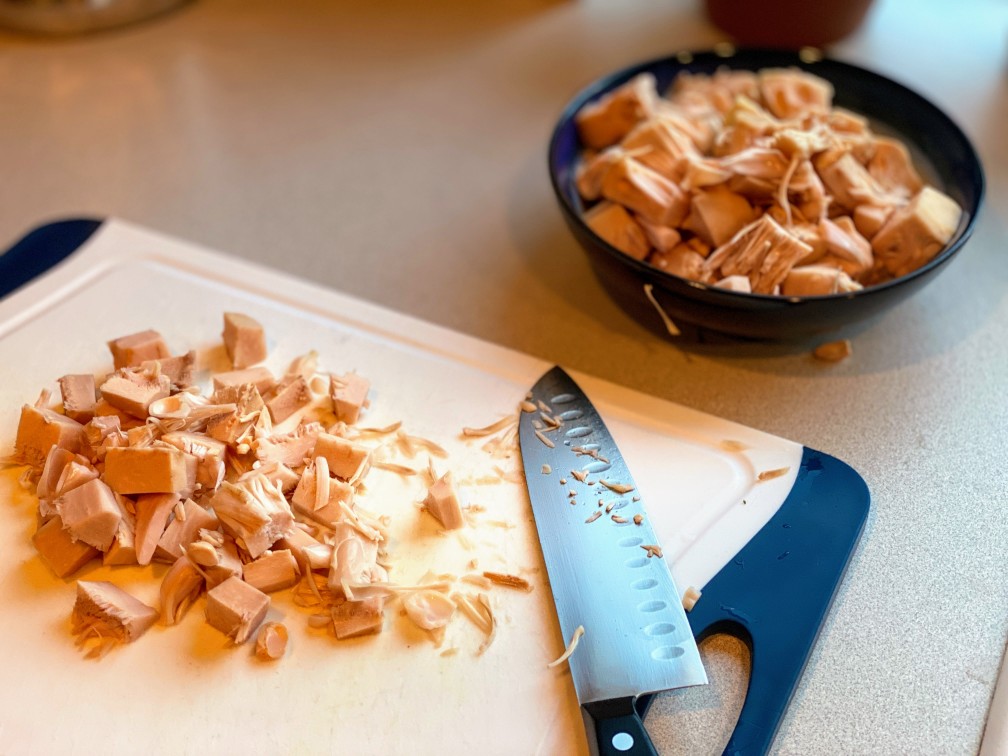 Let's cook
Start your vegan bbq jackfruit pulled "pork" with a heavy pot or large skillet over medium heat. I love using my enameled cast iron dutch oven for recipes like this. It holds heat better than thinner metals, and everything heats evenly.
Add the oil and let it heat up until it shimmers before adding the onions to the pot. Cook the onions for 3 or 4 minutes, just until they soften and get a good sheen on them. Stir every minute or so.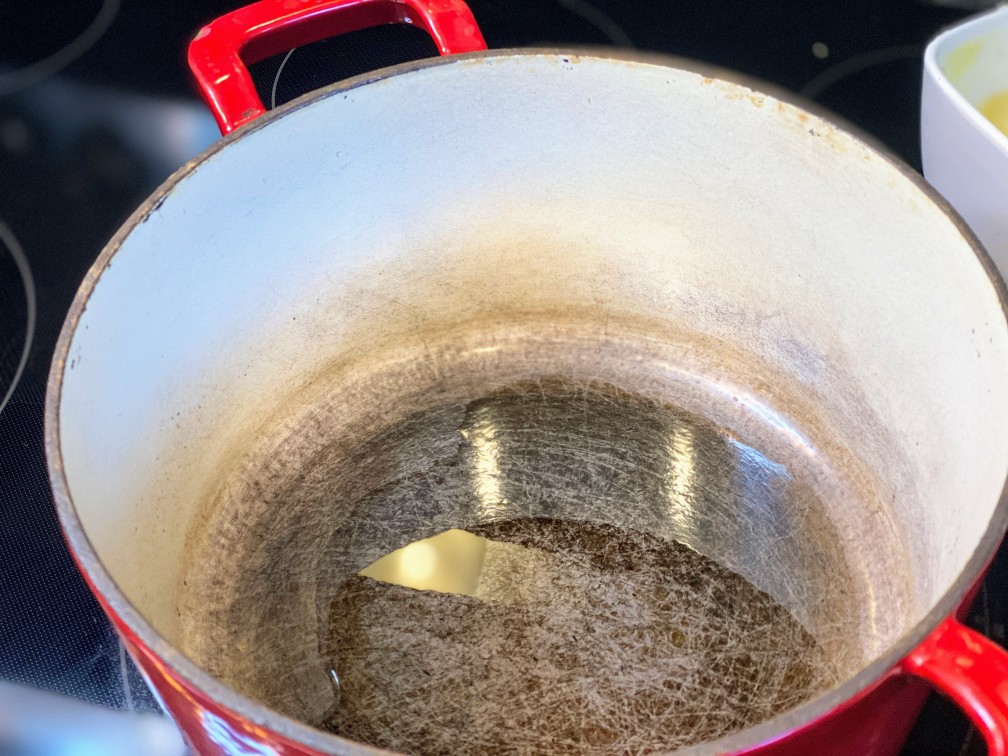 Once the onions have cooked down a bit, add the jackfruit to the pot. Pour in the BBQ sauce and water and give it a good stir to combine everything.
Cook down
Put the lid on the pot and reduce the heat to medium-low. Let this cook for 20 minutes. Oven temperatures vary, so give it a peek to be sure it has a little bubble action, but not a full boil.
If after 20 minutes you find that the sauce is too thick, just add a couple of tablespoons of extra BBQ sauce or water and stir to combine. If you find that the sauce is too THIN for your liking, just remove the lid and let it continue to simmer until the sauce thickens to your liking.
At this point, you can use a potato masher or a big spoon to break the jackfruit apart somewhat, so that it somewhat resembles pulled pork. If resemblance to meat is not important to you, you can skip this step or just break things apart to a texture that you like.
Remove the pot from the heat and add the hot sauce. This is optional of course – go with your favorite hot sauce or skip this step! I used some of my homemade Fresno pepper hot sauce!
Load it up!
Serve this vegan bbq jackfruit pulled "pork" on your favorite vegan buns – toasted, ideally – and whatever fresh ingredients you love! Here's how we built ours up, from bottom to top:
Vegan Mayo
Romaine Lettuce
Pulled Jackfruit
Sliced Onion
Sliced Pickle
Vegan coleslaw
On the side?
Try your vegan BBQ jackfruit pulled "pork" with any of these recipes from Food By Joe:
Check out these delicious recipes from Food By Joe: