---
RECOMMENDED VIBE:
Here's an album I thought you might enjoy while cooking this recipe ?
---
The easiest!
This delicious parmesan roasted green beans recipe is literally two steps! Toss everything together, toss it in the oven, DONE. The nutty, salty parmesan elevates fresh green beans, and crispy bread crumbs lend a terrific crunch. The easiest side dish you'll find – and so yummy!
Like a lot of my recipes, this parmesan roasted green beans recipe came about because of the ingredients on hand, and not the other way around. If you can learn a few simple cooking rules and methods, it is much easier to use what you have, save time and limit food waste!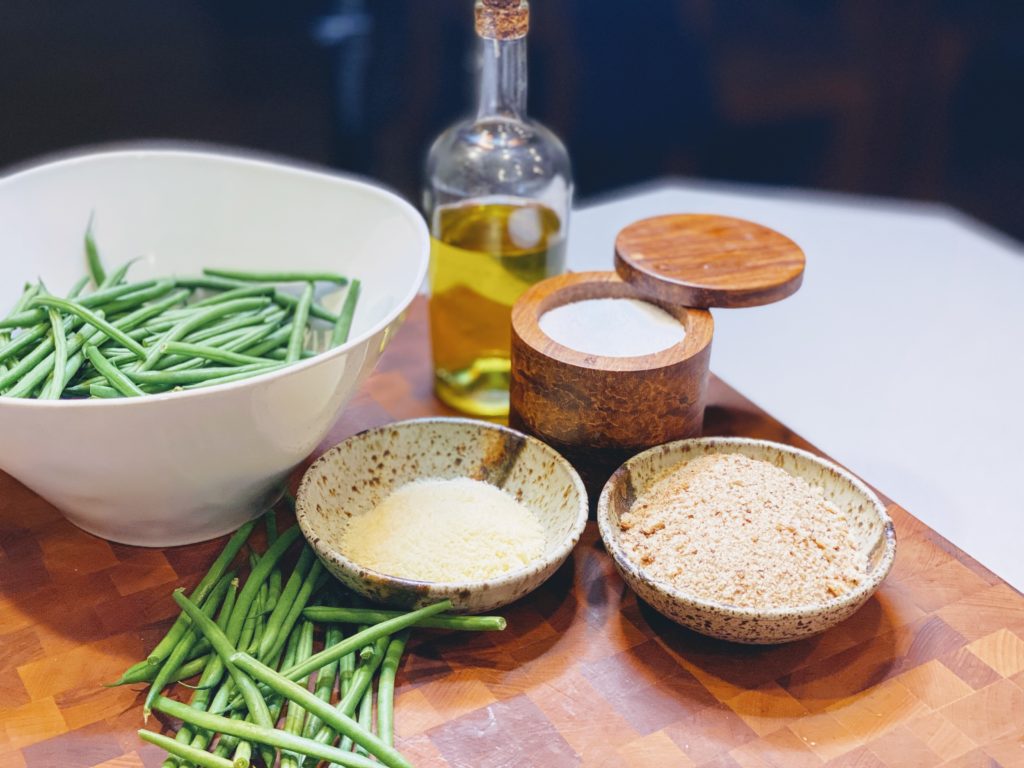 Toss it all in a bowl!
Throw your green beans in a bowl and drizzle them with the olive oil. Give them a good toss before adding the other ingredients. This allows each bean to get full coated in oil so that the parmesan and bread crumbs will stick better.
Once the beans are coated, just sprinkle the salt, parmesan cheese and bread crumbs over the top. Mix to completely coat everything.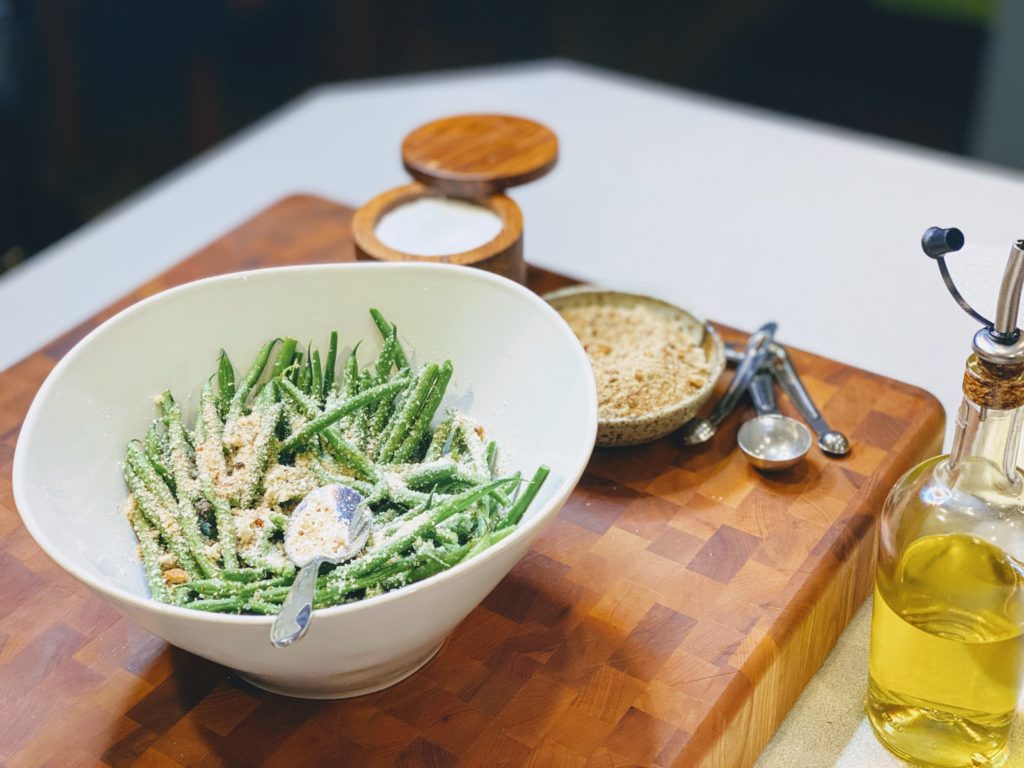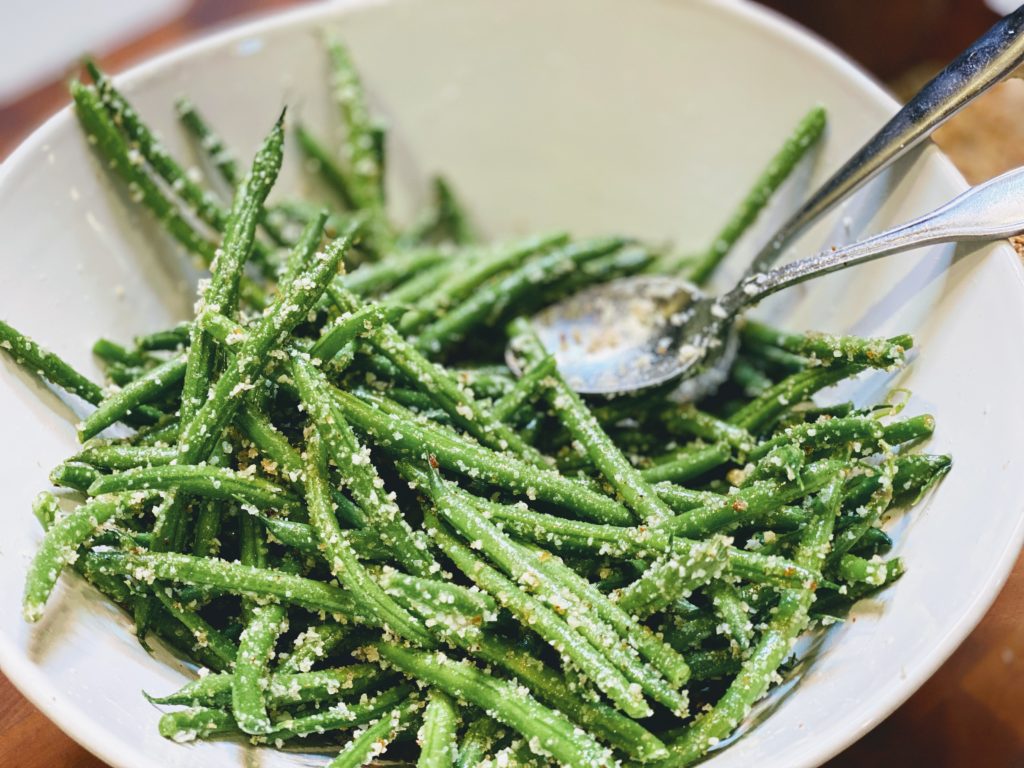 Toss it all on a pan!
Pour the green beans out onto a sheet pan lined with foil, parchment or a silicone mat. Try to spread things out to limit overlap as much as possible. If you want, you could also line the green beans up on a baking rack. The added air flow might get you a slightly drier/crispier green bean – but I find that the addition of the bread crumbs gives plenty of crunch, so I don't mind the green beans themselves being slightly softer.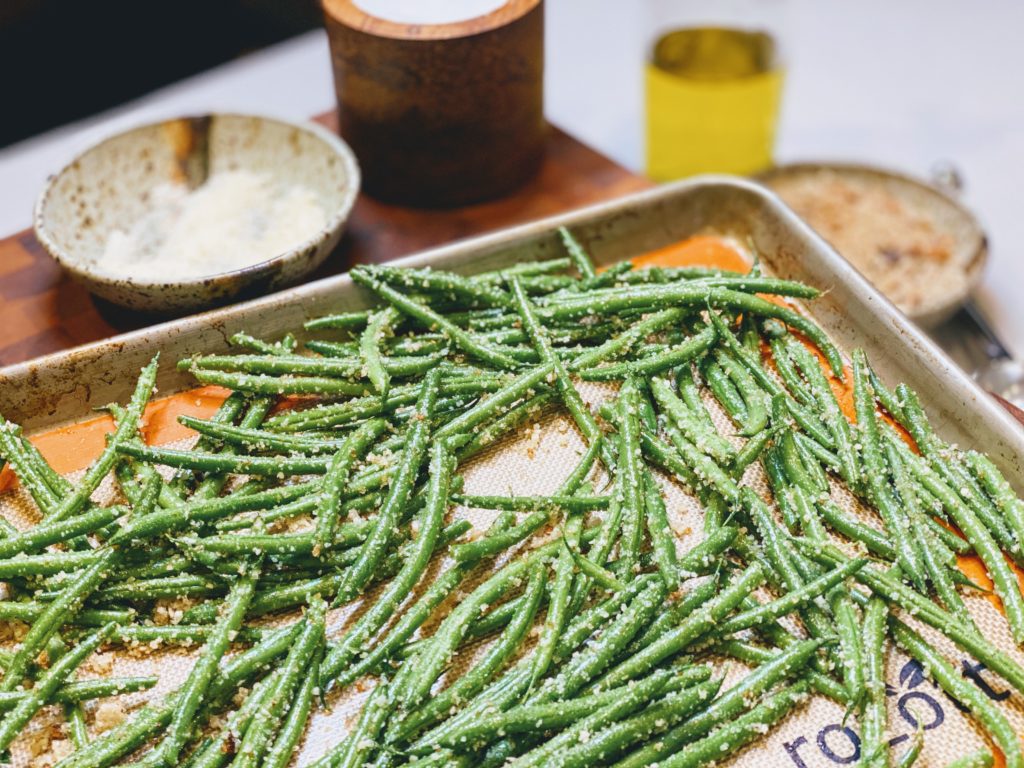 Toss it all in the oven!
Roast the parmesan green beans in a 400-degree oven for about 15 minutes before giving them a toss/flip. Just use tongs or a flat spatula to mix them up a bit and flip things over as much as you can. Then pop them back in to oven for another 10 minutes or so, and they're ready!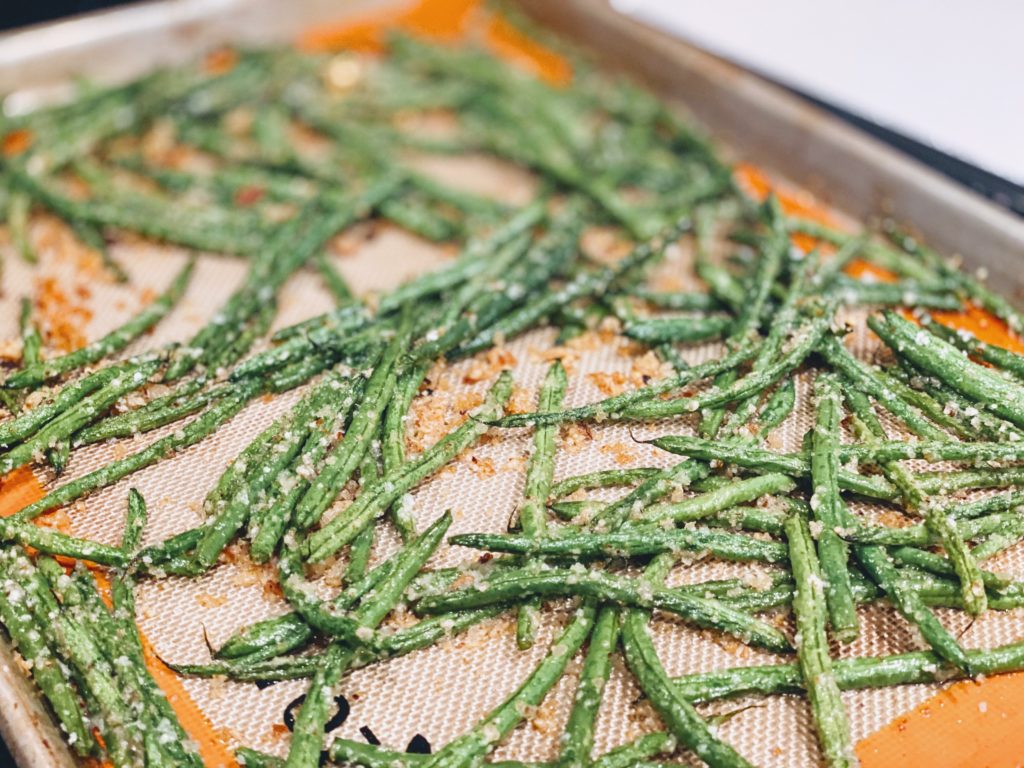 Toss it all back in a bowl!
Put your parmesan roasted green beans into a serving bowl or plate, and drizzle with a little olive oil, a grind or two of black pepper, a squeeze of lemon, and any crispy bread crumbs or cheese that are remaining on the baking tray.
We had a little shaved parmesan on hand, but you can garnish with more grated parmesan, or leave it as-is!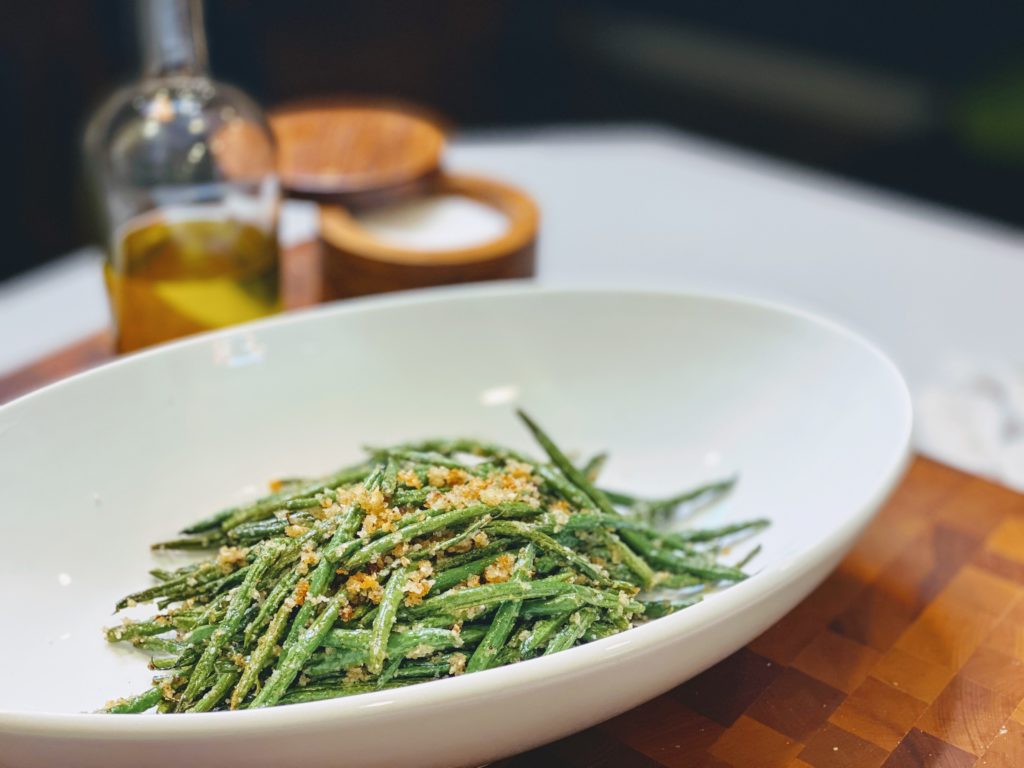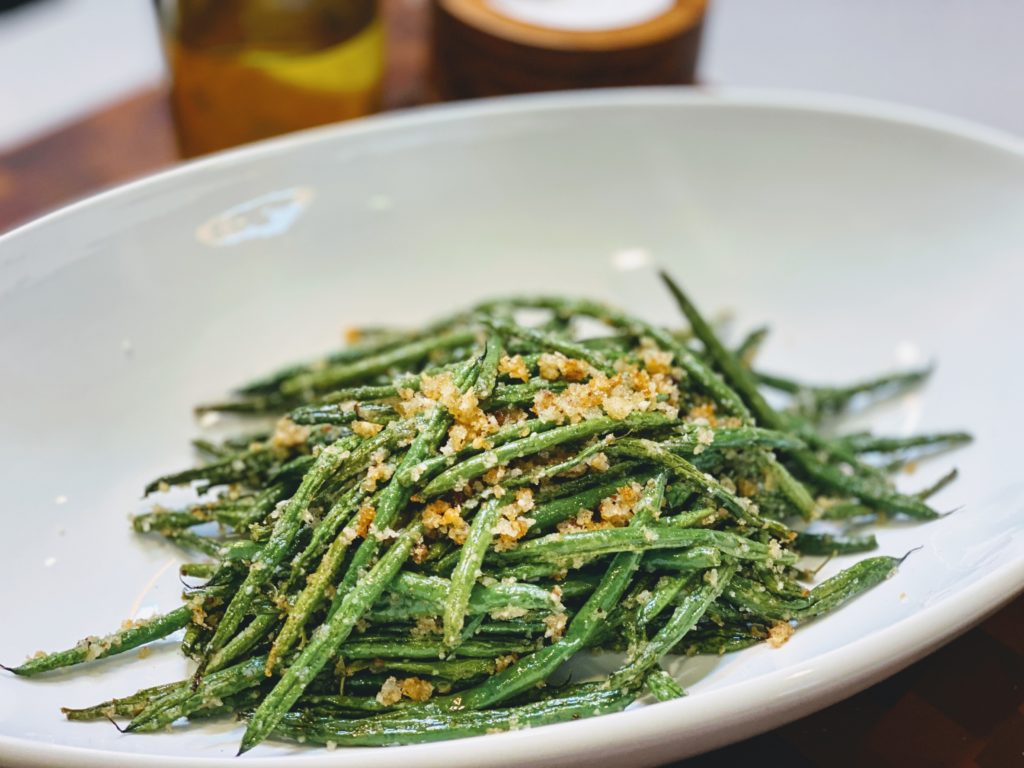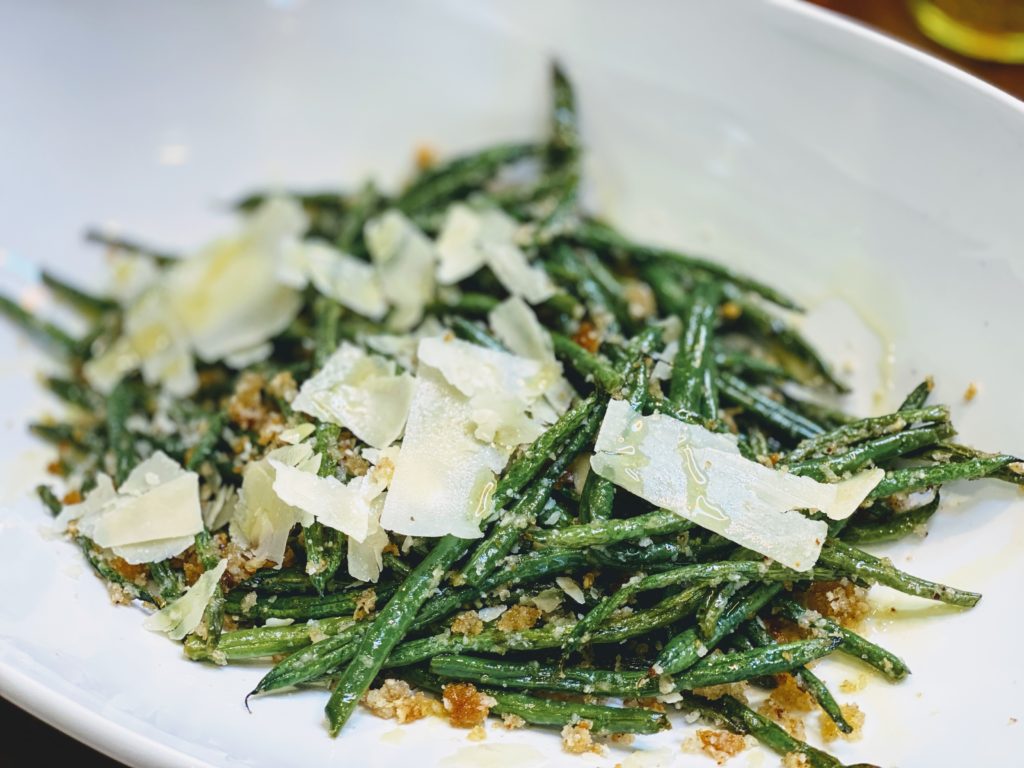 Try these parmesan roasted green beans alongside:
Check out these delicious recipes from Food By Joe: