---
RECOMMENDED VIBE:
A hand-picked collection of music to set the mood for this recipe!
---
Rare and elusive
Shhh, don't spook it! See it over there? It's the rare and elusive Crispy Baked Sweet Potato Fries! This seems to be the holy grail for sweet potato lovers everywhere. How to get a crispy outside without frying in fat?
Disclaimer: I know, I know – this baked crispy sweet potato fries recipe has a lot of steps. Don't mistake that for difficulty though; there are no difficult steps, you just really have to make the conditions right for some crispness. I can't say these are a 100% match with their deep-fried cousins, but I CAN honestly say these are the closest I've come!
So, have faith and let's give this a go!
Prep
Other than cutting up your sweet potatoes, there is not much prep to do!
Place a pot of water on the stove to boil. I'd say you want at least 2 quarts of water, maybe 3.
Get a sheet pan ready with a baking rack. You can do these without a rack but the extra air circulation is super helpful!
Put the cornstarch into a large bowl, and have a bowl of very cold water and a whisk nearby.
Carefully peel your sweet potatoes. I used one very large potato for this recipe and filled up a whole sheet pan.
You'll also need a strainer ready in the sink, a pair of tongs, and a form ready to go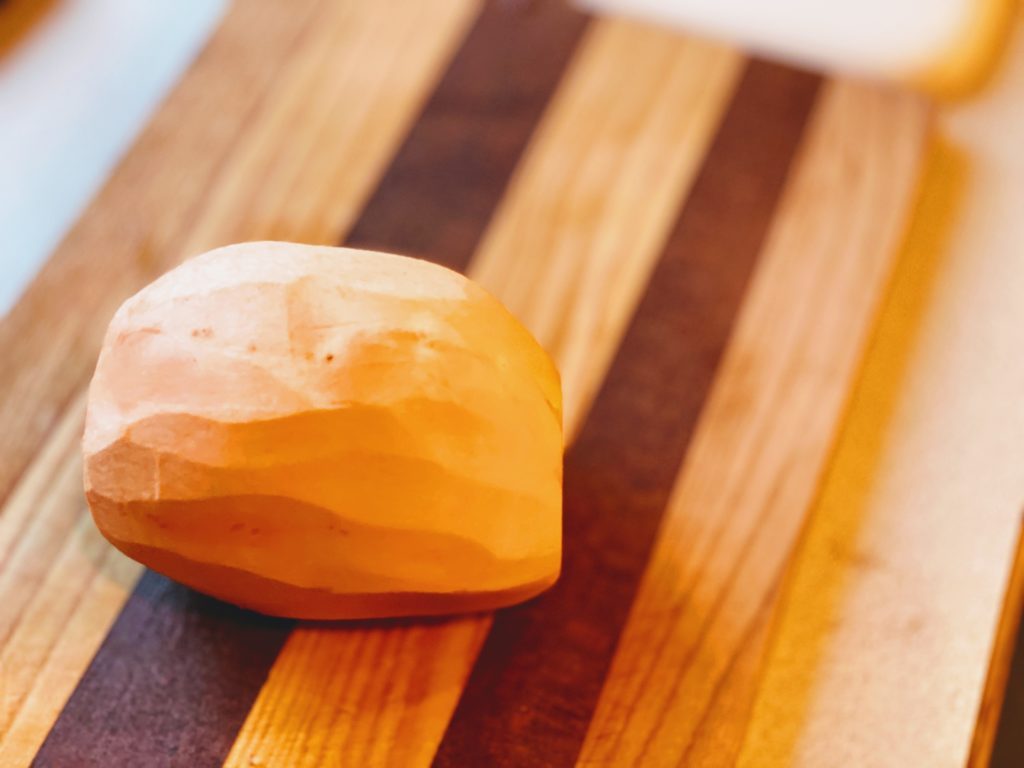 How to cut your Crispy Baked Sweet Potato Fries
Sweet potatoes can be tricky because they are very dense and hard. Always take great care when cutting them.
For your baked crispy sweet potato fries recipe, start by cutting your sweet potato in half lengthwise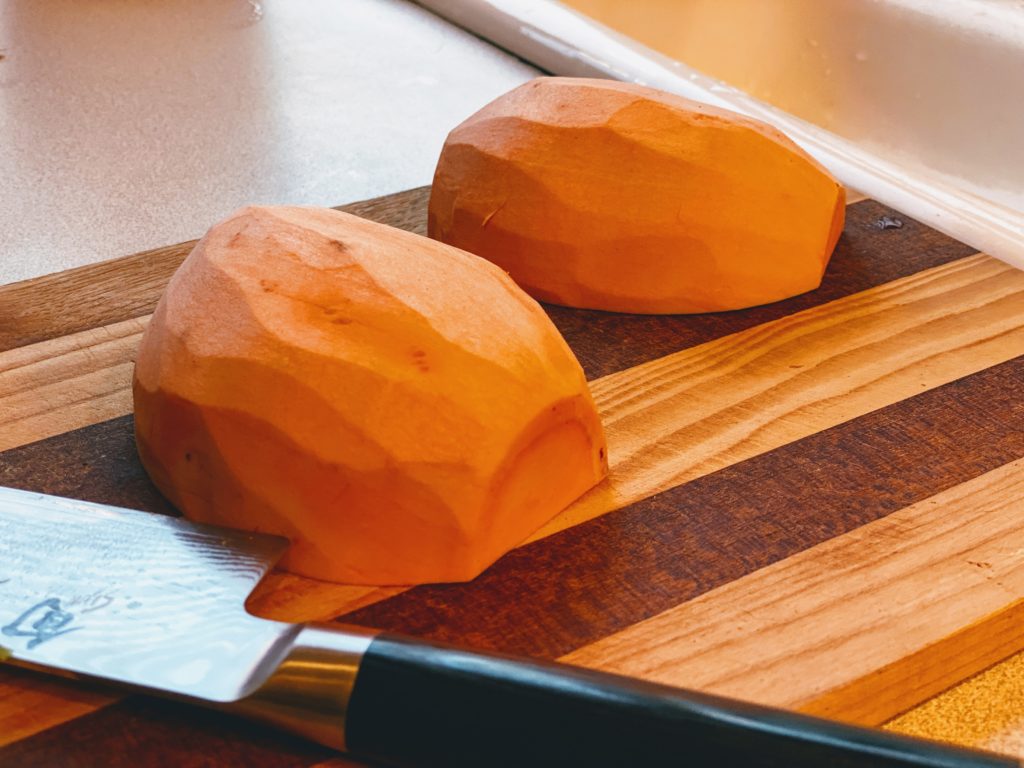 Next, place the cut side down on your board and cut slices or "slabs" that are around ½" thick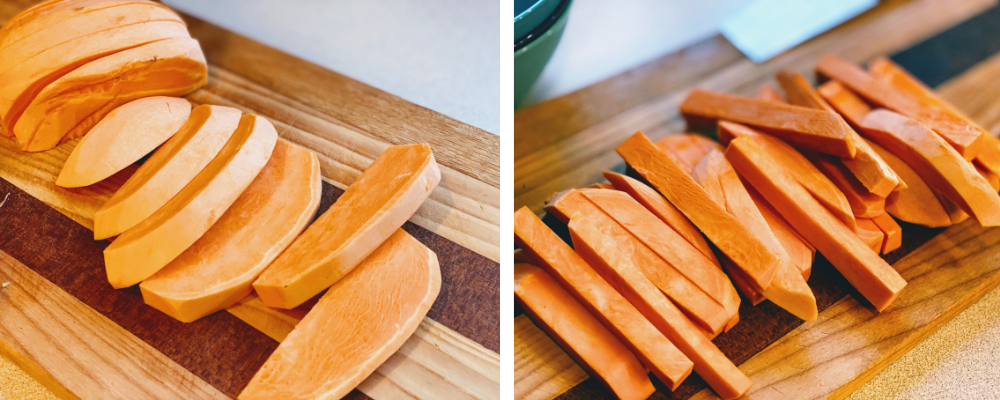 Finally, cut each slab into fries that are about 1/2″ wide. Always work lengthwise so that your fries are longer and easier to handle.
Par Boil 'em!
Parboiling just means that you are boiling something a LITTLE bit, but not completely cooking it through. This is useful when you want your food to cook through a bit faster. In the case of this baked crispy sweet potato fries recipe, if we waited for the insides of a raw potato to be cooked, the outsides would be burnt to a crisp. Parboiling gives them a head start! This is a crucial step in creating our Crispy Baked Sweet Potato Fries.
Once your water is boiling, add 2 generous tablespoons each of kosher salt and white vinegar to the water. This is for the very important reason of science. Don't question me. ? (honestly, it has something to do with pectin and helps the fries not fall apart so easily)
Vinegar
Slide your fries into the salted and vinegar-ed boiling water and set a timer for 6 minutes. Pour a glass of wine? Maybe a nice Oregon pinot noir?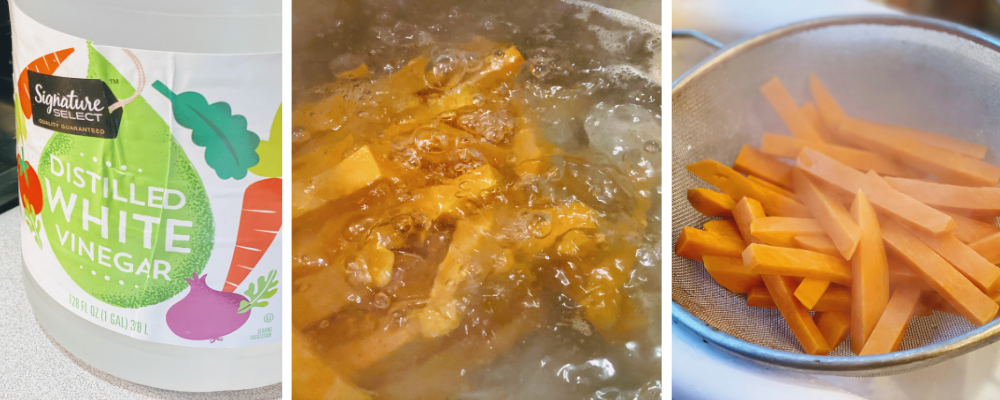 After 6 minutes, drain the fries and let them cool-slash-dry-out for a few minutes. Spreading them out on a towel might not be a bad idea.
Fork 'em!
Ok, the next step on our quest for Crispy Baked Sweet Potato Fries is a bit strange – but trust me! Remember that fork I mentioned?
Once the fries are cool enough to handle, take the fork and scrape the sides of each fry so that there are some grooves and crags. It may take a fry or two but you'll get the feel of it. Forks with smaller/sharper tines work best.
These grooves and crags do 2 things: first, they create surface area. Surface area gets crispy. Thus, more surface area = more crispy! Maths!
What's your slurry?
Back to our large bowl and corn starch!
Once you've grooved and cragged all your fries, add the cold water to the bowl and whisk until you get a smooth, slightly runny paste – a bit thicker than what's pictured is actually best.
TIP: Don't mix up your slurry ahead of time – if it sits around, you will end up with a non-Newtonian solution, and that can be tricky to work with. ?
It's a toss-up
Toss your groovy fries into the bowl and gently toss to fully coat everything. I like to leave mine in the bowl for a few minutes to really let the slurry get into all the grooves! During this time, use a paper towel and oil, or some cooking spray, to lightly coat the baking rack with oil.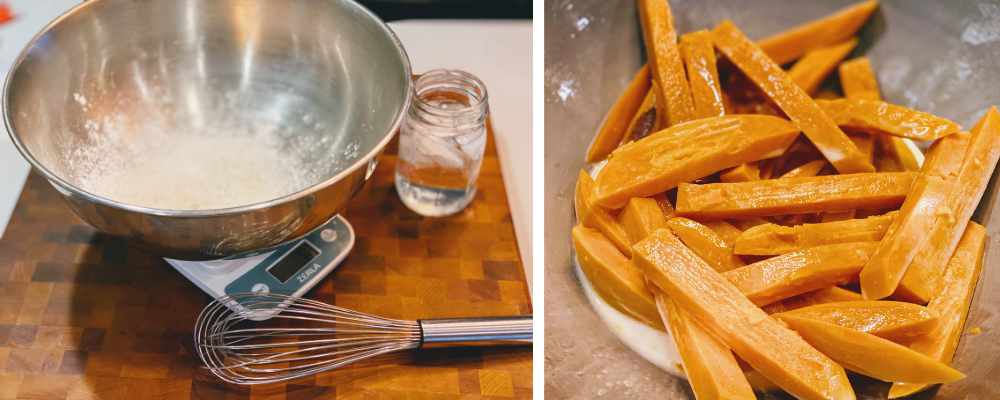 Once your fries have had a cornstarch bath, lay them out on your baking rack, trying to avoid touching. You want yours to look a bit more 'coated' in the white slurry than what is pictured below. As I said, mine was a bit too runny on this batch.
Let the fries chill out on the rack for a few minutes while the oven preheats to 475.
Use a brush with oil or some cooking spray to lightly coat the tops of each fry with oil.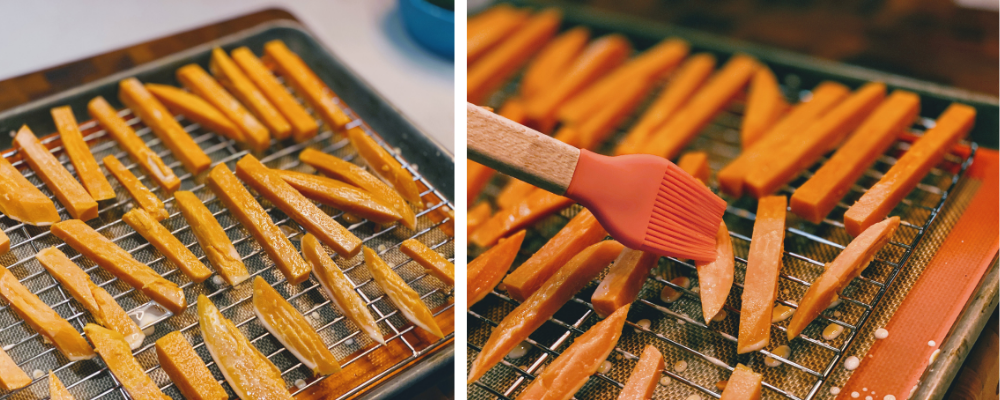 Bake the crispy baked sweet potato fries for 15 minutes, then remove them and use tongs to flip each one over. Coat the tops with oil the way you did before, and return to the oven for an additional 10-15 minutes.
Keep an eye on the fries – depending on size and moisture, they may take a bit longer to get crispy. It's fine to leave them in the oven longer, just keep a watchful eye on them – you don't want them to get too dark!
When finished, immediately place the crispy baked sweet potato fries in a bowl and add your desired seasonings – here are some options!
SIMPLE: 1 tsp kosher salt + ½ tsp black pepper
SAVORY: 1 tsp Food By Joe's All-Purpose Seasoning Blend
MILD CHILI: ½ tsp chili powder + ¼ tsp cumin + 1 tsp salt
SWEET HEAT: 1 tsp brown sugar + ¼ tsp cinnamon + ¼ tsp cayenne +½ tsp salt
EVERYTHING: 1 tbsp everything bagel seasoning + ½ tsp salt
LEMON PEPPER: 1 tsp salt + 1 tsp black pepper + ½ tsp garlic powder + juice & zest of ½ lemon
Check out these delicious recipes from Food By Joe: