---
RECOMMENDED VIBE:
Here's an album I thought you might enjoy while cooking this recipe ?
---
These twice baked potatoes are the ultimate comfort food
Every time I make this twice baked potato recipe I am struck by how truly simple it is. Basically a baked potato with 2-3 more steps. Forgiving, too! What I mean by 'forgiving' is that it's hard to mess this simple recipe up. I've listed quantities for everything but you really can make adjustments for taste. More cheese, less cheese. More garlic, less garlic – this is a recipe that allows you to easily adapt to your tastes and what ingredients you have on hand.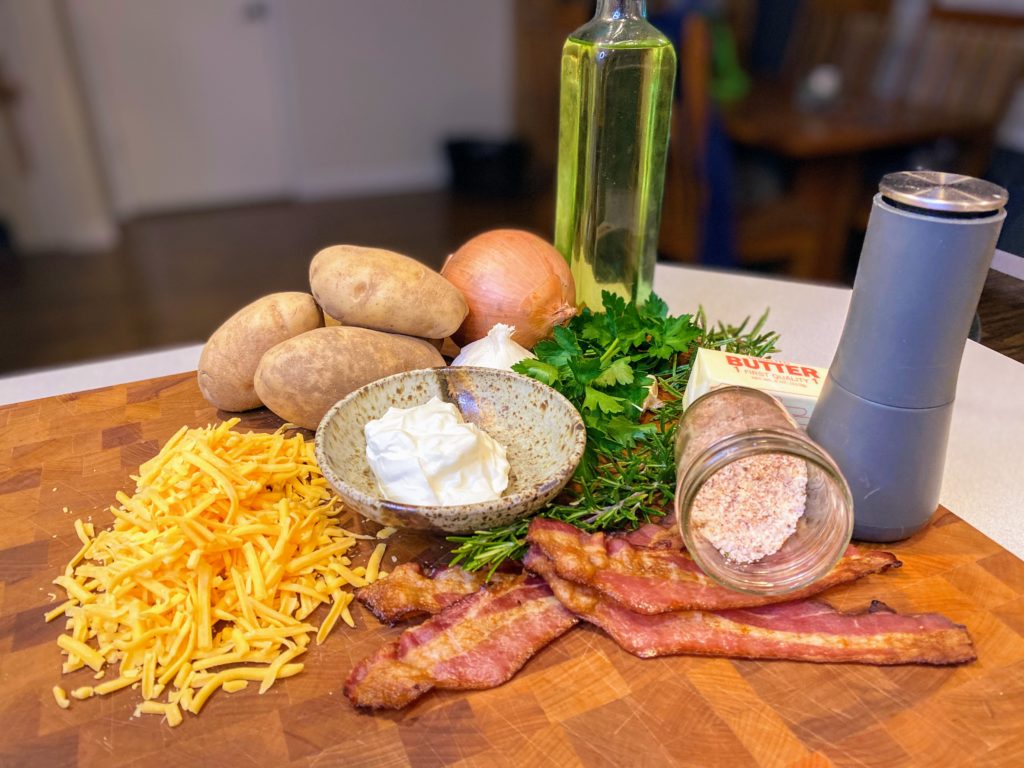 Gather your ingredients
I always suggest you get all of your ingredients prepped, measured, diced, etc. before you begin cooking. Nothing ruins a joyful cooking experience like spending all your wine-sipping time racing around prepping ingredients once the clock starts! You'll be much more relaxed if you take a few minutes to read the recipe and gather all you'll need. (including that glass of wine)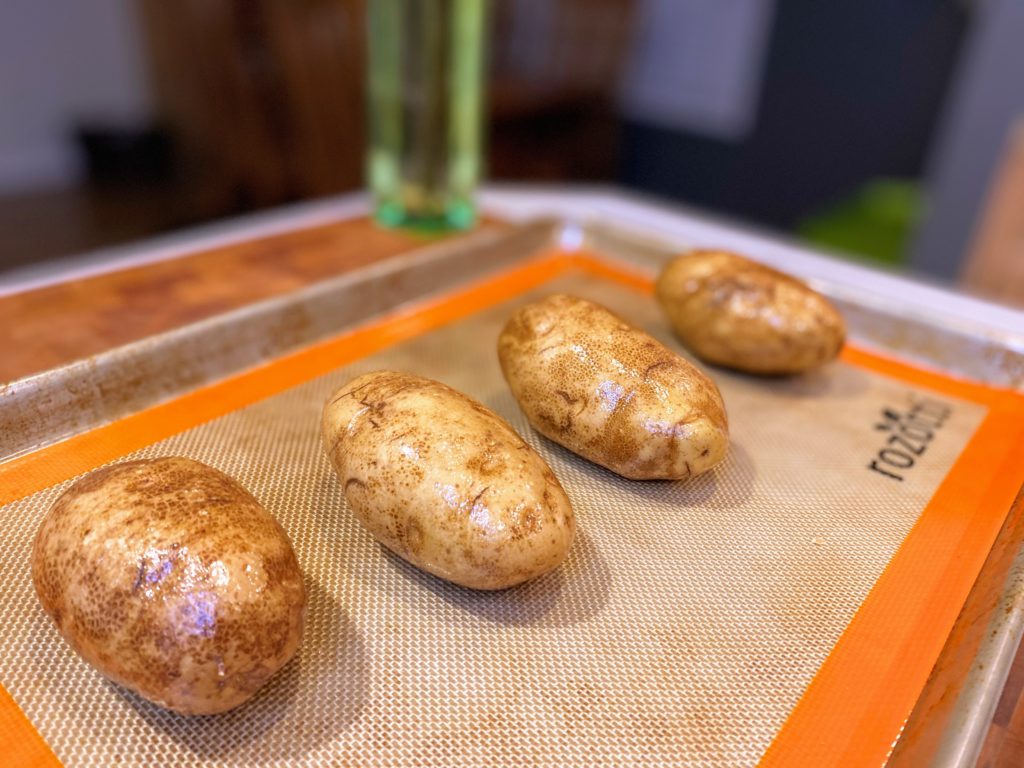 Bake some potatoes!
You'll be shocked to find out that this TWICE baked potatoes recipe starts with – wait for it – ONCE baked potatoes! We're using 4 potatoes, which will make 8 servings. If it's just the two of you, cut quantities by half. If you're feeding a soccer team, the recipe card below will do the math for you, for a single, double, or triple version of each measurement in the recipe.
TO BAKE YOUR POTATOES:
Preheat the oven to 400
Give the potatoes a quick scrub under cold water, and then towel off as much moisture as possible. You don't need to scrub too hard, as we don't want the skins to end up too soft to hold the filling. Get the dirt off, and that's it.
Give each potato a few pokes with a fork. This (allegedly) keeps the skins from bursting.
AFTER you poke the potatoes, drizzle a little canola oil on each one. Use your hands to be sure the entire surface is coated in oil.
Seriously, do not oil your potatoes before trying to poke them. It's comical but also risky! 🙂
Pop your slick potatoes onto a baking sheet, and into the oven for 50-60 minutes, or until a fork easily pierces to the center of the potato.
Let them cool a bit, and turn the oven temperature down to 350 degrees. You're ready for the next step of the recipe!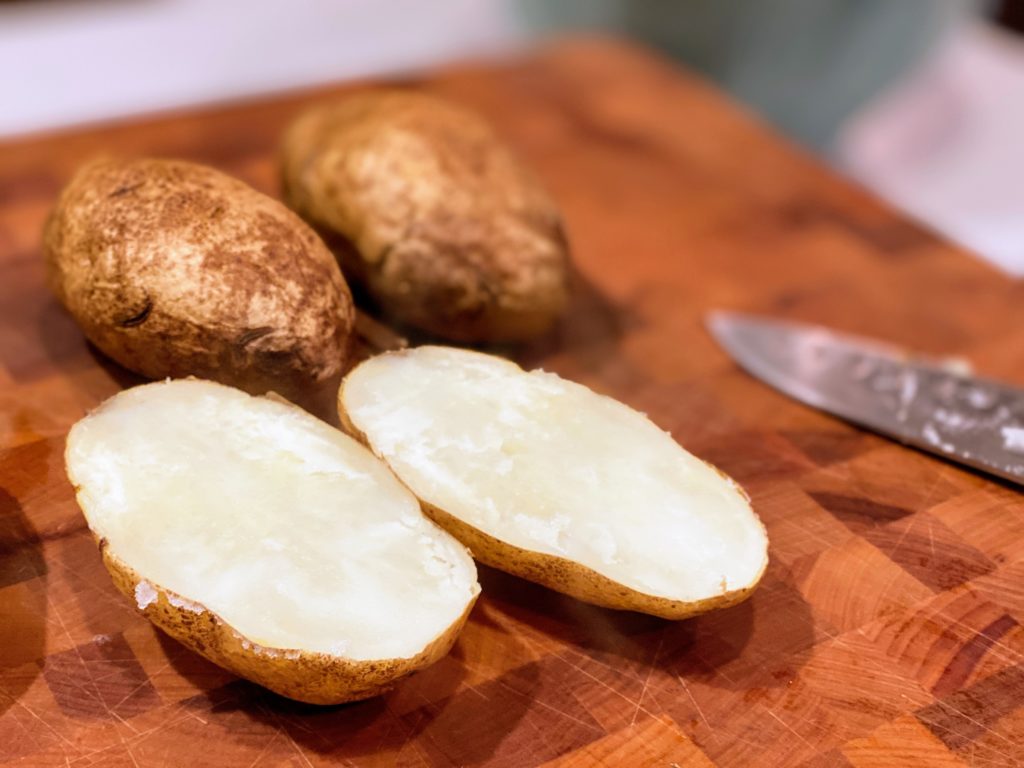 Make garlic herb butter!
While the potatoes cook, melt the butter over low heat in a small saucepan. Add the garlic, onion, rosemary, and parsley. Just let it warm over the lowest heat setting while you wait for the potatoes to bake. You shouldn't see any movement or sizzling, just steeping in warm butter.
I like to mince the rosemary extra finely for this recipe. Whole pieces of rosemary can get a little woody in the oil, and I've found it's unpleasant to encounter a whole needle in these smooth & creamy potatoes. I just give all the herbs a finer mince than usual, and it works perfectly.
Slice & Scoop
Once the potatoes are cool enough to handle, slice each one lengthwise. Use a spoon to scoop out all but about ¼-inch of potato. As you scoop, place the insides of the potato into a bowl.
It's important that you leave enough potato behind to make the skin sturdy. Go slowly, and take small bits at a time. Every time I get tempted to do it all in one big scoop, I end up mangling the skin. Maybe that's just me.
Put the (almost) emptied potato skins on a sheet pan, where they will soon be filled with deliciousness.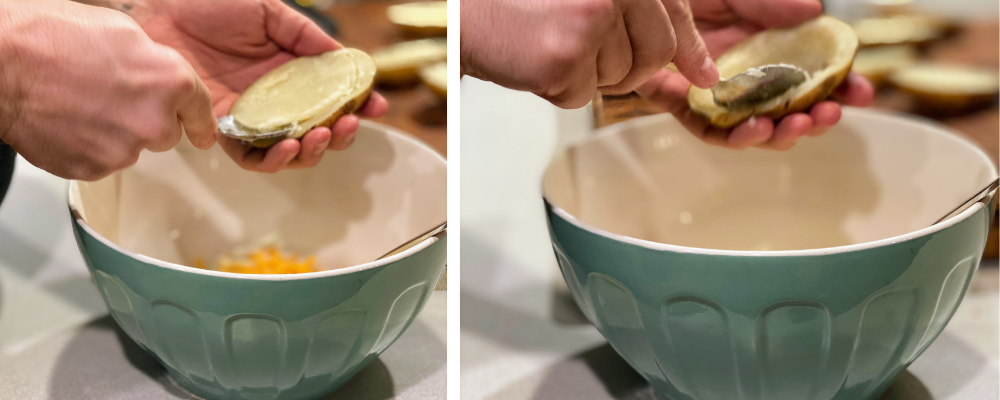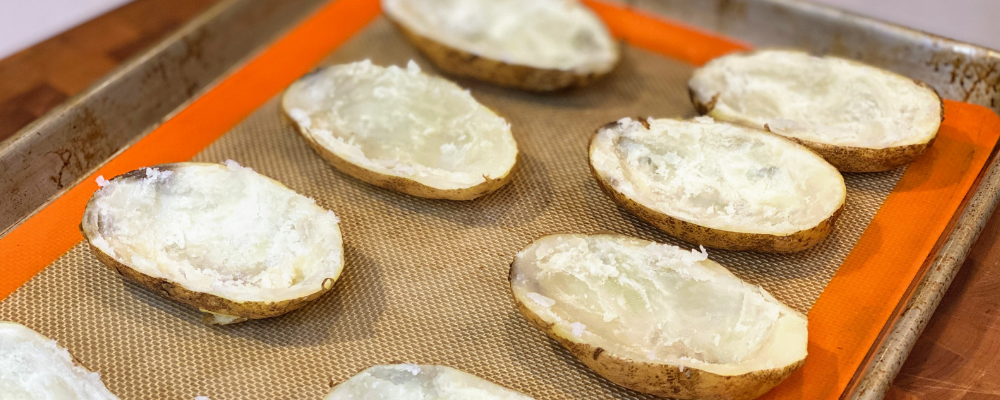 Mix up the filling
Ok, now comes the 'twice baked' part of this twice baked potatoes recipe. We're going to take all that fluffy potato you've got in your bowl, and we're going to add some can't-lose ingredients in the form of butter, garlic, bacon, sour cream, and cheese. I mean, come on. Remember to hold back half of the bacon and half of the cheese for topping!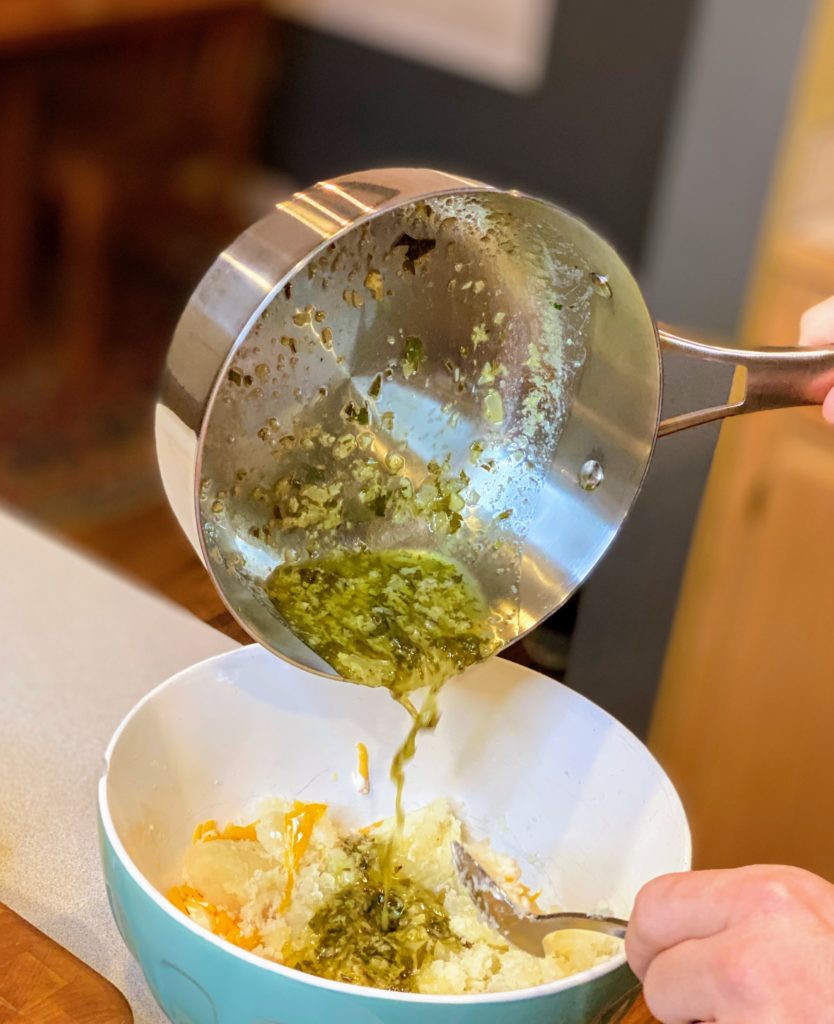 Add all of the ingredients – holding back ½ of the cheese and ½ of the bacon – to the bowl of fluffy potato, and pour the melted butter mixture in as well. Use a spoon or potato masher to mix everything together.
Choose your own adventure!
Do you hate bacon? Well, we can't be friends BUT you can still enjoy these delicious twice baked potatoes! Just leave it out. Love bacon? Add more! Now is the time to add any beloved ingredients and put your own spin on things.
SOME POSSIBLE ADD-INS:
Don't worry about getting a perfectly smooth texture. It's totally fine – better, maybe – to leave things a bit separated. Mix until the texture looks like what you want, and then spoon the filling into each of the waiting potato skins.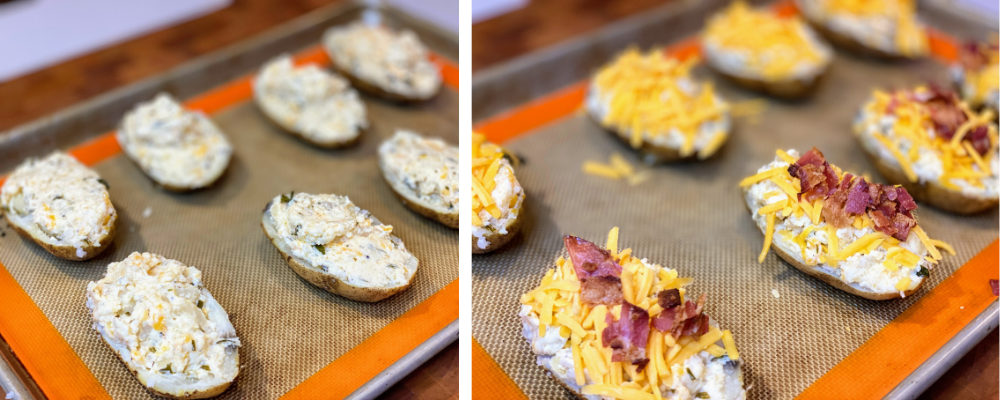 Bake again!
Arrange the potatoes on a lined baking sheet and bake in a 350-degree oven for 10-12 minutes, or until cheese is bubbly and slightly toasted.
These are a decadent side to grilled meats or a tasty lunch alongside a bowl of tomato soup – and leftovers make a delicious snack. (We love them with Food By Joe's classic meatloaf recipe.)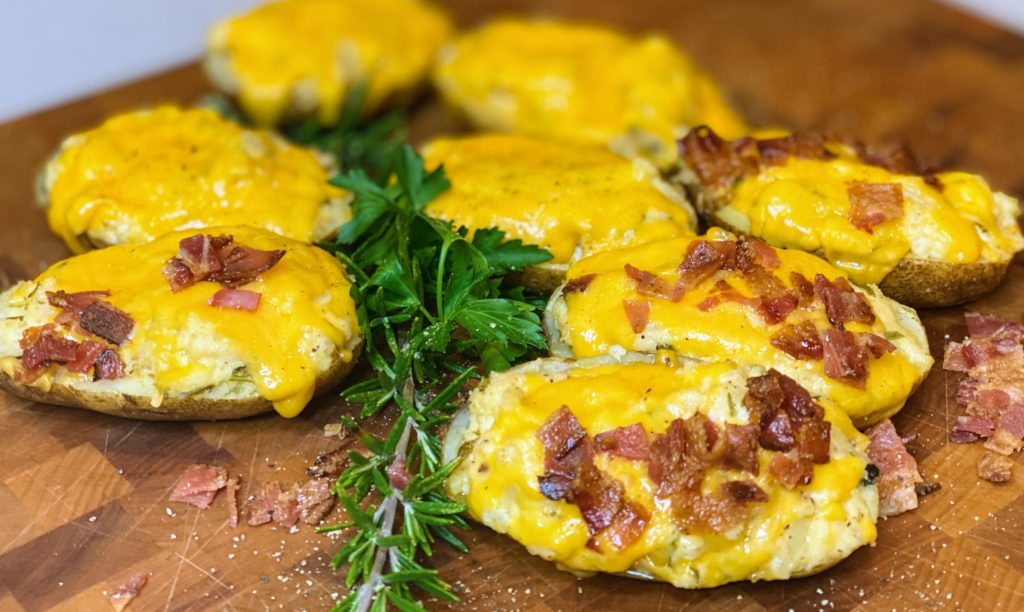 Check out these delicious recipes from Food By Joe: