---
RECOMMENDED VIBE:
Here's an album I thought you might enjoy while cooking this recipe ?
---
Versatility is the word of the day
This sweet & spicy BBQ sauce recipe covers so much ground it's ridiculous. In our house in addition to using this sauce for all of our grilling and smoking, we also use it as a marinade, a sandwich spread (try cutting with a bit of mayo!) and a dipping sauce for anything from veggies to Potato Wedges, to grilled cheese sandwiches! Heck, I think even a dirt clod would be delicious basted in this stuff! (OK, maybe not.)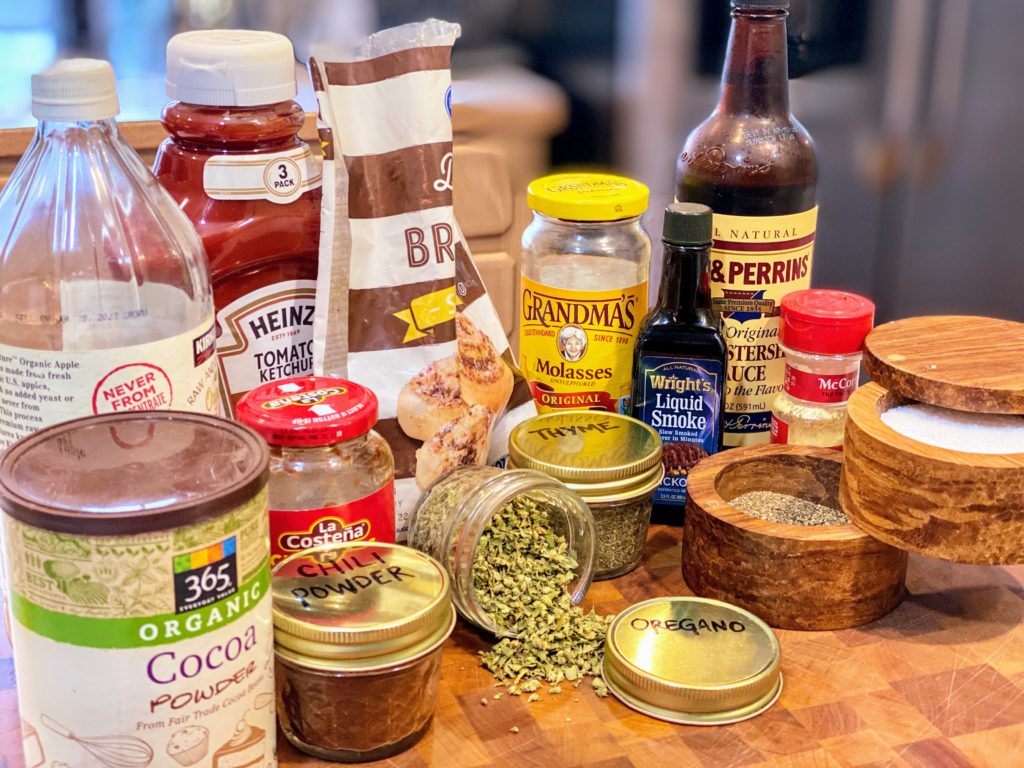 Ingredients!
I know it seems like a lot of ingredients, but the beauty of this sauce is that all you have to do (literally) is heat things through! No boiling or reducing needed.
When it comes to spice blends and multipurpose condiments, you should always feel free to adjust for your own taste! This sweet & spicy BBQ sauce is perfect for Wonderful Wife & me to use as our default sauce. Things like smokiness, acid level, and HEAT level are very subjective, so know your audience! Wonderful Wife and I both like s decent amount of heat, so this sauce is a good base level for us.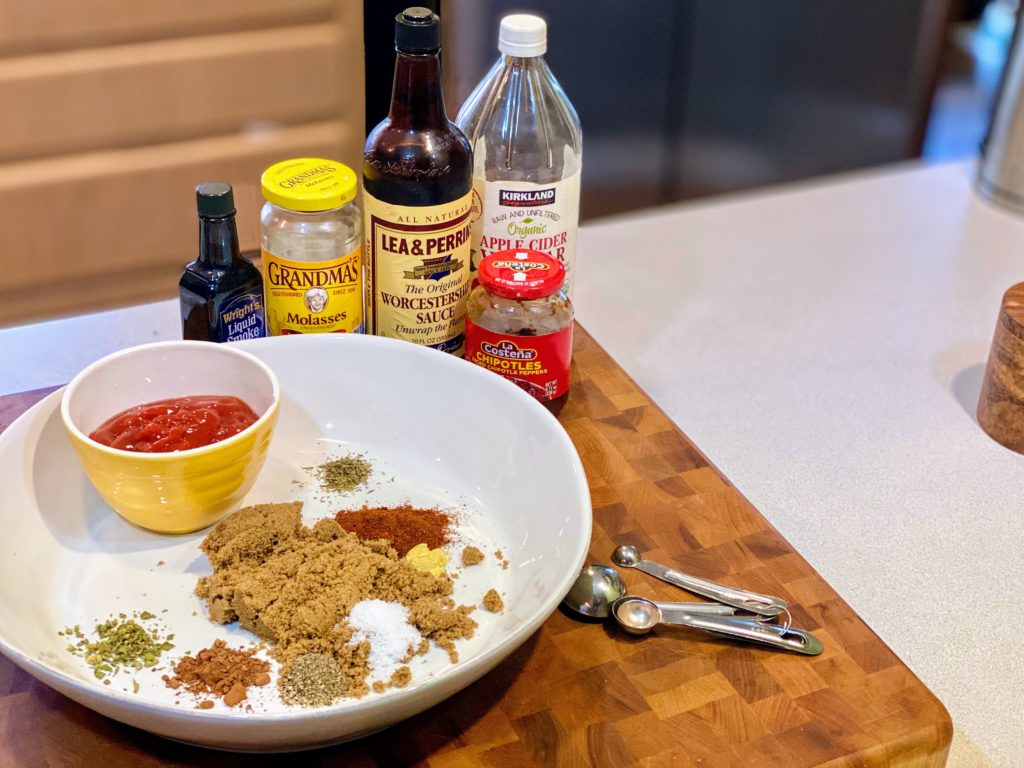 The DRY stuff
I like to get all of my ingredients measured and ready to go before I start cooking. Go ahead and get your brown sugar and spices measured out, so they are easy to dump into the pot! Another good reason for measuring into a separate dish is that you can always correct mistakes. Accidentally pouring a whole jar of cayenne is easy to undo if you're measuring into a separate bowl. If that happened directly in the saucepan, you'd have to start over. (Or suffer the fiery consequences!)
The WET stuff
The ketchup, Worcestershire sauce, vinegar, molasses, liquid smoke, and diced chipotle can be measured into the pan. Again, if you are at all concerned about your pouring/measuring karma, I'd do this in a separate vessel.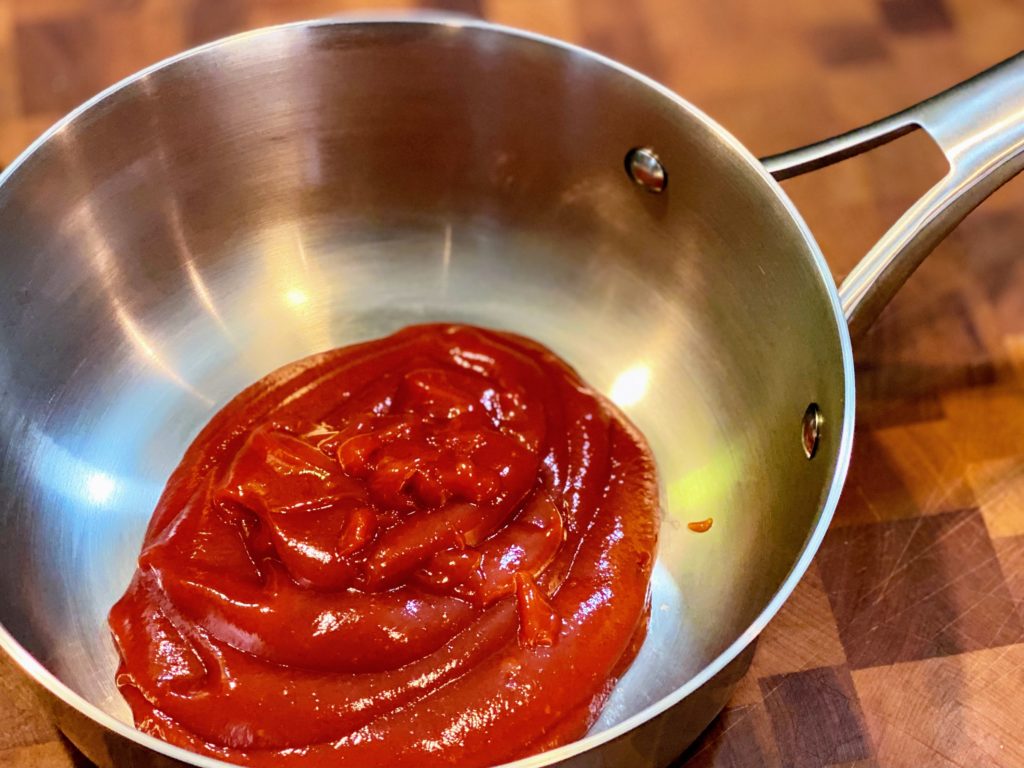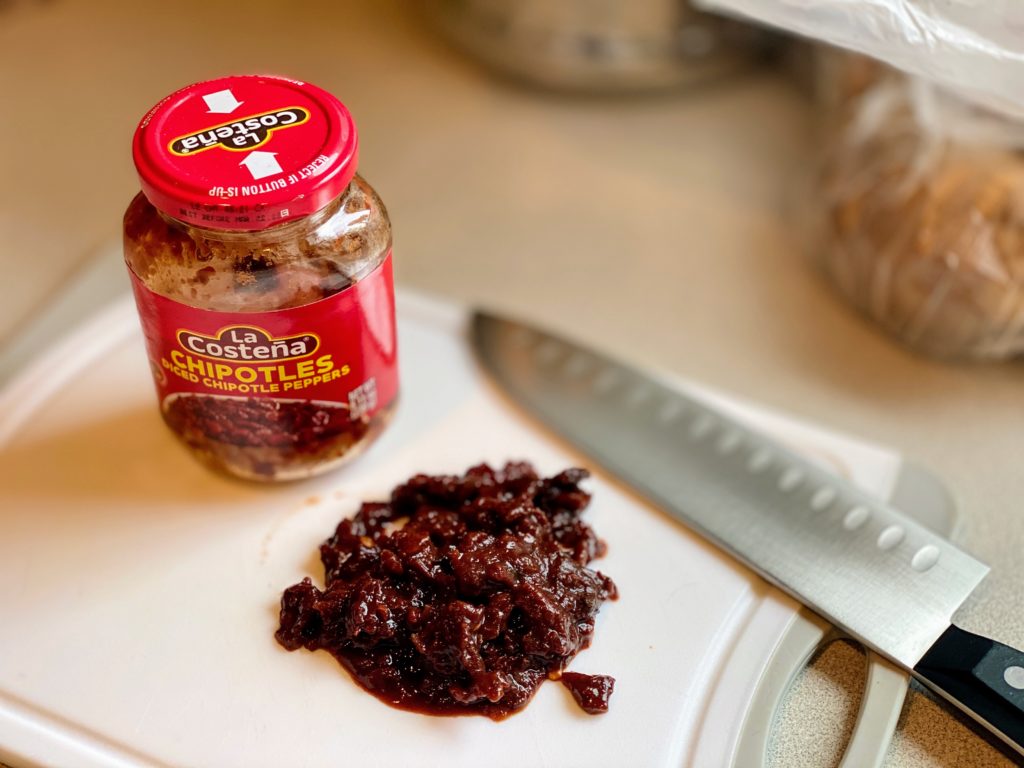 This sweet & spicy BBQ sauce recipe calls for ¼ cup of chipotle peppers in adobo sauce. If you're not familiar, chipotles are smoked and dried jalapeno peppers that have been soaked in a smoky sauce. This is a good place to adjust for heat. If you're completely heat-averse (or cooking for folks who are), You can definitely cut this in half, or even leave it our completely!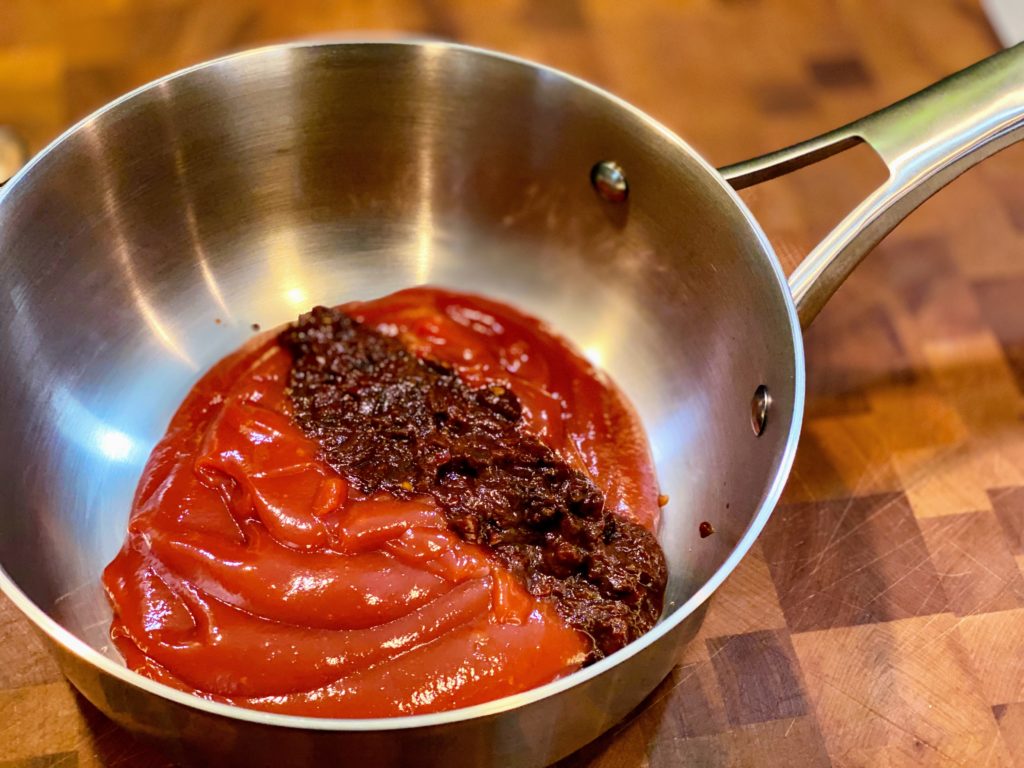 How finely you mince the chipotles depends on how finicky you are about the texture of the finished sauce. Some texture doesn't bother me, so I give them a pretty rough chop. If you want your sauce to be perfectly smooth, you'll want to spend more time getting these minced up, or run everything through the blender later.
A note about LIQUID SMOKE (ooo scary!)
For a long, long time, I avoided liquid smoke altogether. I always thought of it as a 'fake' extract or chemical that happened to taste smoky. NOT THE CASE. Liquid smoke is literally a condensed liquid form of smoke vapors. Wood is burned, and the smoke is captured in condensers that collect moisture that has a super-strong smoky flavor.
So now I use it on everything, right? WRONG. It's still a VERY potent concentrate, and only to be used sparingly. In fact, I never use it if I am actually going to be cooking over wood fire or in the smoker. There's no need, and you will likely end up with WAY too strong of a smoke flavor.
But, for sauces, like this sweet & spicy BBQ sauce, that will be used as a condiment, a little bit of liquid smoke is a great way to get a nice, deep smoky flavor. (Note: avoid getting this stuff on your hands or clothes, unless you want to smell like the inside of a well-seasoned Traeger)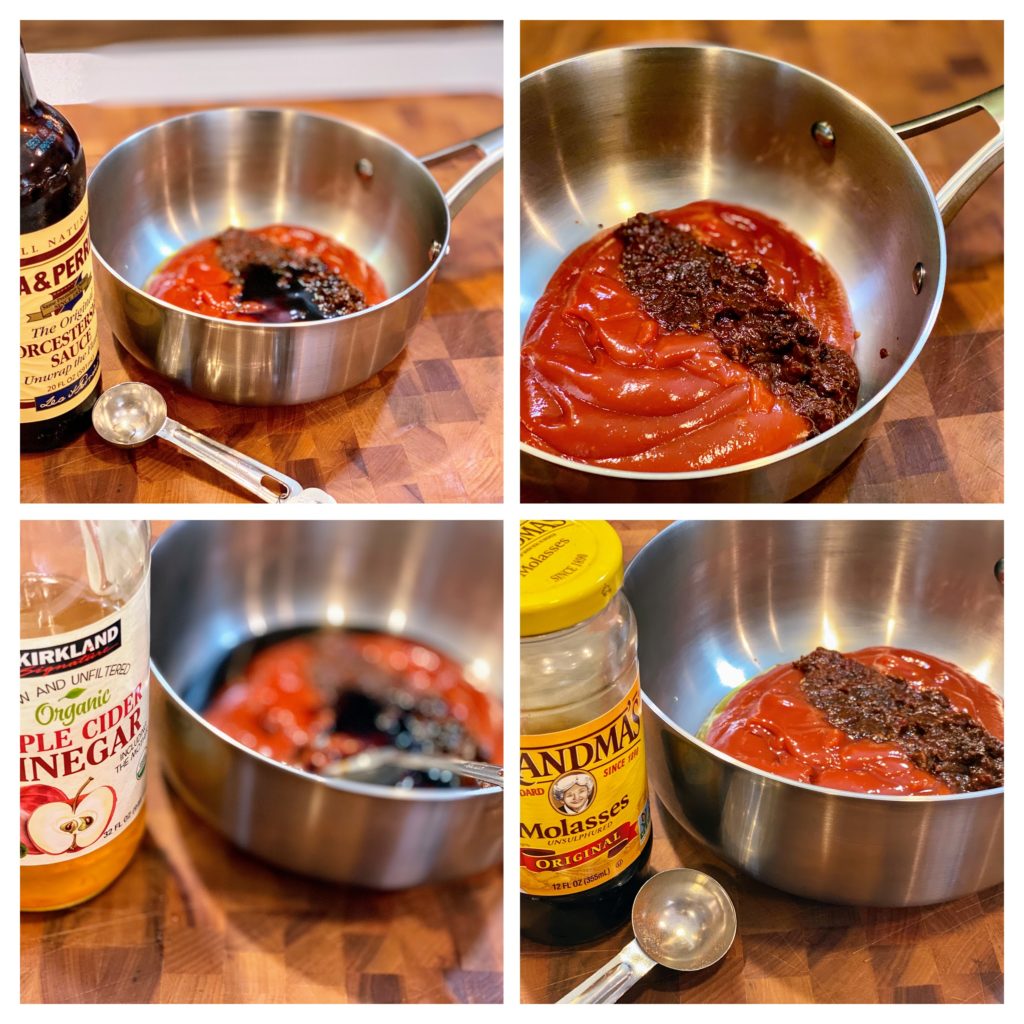 Combine & heat through!
Once you've got all your liquid ingredients ready to go, just add the dry spices and give a good stir to combine!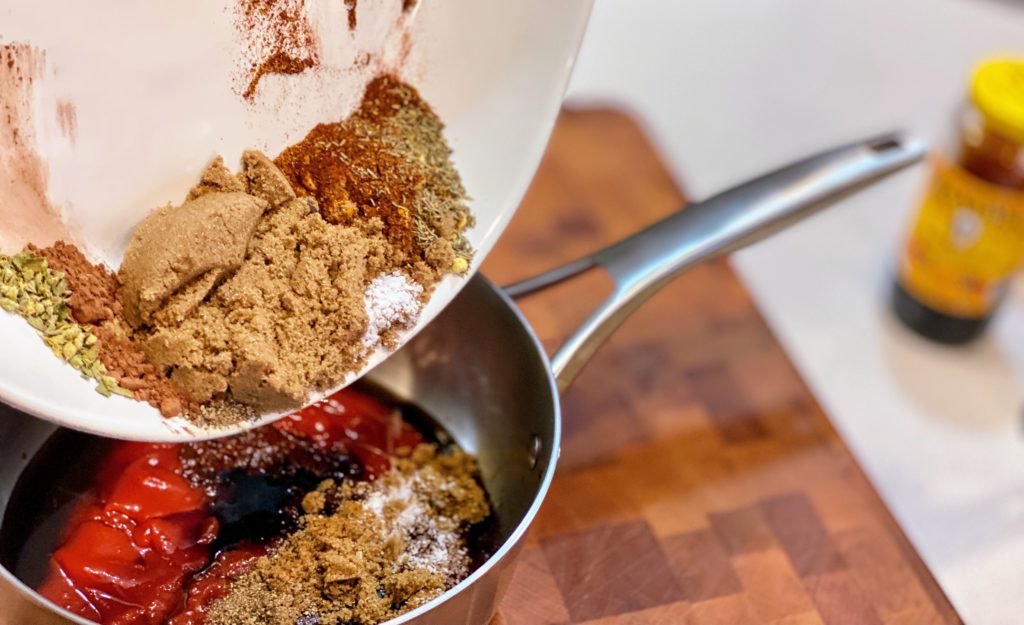 One of the things I like about this recipe is that you don't need to boil or simmer, just heat through and you are good to go. No worrying about reduction or consistency – this sweet & spicy BBQ sauce takes on a nice thick & sticky consistency from the very beginning.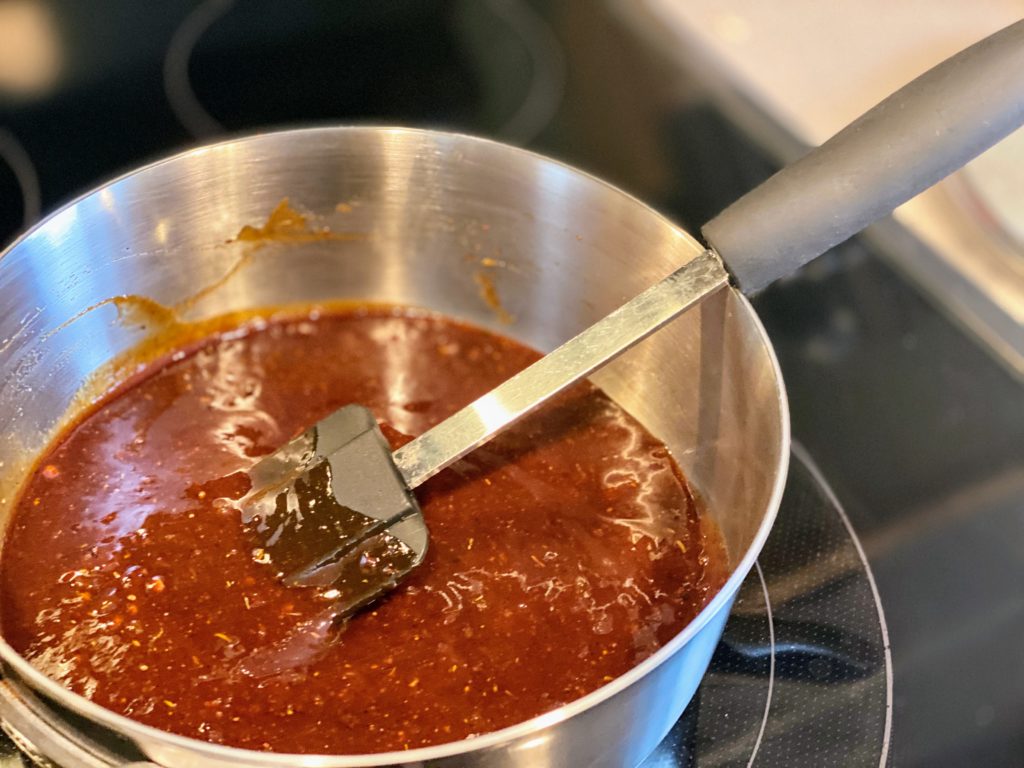 Enjoy in multiple ways!
Marinate, spread, mop, or dip! However you choose to use this sauce, you will absolutely love it for its ease as well as the HUGE flavor!
How to adjust flavors?
If you taste the sauce and find it doesn't quite fit your preference, it's super easy to make adjustments!
Too spicy? Reduce or eliminate the chipotle peppers, and be sure you are using a mild chili powder
Too sweet? Eliminate the molasses and/or decrease the brown sugar
Too acidic? Add something sweet like honey, agave, maple syrup or molasses
Too smoky? Cut the liquid smoke and reduce or eliminate the chipotles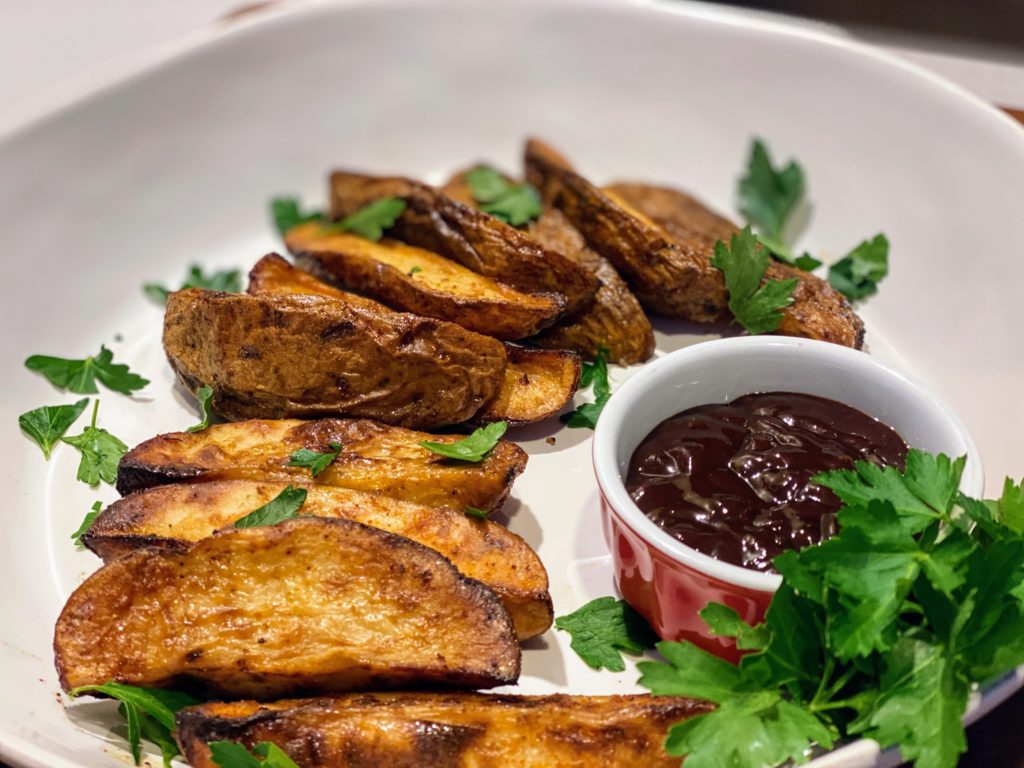 Other uses?
This sauce is great with grilled meats, burgers, raw or cooked vegetables, or on sandwiches!

Check out these delicious recipes from Food By Joe: