---
RECOMMENDED VIBE:
Here's an album I thought you might enjoy while cooking this recipe ?
---
Light, but filling!
This sweet and slightly spicy sesame peanut asian noodle salad with tofu features a honey-sesame dressing with the zing of rice vinegar. Chilled pasta, snap peas, crunchy peanuts, bean sprouts, and green onions with some gentle heat courtesy of some sweet & floral Fresno peppers.
The Dressing…
The only reason to heat up this dressing is to fully incorporate the ingredients. There's no need to boil or reduce this dressing at all. Just combine all of the dressing ingredients in a small saucepan and heat over medium heat. Stir frequently, until JUST at the start of a boil. Then remove the pan from heat, give it a good whisk to combine, and set aside.,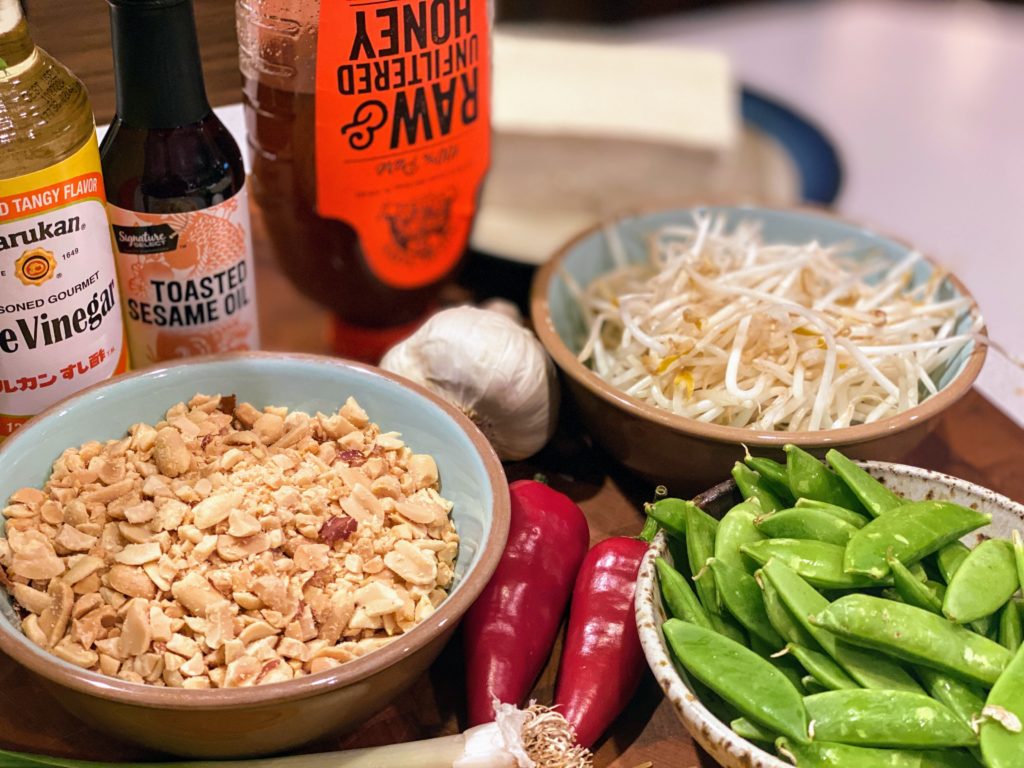 Drain the tofu!
Tofu contains a lot of extra water that needs to be removed. The easiest way to do this is to wrap the tofu in a kitchen towel or several layers of paper towel, and then place it on a plate with another plate on top of it. Then, place a small weight such as a can of soup or a bowl of water on the top. Let it sit this way for at least 30 minutes. I like to check in from time to time to see if the towels should be switched. After draining, simply slice the tofu into approximately 1/2″ cubes.
For this sesame peanut Asian noodle salad with tofu, I use firm tofu, but silken would work as well! It might break down a bit more in the salad, but if that's the texture you prefer, go for it! You could also substitute tempeh, chicken, or just about any protein you prefer!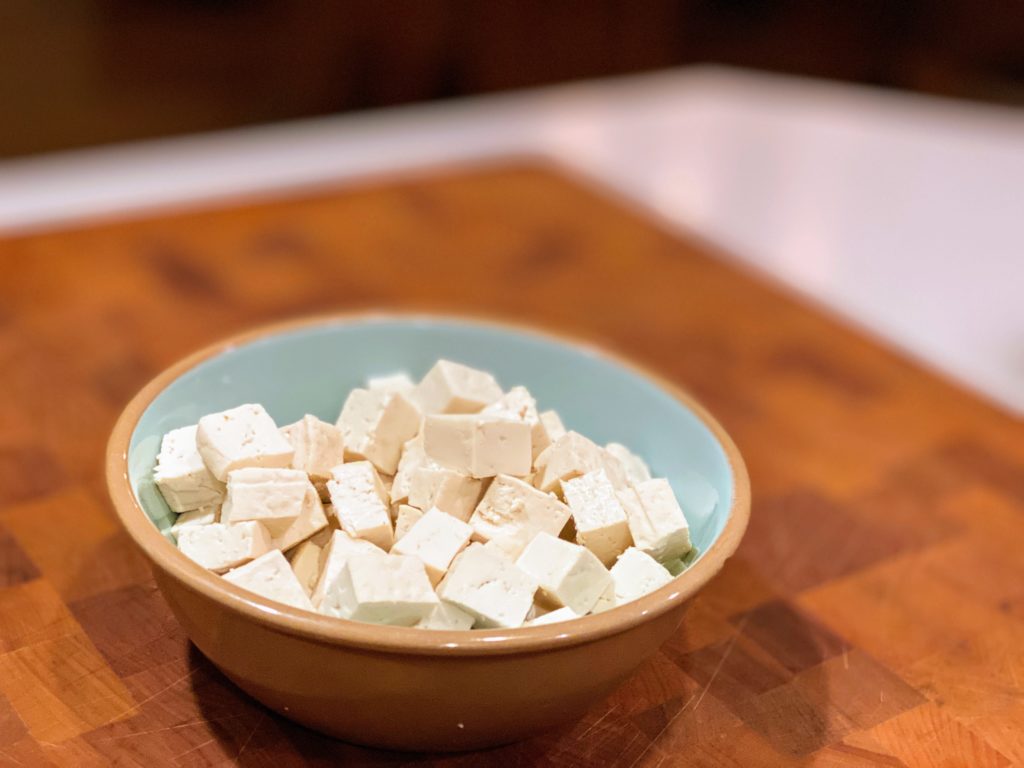 Finish prepping the salad ingredients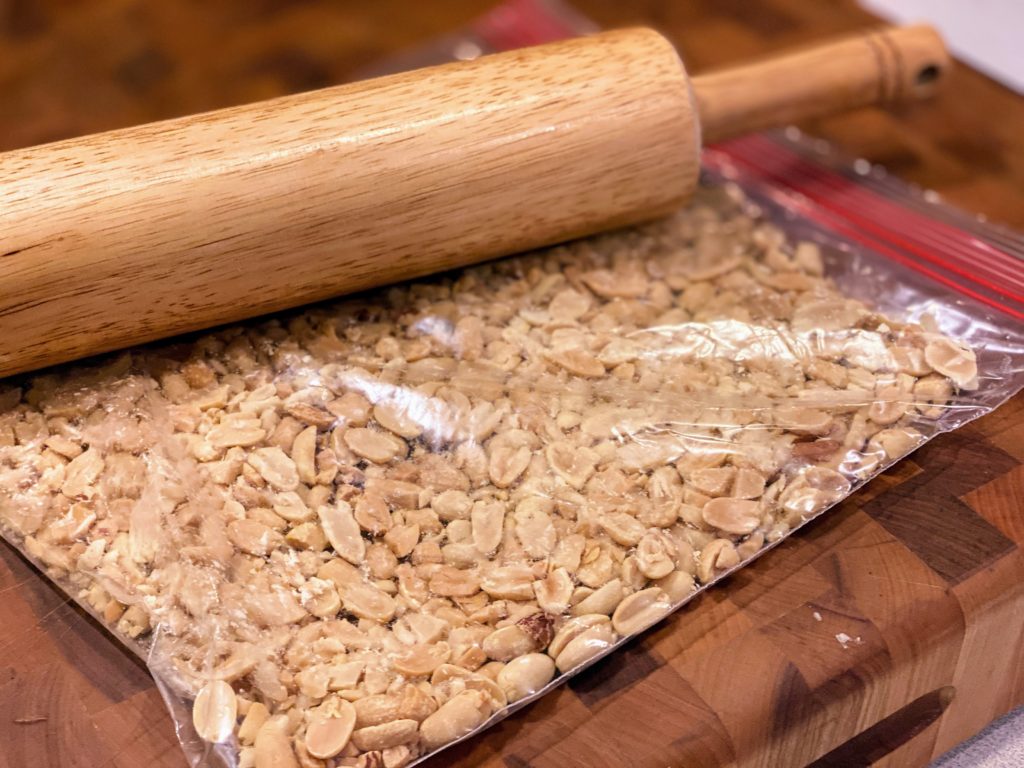 Place the peanuts in a large zip bag and give them a (gentle) bash with a rolling pin or flat-bottomed pan. I like to leave them fairly big, but you can keep bashing until you get them where YOU want!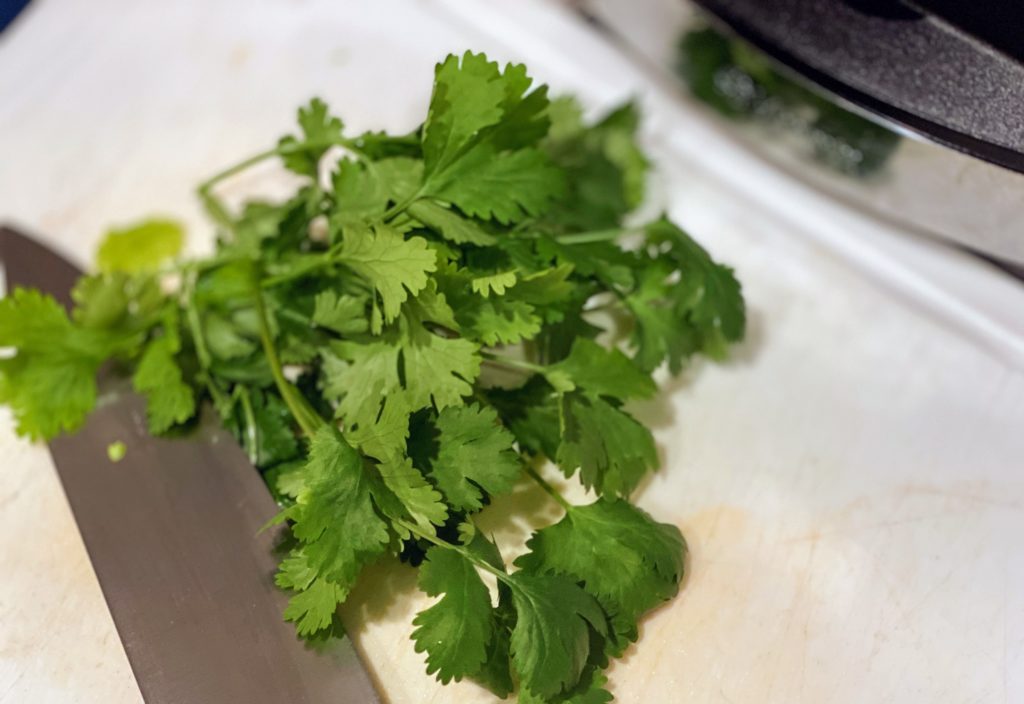 Roughly chop the cilantro to your preference – I bareley run my knife through it, because I like the larger leaves.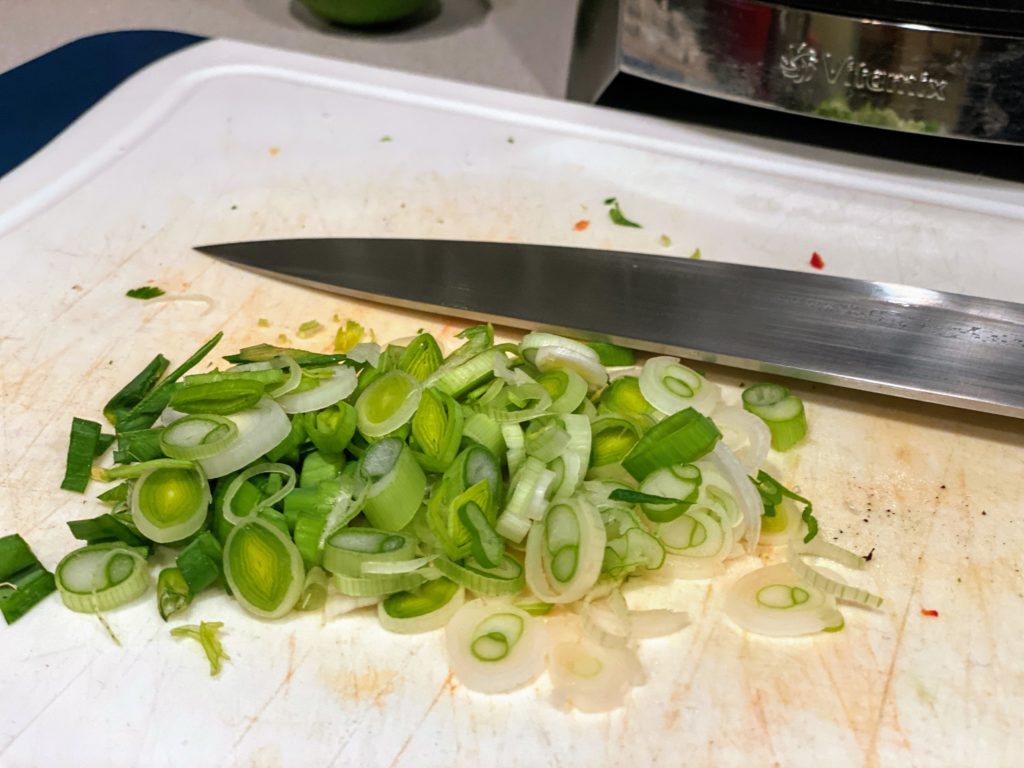 Thinly slice the green onions. Use both the green and white parts!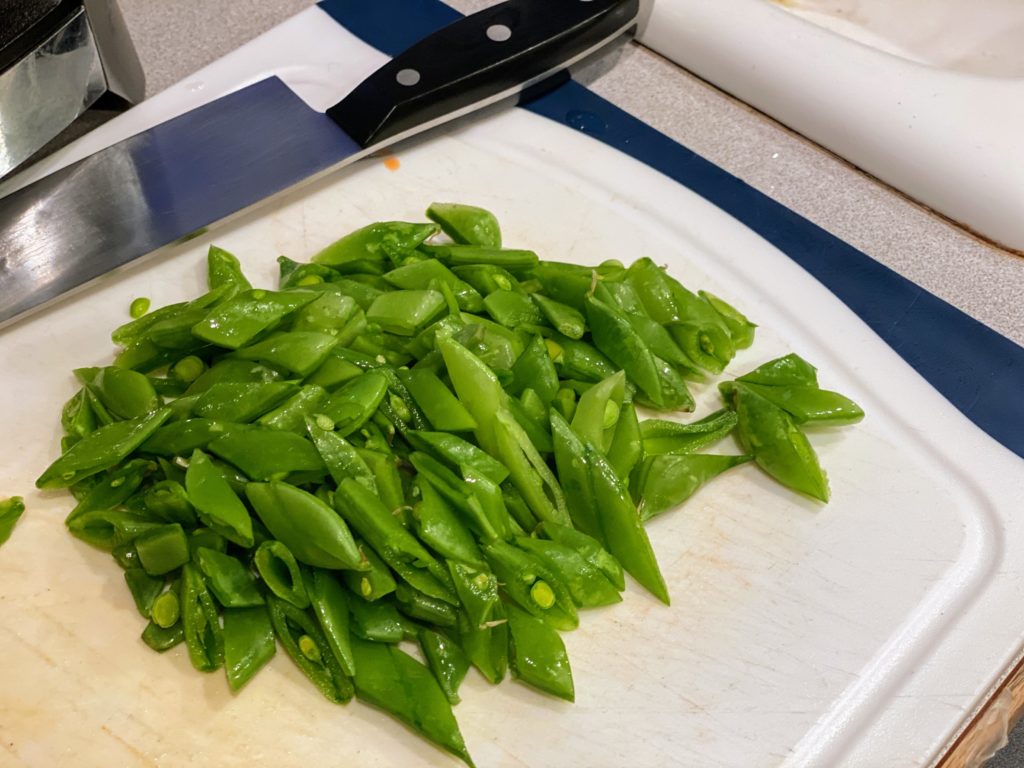 Rinse your snap peas and cut them on an angle, into roughly 1/2-inch pieces. These could definitely be left whole if you prefer!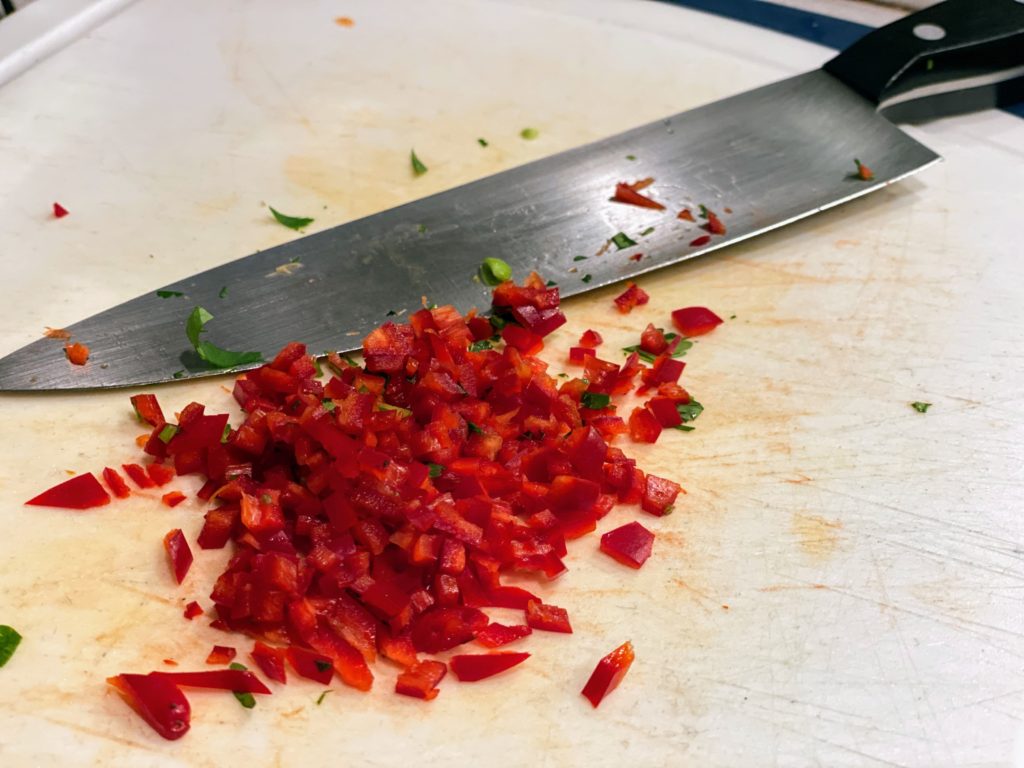 Remove the seeds and white pith from the Fresno pepper, and mince finely. If you love heat, go ahead and leave the seeds intact! If you hate the heat, leave it out! This recipe would also be great with Thai bird chili!
Use your favorite pasta!
My sesame peanut asian noodle salad with tofu recipe calls for angel hair pasta, but you could just as easily use spaghetti, fettuccini, or more traditional Asian noodles such as udon or rice noodles. Maybe you want to go gluten free with some delicious garbanzo bean or corn-based pasta. Heck, you could even use bowties if that's. your thing! You do you! (Or, if you're like me, you do what ever your pantry dictates!) Regardless of what noodles you choose, you'll want to cook them on the al dente side of the package instructiuons.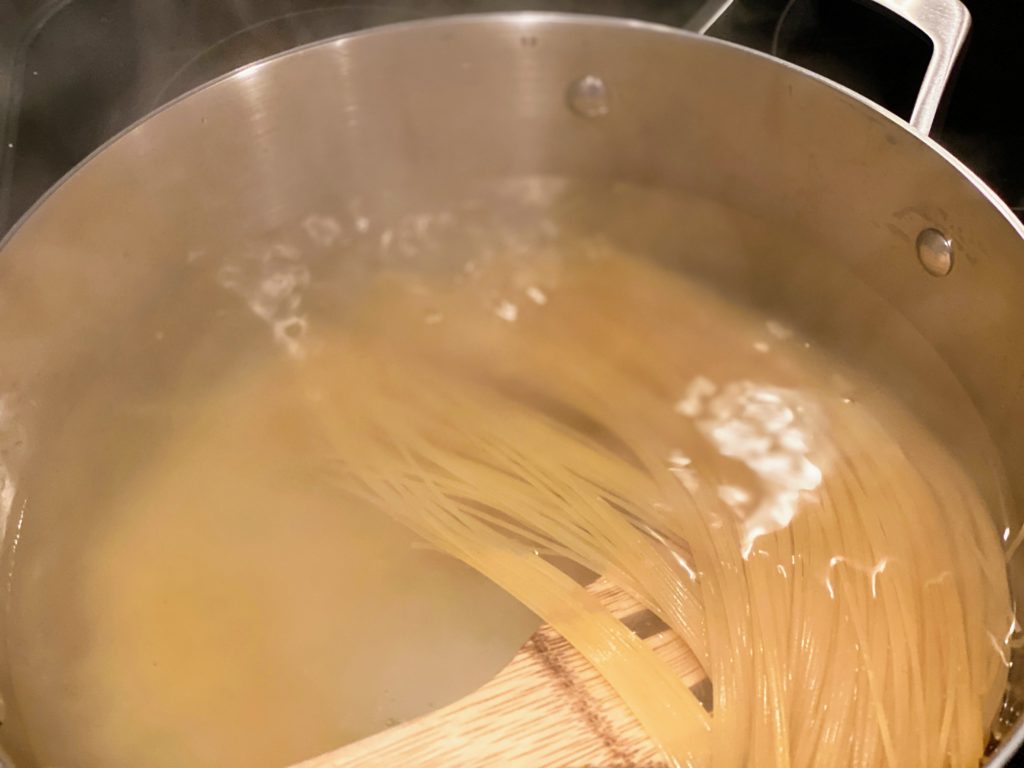 Now, for a hot pasta dish you would never want to rinse your pasta. The starch that remains after boiling is super useful in building up the consistency of sauces. BUT, for cold pasta dishes like this one, that starch can become gummy and sticky, which is not what we're going for here.
So, set aside what you've been told and give these noodles a good, cold rinse immediately after cooking. This will stop the cooking so that they don't get mushy, and it will also rinse away the excess starch that we won't be needing. I like to put the colander in the sink and then place a BIG bowl of iced water next to the sink. Then, when I pour the pasta into the colander, I can run them under cold water and then plunge the whole colander into the bowl of cold water. Once the pasta feels cool to the touch, pull them out of the cold water and let them drain completely.
To prevent the noodles from sticking while you prepare the other ingredients, you can drizzle a VERY SMALL AMOUNT of oil over the noodles and toss them to coat. We don't want to add an oily texture or make the sauce slide right off the noodles – but a touch of oil will help in this case.
Put it all together!
It's time to combine all the ingredients to create your sesame peanut asian noodle salad with tofu! You can serve this salad with the ingredients separated, as in the photo above, OR you can go ahead and toss everything together now. For this dish, I think it works best to toss things together immediately, since it gives the dressing a chance to marinate the noodles and veggies a bit.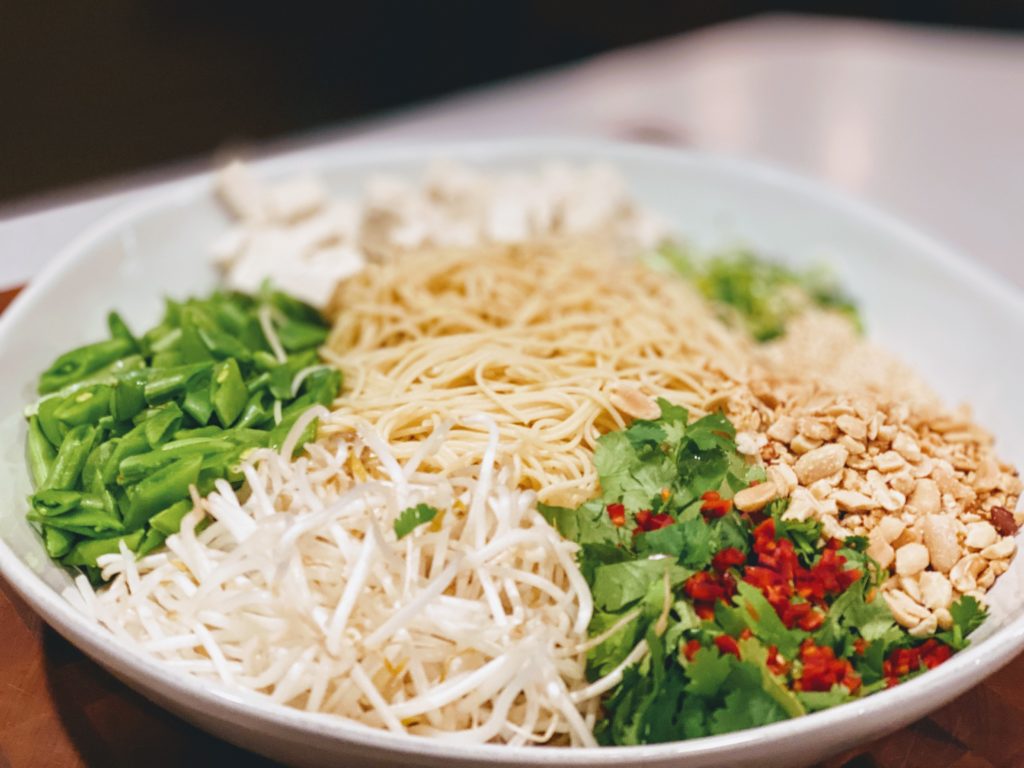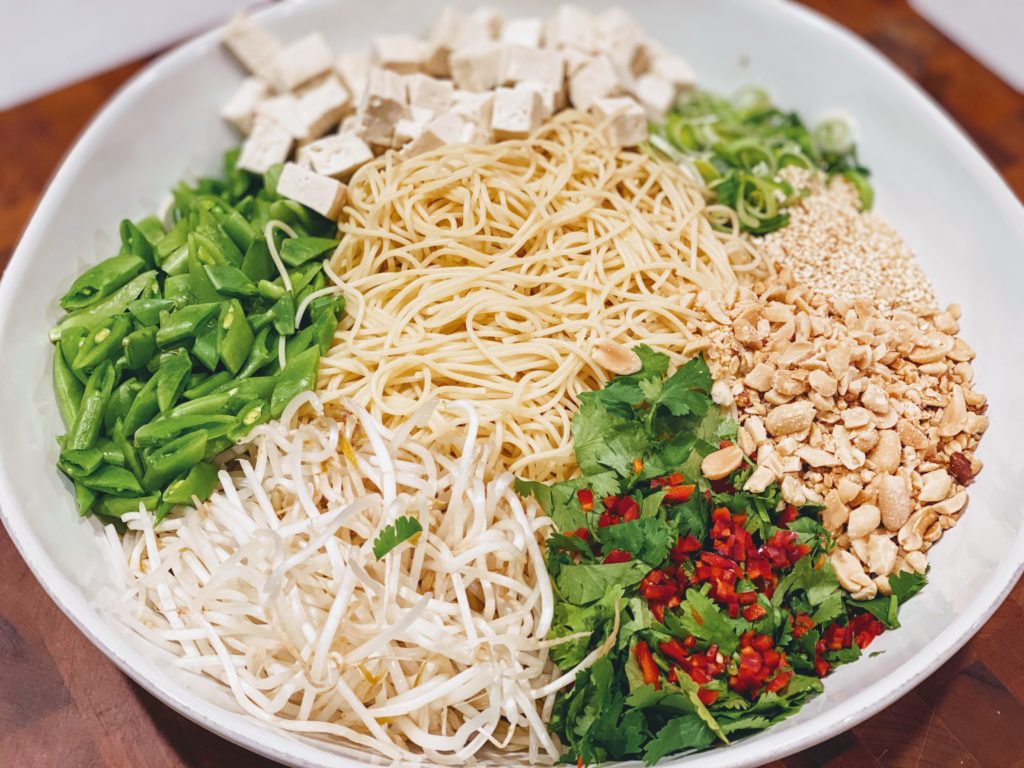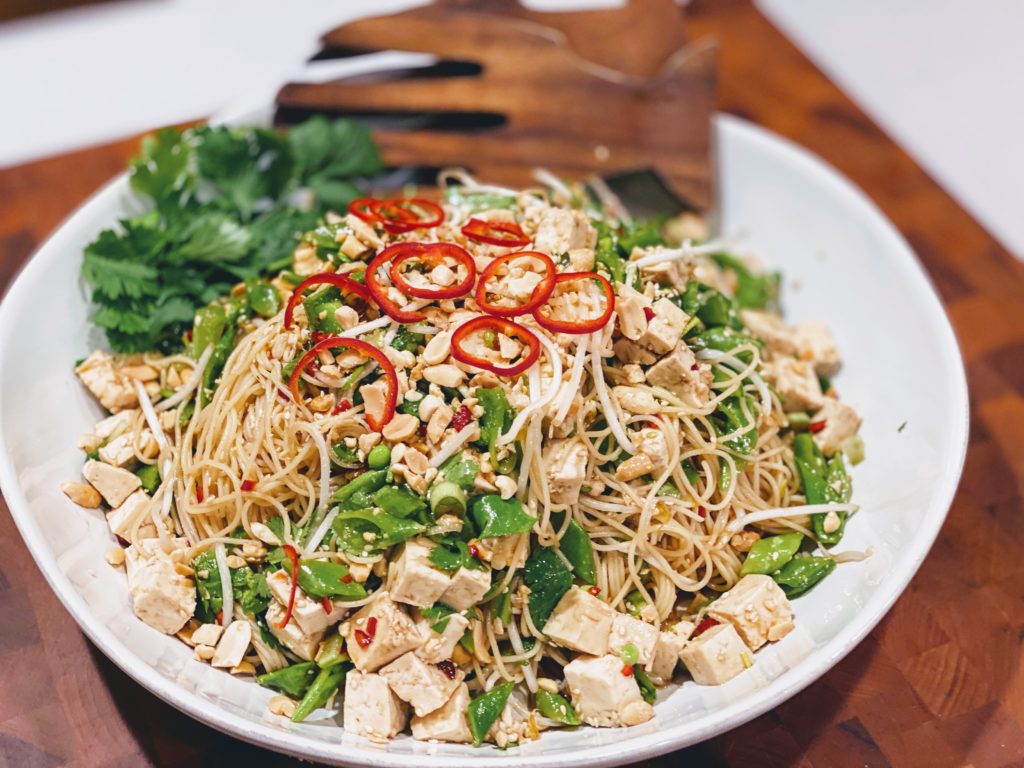 Print
Sesame Peanut Asian Noodle Salad with Tofu
Protein-rich tofu and peanuts, with crisp snap peas, bean sprouts, green onions, and Fresno chiles, dressed with honey sesame dressing.
Dressing:
1/4 cup

extra virgin olive oil or vegetable oil

3 Tbsp

dark sesame oil

1/2 teaspoon

crushed dried red pepper or chili powder (optional)

3 Tbsp

honey

2 Tbsp

soy sauce (less if using tamari which is more concentrated than soy sauce)

¼

c rice vinegar
Salad:
12 ounces

of vermicelli, thin spaghetti, or angel hair pasta

1/2 cup

coarsely chopped cilantro

1/2 cup

chopped roasted salted peanuts

1/2 cup

thinly sliced green onions

1 cup

diced snap peas

1 cup

bean sprouts

1

Fresno pepper, finely diced (no seeds)

1 cup

firm tofu, drained & cut into

1/2

" cubes

1 Tbsp

toasted sesame seeds
Instructions
Drain tofu by wrapping in a tea towel or several layers of paper towel, and then placing a plate or flat object on top with a soup can or other small weighted object. Leave at least 30 minutes.

In a small saucepan, combine all dressing ingredients. Heat over medium until the mixture begins to boil. Remove from heat, whisk well to combine, and set aside.

Place peanuts in a plastic zip bag and gently crush with a rolling pin or flat-bottomed pan.

Roughly chop the cilantro

Slice the green onions into thin slices (both white and green parts), and slice the snap peas on an angle into 1/2" pieces.

Remove the seeds & white pith from the Fresno pepper and dice finely 

Once the tofu is drained, cut into 1/2" cubes.

Cook pasta according to package instructions, aiming for the "al dente" end of the cook time.  Careful not to overcook!

Rinse cooked pasta immediately in cold water and place in an ice water bath to stop cooking. When cold to the touch, rinse and drain completely.

Place drained pasta in a large bowl and add all ingredients, including dressing, and toss to combine well. Add salt if needed and combine before transferring to a serving dish.

Optional: garnish with peanuts, cilantro, sesame seeds, and/or extra diced chiles.

Serve room temp or cold!
Check out these delicious recipes from Food By Joe: