---
RECOMMENDED VIBE:
Here's an album I thought you might enjoy while cooking this recipe ?
---
Perfect dinner for 2 – Puttanesca Penne Pasta Bake!
Pasta bakes are somewhat of a go-to in our house when our fridge & pantry are thinning out and there aren't a lot of dinner options. This puttanesca penne pasta bake is so cheesy and delicious, with pops of briny capers & olives, rich artichoke hearts, and a hint of heat from the red pepper flakes. Feta and mozzarella lend a deep and slightly salty flavor. This recipe yields 4 good servings. I call that a perfect dinner for 2 because there's enough for seconds or lunch tomorrow, but not so big that you end up with gallons of leftover pasta.
Traditional or nah?
If I'm honest, my introduction to puttanesca flavors came from a local artisan pizza place. I got hooked on their puttanesca pizza probably 20 years ago, and I have returned to some form of this combo many times. Depending on my mood and pantry, if I'm thinking puttanesca, I usually go to some combo of olives, capers, artichoke hearts, chili flakes, and cheese. The pizza I loved featured an olive oil base, instead of tomato sauce. For that reason, I've always preferred a white sauce or a simple olive oil base. I know that traditional puttanesca sauces are tomato-based. I don't claim authenticity, just extreme deliciousness.
This variation features black and green olives, capers, artichoke hearts, red chili flakes, feta, and mozzarella. Why? Because that's what we had on hand today! One of the reasons that I love pasta bake recipes is that they are incredibly flexible and incredibly forgiving. This is a great pantry-pull recipe, and you should definitely feel free to substitute!
The common threads are: something briny, something spicy, something creamy. I mean, how can that be bad, right? Add plenty of garlic and two different kinds of cheeses, and you have a sure-fire winner.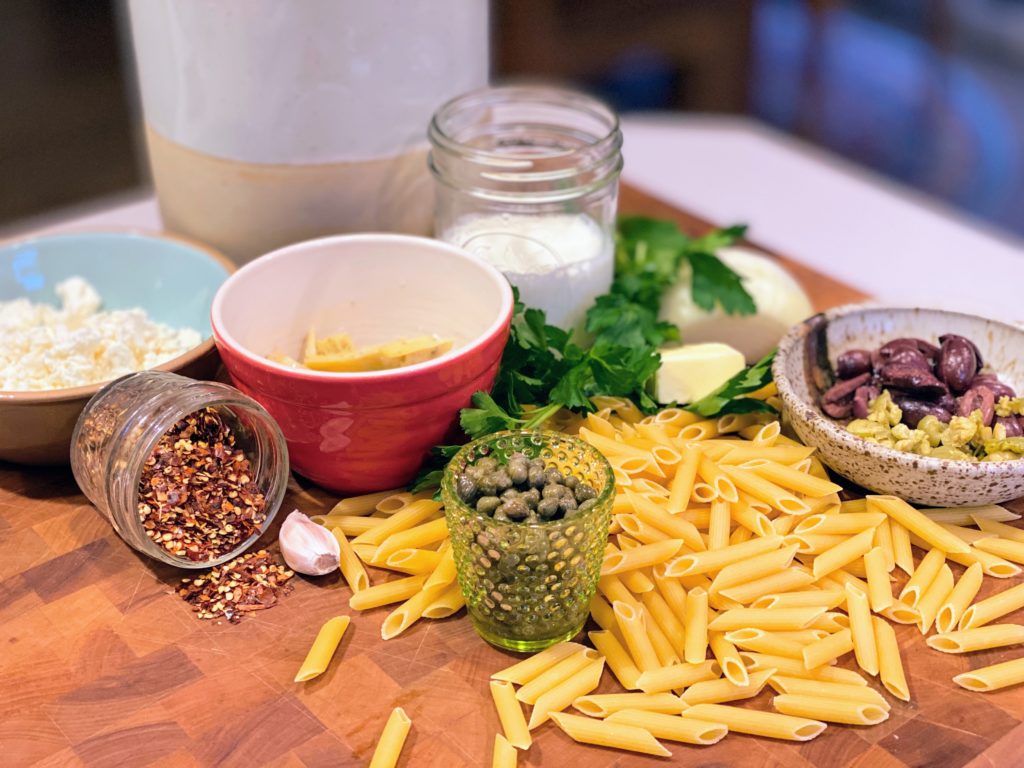 Pasta-bilities
We're using penne, (hence the name puttanesca PENNE pasta bake recipe) which is a great vehicle for a thick, creamy sauce. You could use just about any type of pasta you prefer/have on hand. Don't tell anyone, but you don't *really* even have to bake this. If you don't mind missing out on the melty, toasty mozzarella and slightly crispy ends of the pasta, you could serve this prior to baking, right out of the mixing bowl. I'm not sure why you would pass up those treats, but you do you! 🙂
Prep!
I'm a big proponent of measuring and prepping all of my ingredients before any cooking happens. In this dish, you want to be able to toss everything together relatively quickly once the sauce is cooked – so having everything ready to toss in will be a big help. The pasta can be done ahead as well, but be careful it doesn't stick together. I like to drizzle a small amount of oil into an empty glass bowl, and then toss the just-cooked pasta to coat lightly. Give another toss in 2-3 minutes to be sure things are coated. If you do this, you buy yourself some time without worrying about your pasta sticking together.
I like to cut the olives in half – an added bonus is that you won't forget to check for pits! You can leave the capers whole, but I like to run my knife through them quickly. I just prefer the texture that way.
Olive the choices!
Aim for ½ cup of total olives, but feel free to use whichever variety you prefer! We had some kalamatas and some castelvetranos, so that's what we used here – and it was delicious! Here is a great article about how to pit your olives!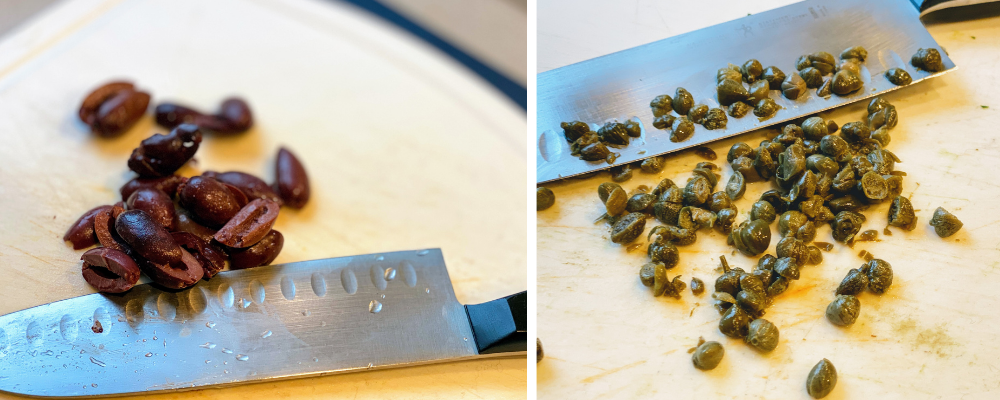 Start with the garlic & onions
No matter what I'm cooking, if it starts with sauteed garlic and onions I'm guaranteed to get compliments and yummy noises from Wonderful Wife. I almost feel guilty because it's such a simple step – but I'll take it! For this Puttanesca Penne Pasta Bake Recipe, we'll start exactly that way – with the garlic and onions.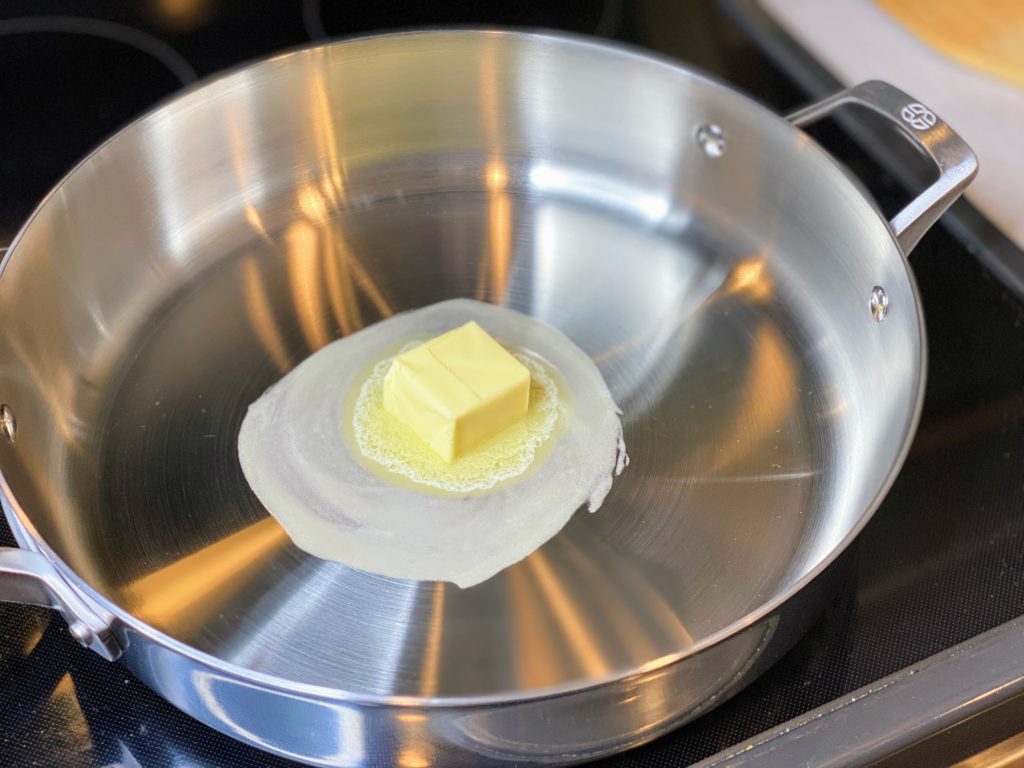 Put your butter in a pan over medium-low heat to melt while you prep your onion and garlic. I aim for a ½-inch dice for this casserole. If you have onion-avoiders in your house, you can dice them smaller and/or saute them a bit longer, and they will 'disappear' into the sauce more. For the garlic, a rough mince is great.
You'll cook the onion and garlic together. If we were using a higher heat, I would always wait and add the garlic later, to avoid burning. At this temperature, you can go ahead and add them both together.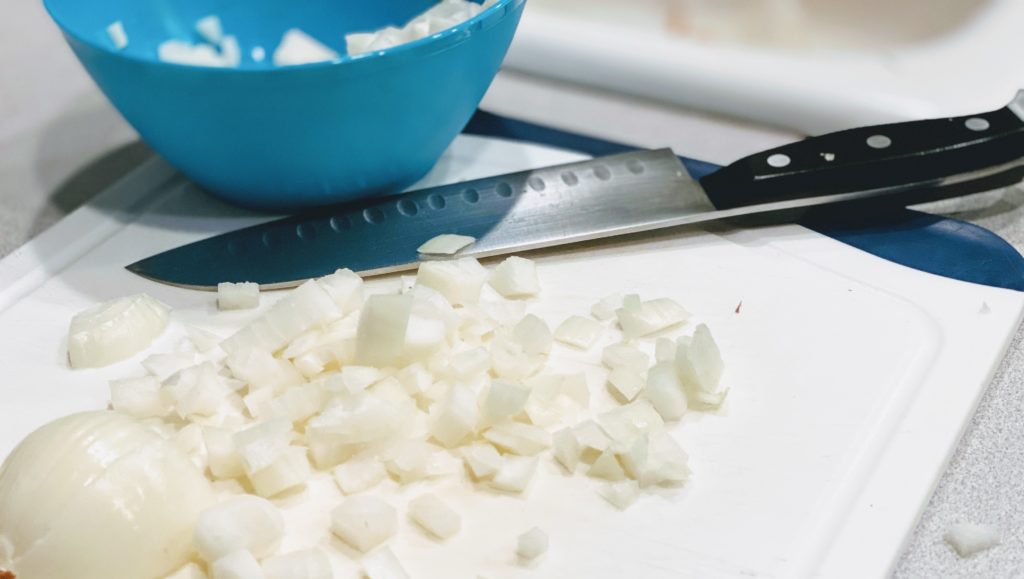 When the butter is fully melted and slightly foamy, drop the garlic and onion in the pan and stir to coat with butter. At this temperature, you don't need to hover over them. A stir every minute or so is great. At medium-low, you should achieve optimal softness and translucence in 4-6 minutes or so. You don't need color on them, and you're not trying to cook them fully.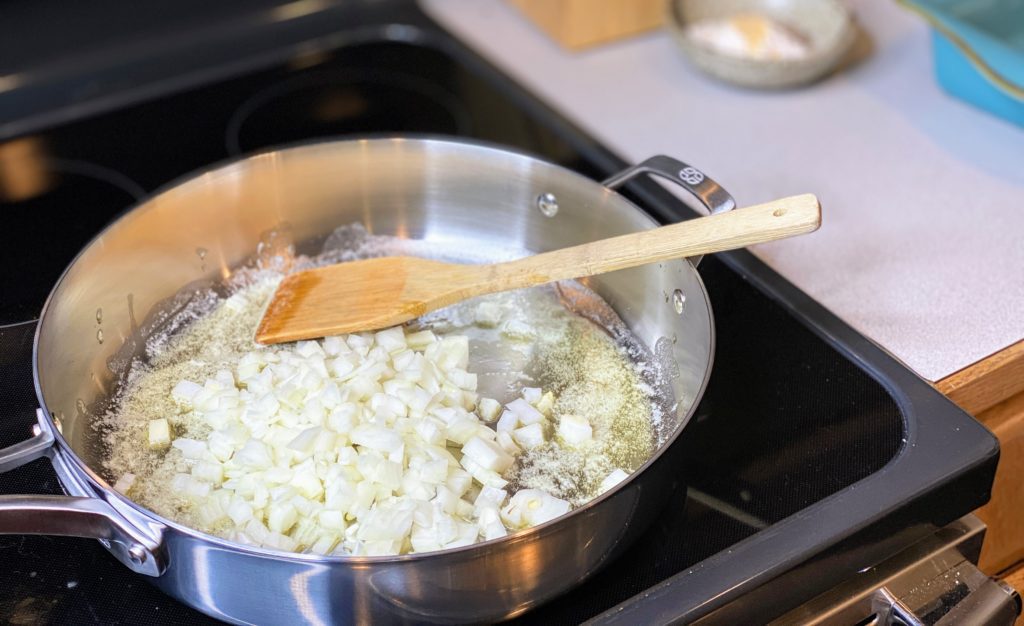 Add the dry stuff
When the onions get where you're happy with them, sprinkle in the flour, dry mustard, chili flakes, and black pepper. Do this gradually, to coat evenly and avoid large blobs of flour. Keep cooking at medium-low for 2-3 minutes so that the flour cooks through a bit. This flour is the base of the rich cheese sauce that you'll use in this broccoli cheddar cheese & rice casserole.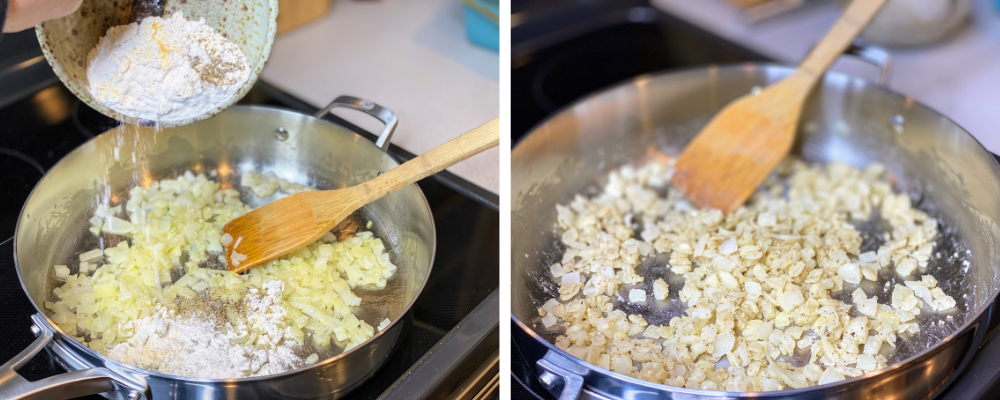 Add the wet stuff
OK, get your whisk at the ready! Gradually pour the milk into the onion mixture, whisking constantly as you go. You don't have to go nuts, just a smooth and consistent whisking motion that covers the whole pan to pull up and yummy bits and incorporate them.
Once the milk is incorporated, increase the heat to medium and continue whisking constantly.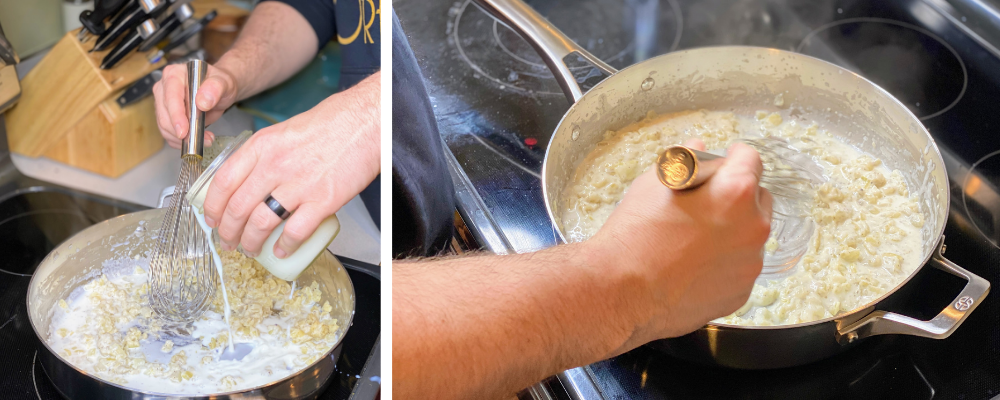 The sauce will thicken as it cooks. You want to cook it (still whisking!) until it thickens and just starts to bubble. You don't want to boil it – just get it to the verge!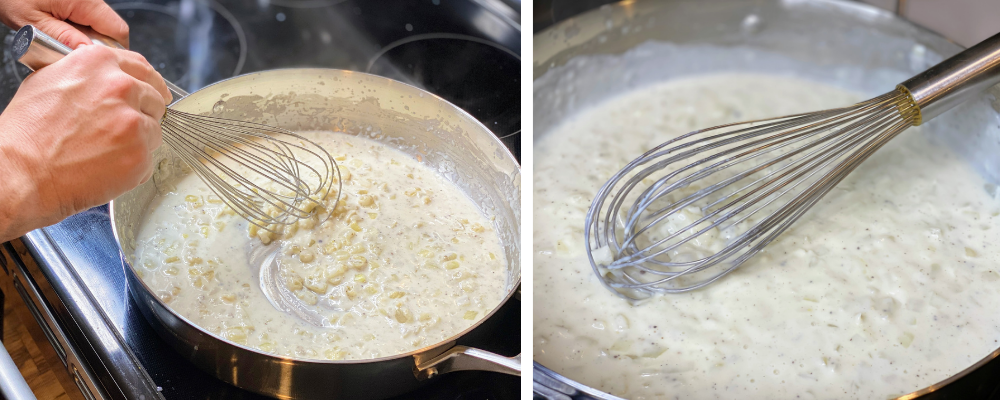 Put it all together
To the pasta, add the olives, capers, chopped parsley, artichoke hearts, crumbled feta and 1/2 cup of the shredded mozzarella. Pour the sauce over the ingredients and fold to combine.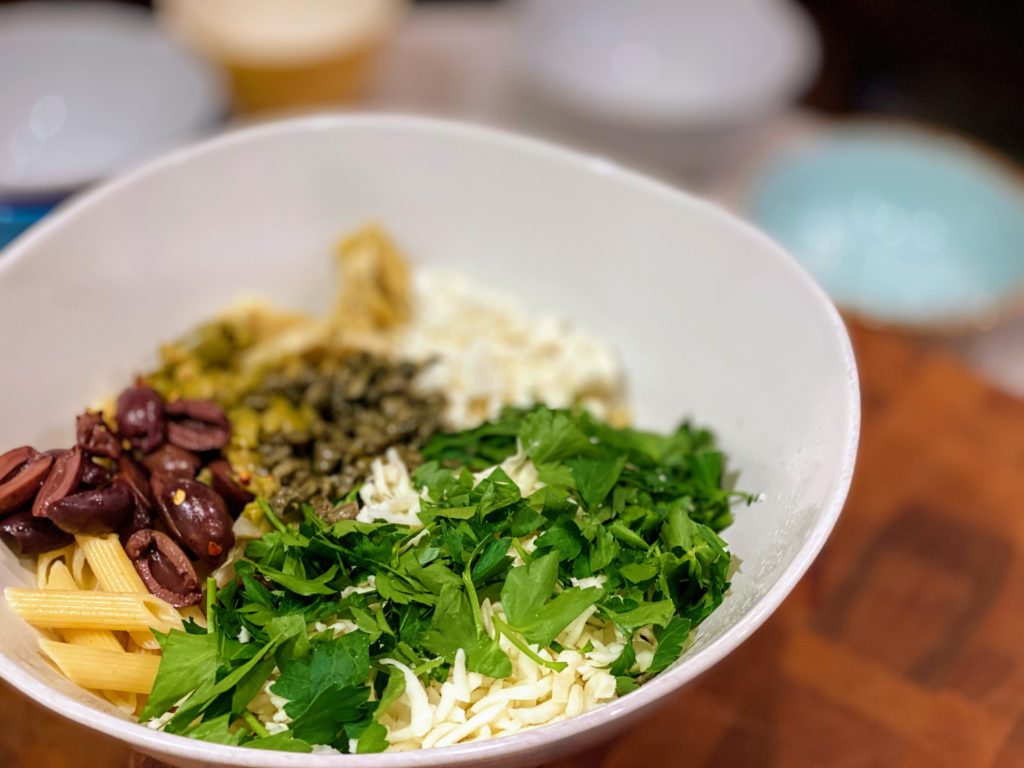 Place mixture in a buttered casserole dish and top with the remaining mozzarella.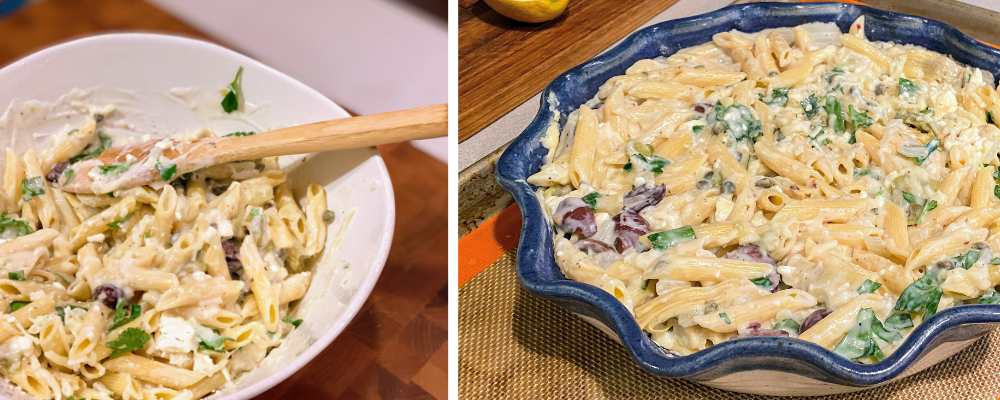 Cook!
Place your puttanesca penne pasta bake into the oven at 350 degrees for 25-30 minutes, or until the cheese toasts slightly. Whenever I cook casseroles, I like to put the dish on a sheet pan to catch any drips, and to make it easier to pull the casserole out of the hot oven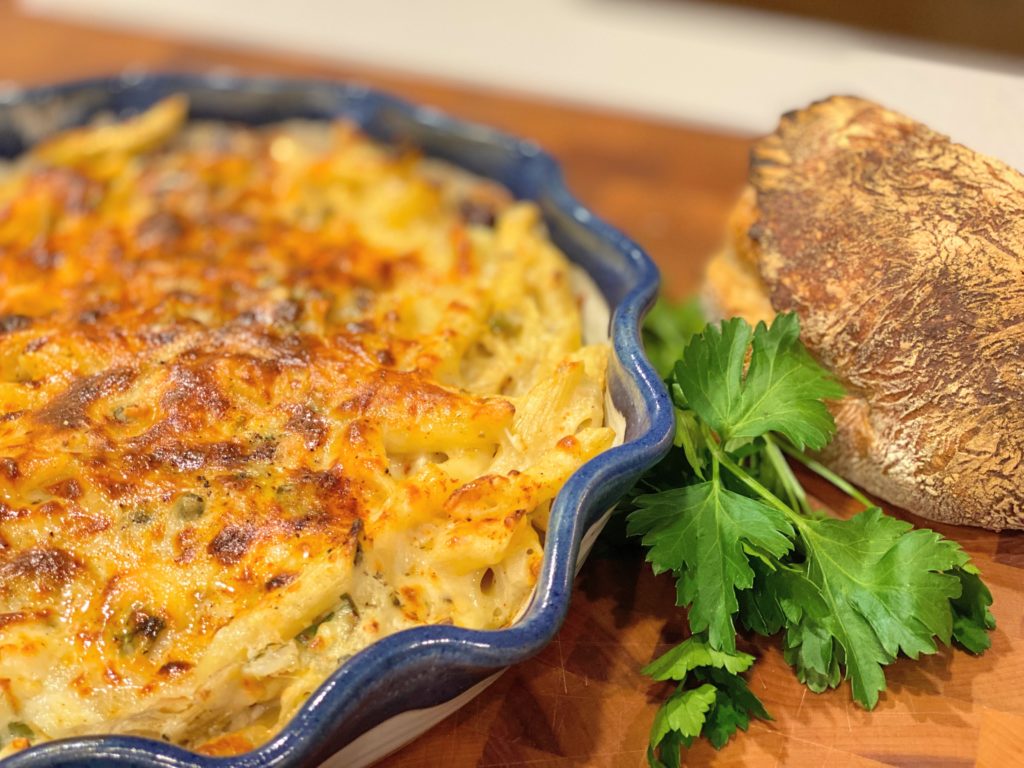 Enjoy this easy puttanesca penne pasta bake recipe!
Print
Puttanesca Penne Pasta Bake
This quick and delicious puttanesca penne pasta bake recipe features olives, capers, artichoke hearts and two cheeses in a velvety sauce. 
8 oz

. Penne pasta, cooked 1 minute less than "al dente" per package instructions

2 tbsp

butter

½

yellow onion, chopped

1

clove garlic, minced

2 tbsp

flour

¼ tsp

black pepper

¼ tsp

dry mustard

¼ tsp

dried chili flakes (½ tsp for more heat)

1 ½ cups

milk

¼ tsp

salt

½ cup

parsley, rough chopped

½ cup

olives (black, green, or a combination)

1 tbsp

capers

½ cup

marinated artichoke hearts

½ cup

crumbled feta

1 cup

shredded low-moisture mozzarella, divided in half
Optional:
Sprinkle of Paprika

Sprinkle of Nutmeg
Instructions
Cook pasta in salted water for 1 minute less than the package instructions for 'al dente'

While pasta cooks, prepare parsley, olives, capers, artichoke hearts, feta, and 1/2 cup mozzarella

In a large bowl, drizzle a teaspoon or so of olive oil to coat the inside. When pasta is cooked, drain and place cooked pasta in the bowl and toss to lightly coat the pasta. Set aside

Heat a pan over medium-low heat. Once heated, add butter to pan & melt

Add onions & garlic and cook on medium-low until soft & translucent – 4-6 minutes

Sprinkle flour, black pepper, dry mustard and chili flakes over the onions & garlic. Whisk to fully coat and cook 2-3 minutes until flour is cooked and the mixture starts to take on a pale yellow color

Gradually add milk, whisking constantly, and fully incorporate

Once incorporated, raise heat to medium and continue whisking until thick & bubbly. If sauce boils, decrease heat until just barely bubbling and continue whisking until the desired thickness is reached

Pour sauce over pasta, and immediately add parsley, olives, capers, artichoke hearts, feta, and 1/2 cup of mozzarella. Stir to combine all ingredients

Place into a buttered casserole dish and top with remaining mozzarella

Sprinkle a pinch of paprika and a pinch of nutmeg over the top

Bake, uncovered, at 350 for 25-30 minutes, or until sauce is bubbling and cheese is lightly browned

 
Check out these delicious recipes from Food By Joe: