---
SHEET PAN LEMON CHICKEN & VEGETABLES
RECOMMENDED VIBE:
Here's an album I thought you might enjoy while cooking this recipe ?
---
What's for dinner?
AGAIN? I just made dinner LAST night! ?
This sheet pan lemon chicken & vegetables is a perfect last-minute weeknight 'punt'. If you've got some chicken in the freezer and a few veggies, you can create a satisfying meal that is delicious, easy, and has almost no clean-up!
Grab a sheet pan, a few chicken breasts, and whatever vegetables you have on hand
Flexibility is key in this recipe. Sheet pan chicken with (fill in the blank) is a staple at our house when the pantry is bare and stomachs are growling.
Pay attention to the METHOD, not just the ingredients. You can easily throw together a one-pan meal! Generally, chicken breasts will cook at 425 degrees in right around 30 minutes. This time/temp also works well to roast vegetables that are cut into pieces around 1″.
Today's Vegetables: on the hearty side…
Today, I'm using potatoes, onions, carrots and delicata squash. WHY am I using these vegetables? Because that is what we had in the pantry! You could use asparagus, green beans, broccoli, cauliflower, peppers, mushrooms.. pretty much anything!
Today's Flavors: Chicken Piccata…ish?
Once I've surveyed the ingredients I have on hand and narrowed down what I'll use, I try to make an educated choice of what kind of flavors to use. Broccoli & carrot? Try a soy/honey/ginger/sesame marinade. Potatoes & onions? Try a BBQ spice rub and some BBQ sauce! Today, since the carrots, onions, and squash are all on the sweet side, I wanted something with a bit of acidic punch, so I decided on a sort of piccata flavoring with lemon, capers, and garlic.
Let's get started!
Gather up all of your ingredients before you get started. You don't need the added stress of hunting down ingredients while the cooking has started – any down-time in the kitchen is for sipping wine and visiting!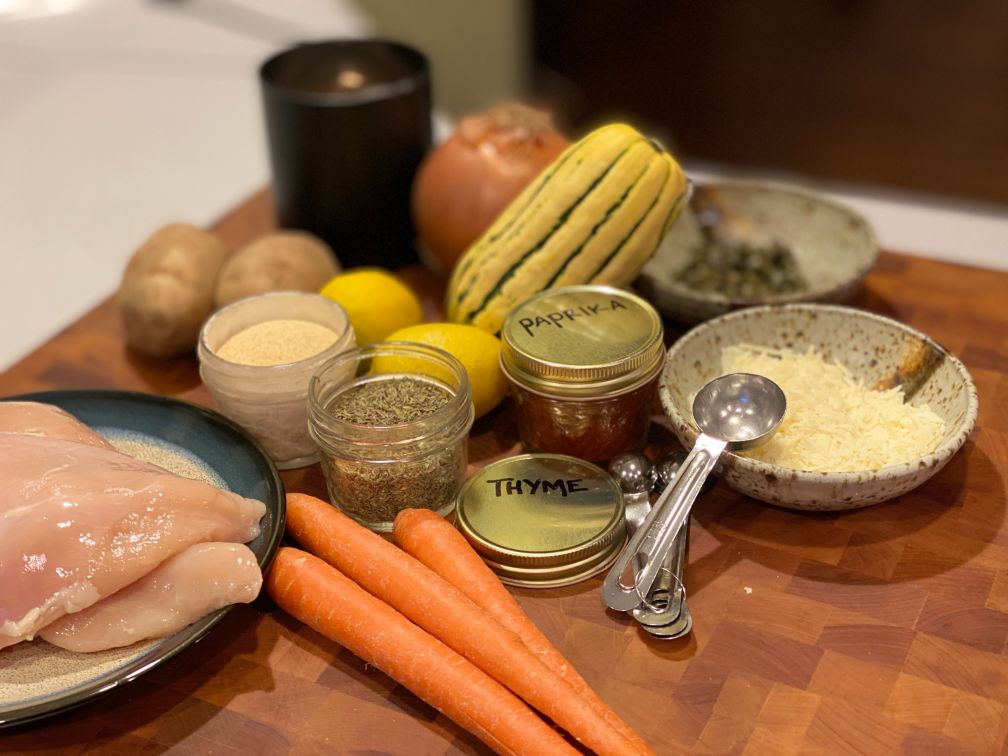 Uniformity helps
In this case, it's good to try to get your veggies chopped in similar sizes. I find that 1-inch pieces cook in around 30 minutes at 425, which is the same as the chicken breasts. So I'm aiming for an inch or so.
A new (to me) ingredient!
This was actually my first time handling delicata squash. It's worth mentioning that hard veggies like squash and sweet potatoes require great care when cutting. With more resistance, you are tempted to use more force – just be very present and mindful and you'll be fine.
For the delicata squash, I started by slicing off the ends and cutting it in half lengthwise. That allowed me to scoop out the seeds with a spoon. My culinary professor, Chef Google, told me that the thin skin on the delicata is edible and healthy, so I left it alone.
Because the squash is slightly denser than my other veggies, I decided to cut it into half-moons that are around ½" thick. This turned out to be a perfect guess!
One pan (+one bowl?)
For a truly one-pan dinner, you could do all of these steps right on the sheet pan itself. I find that using a big bowl is easier for getting everything evenly coated.
Place the chicken in the bowl with the oil, salt, pepper, garlic powder, thyme, and ¼ cup of the parmesan cheese. Add the onions, potatoes, carrots & squash, and give everything a good toss to be sure everything is coated evenly.
Pour the vegetables onto a sheet pan lined with parchment, foil or a silicone mat. Make space in the center to nestle the chicken so that it is in full contact with the pan.
Top each chicken breast with a small (1 tsp) pat of butter and a pinch of smoked paprika, and you're ready to go in the oven!
Cook the sheet pan chicken and vegetables at 425 degrees
After 20 minutes, pull the pan out of the oven and sprinkle the remaining parmesan cheese over the whole pan. Return to the oven for another 5-10 minutes, until the cheese is melted and the chicken is cooked all the way through. To test the chicken, just cut into the thickest part of the thickest breast. It should be solid white, with no pink at all. You can also invest in a great instant read thermometer or a digital probe thermometer to take away the guesswork!
Last but not least…
Sprinkle the capers aver the pan, and squeeze half of a lemon over everything as well. Like capers and lemon? Add more! You can add the capers earlier if you like, but they can get a little bitter when they cook. I love the pop of adding them room-temperature at the end.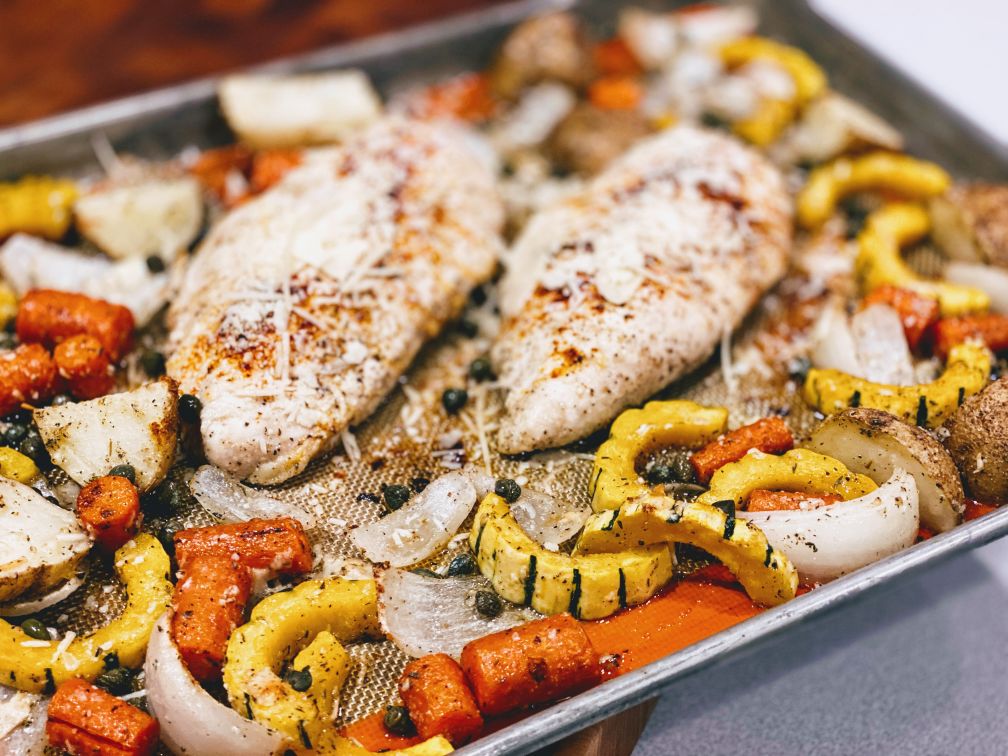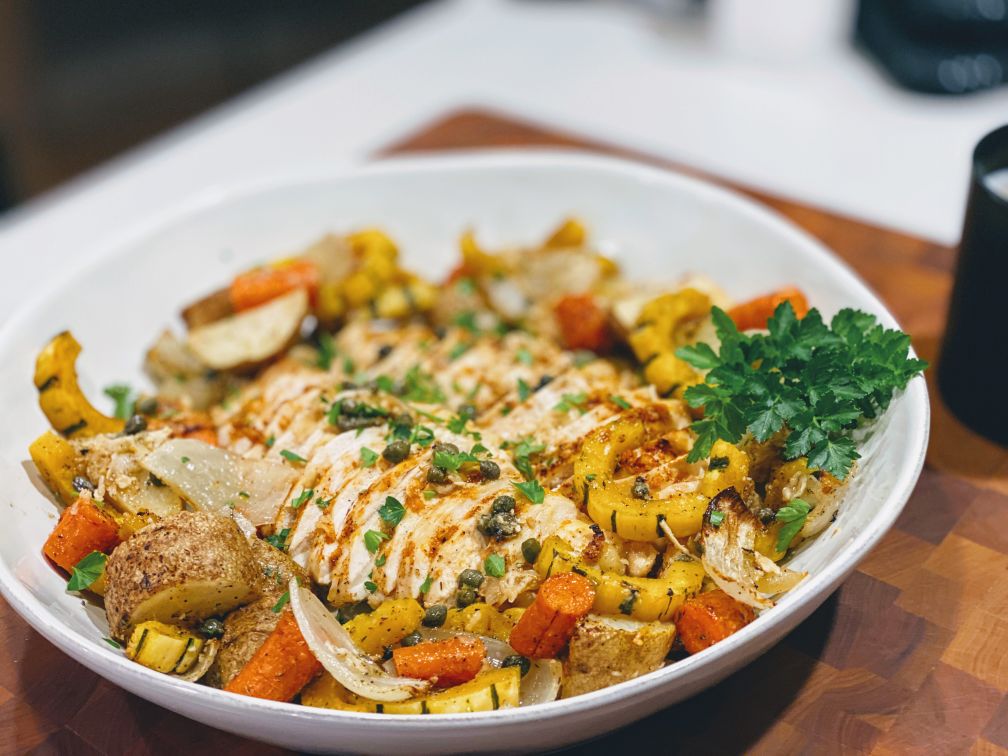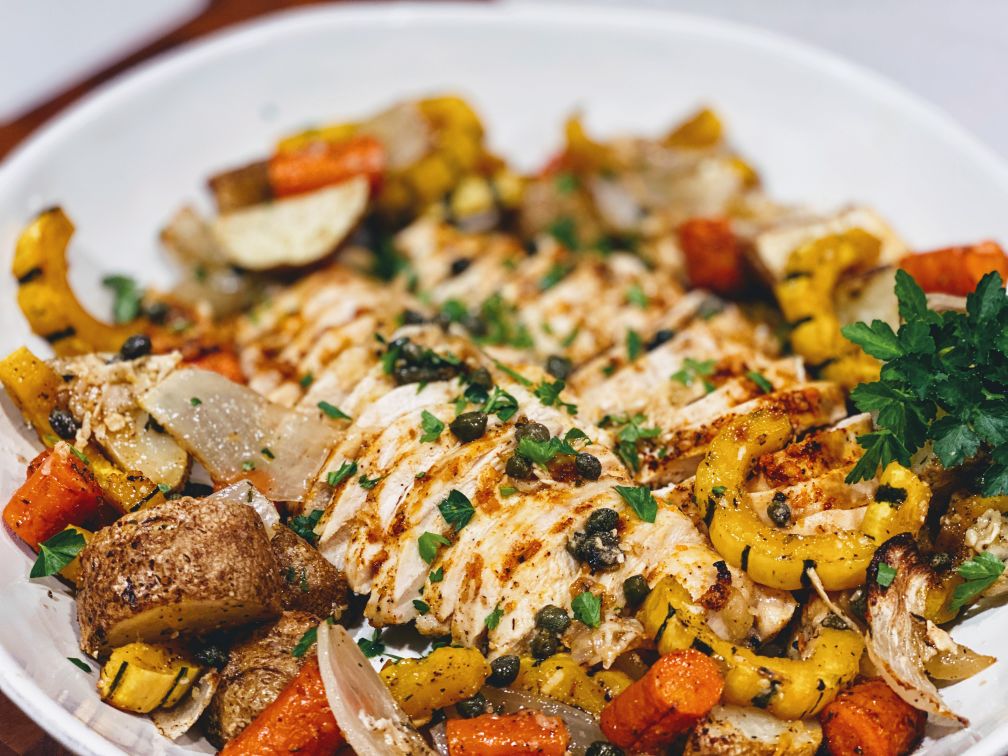 Love 1-pan dinners? Try this Sheet Pan BBQ Chicken & Vegetables!
Check out these delicious recipes from Food By Joe: