---
RECOMMENDED VIBE:
Here's an album I thought you might enjoy while cooking this recipe ?
---
Weeknight Warrior
Who doesn't love a one-pan dish? Toss a few ingredients in oil & seasonings, throw it all onto a sheet pan, set it and FORGET IT! This one pan BBQ chicken is a perfect family crowd pleaser for a weeknight dinner, or a delicious last-minute date night dinner for two!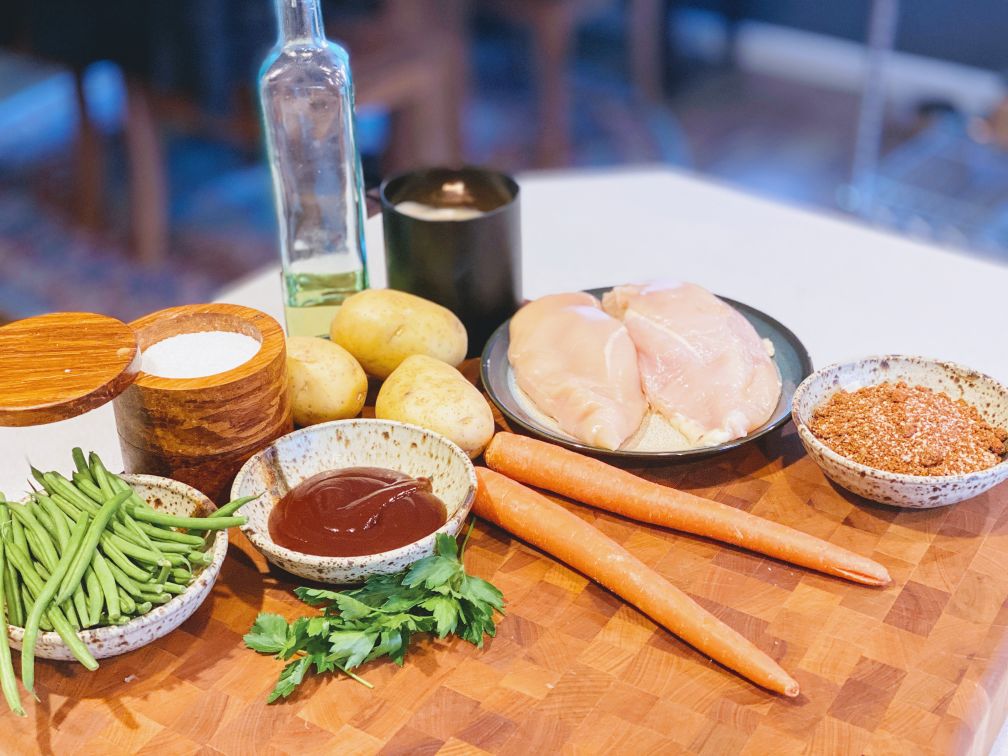 Here are my ingredients – what are yours?
Like many of my recipes, this one pan BBQ chicken has a lot of flexibility built right in. This is essentially a roasted chicken dish with vegetables. You can choose whatever vegetables you like, and the process is the same! Also, like many of my recipes, this one originated from materials on hand in the pantry. Reducing food waste is not only ecologically friendly but budget-friendly as well.
We had some yukon gold potatoes, some carrots, and a big handful of green beans – so that's what I used! You could also use sweet potato, onions, beets, squash, parsnips, turnips, broccoli, cauliflower, brussels sprouts, asparagus, zucchini, peppers, and even cabbage.
Not all veggies are good candidates for roasting. Things with a high water content – cucumbers, lettuce – tend to steam and get mushy.
---
SKILL: How to roast vegetables
The technique used here in this one pan BBQ chicken is applicable to all sorts of roasted vegetables. I try to pay attention more to methods than exact quantities and ingredients. Roasting any vegetable is pretty much the same method. Cooking times will vary based on the size of the pieces and things like moisture and starch levels – but keep an eye on things and it's hard to go wrong.
Coat the vegetables
with a small amount of oil. Olive oil works well and has a great flavor. Vegetable & canola oils are flavorless and have a higher smoke point, making them perfect for higher temperature cooking.
Basic seasoning
Salt at the very least. Pepper usually. A general guideline is: for every 1 pound of vegetables, start with ½ teaspoon of salt. You can always add more later!
Other seasonings?
Add any additional flavors you like! Chili powder, garlic powder, paprika, dried herbs, or pre-made blends like lemon pepper, BBQ spice, Italian seasoning – the options are endless. Try my recipe or try your own!
Space it out
When roasting, try to create as much space as possible between the pieces of food so that steam can escape and not leave things soggy. A sheet pan lined with foil, parchment, or a silicone mat is ideal. If the pieces are large enough, I like to use a baking rack to allow even more air to circulate.
High temp and keep an eye out
400 to 450 are good temps for roasting. If your pieces are large and will take longer to cook in the center, then you want to aim closer to 400 so the outsides don't burn while the inside cooks. If you have very small pieces, aim closer to 450, since everything will cook through and brown at the same time. Peek at your veggies every 5 minutes or so until you are comfortable. Most vegetables roast in 20-40 minutes, though there are exceptions based on the size of the pieces and the cooking temperature.
---
OK, back to the recipe
Place all of your vegetables in a large bowl. I know, I know – I promised a one-pan dinner! You can 100% do all of this tossing and coating right on the sheet pan. I find that it is much easier to coat things evenly in a bowl, so it's worth it. You do you! ?
Drizzle 1 tablespoon of oil and toss to coat. I find that a metal spoon is a great tool for this. It slides easily on the bottom of the bowl, and mixes things gently without mashing things up.
Pour the vegetables onto your lined sheet pan and spread them out evenly, leaving the center area open for the chicken.
Prep the chicken
Throw the chicken breasts into the same bowl you used for the veggies. Pour the remaining tablespoon of oil over the chicken and toss to coat. Sprinkle with a pinch of salt, and then sprinkle the BBQ spice rub on the chicken and repeatedly toss/flip until all sides are fully coated.
You can use any store-bought BBQ rub for your one pan BBQ chicken, or you can try my recipe, or you can use the basic blend included in the recipe below. I used my own blend, and this chicken came out unbelievably delicious!
Lay the chicken breasts on the sheet pan with the vegetables. Make sure they are fully contacting the pan, and not set on top of the vegetables.
Using a spoon or basting brush, spread a thick layer of BBQ sauce on the top of each chicken breast. Like the spice rub, you can use any pre-made BBQ sauce, or you can try out my easy recipe for a Sweet & Spicy BBQ Sauce.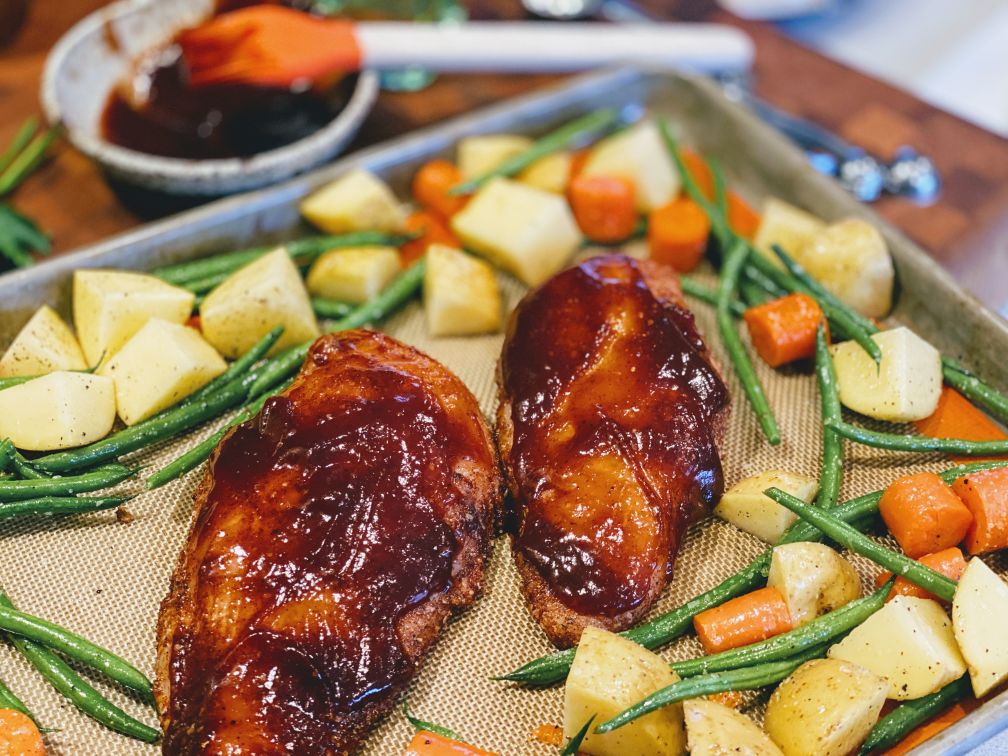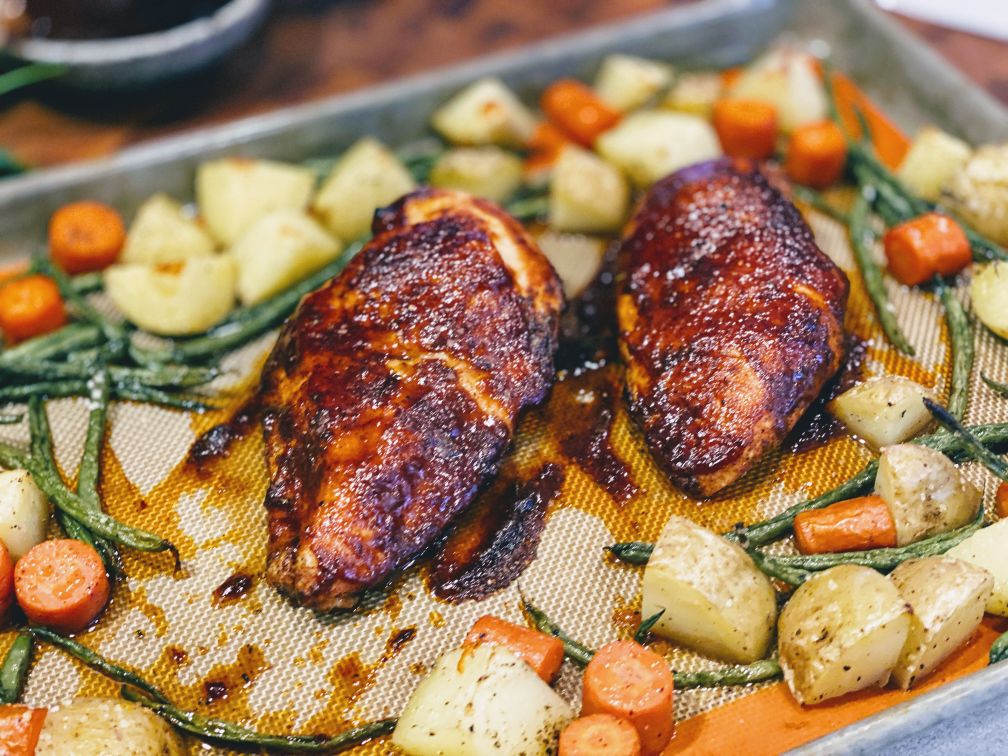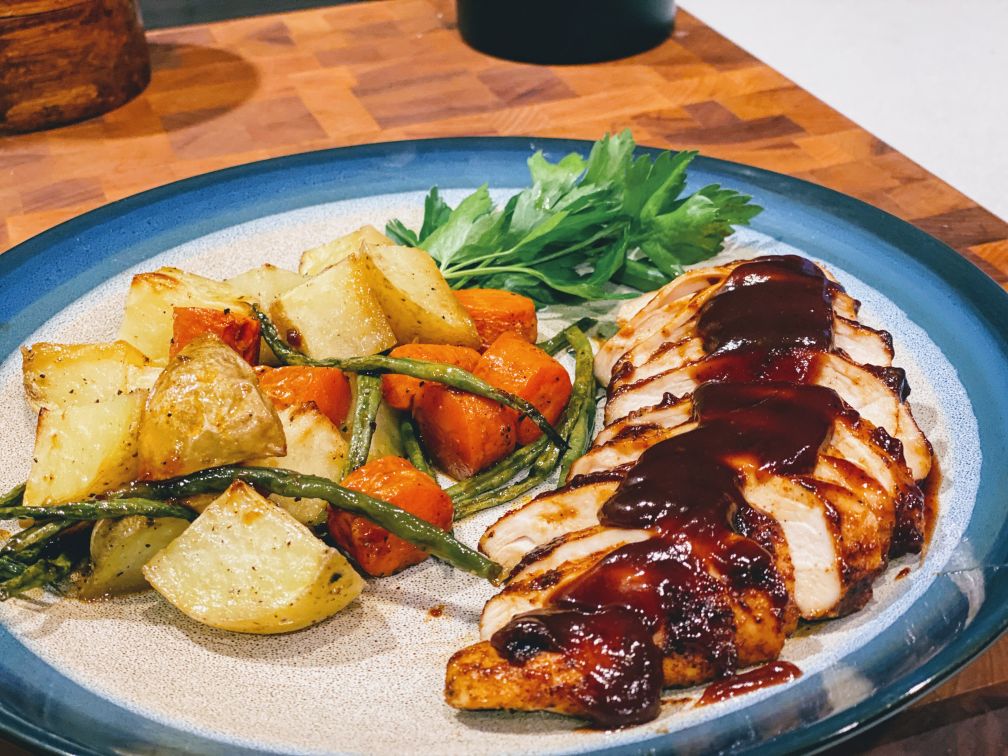 Into the oven!
With the oven heated to 425, place the pan on a center rack and roast for 25-35 minutes, or until chicken is cooked through. Times will vary based on the size of the chicken breast. Once you get to 25 minutes, just cook in 5 minute increments and test for doneness. To test, you can simply cut into the thickest part of a breast to be sure that it is solid white throughout. I strongly recommend that you invest a small amount in a good instant-read thermometer or a digital probe thermometer. The links I provided are to the Thermo-Pro products that I use and love. (I have no affiliation with Thermo-Pro – just a happy customer)
Thermometers like these may seem like fancy kitchen equipment, but I assure you they are game-changers for beginner chefs as well as seasoned (see what I did there) kitchen veterans. All this nonsense about "depending on size" or "cook times vary" will be a thing of the past if you just use a thermometer. It's like having x-ray vision – no guessing!
Once the chicken is cooked all the way through, remove from the oven and transfer the chicken to a cutting board to cool slightly – so you can handle it.
If you are not serving right away, you may not want to slice the chicken – it can dry out if left. However, I really like to slice chicken breast before serving it. This makes it easier to eat (no knives needed), and it also allows you to sauce the chicken better, ensuring that every bite is moist and flavorful.
Want an equally easy dessert to go with your one pan BBQ chicken? Try my Seriously Easy Flat Apple Pie!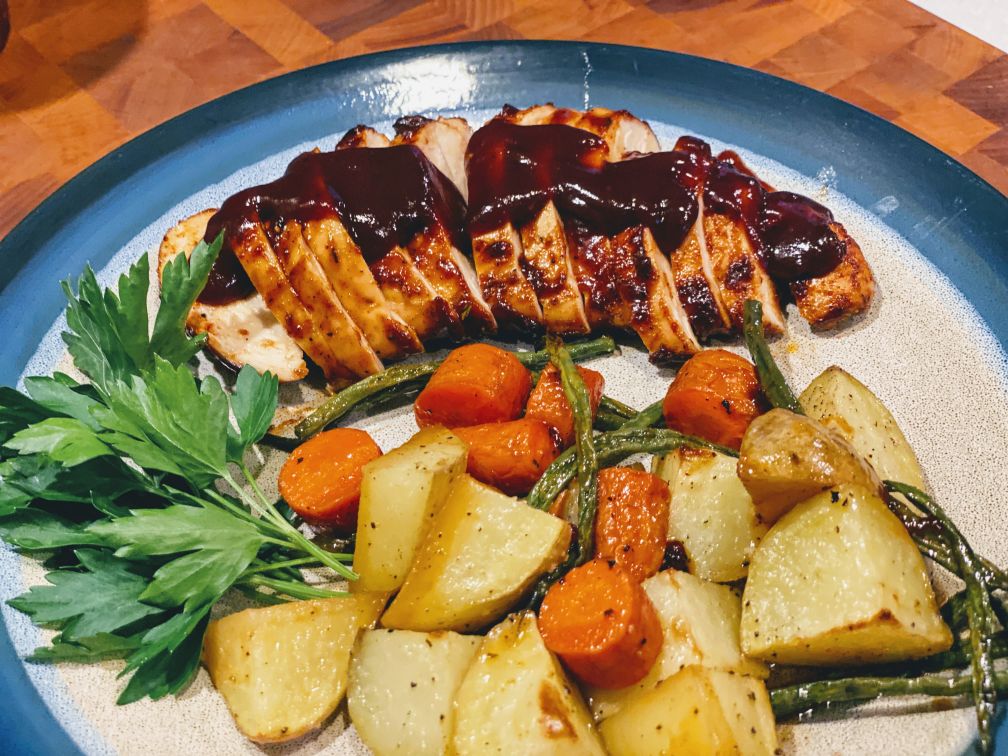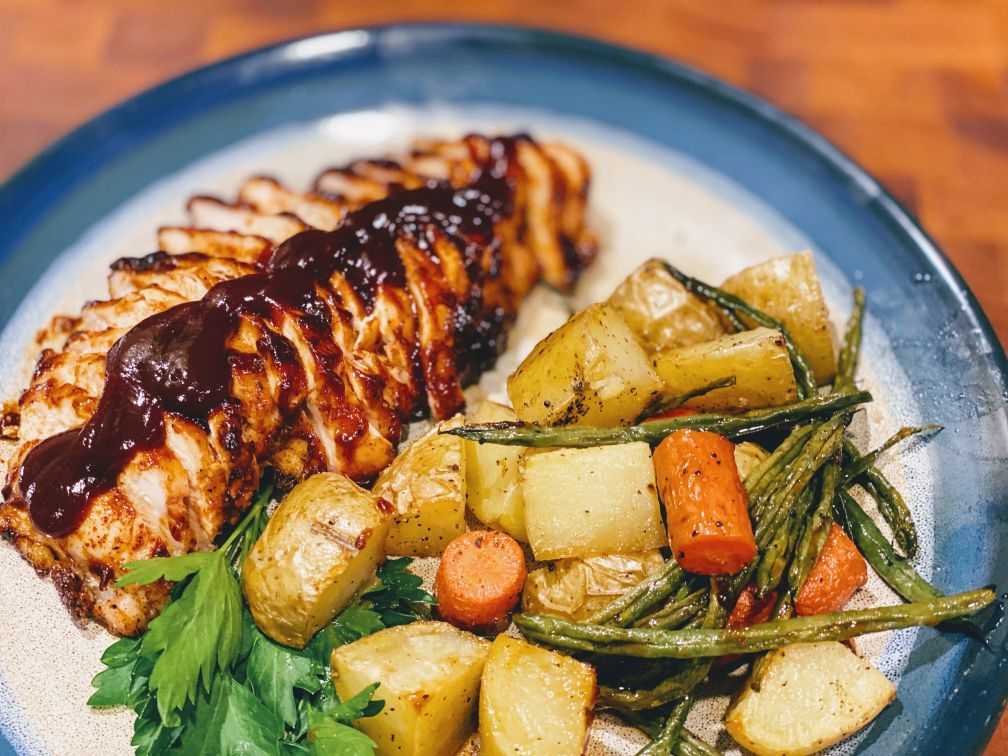 Print
One Pan BBQ Chicken & Vegetables
5 minutes of prep is all it takes for this easy one pan BBQ chicken with potatoes, carrots & green beans. Set it and forget it!
2

–

4

chicken breast halves

1

lb yukon gold potatoes, cut in 1 ½ inch cubes

2

medium carrots, cut in 1" – 1 ½" pieces

2 cups

green beans, rinsed & trimmed

2 tablespoons

olive oil

1 teaspoon

kosher salt

½ teaspoon

black pepper
3 tablespoons of your favorite BBQ Spice Rub

If not using BBQ rub:

1 tsp

brown sugar

1 tsp

salt

1 tsp

smoked paprika

½ tsp

garlic powder

½ tsp

onion powder

½ tsp

black pepper 

⅓ cup

of your favorite BBQ Sauce
Instructions
Preheat oven to 425

Cut vegetables and place in a large bowl, drizzle with 1 tablespoon olive oil

Sprinkle vegetables with 1 teaspoon salt and ½ tsp pepper. Toss to coat, and pour the vegetables onto a sheet pan lined with foil, parchment, or a silicone mat.

Place the chicken breasts into the same bowl you used for the vegetables. Drizzle 1 tablespoon of olive oil and toss to coat. 

Sprinkle 3 tablespoon of BBQ spice rub over the chicken and toss to coat all sides

Place the chicken on the sheet pan with the vegetables. Nestle the chicken in, do not put it on top of the vegetables

Brush chicken with BBQ Sauce

Bake at 425 for 25-30 minutes, until chicken is cooked through. To test, cut into the thickest part of one o the breasts to be sure there is no pink remaining at all. I recommend using an instant-read thermometer or a digital probe thermometer to ensure the chicken reaches 165 degrees at its thickest part. 

Serve immediately
Check out these delicious recipes from Food By Joe: