---
RECOMMENDED VIBE:
Here's an album I thought you might enjoy while cooking this recipe ?
---
Learn this method!
I always try to pay more attention to the METHOD of a recipe than I pay to the exact ingredients. When you learn methods and processes instead of just recipes, you open up possibilities for yourself in the kitchen.
This pasta bake, for example. Really, all we are doing is making a bechamel sauce, adding cheese to it, and then pouring it over some pasta. You can use any pasta and any cheese that you like! You can add fresh herbs, bacon,, vegetables, or even add some cooked chicken for protein. The basic method is still the same: make a bechamel, cook some pasta, mix it all with cheese and bake!
Prep the ingredients for your cheesy pasta bake!
I love gathering all of the ingredients together in one place before I begin any recipe. That way I can be sure everything is within reach, and if I need to make any omissions or substitutions, I can think about it ahead of time.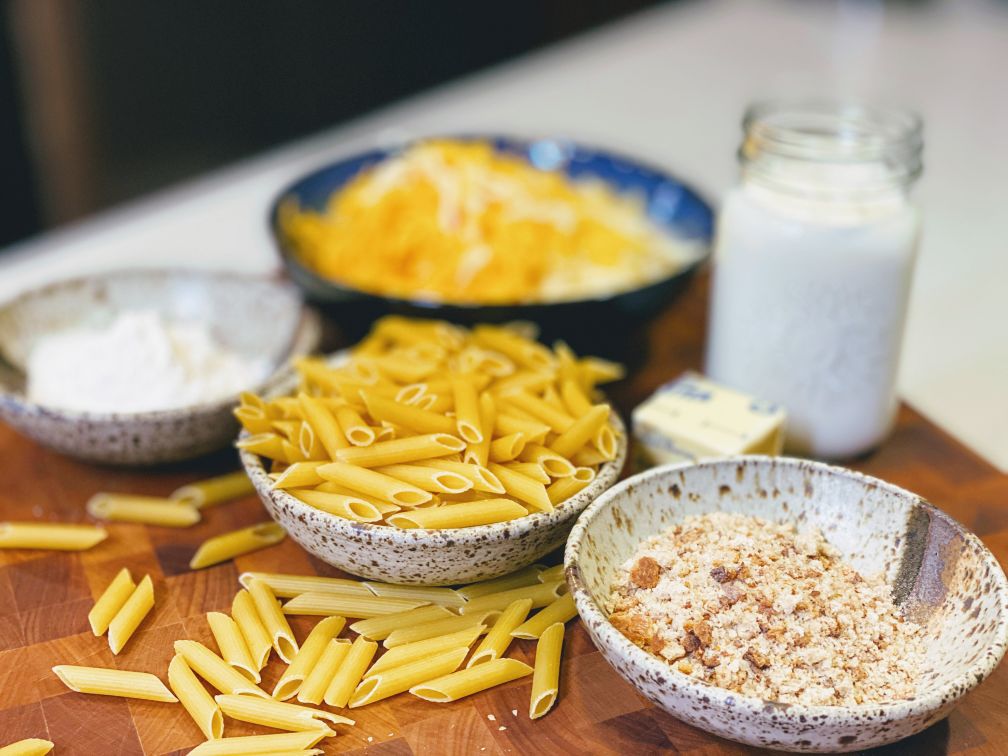 Cook the pasta
Cook your pasta according to the package instructions. If they give a cook time for 'al dente', use that. If not, simply cook for the lowest amount of recommended time. It's ok for your pasta to be not-quite-done-cooking, because it is going to bake in the oven!
Drain your cooked pasta but do not rinse it. Transfer the hot cooked pasta to a large bowl and drizzle with a teaspoon of olive oil. Stir to coat the pasta, and it won't stick together while you get the sauce ready.
Sauce time!
Put a nice heavy skillet or dutch oven over medium heat and give it plenty of time to fully heat up. Add the butter to the pot – you want it to bubble and sizzle GENTLY, but if it smokes or browns, bump your heat down. We want a nice gentle sizzle, we're not going for browning or color.
With the butter fully melted and bubbling, sprinkle the flour into the pan and whisk constantly to fully combine the four and butter. Scrape any dry flour from the sides. Keep whisking for 1-2 minutes until the mixture is smooth, bubbly and pale yellow.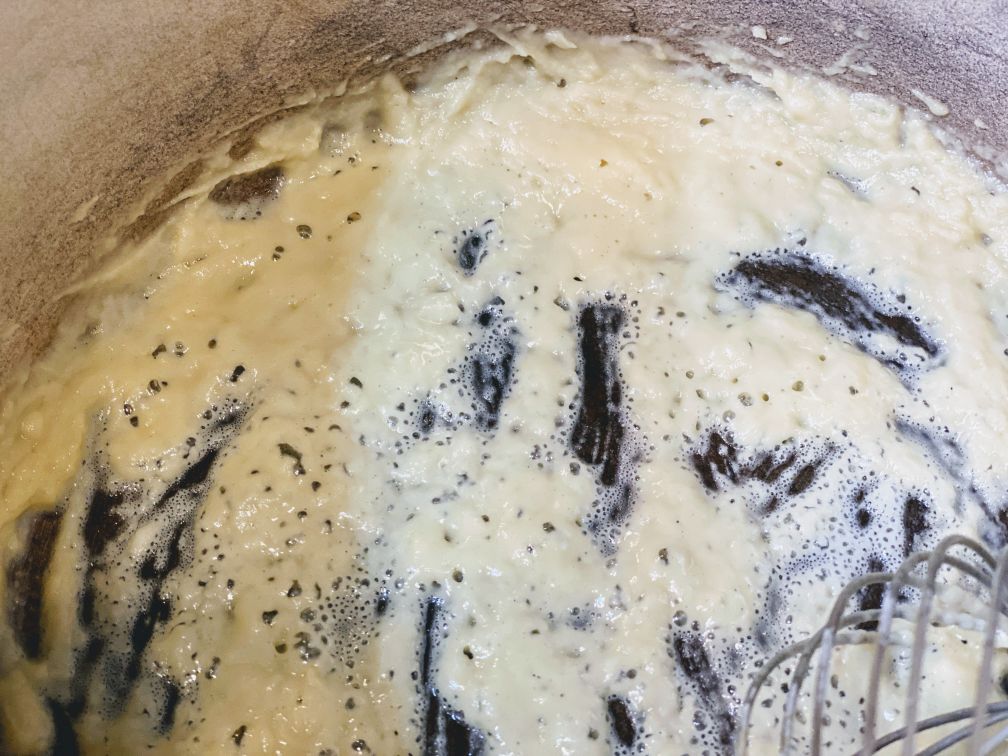 Bring liquid to the party
This cheesy pasta bake features a creamy, cheesy sauce. To achieve that sauce, we've created a roux with flour and butter. Now it is time to introduce liquid.
There are differing opinions about whether to heat the milk and how gradually to add it. To be honest, I saw enough recipes that said "just dump it in and whisk" that I gave it a try – and the result has always been great! So, just pour your milk into the pot and whisk vigorously to eliminate lumps.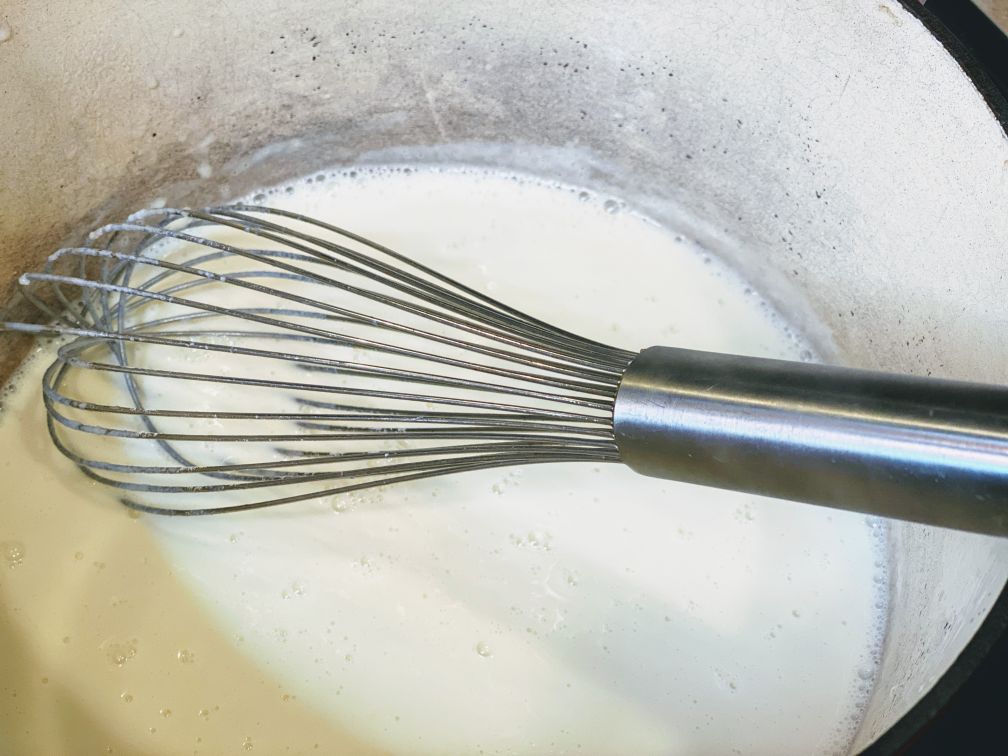 Continue whisking until the mixture reaches a gentle boil. At this point, turn the heat to low and keep whisking as the sauce thickens to the consistency of pancake batter.
Remove the pot from heat and stir in the cheese until it is smooth and melted.
Add the cooked pasta to the sauce and combine everything well.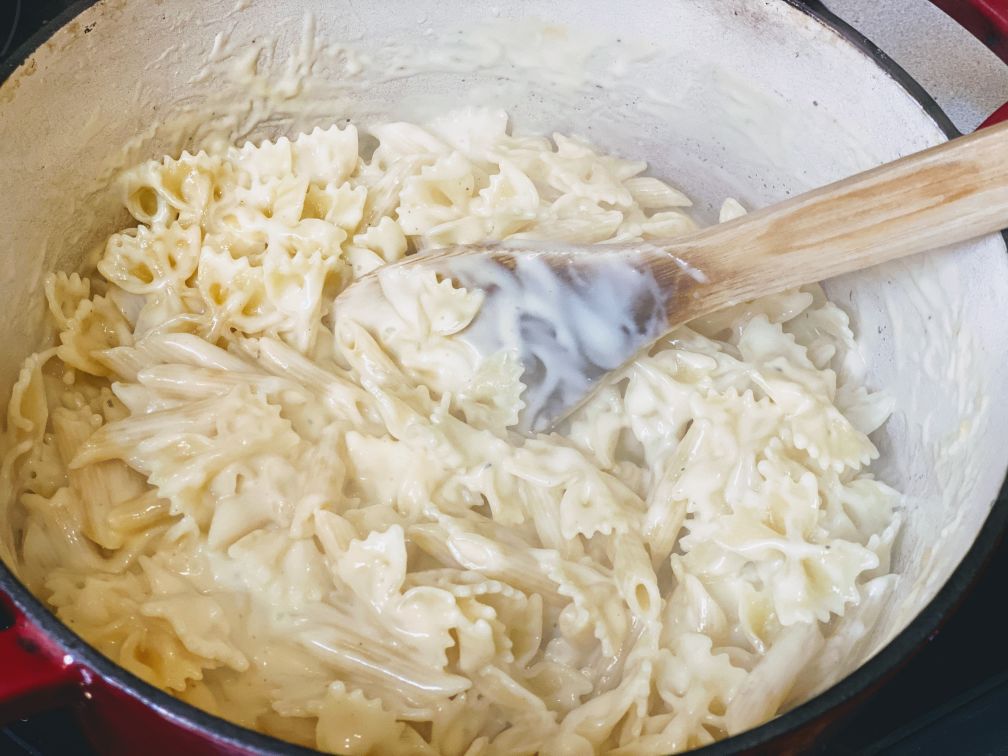 Bake!
Grease a casserole dish with butter or cooking spray. Pour the pasta mixture into the dish and smooth it out. Sprinkle the remaining cheese over the top, and finish by sprinkling the bread crumbs evenly across the top.
Bake at 350 degrees for 20-30 minutes, until the sauce is bubbly and the top os toasted and melty. YUM! A bowl of this and a simple kale salad makes a perfect lunch!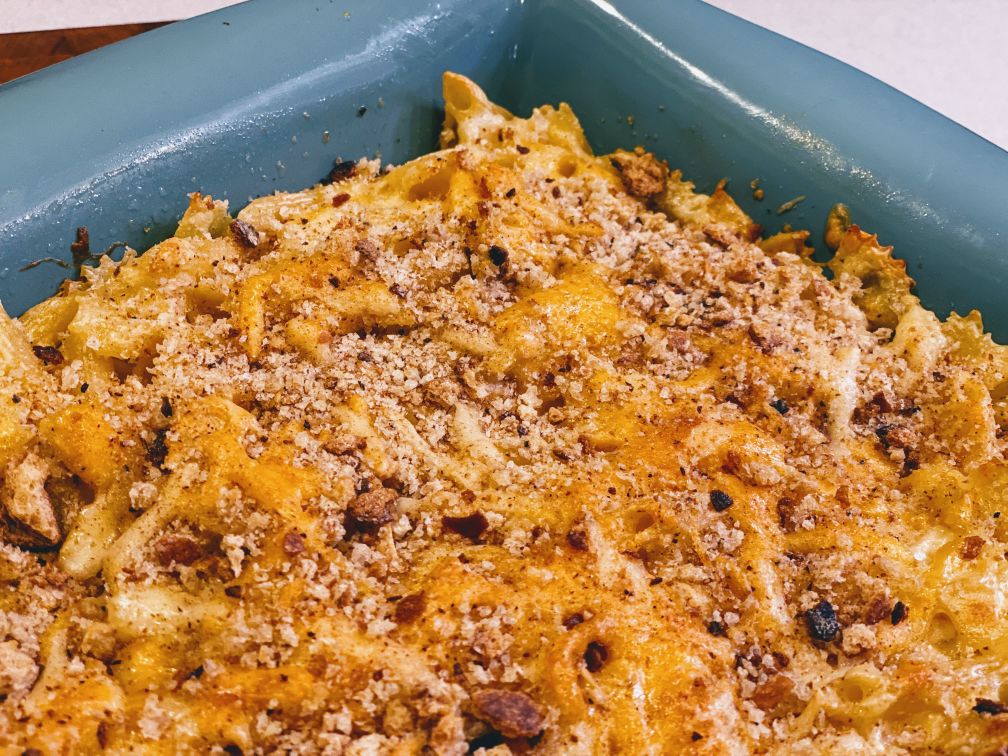 Check out these delicious recipes from Food By Joe: