---
RECOMMENDED VIBE:
Here's an album I thought you might enjoy while cooking this recipe ?
---
Memories, memories…
Something about certain flavors just takes you right back to certain memories. Sometimes very specific, and sometimes more general. This lemon gingerbread cake recipe is a riff on something Dear Old Dad used to make when I was young. A super traditional gingerbread (not gingerbread cookies – that's another pot of deliciousness altogether) with a thin, syrupy lemon sauce that was drizzled over the top before adding a dollop of whipped cream. Simple. Amazing!
For my spin on this favorite, I've created a Lemon Gingerbread Cake that combines the flavors of ginger, warm spices, lemon, and cream into a moist gingerbread cake with lemon zest/juice, and sweet candied ginger. In place of lemon drizzle and whipped cream, my lemon gingerbread cake recipe is finished with a tart, creamy lemon cream cheese frosting.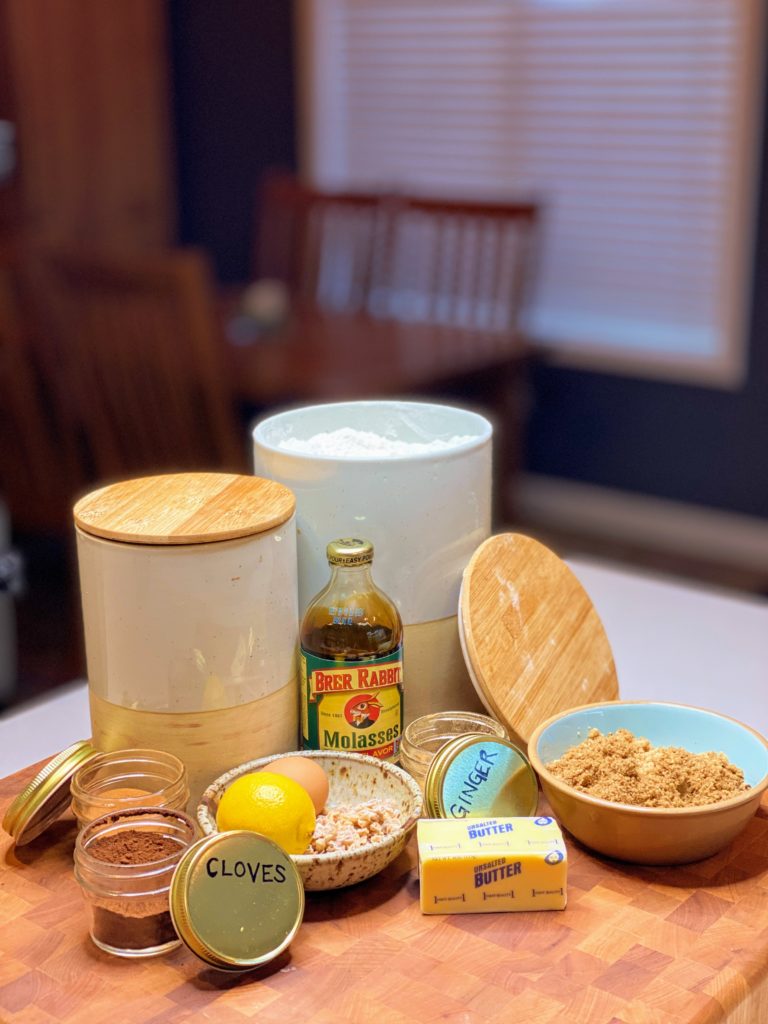 Start with the dry ingredients
When I make cakes – particularly like this Lemon Gingerbread Cake Recipe that requires adding dry ingredients to wet gradually – I find that it really helps to get all of my dry ingredients mixed together in a big bowl before I start.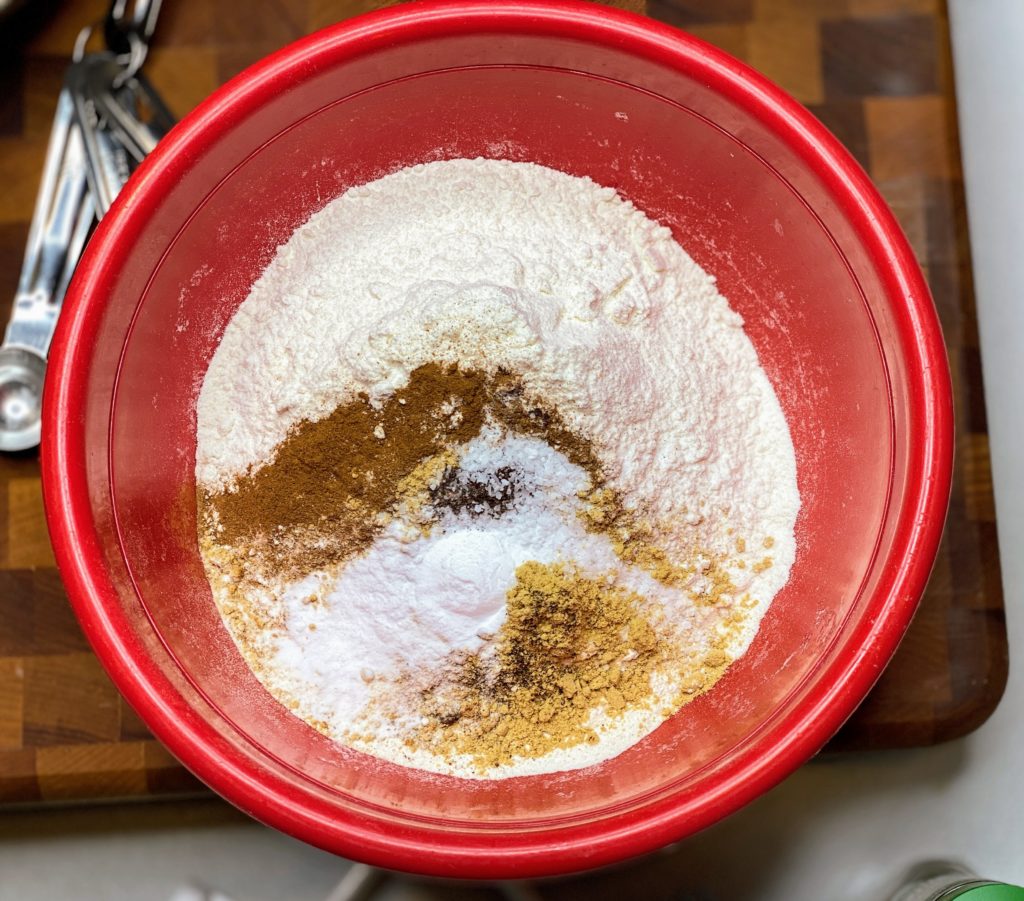 That butter/sugar thing
Start with soft butter. I like to leave a couple of sticks out when I know I'll be baking – but you can also soften butter on low power in the microwave.
Pop the butter and sugar into a stand mixer and beat it on medium speed with the whisk attachment for 2 minutes or so. Stop part way through to scrape down the sides of the bowl.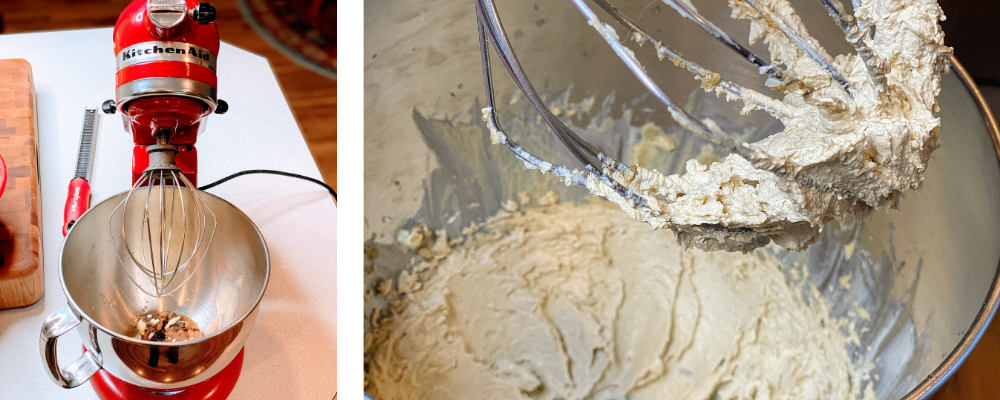 What's gingerbread cake without molasses?
As a confirmed stickiness-hater (I'm told this is referred to as being 'tactilely defensive' ?) I used to avoid recipes with molasses or corn syrup – the thought of the mess was a big deterrent. I've found, though, that molasses is actually a pretty easy ingredient! Sure, you have to be careful about drips – but molasses actually behaves pretty well, sliding out of measuring cups and blending with room-temperature liquids better than honey! This Lemon Gingerbread Cake recipe has definitely gotten me over my molasses-phobia! ?
TIP: Rinse your measuring cup/spoon in water or wipe a little oil inside before measuring your molasses – it will slip right out!
Time to paddle!
This batter for your Lemon Gingerbread Cake will get pretty thick – so the whisk attachment, while great for creaming the butter & sugar, will likely struggle since the dry ingredients are added. I recommend swapping to the paddle attachment, which is much better for thicker batters. (The paddle is also better when mixing in things like nuts, dried fruits, or chocolate chips!)
Time to put the 'lemon' in your Lemon Gingerbread Cake! Place the lemon juice, lemon zest, molasses, and egg into the bowl of the mixer and set to medium-low speed until the mixture is smooth and rich brown. Yummm!!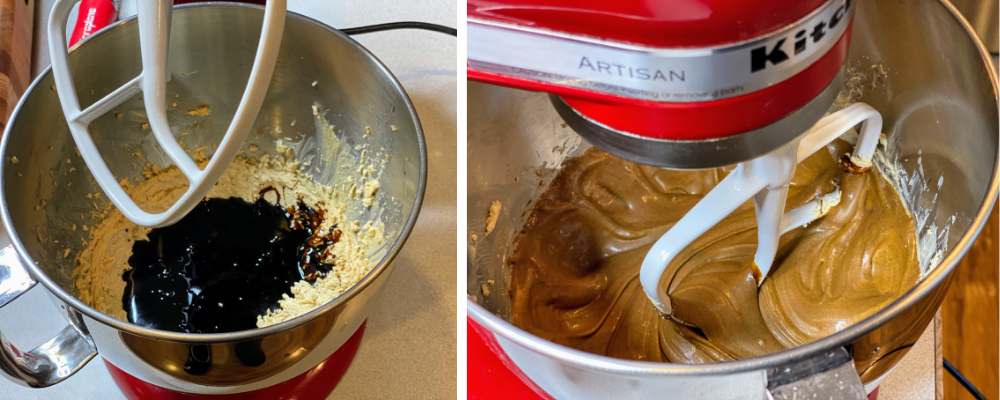 Add the dry stuff gradually!
Remember that whole 'tactilely defensive" thing? Yeah, recipes that require adding dry ingredients to a moving mixer have mess written all over them. The best method I have found for adding dry ingredients to a mixer is using a ½ cup measure as a scoop. It's small enough to pour in without spilling but big enough not to be there all day adding spoonfuls of flour! If you're one of those nifty "use the parchment paper as a chute" people, well more power to you! This is the simplest and fastest way I've found!
For your Lemon Gingerbread Cake, with the mixer on low or medium-low, scoop in the dry ingredients ½ cup at a time, allowing them to fully incorporate before adding more. Scrape down the sides if needed. The mixture will get quite thick!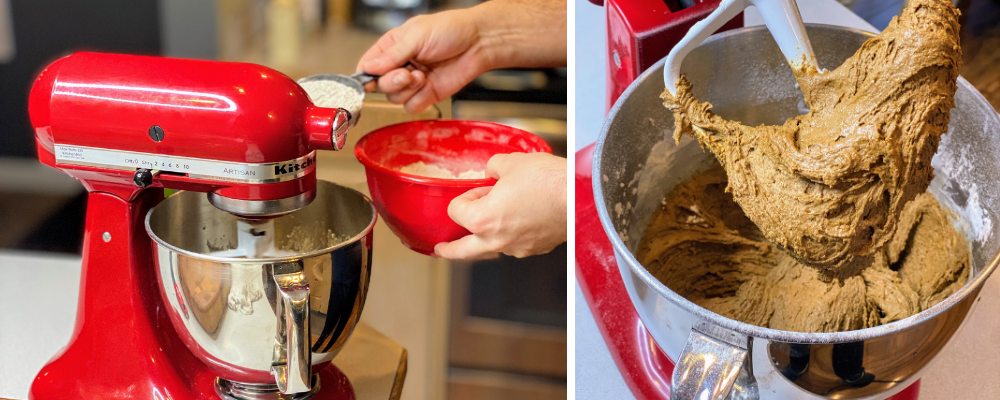 We're in hot water now!
One unique step in this lemon gingerbread cake is the use of boiling or very hot water. According to The Luna Cafe, "Hot water loosens the gluten strands in the flour, creating a lighter textured gingerbread". B'okay!
Set the mixer to low speed (seriously, splattering boiling water all over yourself is not a mistake that gets repeated!) and slowly drizzle the boiling water into the mixer. Once the water is all incorporated, you can turn the mixer up to medium to smooth things out.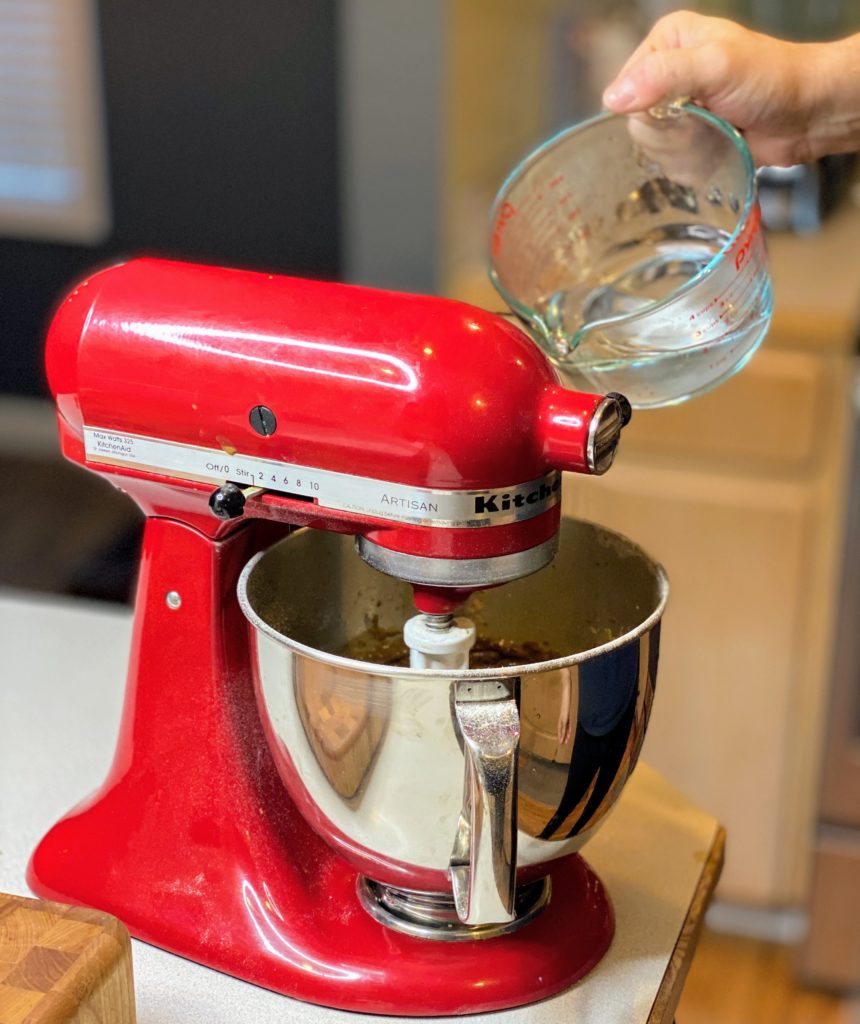 This can't be right…
…Is what I said to myself the first time I tried this method. The water makes for a very thin textured batter – seems too runny to be true. But have faith! This Lemon Gingerbread Cake is moist and rich!
Gilding the ginger lily
Just to really drive home the ginger factor, I like to include a handful of crystallized ginger at the very end before pouring the Lemon Gingerbread Cake batter into the greased/floured pan. I recommend tossing the crystallized ginger in a teaspoon or so of flour before adding them – this will help them stay suspended in the thin batter, and not all go to the bottom.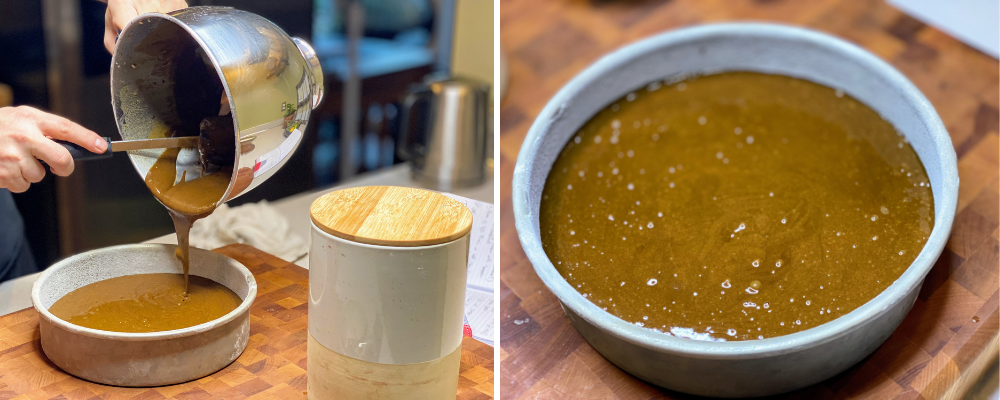 Bake!
Pour the batter into your prepared pan and pop it into the 350-degree oven for 45-50 minutes. You want a toothpick or skewer inserted in the center of the cake to come out very nearly clean (a tiny bit of crumb is A-OK).
When you take the Lemon Gingerbread Cake out of the oven, run a thin knife along the inside of the pan, and set in a wire rack to cool for at least 30 minutes.
YOU CAN ALSO LEAVE THIS CAKE IN THE PAN AND FROST IT THERE!
Lemon Cream Cheese Frosting
Yes, you read that correctly. Just calm down, we're almost ready to eat this amazing gingerbread cake with lemon cream cheese frosting!
Technically, this is a combo of buttercream and cream cheese frosting. Butter or cream cheese? How about Butter AND cream cheese?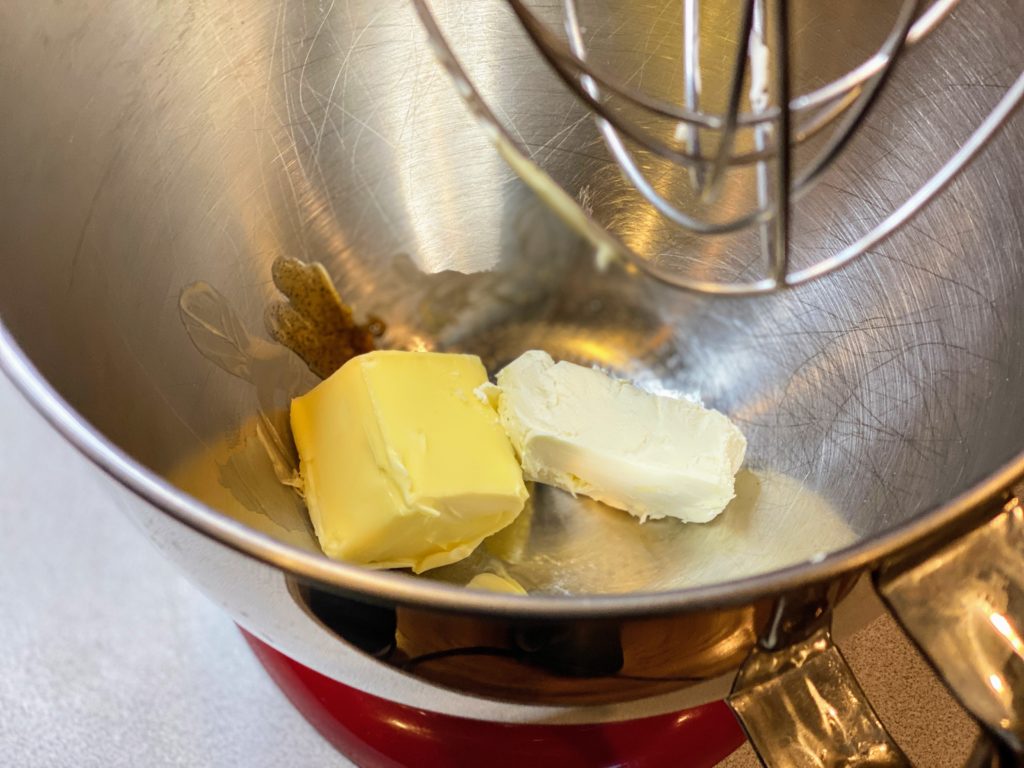 While the cake bakes, combine the butter, cream cheese, vanilla, and lemon zest to the mixer and mix on medium-low speed with the whisk attachment until smooth and combined.
Before you add the lemon juice, add a few tablespoons of powdered sugar and mix it through. This will help prevent the lemon juice from making the cream cheese grainy.
Slowly add the remaining powdered sugar and mix on medium until smooth. If frosting is too runny, add more powdered sugar 1 tablespoon at a time until desired consistency is reached. If frosting is too thick, add lemon juice 1 teaspoon at a time until desired consistency is reached.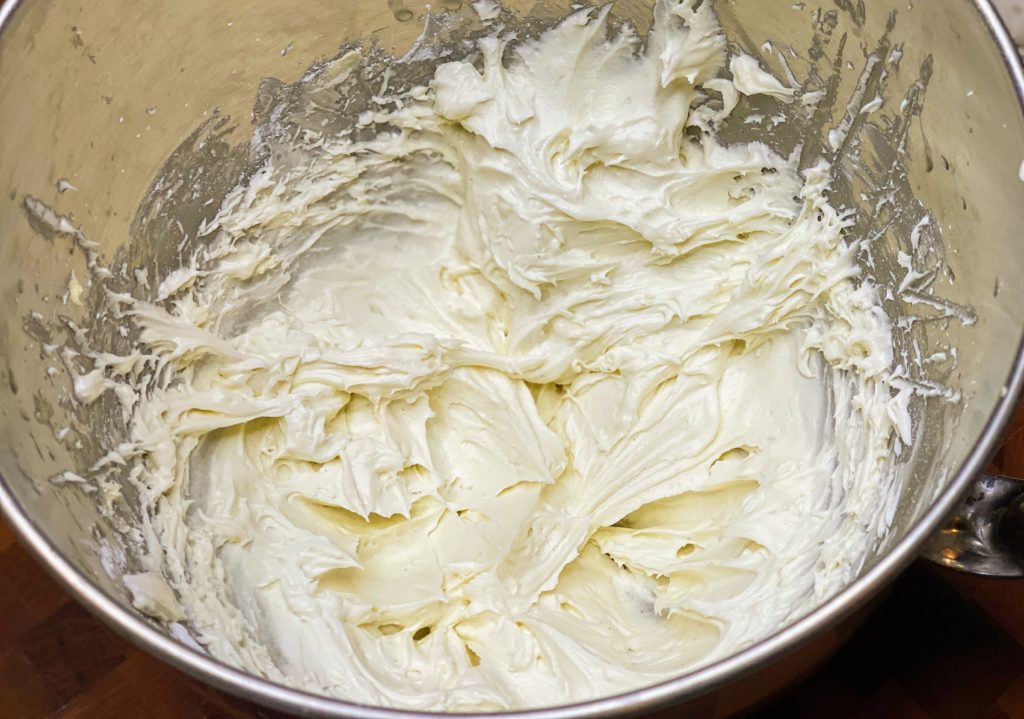 Set your frosting aside until the Lemon Gingerbread Cake is cool enough to frost. If you plan to leave the cake in the pan, simply spread the frosting evenly over the top and spread it out. Boom! Ready to serve!
If you choose to turn the cake out onto a platter, scoop the frosting in the center of the top of the cake, and spread it out toward the edges. I like to leave the sides bare, but you can certainly frost them too if you like!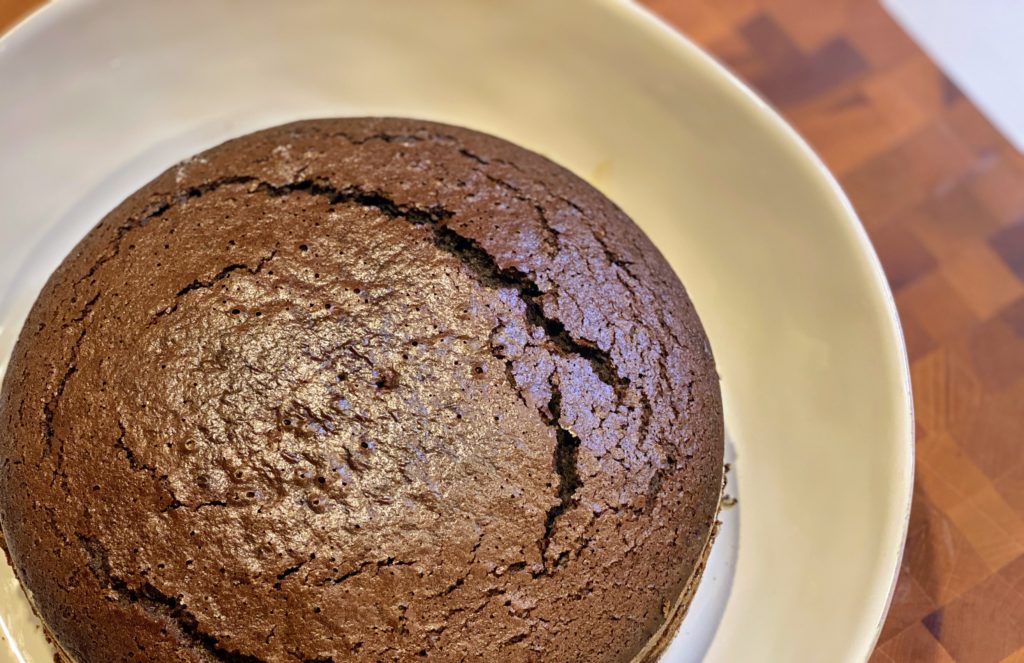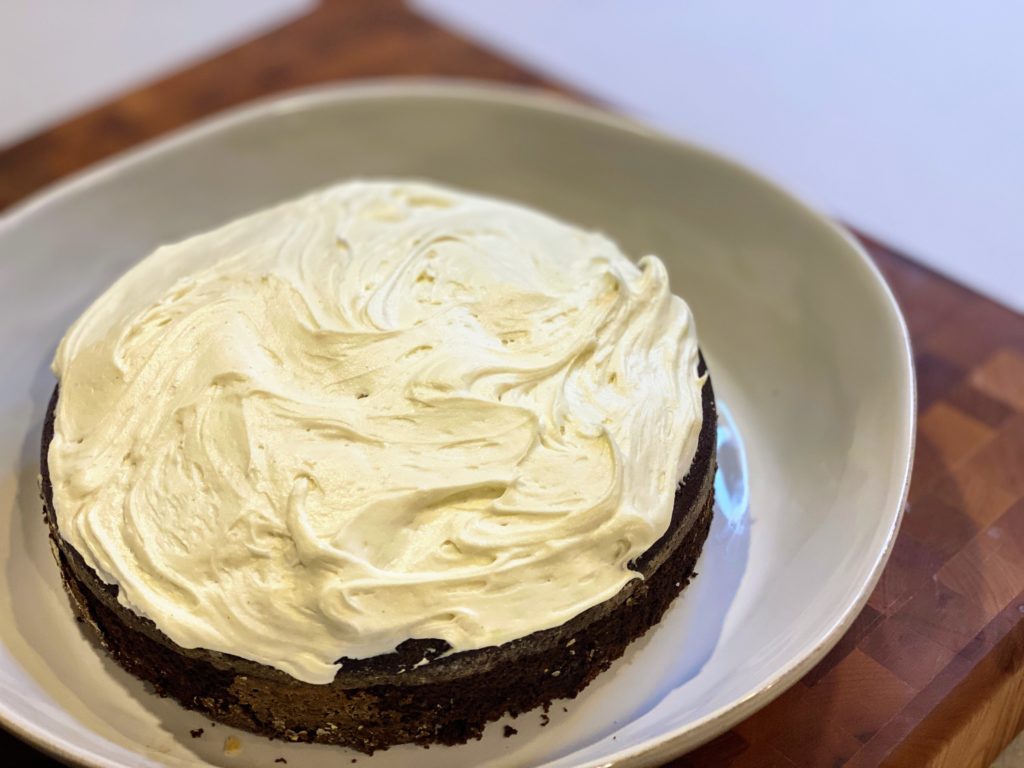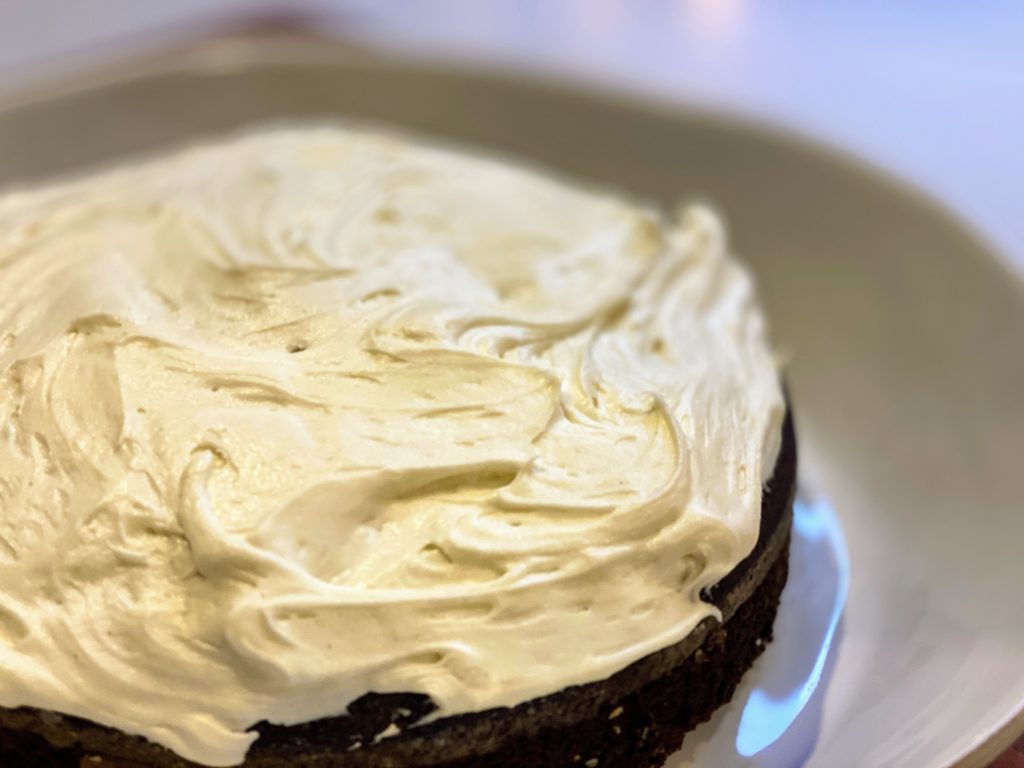 Check out these delicious recipes from Food By Joe: