---
RECOMMENDED VIBE:
Here's an album I thought you might enjoy while cooking this recipe ?
---
What to do with leftovers?
If you've ever stared into the fridge and thought: "There's so much in here, but nothing calls out to me!", then this recipe is for you. As simple as it is, this recipe for leftover lentil hand pies can transform boring leftovers into something you can't wait to pull out of the oven! The best part is that this method will work for a huge variety of leftovers!
Leftovers + 2 ingredients!
The great thing about this leftover lentil hand pie recipe is that you literally only need 2 ingredients in addition to your leftovers – and one of them can be omitted in a pinch!
Frozen pie crust
An egg
There are times when pie crust from scratch is the only way to go. Those thanksgiving pies that everyone compares with grandma's crust, or a hearty pot pie for a Sunday crowd. BUT, there are many times when premade FROZEN PIE CRUST is a perfectly wonderful option. This lentil hand pies recipe is one of those times. Frozen crusts are inexpensive, easy to use, delicious, and keep well in the freezer. I highly recommend keeping one or two in your freezer at all times. As you'll see, they are a truly easy way to take a spare bit of leftovers and turn them into something you'll be excited to eat!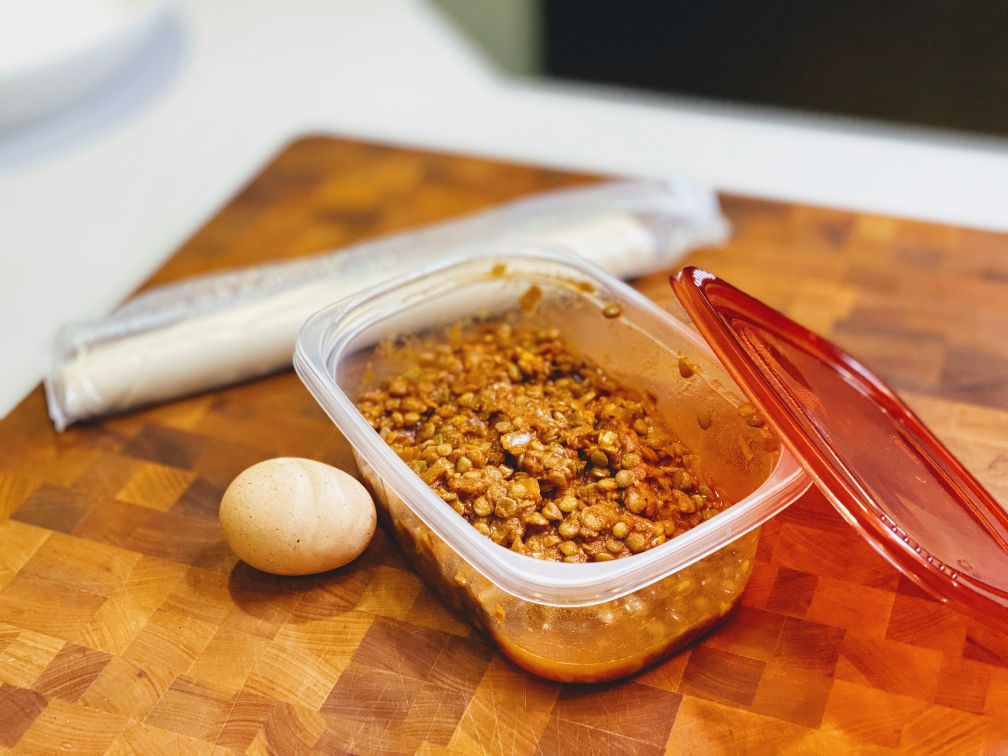 What do I do with the egg?
The egg is for something called an egg wash. By brushing the outsides of some baked items, you can help the outside get a nice brown color and a slight sheen that adds to the flakiness and look of the crust. Is it 100% necessary? No – but leaving it out might result in a paler, more uneven crust on your lentil hand pies. If you don't have an egg on hand, you can brush a little milk/cream, or even melted butter.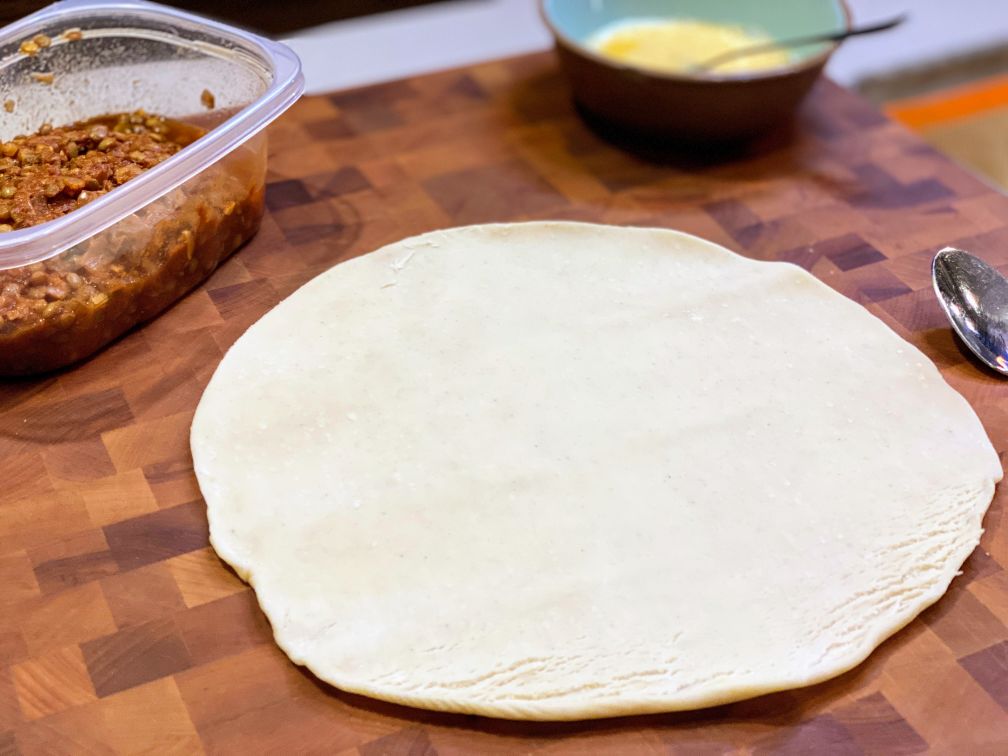 But first…
Before we get to the egg wash, we need to make the leftover lentil hand pies to be egg washed!
Follow the thawing instructions on the pie crust package. I usually pop mine in the fridge a few hours – and up to a couple of days – in advance. Then I let it sit on the counter for 10-15 minutes, and as long as I go slowly/gently I usually have no trouble rolling them out. You'll just need one crust for this recipe, which makes 2 pies. You can certainly double that number if you have a lot of leftovers!
Once you have successfully unrolled your pie crust, spoon the leftover lentils on the crust. If you imagine the crust is in 4 equal sections, you want to place your filling in the two nearest to you. Then, brush a little egg wash around the bottom edge of the crust, as well as the area between the scoops of lentils. This will help the top crust stick to the bottom one when we fold it over.
Fold & Crimp!
Carefully bring the top half of the crust toward you, covering the filling and lining up with the edges of the bottom crust. With a fork, press gently on all of the seams to crimp the crust together.
Use the side of your hand to gently press down the crust between the two scoops of filling, dividing your two pies. Ensure good contact, and then cut down the middle with a sharp knife.
Finish crimping the edge you just cut, and cut small vent holes in the top of each pie.
Brush egg wash over the entire outside of each pie, and transfer to a sheet pan lined with parchment or a silicone mat.
OPTIONAL: If you like, now is a great time to sprinkle a little flaky salt over the pies. I also sprinkled some smoked paprika, since it goes with the leftover lentil filling. ?
Time to bake!
Pop the pies into a 350-degree oven for 30-35 minutes, or until the tops are a nice golden brown. Cool 10-15 minutes and serve!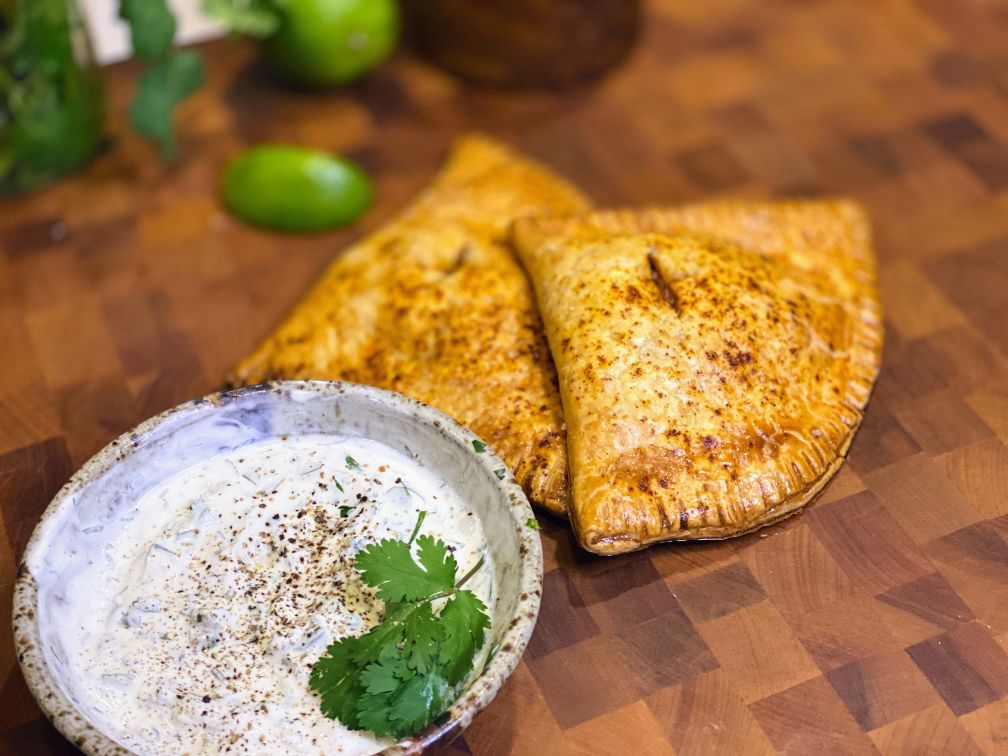 Check out these delicious recipes from Food By Joe: