---
VEGAN WHITE BEAN & ROSEMARY SOUP
RECOMMENDED VIBE:
Here's an album I thought you might enjoy while cooking this recipe ?
---
This vegan white bean & rosemary soup is a winner!
Fast, easy, delicious, hearty, and healthy. Culinary unicorn? This recipe was actually a request from Wonderful Wife, and it will be a staple! The leftovers disappeared fast, which is always a good sign!
Take time to prepare
Setting up the space is super important to me in my kitchen. That includes everything from placing everything within reach to selecting the right music. (Check out the recommended album at the top of this page, or head over to my Weekly Kitchen Playlists!) For me, the kitchen is an oasis of self-care. I little time spent setting everything in order means that I can cook in a relaxed, joyful space with no surprises or rushing around. I take my time and relish this step, even for super simple recipes like this vegan white bean rosemary soup.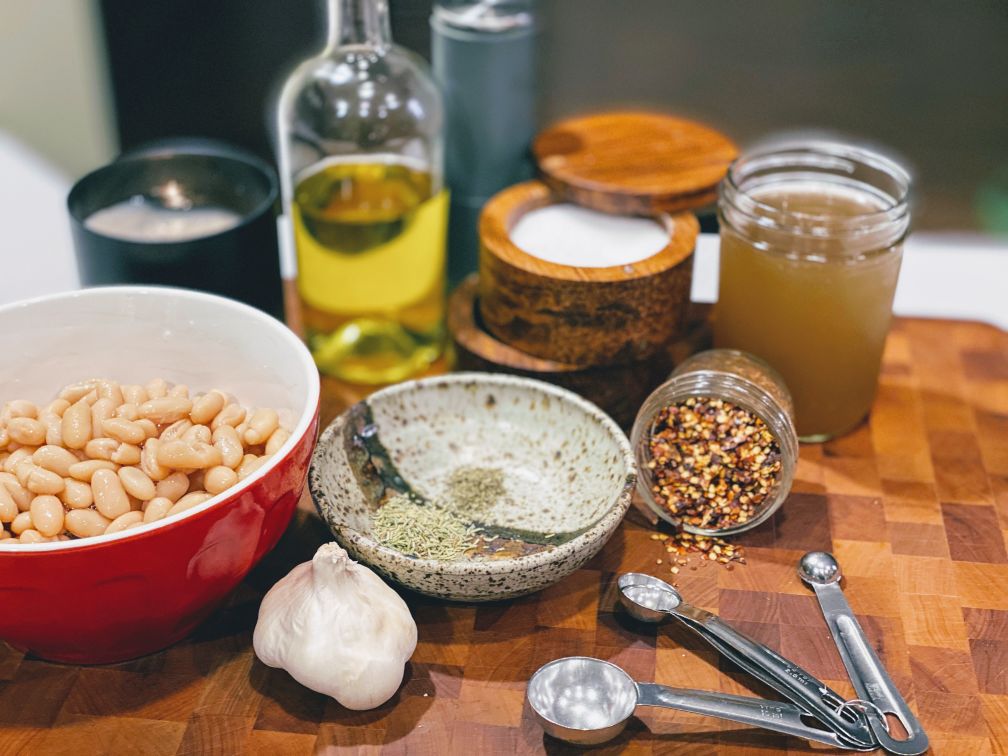 Beans 2 ways
The prep for this vegan white bean & rosemary soup is fast! Just mince some garlic (or use the pre-minced stuff!), and puree one of the cans of beans along with its liquid. The other two cans will stay whole and get drained. This gives an amazing, smooth texture to the soup!
Pour 1 can of cannellini beans into a blender or food processor. Don't drain this one, just pour the whole thing in and blend it until it's completely smooth – this won't take long.
Drain the other 2 cans of beans and set them aside.
Get cooking
Don't blink, because this vegan white bean rosemary soup cooks in a flash. Put a heavy pot (I love my enameled dutch oven!) over medium heat and heat the oil until it shimmers. Add the garlic to the pot and stir constantly for 1 minute. You're not trying to brown the garlic – in fact, you want to avoid it. If the pan is too hot and the garlic starts to burn, just slide the pan off the burner and drizzle a little more oil in the pan. Turn the burner down a bit and put the pan back over the burner.
After a minute or so of cooking the garlic, add all of the remaining ingredients to the pot and stir to combine. Bring the soup to a gentle boil, and then immediately turn the burner down to medium-low. Simmer the soup, stirring occasionally, until it reaches the desired thickness. This could take anywhere from 5 to 15 minutes, depending on the pan, oven, quantity, etc. Just keep an eye on it and turn it off when it looks like you want to eat it!
Feel free to embellish
This basic recipe is vegan, as long as the broth you use is vegan. The Better Than Boullion broth bases come in several vegan varieties. They are really fantastic! I love to use their vegan beef boullion to get a rich umami taste in my French Onion Soup recipe.
There are many ways to garnish or tweak this vegan white bean rosemary soup. You could add a dairy element with a splash of cream while simmering, or a dollop of goat's cheese when serving. You could add a meat element by starting with browned italian sausage or garnishing with crispy bacon bits. We like to keep it simple (and vegan) with some chopped parsley and sliced green onions. I hope you enjoy!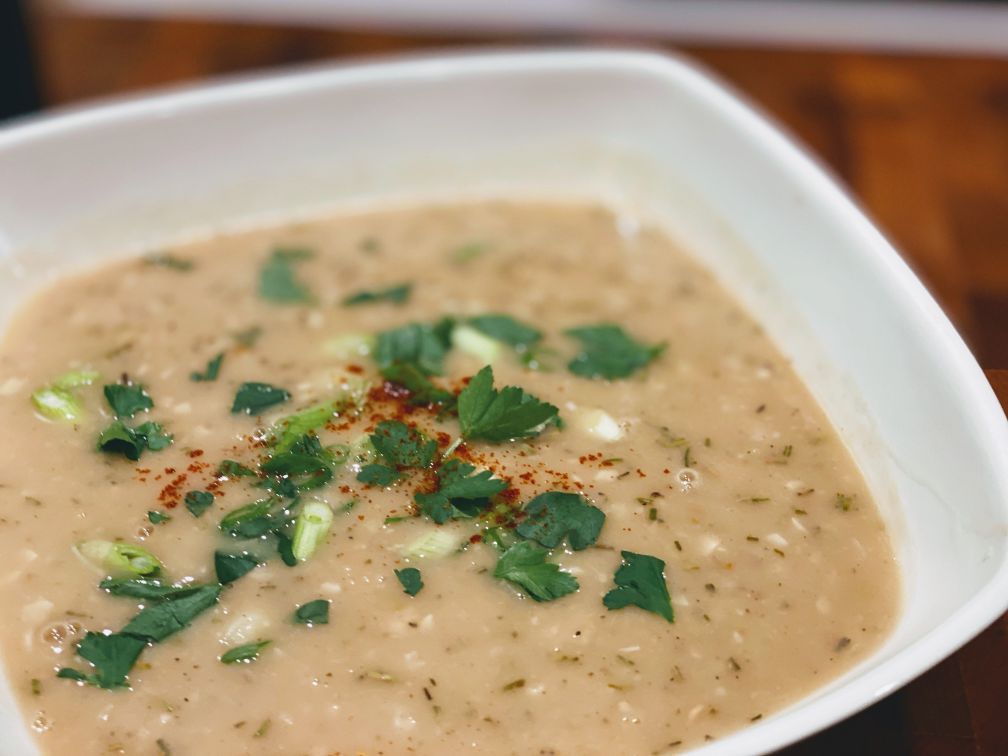 Enjoy this Vegan White Bean Rosemary Soup recipe?
Check out these delicious recipes from Food By Joe: