---
FRENCH ONION SOUP
RECOMMENDED VIBE:
Here's an album I thought you might enjoy while cooking this recipe ?
---
Patience is a virtue
It's true, French onion soup is not a quick recipe. But the steps are super simple! With a little patience and very little effort, you can enjoy this comfort food classic!
Taking stock
While classic french onion soup os made with beef broth, we've made it with vegetable broth with great results. We really like to use these VEGAN stock bases by Better Than Boullion. They are completely vegan and taste fantastic in soups and sauces. If you are using vegetable stock, I recommend adding a tablespoon of Worchestershire (or vegan Worcestershire) to give great umami and depth that boosts the veggie broth!
I like to gather all of my ingredients before I start cooking. That way I'm sure we've got everything and there's no running around.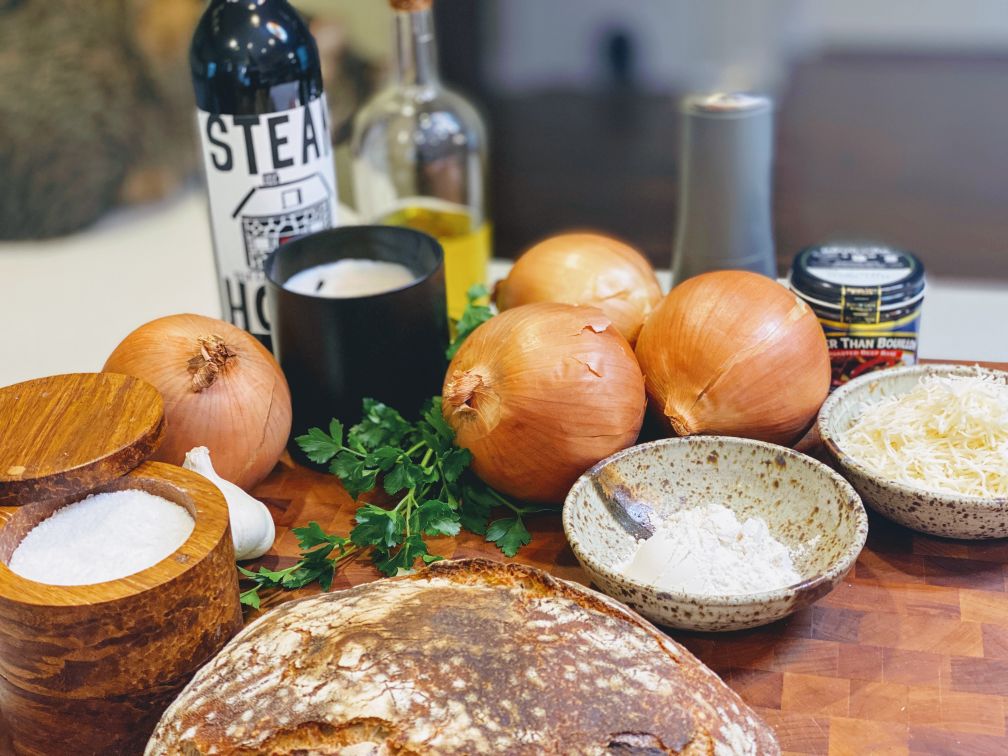 Prepping the onions
We like our onions in straw/sliver shape. This also happens to be one of the easiest ways to cut onions. Just cut the root and stem ends and then slice in half. Place the cut side down on your cutting board and start at one end, slicing the onions into straws around ¼" thick. Use your hands to separate the layers and toss them into a big bowl.
Melt the butter in a large, heavy pot over medium heat. Be sure the let the butter fully melt and wait for the bubbles to subside – then you know it's good and hot. Add all of the onions to the pot along with the garlic, thyme, bay leaves, salt & pepper. Stir everything to coat.
As you can see in the photos, the 4-onion recipe filled my dutch oven to the brim! You have to be careful when stirring, but only for a few minutes – they will cook down fast!
Pay attention – but not TOO much attention
Now is when the patience comes in. The delicious, savory flavor of classic French onion soup comes from the process of caramelizing the onions, and unfortunately that is not a process that can be rushed. The next 60 to 90 minutes won't require anything from you besides a peek and stir every few minutes.
You may be tempted to bump up the heat to speed things along. I don't recommend it! Pour yourself a glass of wine, put on some great music, and enjoy the process. You will be so, so glad you did!
Stirring constantly is not necessary, and in fact can inhibit caramelization and mush up the onions a bit. I'd say I average a gentle stir every 3-5 minutes. The photos below were taken every 10 minutes. Depending on the stove, the quantity of onions and the type of pot you use, this process can take anywhere from 60-90 minutes.
Wine time
When the onions have reduced to a nice golden color, they will be a bit sticky completely soft. Depending on personal taste, you could choose to keep going to a darker color.
Add the wine and stir to combine. Then just go back to giving a stir every few minutes until the wine has mostly evaporated.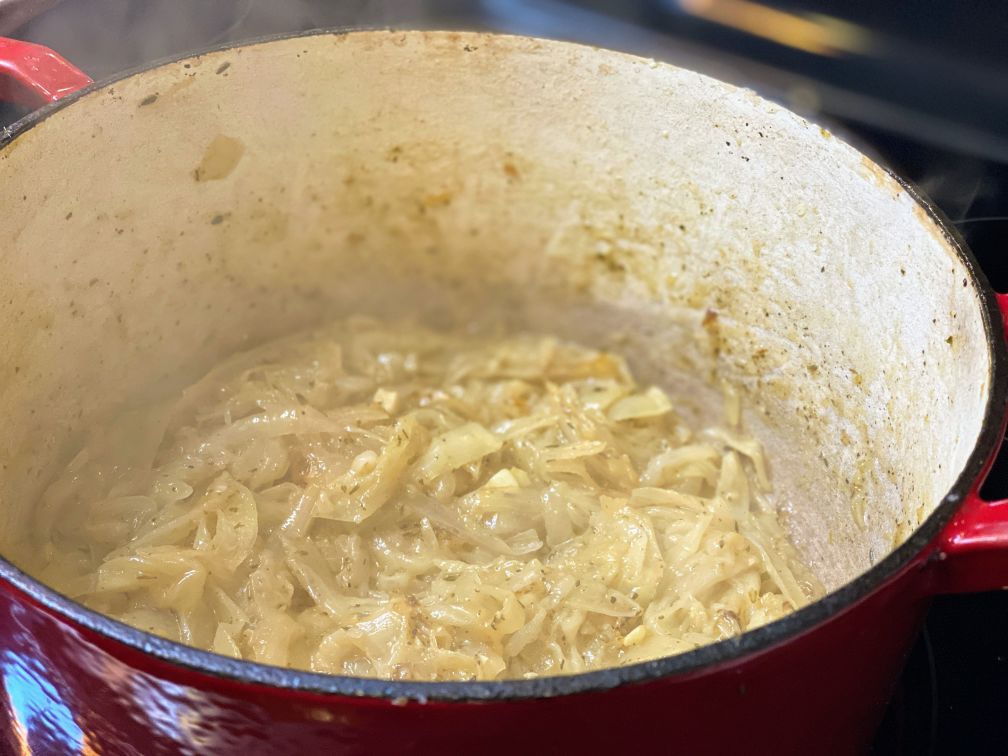 Thickening
Sprinkle the flour over the onions and stir to fully coat. Turn the heat down to medium-low and stir often for 10 minutes to cook the flour. This will thicken the mixture and eventually it will provide thickening for the French onion soup. It's OK if you get some bits sticking to the bottom, as long as they are not burning. You'll scrape up all that goodness soon!
Add the broth and turn the heat back up to medium. Scrape up any bits from the bottom and get them incorporated. Bring everything up to a gentle boil over medium heat. You don't want a rapid or rolling boil, but you want something more than a simmer. A nice gentle boil for 15 minutes and your soup is ready for finishing touches!
Finishing touches
French onion soup is traditionally served with a piece of toasted bread (A crouton, technically) and a healthy layer of ooey, gooey melted cheese – usually gruyere or swiss.
You can do this easily under the broiler, but it can also be done in a toaster oven. Just toast up the bread and float it on top of the soup. Then add the cheese (½ cup to 1 cup depending on the size of the bowls you use) and pop it back under the broiler to get bubbly and toasty.
Don't walk away from the broiler!
Broilers can take cheese from perfectly toasted to black and charred VERY fast. It's always a good idea to stick close to the oven and check on things often.
Not all bowls are broiler-safe!
The crocks you use must be broiler safe. If you are not sure, I would go with the toaster oven. You could also pop them into a cooler oven – say 350 degrees – for a bit longer to get the cheese melted.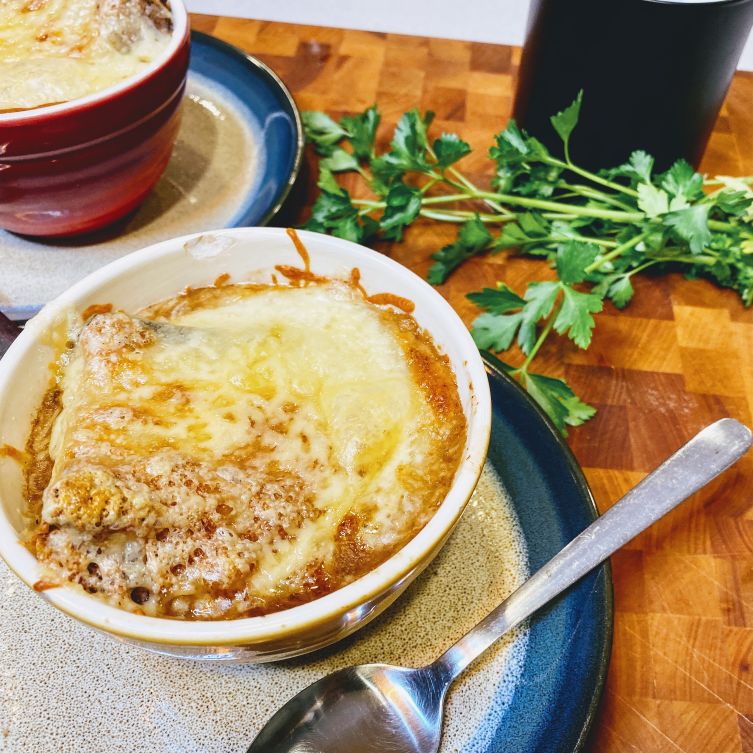 Try this French onion soup with a simple kale salad!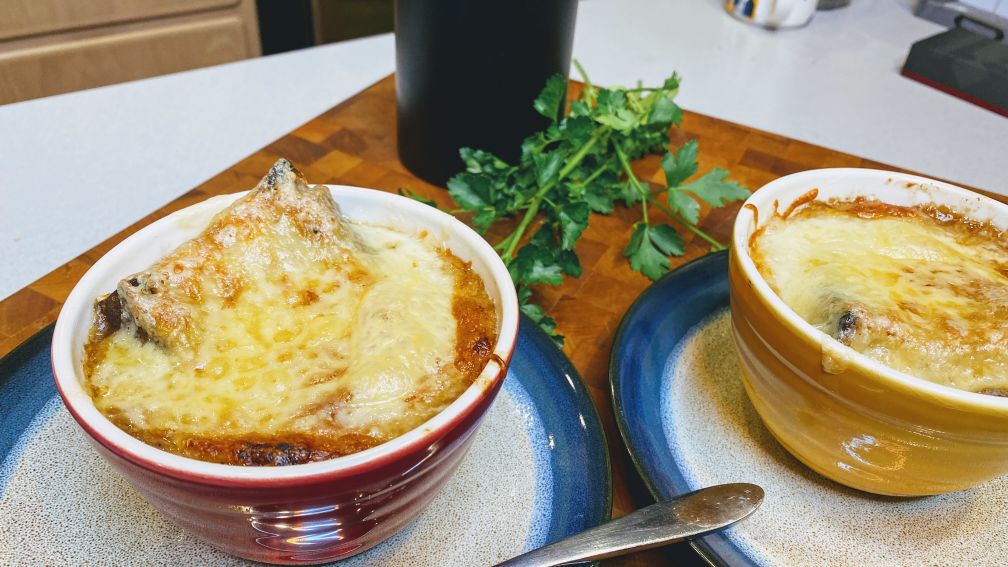 Check out these delicious recipes from Food By Joe: