---
RECOMMENDED VIBE:
Here's an album I thought you might enjoy while cooking this recipe ?
---
Fast & flexible toasted bean & cheese burrito
This toasted bean & cheese burrito is the epitome of last-minute meals, perfect for lunch or a super-quick dinner. We almost always have some sort of beans and some sort of cheese, and the rest of the ingredients are completely flexible. This recipe is truly based on what we had in the house at the time. This 'recipe' is more of a method than a recipe. You can add/subtract from my quantities based on your personal preference. As long as you don't overflow the tortilla, you'll be great!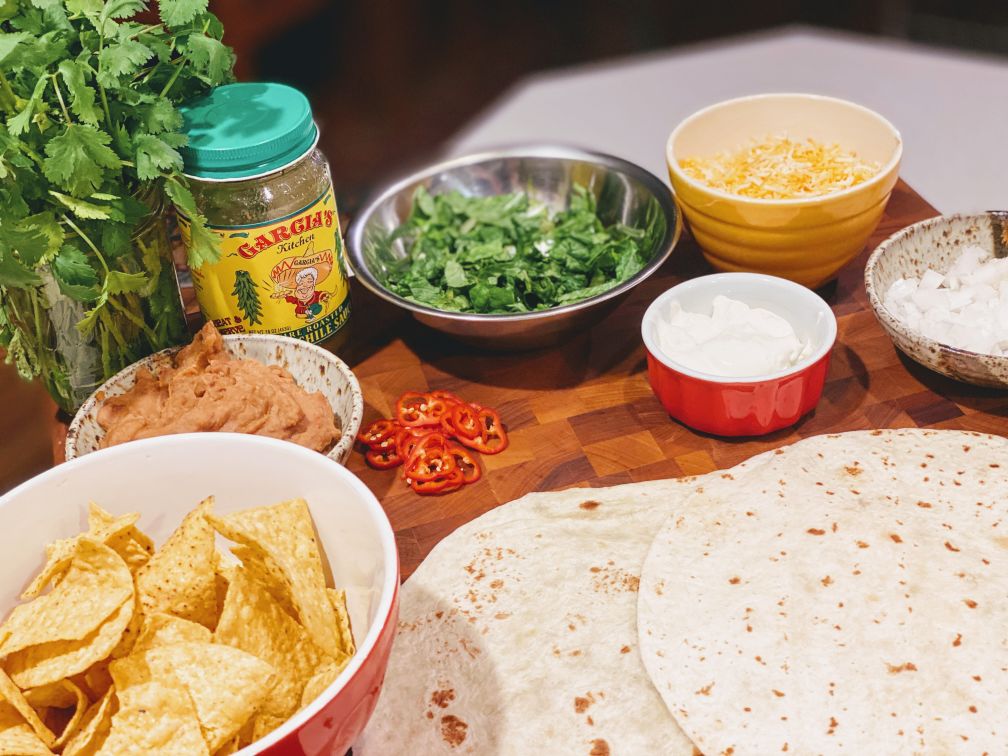 Take stock: beans & cheese & ???
I like to collect all of my ingredients before I begin any recipe, no matter how simple or complicated. Having everything accounted for and within reach helps prevent any last-minute scrambling. In the case of the toasted bean & cheese burrito, being able to eyeball your ingredients can help you decide how much of each ingredient to use without overflowing.
Start by spreading the beans just below the center of the tortilla – you want to aim for a burrito-shaped blob. The reason you usually see beans go down first in burritos is that they are difficult to spread on top of other ingredients. Also, they make good 'glue' to hold things in place.
Next, sprinkle the onions and sliced chiles over the beans and give them a gentle pat so they stay put. This is a good layer to include any smaller pieces or chopped veggies.
Chiles?
Everyone's spiciness preferences are different. I love fresno chiles, and that is what you see in the photos. They have a perfect heat level for me and much more interesting flavor than green chiles. Fresh jalapeno, serrano, or even habanero would work beautifully as well. You could also use pickled jalapenos, which are very easy to come by. I also highly recommend green hatch chiles from New Mexico. If you avoid all levels of heat, you can substitute bell pepper or leave it out entirely!
Next levels
Spread half of the cheese over the onions & chiles. This will add some nice melty cheese glue to hold everything in place.
Crunch!
The next layer is entirely up to you, but I tried it once and now I never make burritos without some sort of crunch layer. Tortilla chips are perfect for this, but you could also use taco or tostada shells. Of course, this is optional, like most everything else in this recipe.
Lettuce proceed
Dollop the sour cream over the chips, and then add your lettuce. The sour cream will help it stay putr.
Top-level
Lastly, I add a drizzle of my favorite hot sauce (which happens to be this Fresno Hot Sauce), and top with the remaining cheese.
The tricky part
The trickiest part of a toasted bean & cheese burrito is getting the roll-up right. At this point, your fillings should be piled up in mostly to one side of the tortilla.
Start with the fillings closest to you. Take the bottom edge (nearest you) and fold it up over the fillings. Cup your hands, cover the filling with the tortilla, and gently press into a burrito as you gently pull toward you. Be careful not to squish things out the sides.
Now, lift the side flaps and hold everything together with both hands as you roll the whole thing forward. You should end up with the seam-side facing down.
Apply gentle pressure to make sure the burrito will rest on the seam side.
Here is a great visual guide to rolling a burrito!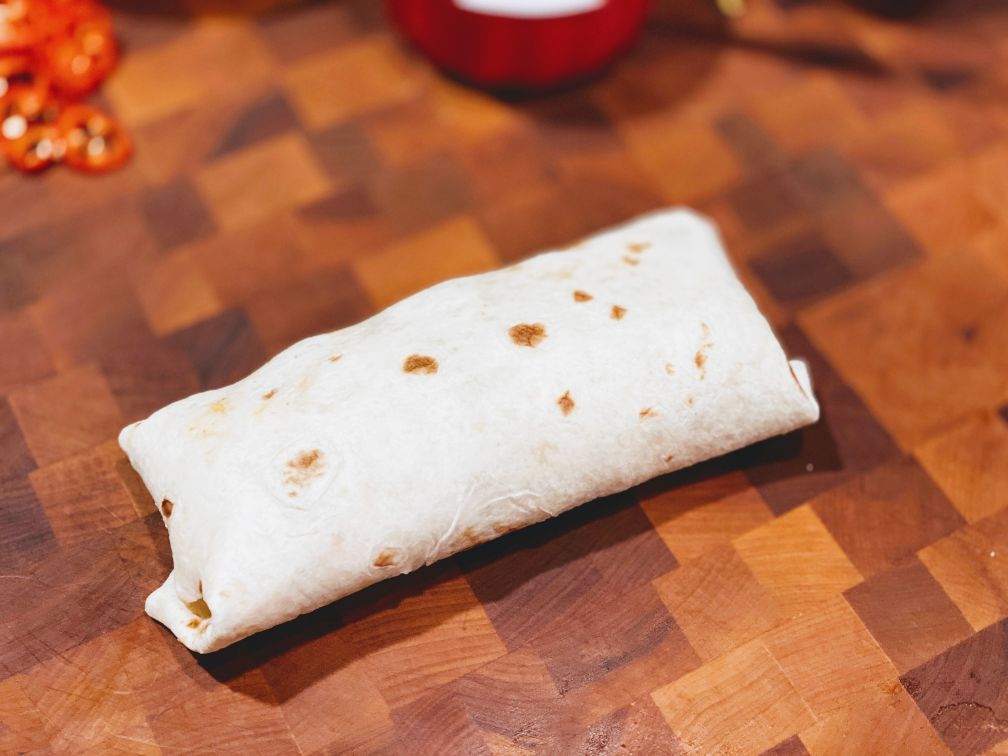 Get toasty!
Once you have your bean & cheese burrito ready to be toasted, put a skillet over medium head and melt the butter completely. If necessary, spread the butter out with a spatula so that the full burrito will contact the butter.
Once the butter is fully melted and most of the foaminess has gone away, you are ready to toast your bean & cheese burrito.
The butter should sizzle gently when you place the burrito in the pan. If there is no sizzle, it means that you need to bump up the heat a smidge. If the butter is smoking or spattering, turn the heat down.
Side by side
At a medium heat, it should take about 2-3 minutes per side to get a crispy golden burrito. Just take a peek after 2 minutes or so.
More cheese?
If you want to, you can add a little more cheese. After you flip the toasted bean & cheese burrito, just put a small handful of shredded cheese on the top of the burrito and place a cover over the pan while the second side toasts. If you decide not to add more cheese, you do not need the cover.
Done!
Once you have both sides toasted to your liking, just transfer the toasted bean & cheese burrito to a plate to serve. You can dig right in, or top with any/all of the following:
Sour cream
Cilantro
Onion
Diced tomato
Black olives
Hot sauce
Pepitas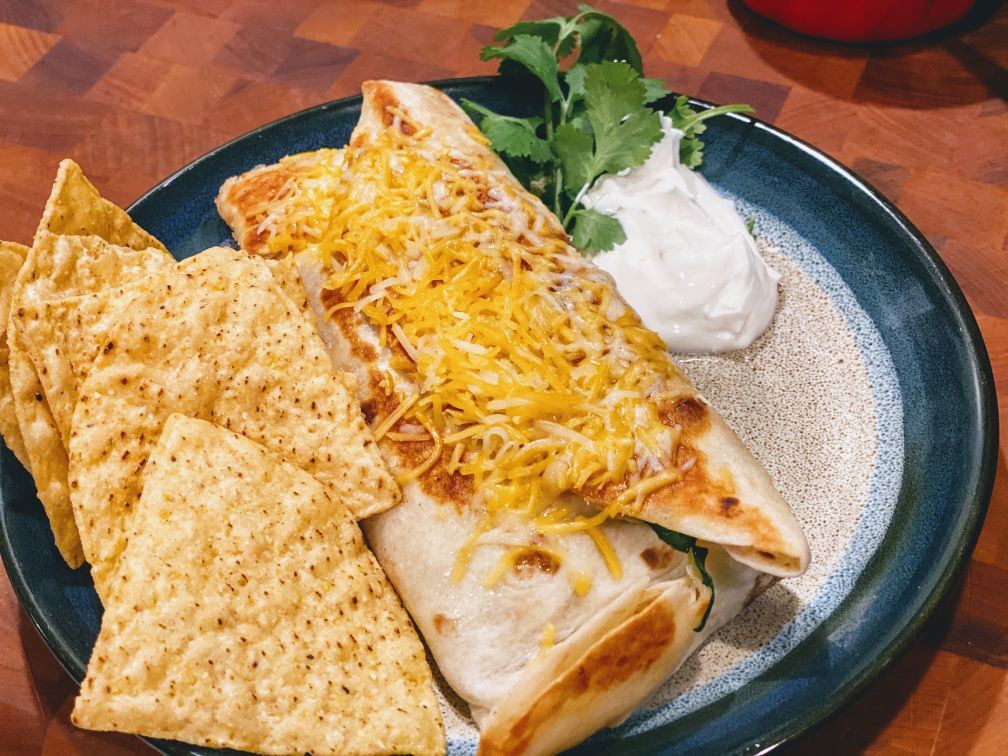 Toasted Bean & Cheese Burrito
Check out these delicious recipes from Food By Joe: