---
RECOMMENDED VIBE:
Here's an album I thought you might enjoy while cooking this recipe ?
---
Garlic? Cheese? Potatoes?
Check, check and CHECK! It's hard to go wrong with garlic au gratin potatoes. Tender potato slices baked in a creamy, cheesy sauce. My version features a kick of garlic to add even more depth and great flavor. There are a lot of directions you can go with this recipe. You could add fresh herbs, bacon… (even some dots of goat cheese…but that's for another post on another day. ? )
Scalloped vs. Au Gratin
Though these terms are often used interchangeably, there are subtle differences between the two. Scalloped potatoes are cooked in a creak sauce, whereas Au Gratin potatoes incorporate cheese, and frequently have bread crumbs on top for s crispy & crunchy top! To be honest, most scalloped potatoes recipes do include cheese, and many have a crunch topping – so there is a lot of fuzziness. I'm comfortable calling my version Au Gratin, as they do have cheese and breadcrumbs! (Check out this simple guide to making homemade breadcrumbs!)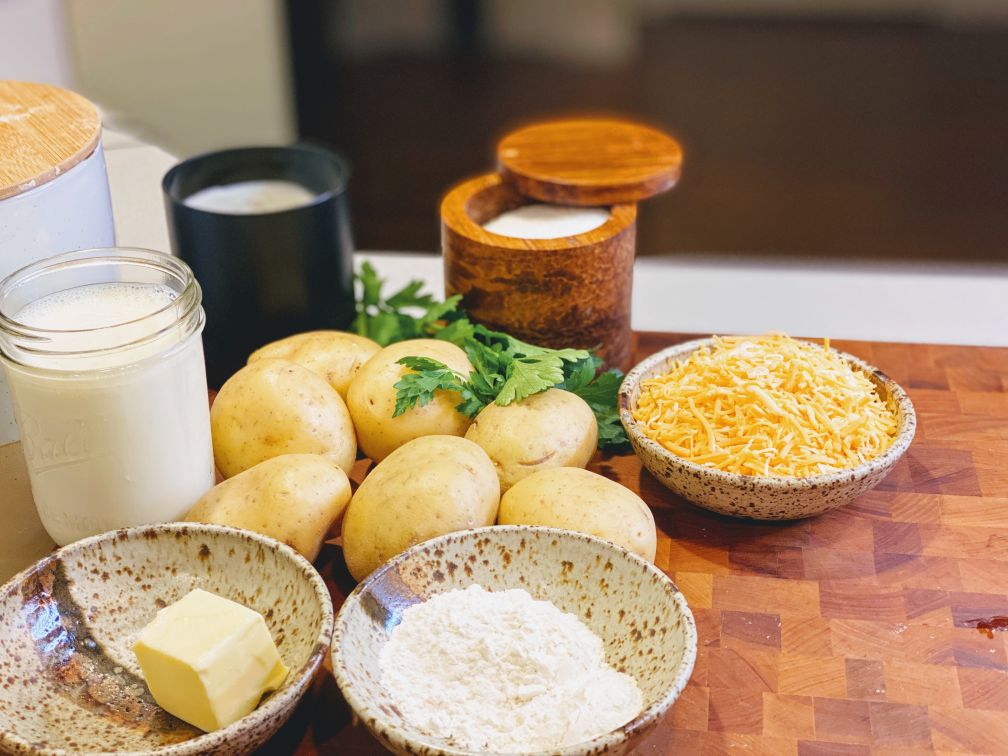 Gather up your garlic au gratin potatoes ingredients
As always, I recommend gathering and measuring all of your ingredients before you get started. This helps me avoid surprises and encourages me to read the FULL recipe before I start. This really helps my kitchen stay calm and joyful!
The chopping block
For these garlic au gratin potatoes, you only have 2 ingredients that need cutting up: the potatoes and the garlic.
POTATOES: I start with regular-sized yukon gold potatoes. These have a wonderfully creamy texture, and they work great for soups, mashed potatoes, and scalloped or au gratin potatoes. Yukon gold potatoes are also great because the skin is soft and does not need to be removed! Carefully slice the potatoes into slices around ¼" thick.
GARLIC: You want the garlic to be fairly fine for garlic au gratin potatoes. I start by smashing each clove with the side of a knife. You don't have to WHACK at them, just press down hard! Once I smash the cloves, the papers are easy to remove. Then you can run your knife through the smashed garlic much more easily than if they were full cloves.
NOTE: Since mandolins slicers cause Wonderful Wife to fret about the safety of my hands, I try to avoid using them. Truthfully, you can do most things with a very good knife. Injuries from kitchen knives are often caused by distraction – I suggest that you practice being very mindful and present any time you are cutting ingredients.
Au gratin potatoes have layers
Like onions, ogres and parfaits, au gratin potatoes have layers. Once you have sliced you potatoes, take roughly half of them and lay them in the bottom of a greased casserole dish. You won't need them until you cook the sauce, but it's nice to have them all ready to go so that you can pour in the sauce as soon as it gets to the thickness you want.
Basic cream sauce + garlic
The basis for the cheesy sauce is a basic bechamel sauce. Some people call it a white sauce or cream sauce. A bechamel always consists of melted fat – usually butter – cooked with flour and milk. The basic steps are: melt the butter over medium heat, whisk in the flour and cook while whisking for 1-2 minutes, just until the flour is smooth and cooked, and then which in the milk, bring to a boil and reduce to simmer and thicken. This process often features other flavorings like onions, garlic, and herbs. It is the basis of many cream-based dishes and casseroles. The process is much simpler than you think, and mastering it will open huge doors in terms of your comfort level with a whole lot of recipes!
For my garlic au gratin potatoes recipe, I only veer from the original by including minced garlic at the very beginning, so that it can infuse into the butter as it melts.
Au Gratin sauce
Melt the butter in a skillet over medium heat
Pop the garlic into the melted butter and stir constantly for 1-2 minutes, until the garlic is soft and fragrant
Add the flour, salt, pepper, and cayenne – whisk for 2-3 minutes to fully incorporate and cook out the raw flour taste
Add the milk and whisk constantly to fully incorporate. Cook, whisking constantly until the mixture comes to a gentle boil.
Reduce heat to low and simmer until the sauce thickens to your liking. If it becomes too thick, just add more milk 1 tablespoon at a time to thin out
When desired thickness is reached, remove the pan from the heat and add 1 cup of the cheese. Stir to melt the cheese.
Put it together!
Pour half of the sauce over the first layer of potatoes, If necessary, smooth out with a spatula. Then, spread the rest of the potatoes out on top, and pour on the rest of the sauce.
Top with the remaining ½ cup of cheese, and sprinkle to bread crumbs evenly over the top. The sprinkle of smoked paprika is optional – but it does lend more than color. The hint of smokiness gives great depth of flavor.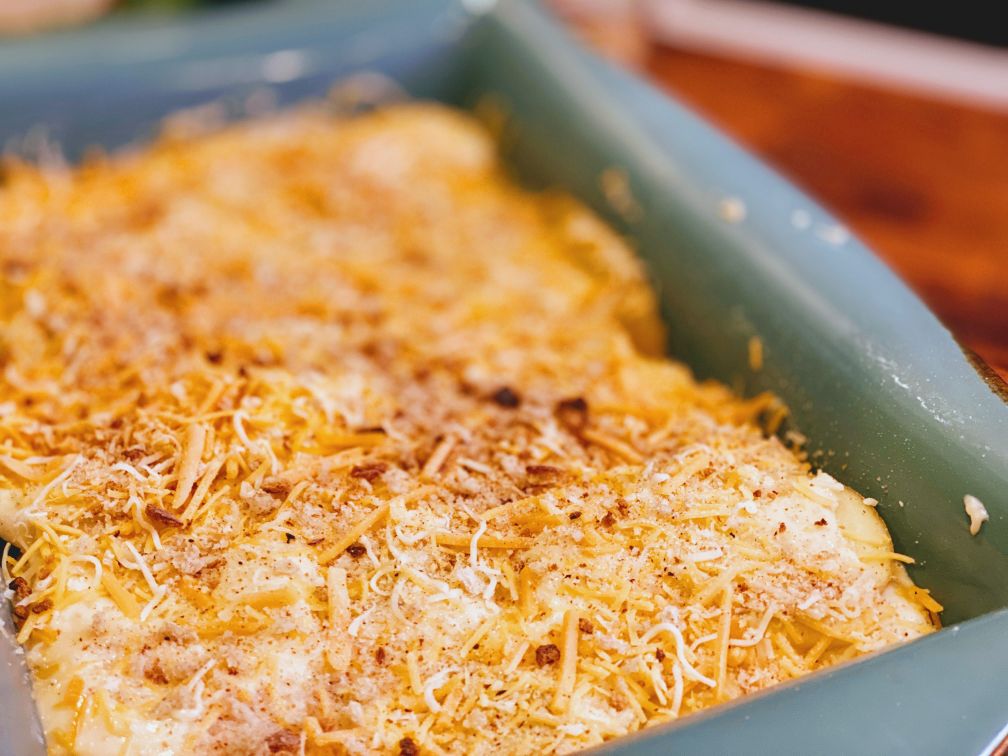 Bake!
Bake the garlic au gratin potatoes in a 350-degree oven for 1 hour. Start peeking after 45 minutes or so, and watch for the saice to get bubbly and the top to toast to a nice rich brown.
Things will be LAVA HOT for a minute, so let cool 10-15 minutes before serving. This also gives the sauce time t o thicken back up a bit.
We love to have these delicious garlic au gratin potatoes with my classic meatloaf.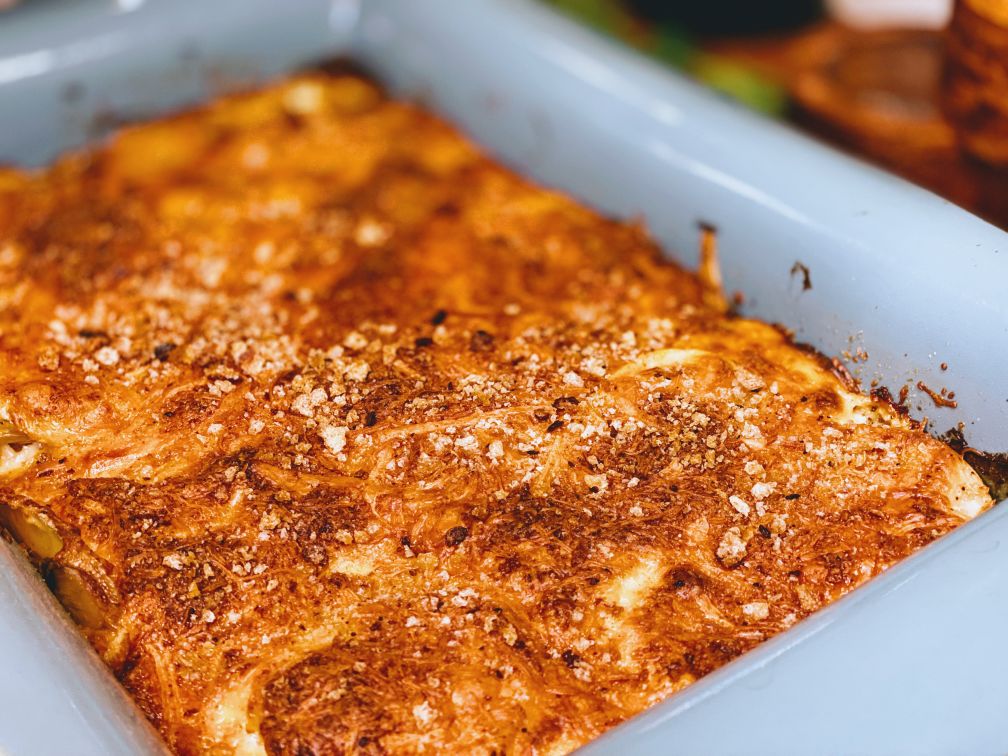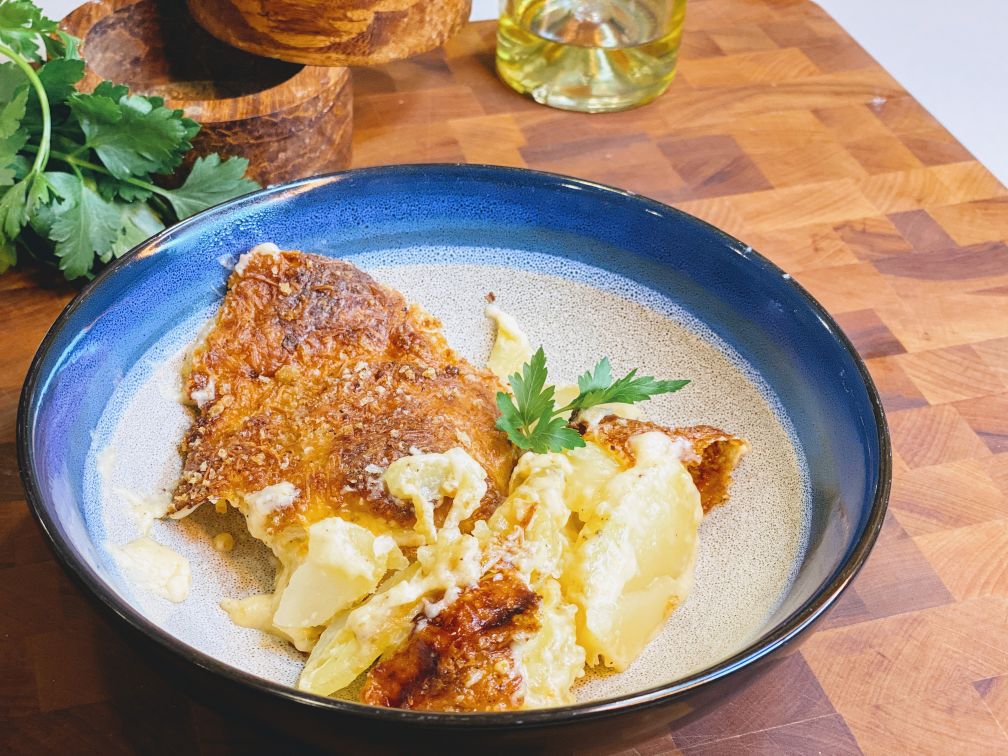 Check out these delicious recipes from Food By Joe: