---
RECOMMENDED VIBE:
Here's an album I thought you might enjoy while cooking this recipe ?
---
Are you ready for crispy, crunch, savory homemade sourdough croutons?
Are you ready for the easiest and most delicious homemade sourdough crouton recipe? For me, a great salad is all about the pops of color, flavor & texture you find in each bite. Sure, sure, the greens are important – but the real gems are the fruits and nuts and veggies….and of course CROUTONS! Honestly, a homemade crouton is a thing of beauty. I'm not talking about those tiny, rock-hard jawbreakers that you find in the pizza parlor salad bar – I mean light, perfectly seasoned puffs of crispy, crunchy goodness. The kind that give a perfect textural pop to salads and soups. (I even crumble a handful of these into my holiday turkey sandwich. ?)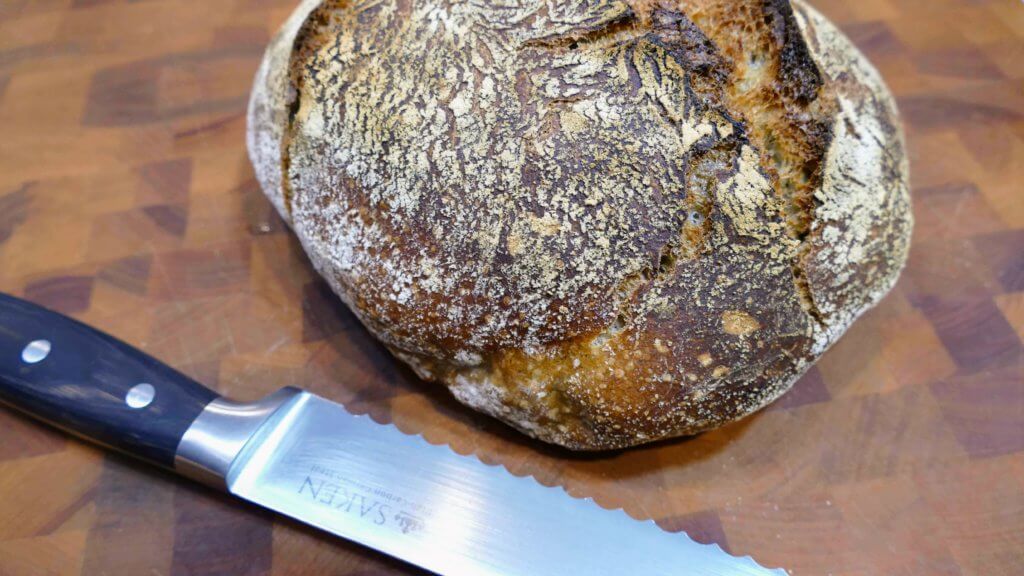 Start with good sourdough bread!
This homemade sourdough crouton recipe features a comforting garlic & herb crunch. A bit of depth from some smoked paprika, and a tiny kick from a touch of cayenne. I got the idea for the cayenne from a caesar salad recipe that calls for a bit of it in the dressing. I forgot to add it to the dressing once, so I sprinkled a bit over the top of the salad after I had added the croutons. WOW. The extra zing was so delicious, I now add it to my homemade croutons every time. Even people who don't love big-time heat rave about the zesty pop of these bad boys.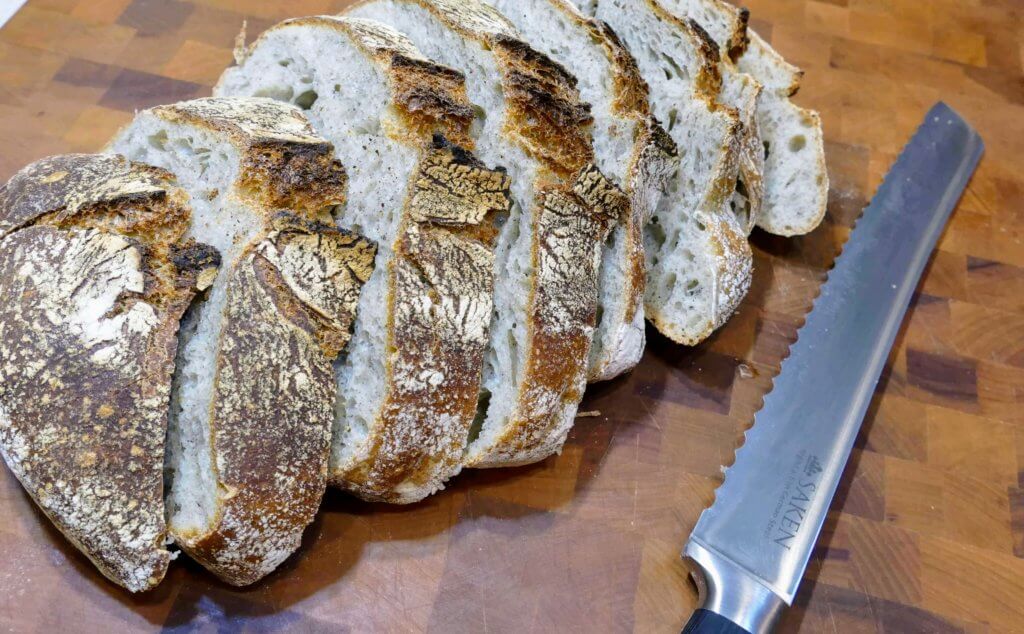 This recipe starts with a loaf of sourdough that's around 1 lb or so. I'd love to say that any loaf will do, but that's just not the case. I'm lucky to have a fantastic bread-baker on staff – in the form of Wonderful Wife, Malia. I use her sourdough loaves for this recipe, and it's heavenly. Day-old is fine, but try to use something that you'd enjoy eating by itself. (Good rule of thumb when choosing ingredients)
Just remember that your cook time will depend on how fresh or stale your bread is. I tend to use fresh loaves so they take a bit longer to fully dry out and cook.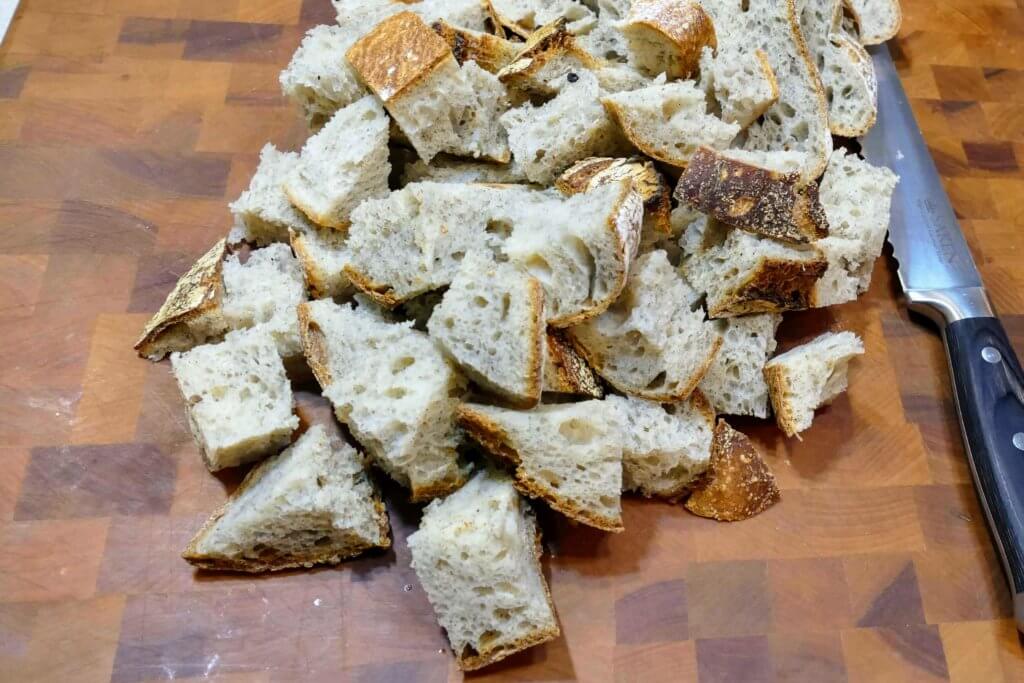 Cube up your bread to your desired size
Use a good serrated knife to cut your bread into pieces that are on the big side of 1-inch. I cut mine into cubes, but you do you. I find that a slightly larger chunk gives a better texture.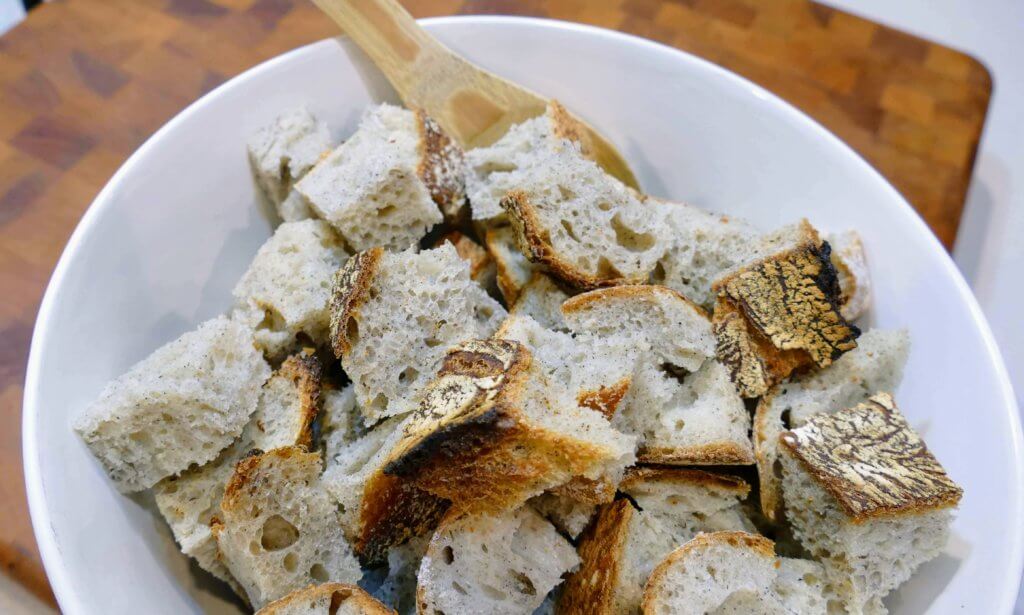 Coat evenly for the crispiest homemade sourdough croutons ever!
You have some choices for which fat you use on your sourdough croutons. I like to use butter since I think the flavor and color are better. If you're an olive oil fan, go for it – just a straight substitution will work. You could even do a vegetable oil – you just need some fat to help with browning and help the seasoning stay on the bread.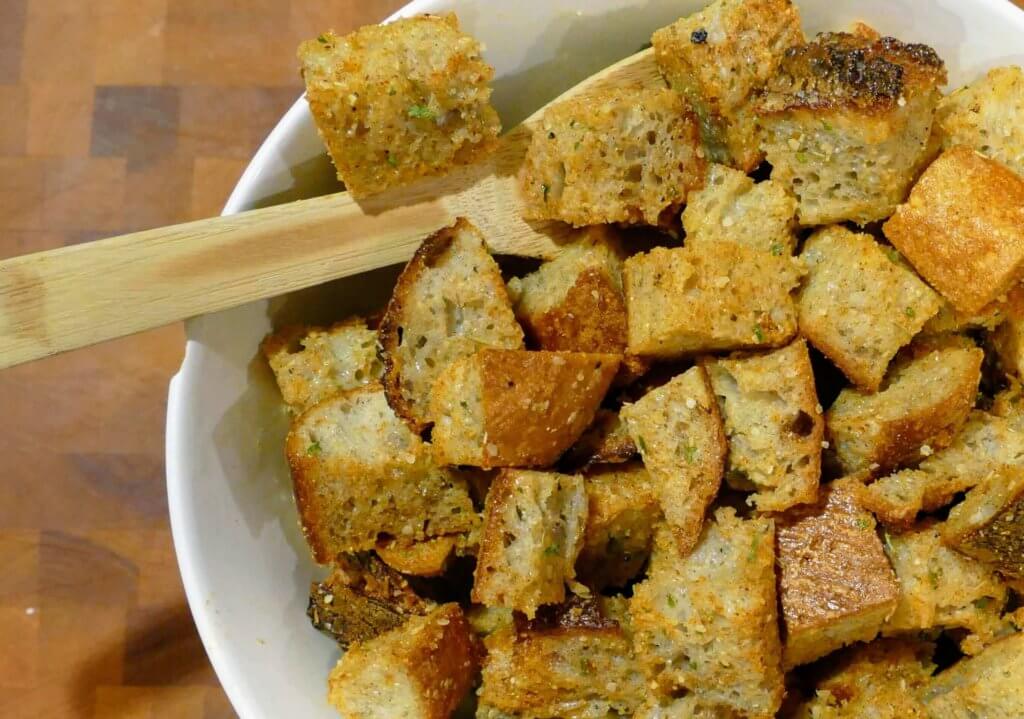 Speaking of seasoning staying on the bread – it's best to toss your bread in the butter before adding the spices. Just melt your butter and drizzle it over the bread in a big bowl, moving the bread around as you pour. Then toss with a large spoon to evenly coat.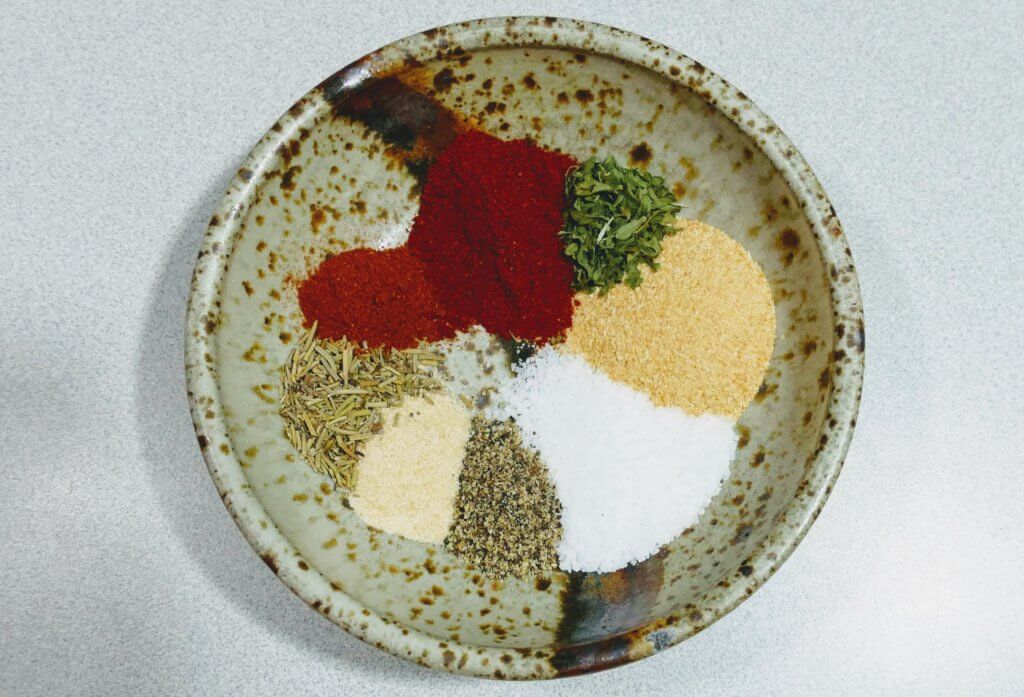 I like to blend the spices in a bowl and sprinkle it over the homemade sourdough croutons as a mixture – I find that it spreads things out much more evenly – no one wants to chomp down on the one crouton that got ALL the cayenne.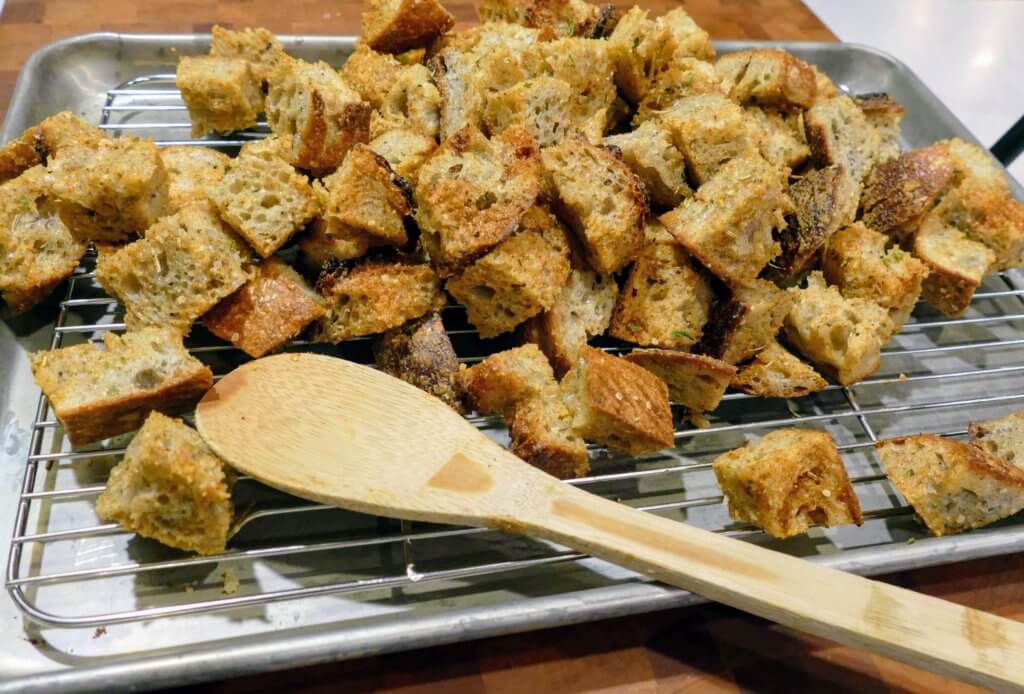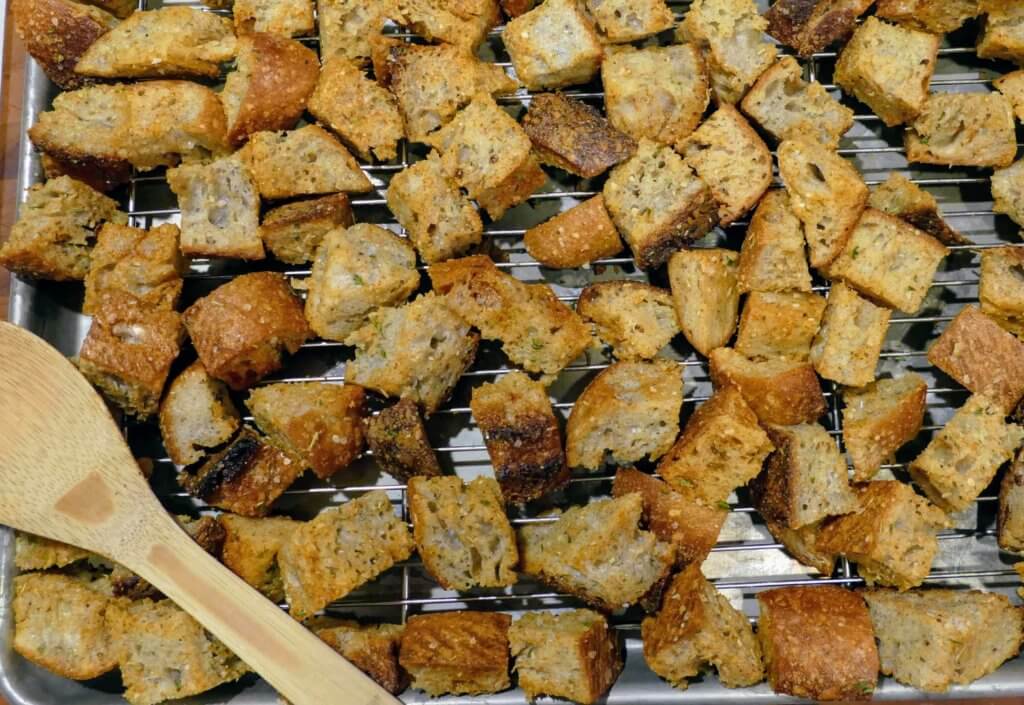 Pop 'em in the oven!
Spread the fully coated bread cubes evenly on a sheet pan. Try to spread them out as much as you can. If the pan is too crowded, the croutons will steam one another and become soggy. (No one ever asked for steamed croutons!)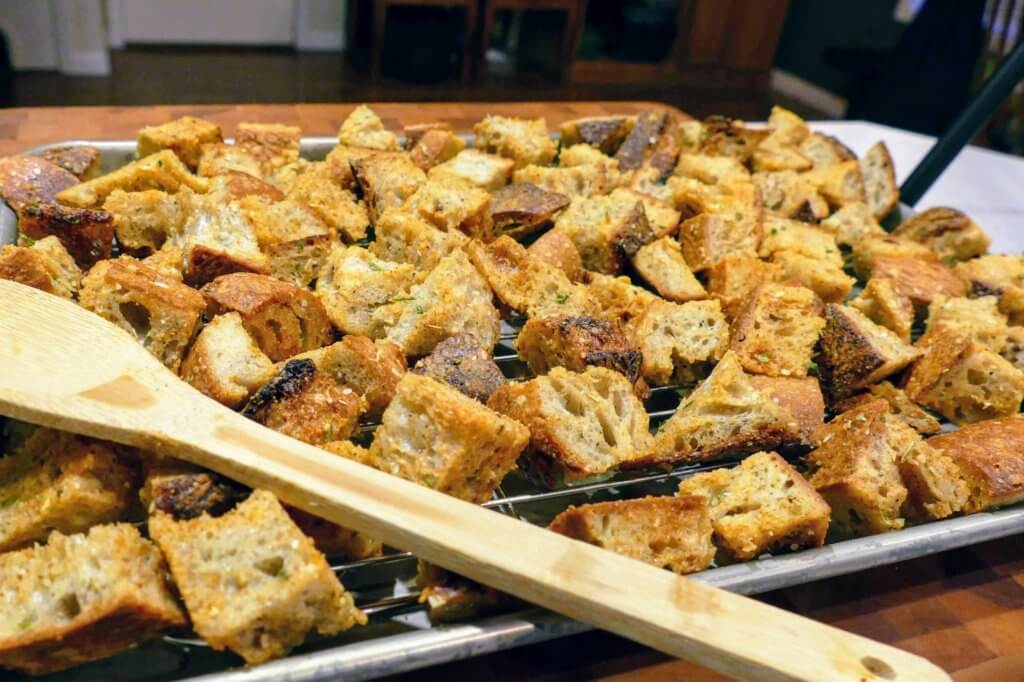 Cook time for homemade sourdough croutons can vary based on how much moisture is in the bread and how toasted you like your croutons. Start with 20 minutes at 350 – then give the bread a bit of a toss. Reduce the oven temperature to 300 and put them back in for 40 minutes. After 40 minutes at 300, I check on them to see if they need longer. I come back every 5 minutes to give them a stir and check the color. Pull them out when they're golden brown and crispy, with no moisture or 'breadiness' inside. Careful not to overcook, or they can get very hard. If they start to look too dark, turn the oven down to 275 degrees. Leave the oven door open a crack (this lets moisture out) and keep checking them every few minutes until you get them just where you want them.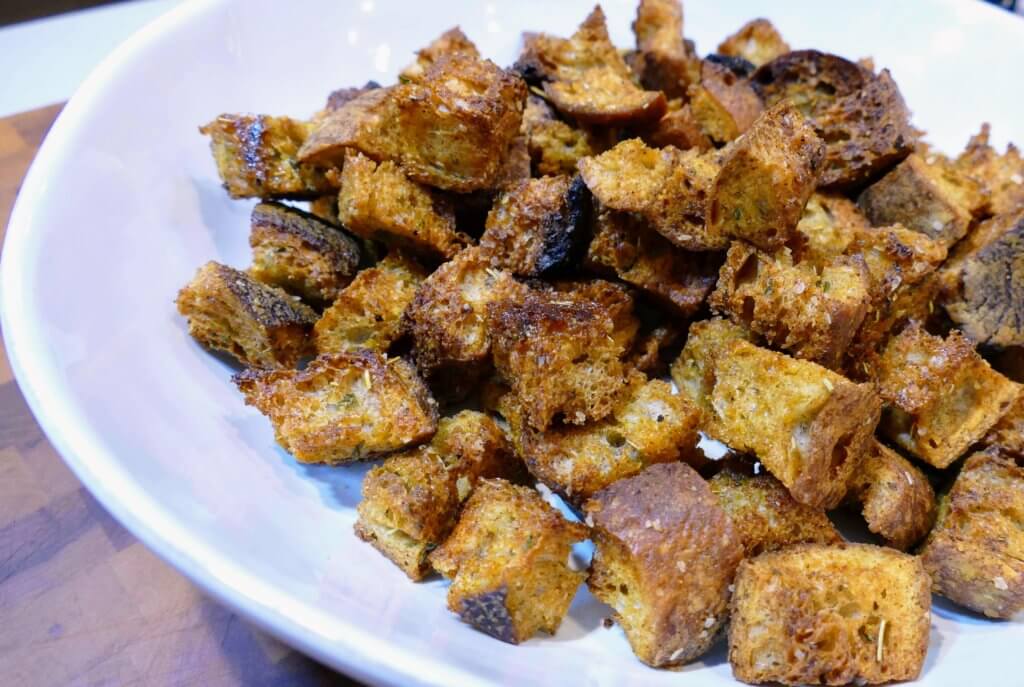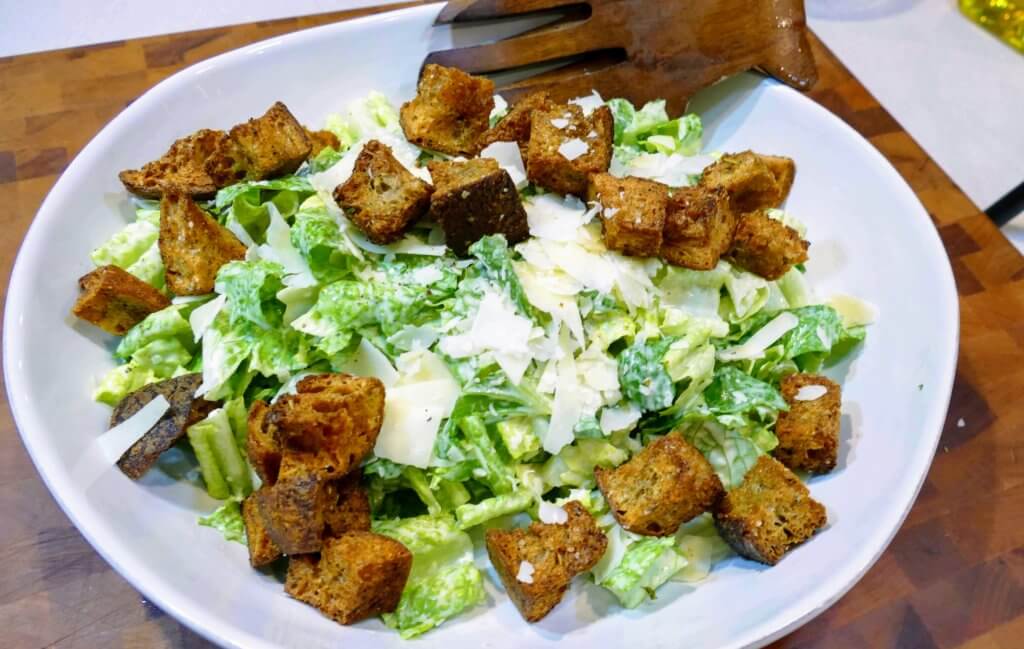 Check out these delicious recipes from Food By Joe: