---
RECOMMENDED VIBE:
Here's an album I thought you might enjoy while cooking this recipe ?
---
Signature Salad
In our extended circle, I'm probably known as much for this salad as for any other dish. It is so easy, and totally addictive. Starting with delicious greek orzo pasta, this cold salad builds on Greek and Mediterranean flavors like oregano, parsley, lemon, black pepper, feta cheese, briny kalamata olives, and crisp cucumber. Add a tangy red wine and lemon vinaigrette, and the results are amazing!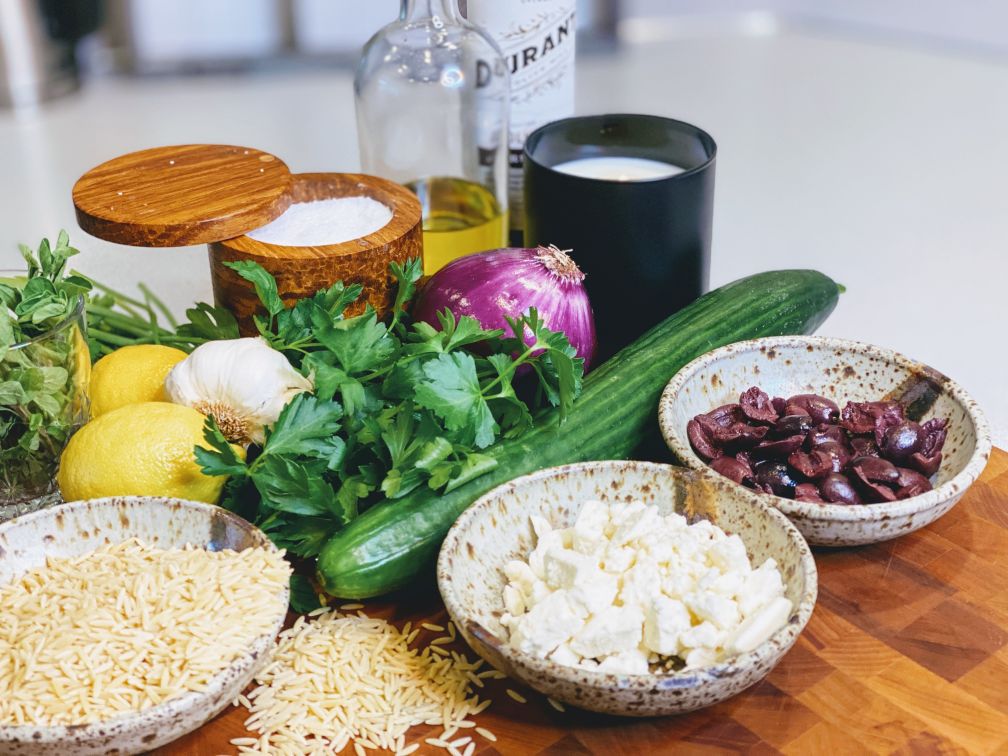 Get dressed first!
I like to start by making the dressing for my Greek orzo pasta salad. When the pasta comes out of the hot water, I give it a quick rince in cool water, drain as much moisture as possible, and then put it in a big bowl with about half of the dressing. This does 2 things:
The still-warm pasta soaks up the dressing
The oil from the dressing helps keep the pasta from sticking together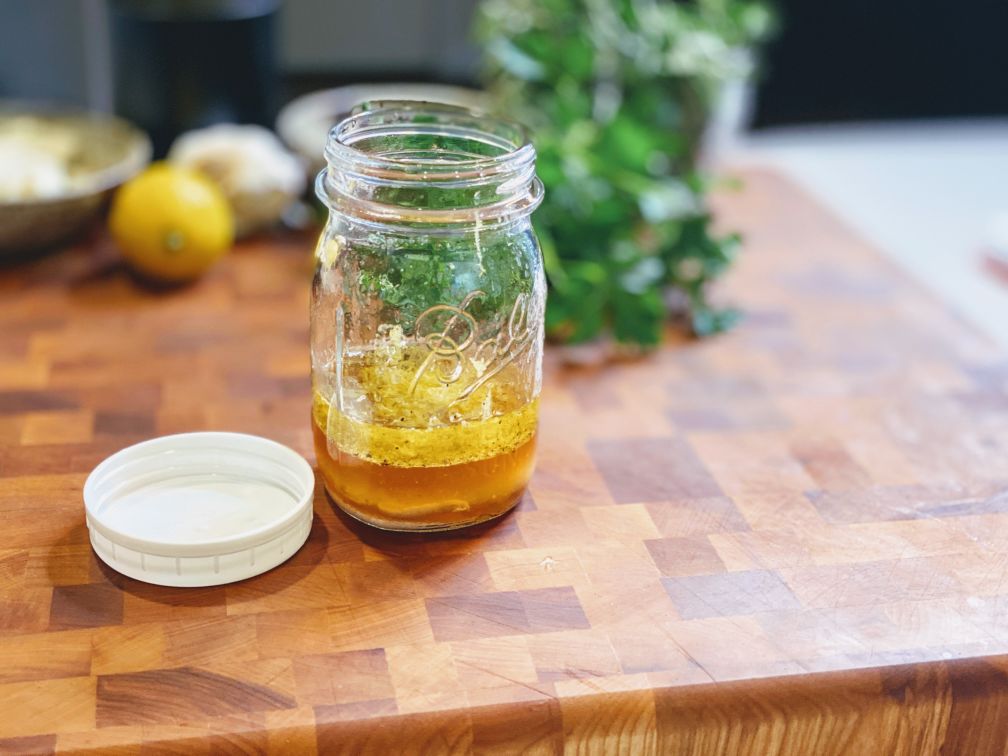 Shake it up!
Who WHISKS their vinaigrettes anymore? A blender or food processor will emulsify a dressing faster. Honestly, though, you really only need a small jar or container with a good seal! Just add all of the ingredients and shake vigorously for a minute or so. As long as you've included some sort of emulsifier, (mustard, in this case), your dressing will turn out great!
Cook the pasta for 9 minutes orzo ?
Cook the orzo pasta according to the package instructions, aiming for 'al dente'. Drain the pasta (I recommend a sieve, as orzo often slips through the holes of a typical colander), and give it a rinse under cold water. For hot pasta dishes with sauces, you would not want to rinse the pasta at all. However, for a cold salad, all the starch that helps to thicken hot sauces would make our salad gluey. No bueno. A cold rinse helps stop the cooking, and also rinses away some of the unneeded starch.
Allow the rinsed pasta to drain as much as possible, and then place it in a large bowl. Pour approximately half of the dressing over the orzo pasta, and stir to full coat all of the pasta. Set this aside while you prep your vegetables!
Veggies, and herbs, and cheese – oh my!
This salad has it all. Sharp red onion, briny olives, crisp cucumbers, salty feta and clean, earthy herbs. While the pasta cooks, chop everything and combine in a large bowl
Pour the remaining dressing over the vegetables, cheese, and herbs. Toss to fully combine, and then combine the pasta with the rest of the ingredients.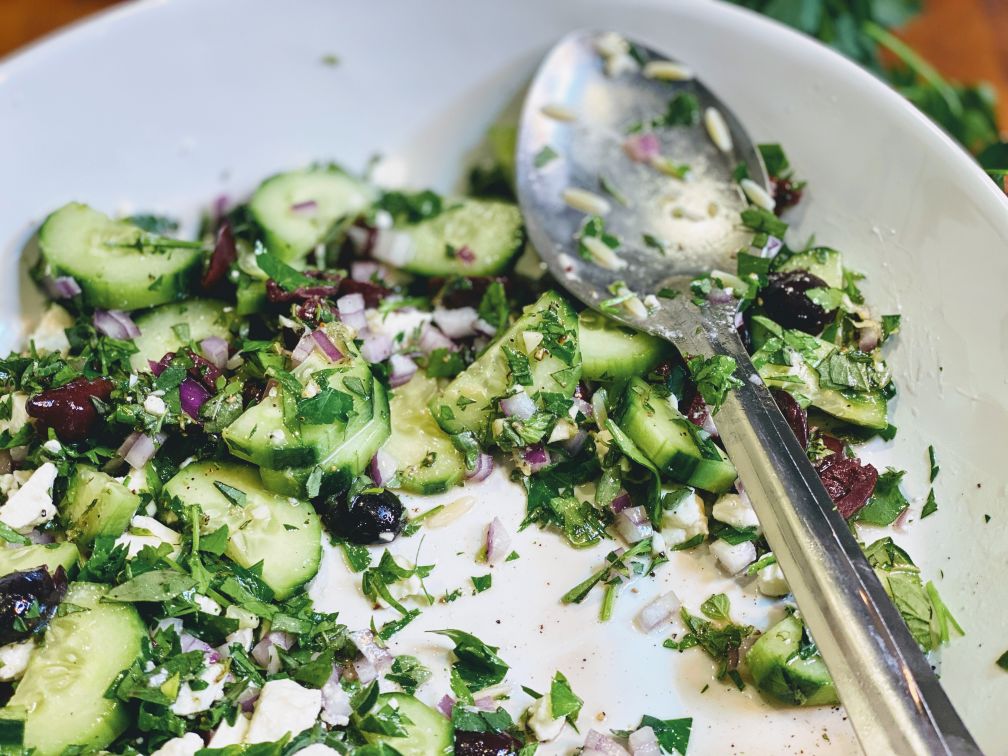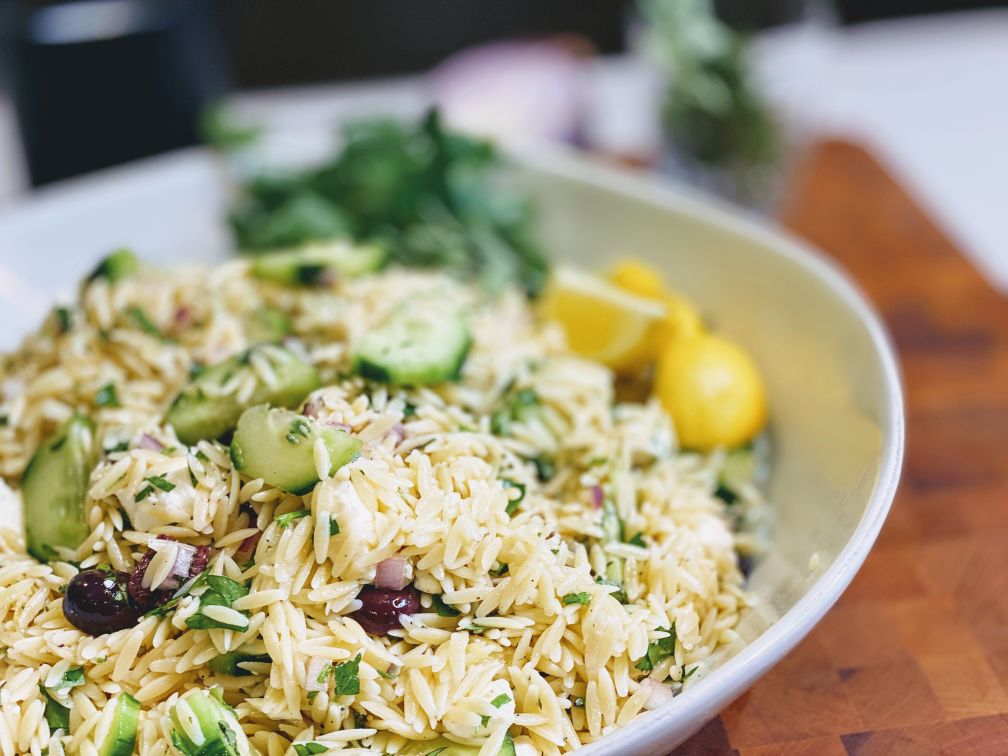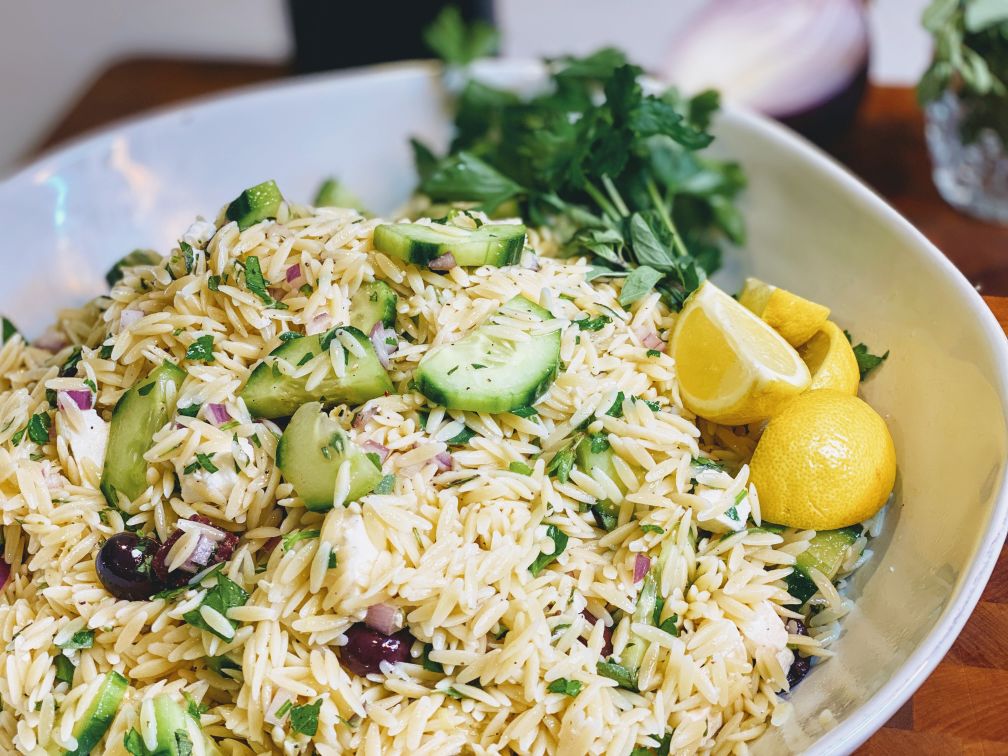 What about tomatoes?
Don't tell anyone, but I don't like raw tomatoes. Secret's out. I like cooked tomatoes in all forms, I've just never taken to raw tomatoes. Believe me, I've tried! I envy all of you who enjoy a sweet, sun-ripened tomato fresh from the garden – they look amazing. Just not for me.
I do include tomatoes in this salad sometimes – and when I do, I use whole grape tomatoes. They are easy to eat around, and lend a nice contrast ini color and shape.
Some other ingredients I've been known to include:
Sliced pepperoncinis
Grilled chicken or lamb
Sliced almonds or shelled pistachios
Marinated artichoke hearts
Sliced salami
Capers
This salad is a great side for hearty main dishes like classic meatloaf or jumbo cast iron hamburgers. The leftovers also make a great fast lunch or midday (or midnight!) snack!
Print
Greek Orzo Pasta Salad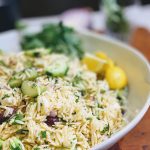 This delicious Greek orzo pasta salad recipe is as delicious as it is simple! Olives, feta, cucumbers, lemon, and fresh oregano in a lemon vinaigrette
For the dressing:
⅓ cup

red wine vinegar

½ cup

olive oil

1 tsp

salt

½ tsp

black pepper
Juice and zest of 1 lemon

1

clove of garlic, minced very fine

½ tsp

dijon mustard
OPTIONAL: 1 tbsp grated parmesan cheese
For the salad:
16 oz

dry orzo pasta, cooked "al dente"

½ cup

fresh oregano, roughly chopped

½ cup

fresh parsley, roughly chopped

½

red onion, chopped or sliced

¾ cup

kalamata olives, pitted & sliced

½

english cucumber, sliced in half-rounds

6 oz

. crumbled feta cheese
Instructions
Make the dressing: combine all dressing ingredients in a well-sealed jar or container, and shake vigorously for 1-2 minutes. Set aside.
Cook the pasta: follow the package instructions to cook the orzo pasta 'al dente'. Drain, then rinse well with cold water. Drain completely, then place the pasta in a large bowl. Drizzle with approximately half of the dressing, and stir to fully coat the pasta. 
Prep the other ingredients. Place all other salad ingredients in a bowl, drizzle with remaining dressing and toss to coat everything.
Combine the pasta and other ingredients in a serving bowl. Chill at least 1 hour. Garnish with additional herbs and feta crumbles.
Check out these delicious recipes from Food By Joe: