---
RECOMMENDED VIBE:
Here's an album I thought you might enjoy while cooking this recipe ?
---
You read that right…these quick and EASY pork chops are seared on the stovetop and then finished in the oven with sweet apples, bourbon, bacon, rosemary, and maple syrup.
I promise the title of this recipe is the most complicated thing about it. I should disclaim here that I don't equate 'simple' with 'few steps'. Many simple recipes have many steps, and some very difficult recipes have very few steps! I try to break things down into simple steps, that take into account the timing and order of operations. Your time in the kitchen should be smooth and fun! With an inch of preparation, you earn miles of joy! Downtime in the kitchen is for visiting and sipping wine, not racing around!
This recipe has 4 main steps:
Soak the pork chops in a brine
Sear the pork chops in a hot pan
Bake the pork chops briefly in the oven
Finish the apples in the pan
Dinner for two!
Wonderful Wife and I are always looking for recipes that are couple-friendly and don't leave us with mountains of leftovers that might not keep well. Some things are great to do in large batches, some things aren't. Sometimes you don't need a whole casserole or large batch of enchiladas for a small group!
This recipe is just 2 pork chops and one apple – perfect for a quick supper alongside a green salad or steamed veggie.
Brine time
30 minutes will do! Of course, longer is better (up to 6 hrs or so), but don't go running for the hills at the thought of waiting around hours for a simple dinner. I usually do this step as my pork chops are defrosting. By the time they are thawed, the brine has done its job!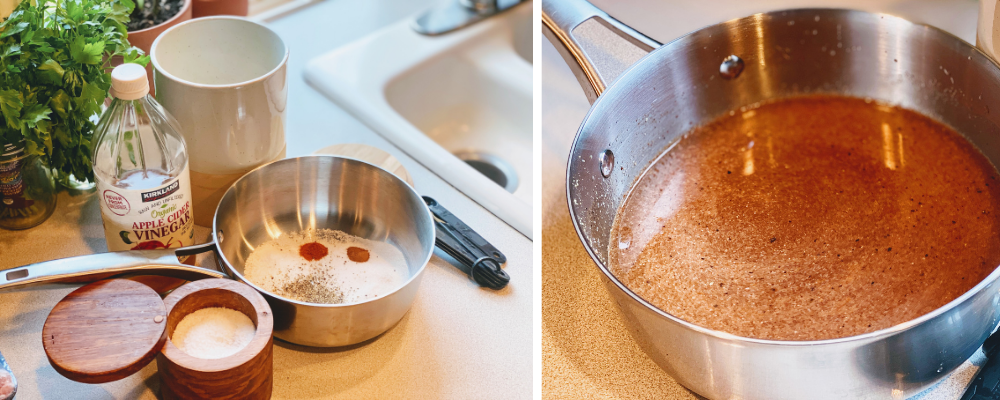 Just throw all of the brine ingredients in a small pot or dish that will allow you to fully submerge the pork chops in the brine. Let them sit in the brine for at least 30 minutes and up to 6 hours. (Anything longer than 30 minutes, you should put them in the fridge.)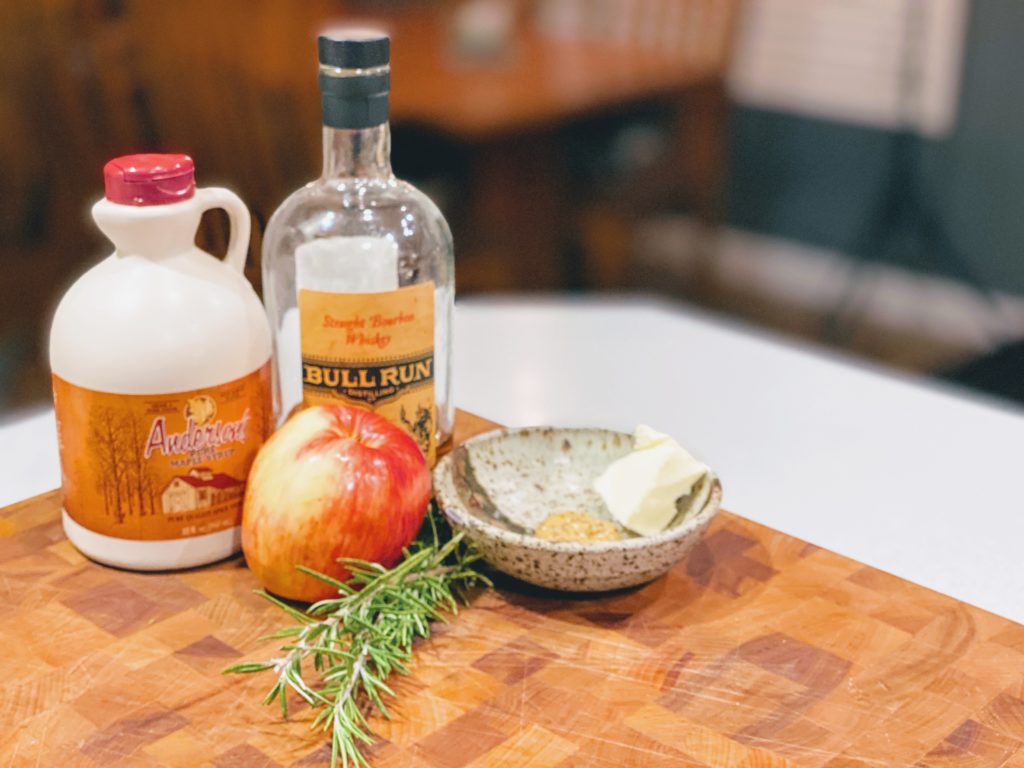 Prep your other ingredients
There's a lot going on for such a simple dish! Now is the time to gather and measure your other ingredients. You'll need a good dollop of your favorite mustard, a sprig of rosemary, 1/4 cup of water, 2 tablespoons of butter, and 2 tablespoons of bourbon. These will be added to a hot pan later, so I like to set them within reach of the stove.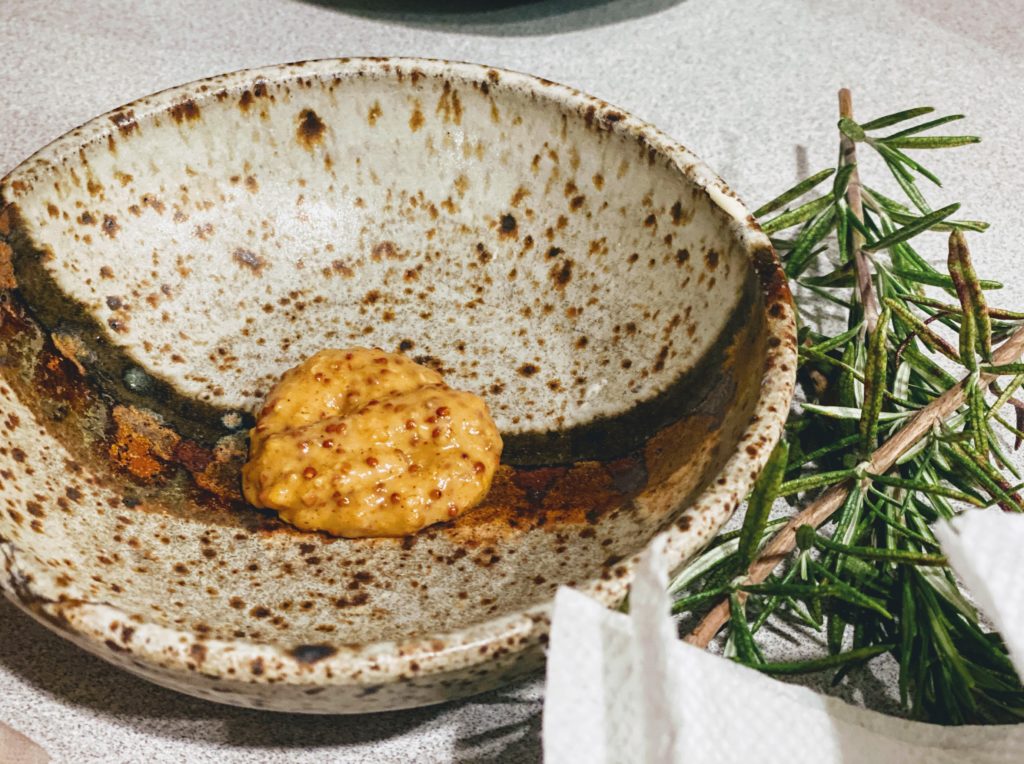 You'll also need core and slice 1 apple in ¼" slices, and chop up 2 slices of crispy cooked bacon.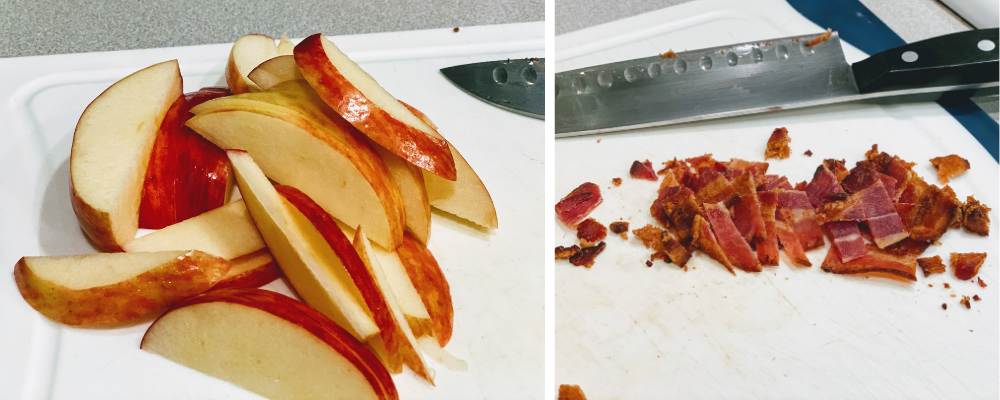 Start with a hot pan!
You'll want to turn on a fan because there will be smoke. Don't worry, it's supposed to smoke – that means your pan is hot enough! The reaction that happens when the proteins in the meat cook quickly and get brown and crispy is exactly what you want. Don't worry, we won't be cooking these Apple Bourbon Bacon Rosemary Pork Chops for very long. This is not the time for slow-cooking.
SAFETY NOTE: Before you begin cooking, be sure you have proper oven mitts to handle your hot skillet, and a safe place to set the pan down if you need to!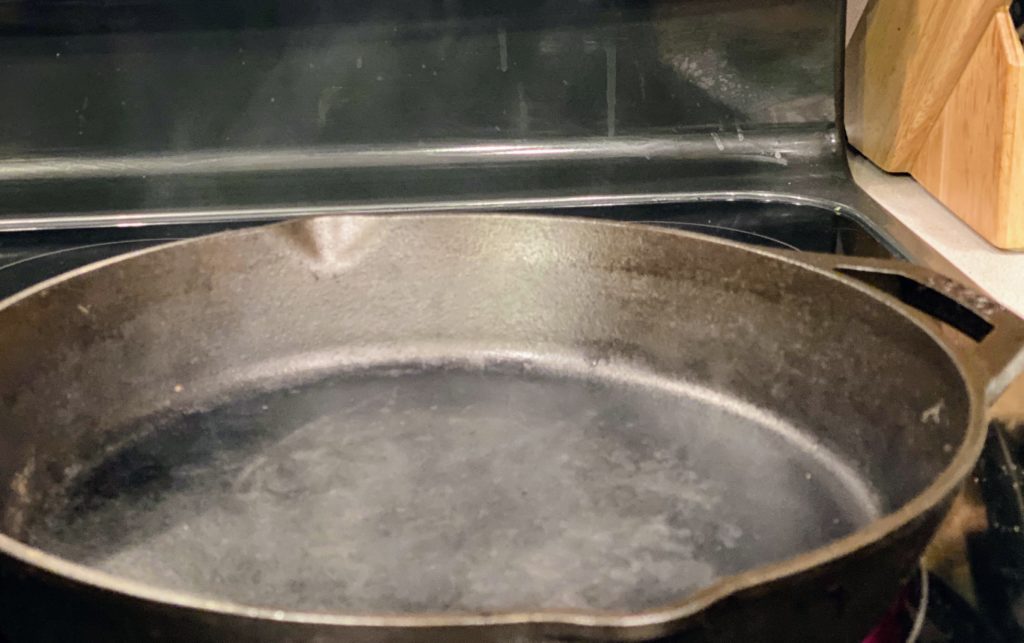 While your pan heats up, remove the pork chops from the brine, rinse them well under cold water, and pat as dry as possible with paper towels. Brush a thin layer of canola oil on each side of both pork chops.
Once your cast iron skillet is hot enough to smoke, place the pork chops in the pan and press down firmly on each one to ensure good contact with the pan.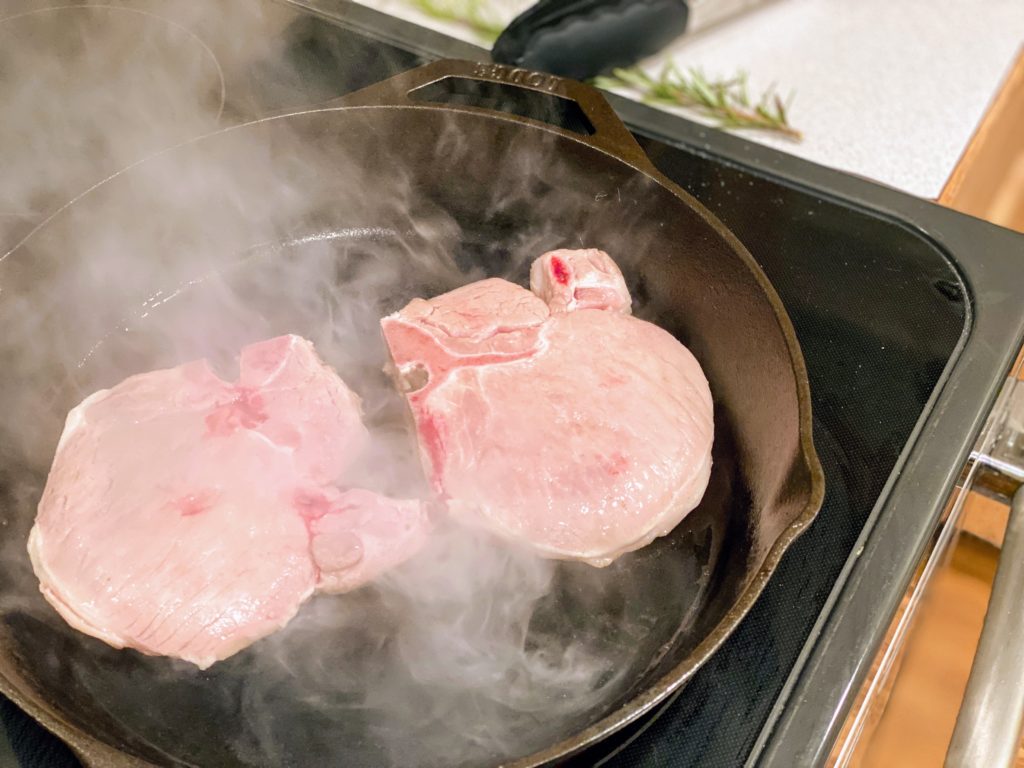 Cook on the first side for 3 minutes. Then, flip to the second side, add the rosemary, apples, bacon and water, and place the pan in the oven to cook for 3 additional minutes.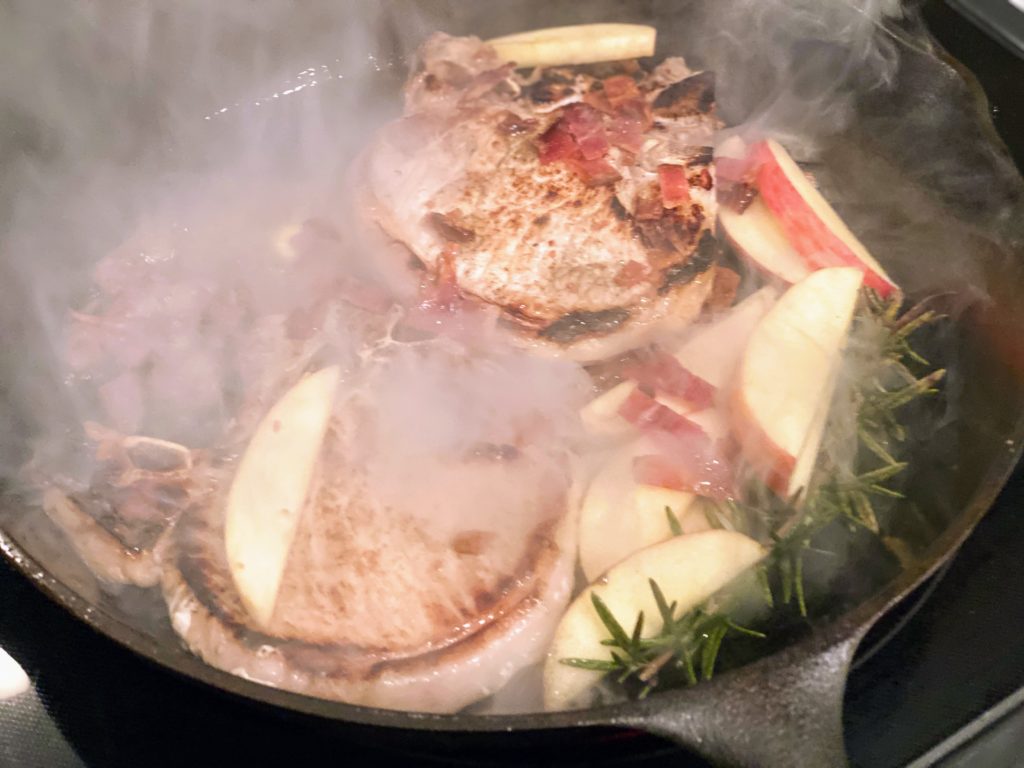 After 3 minutes in the oven, carefully flip each pork chop one last time, and return the skillet to the oven to cook an additional 3-5 minutes, depending on the thickness of your pork chops. Internal temperature should reach at least 145 degrees. (I highly recommend investing in a good instant read thermometer)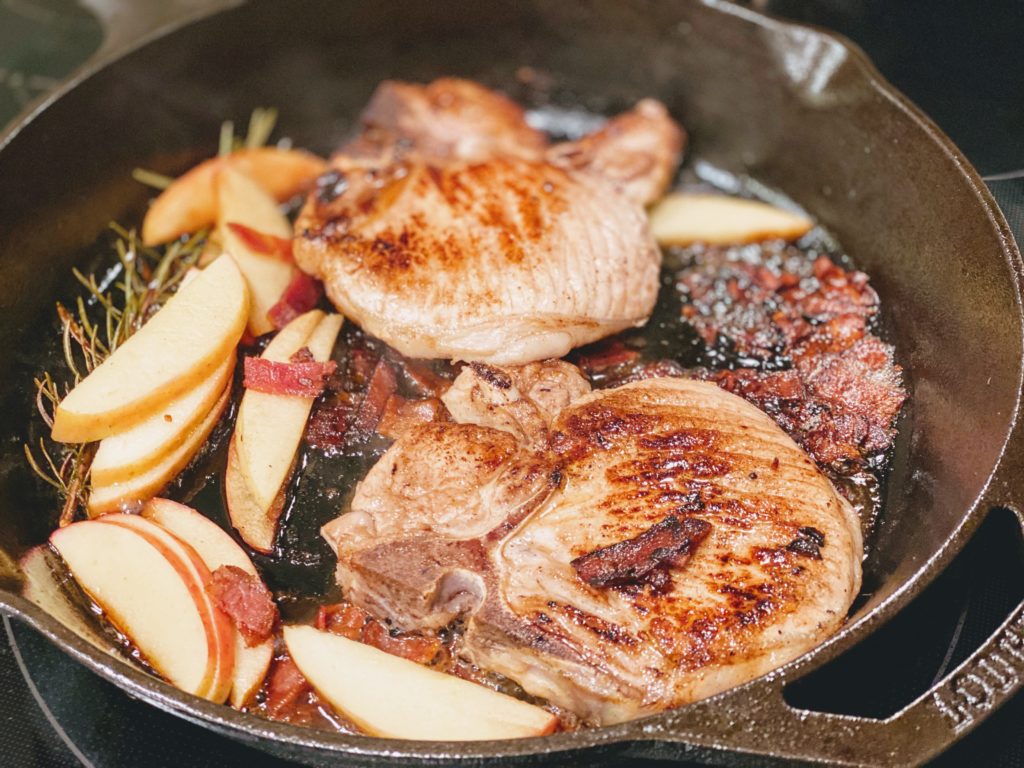 Finish the apples
When the pork chops are cooked, remove the skillet from the oven and place it on the stovetop over medium heat. Remove the pork chops to a plate and tent loosely with foil to rest. Remove the rosemary sprig.
At this point the skillet is hotter than medium – we're going to let it sit 5 minutes so that it can come down to around medium or so before going on to the final step. (If the skillet is completely dry, add an additional tablespoon or so of water)
Once the pan has cooled a bit, add the butter, bourbon (add this away from the stove and then return to the burner!), mustard and maple syrup.
Stir until all ingredients are combined and apples are coated in sauce. Spoon the apples and bacon over the pork chop to serve, and drizzle with the pan juices!
Check out these delicious recipes from Food By Joe: