---
RECOMMENDED VIBE:
Here's an album I thought you might enjoy while cooking this recipe ?
---
Cornbread + Green Hatch Chiles = YUM
This hot skillet method of cooking cornbread is as easy as it gets. My Green Hatch Chile Cornbread recipe is a super simple way to spice up your cornbread. I came across this hot oil method, and I will admit it seemed a bit daunting. But with the right set-up, you'll have no trouble with it at all.
As for exact ingredients, you have some flexibility. There are many recipes out there for cornbread with mild green chilis, and there's certainly nothing wrong with them! They have a great flavor and no heat to speak of. We've been lucky to be introduced to the world of Hatch green chilis by Kooky Roommate Joey, who hails from Albuquerque. There are a wide variety of peppers that can rightfully be called Hatch chilis.
Hatch chilis are a type of New Mexico chili pepper, traditionally from the valley in and around Hatch, New Mexico. They range from mild to medium (1000-8000 SCU), but they can definitely come hotter than that! For this recipe, we are using a sauce from New Mexico that has a salsa-like consistency that is wetter than the drained chilis you might see in other recipes. The way we are placing them on the top of the Green Hatch Chile Cornbread allows you to use whatever style of chilis or even a thick salsa that you love. Or, you can leave them out entirely!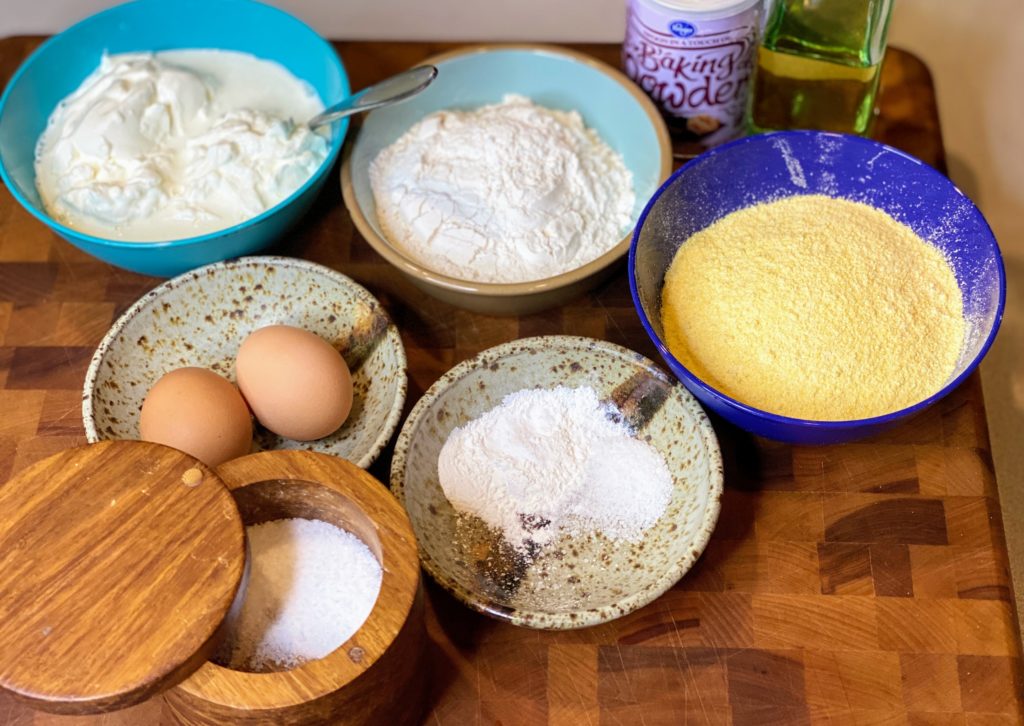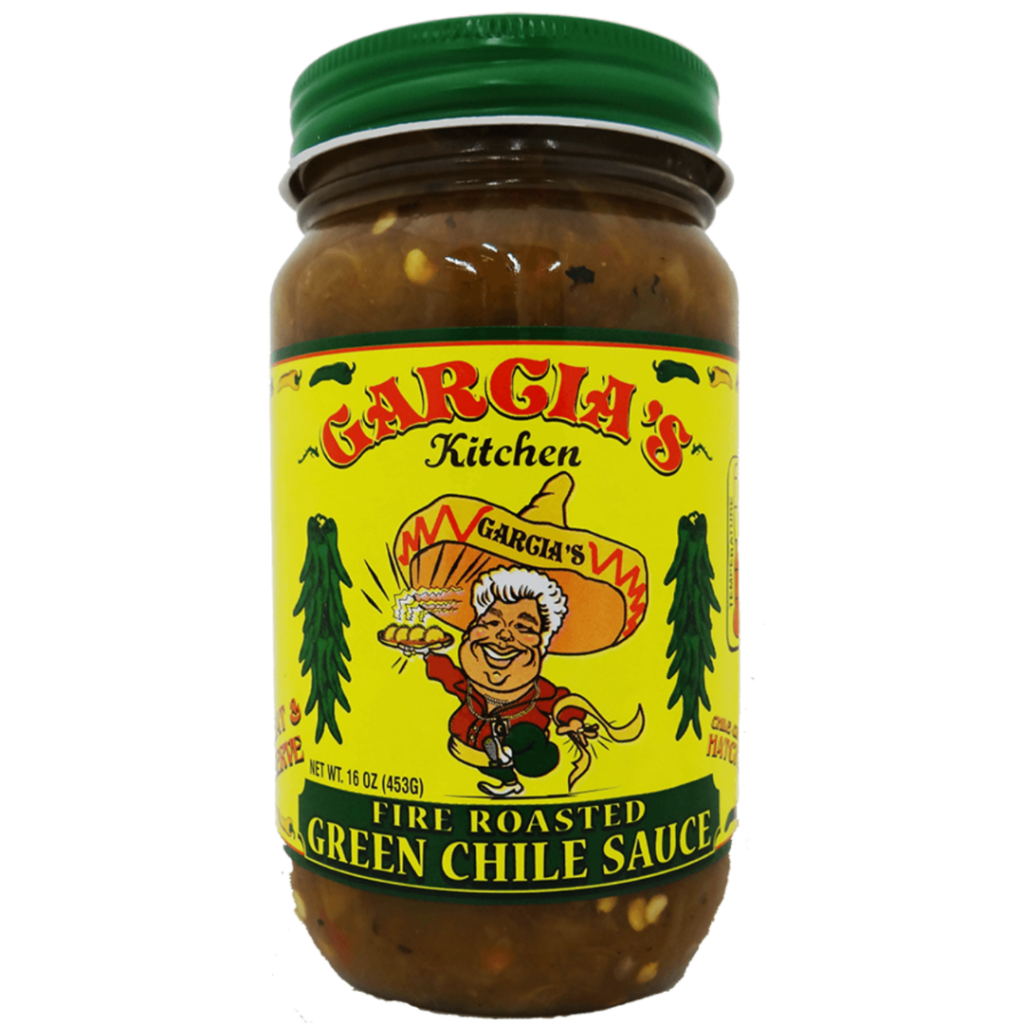 Turn up the heat!
Not the spicy heat – the actual heat. Start by heating the oven to 450 degrees. Pour the oil into the cast iron skillet and place it in the oven as it heats up. While that's happening, you can prep your ingredients.
SAFETY NOTE: This Green Hatch Chile Cornbread recipe calls for heating your skillet to a very high temperature, and also has us dealing with very hot oil. There is nothing dangerous about this, but you would be very wise to take a few precautions before you turn on the stove.
Hot pads, and oven mitts, and towels, oh my! Cast iron gets very hot, and often the handles on cast iron skillets can be a bit short, making them unwieldy. Be sure you are familiar with the weight and feel of your skillet. I recommend a double layer – as in, wear an oven mitt, but also use a towel. I recommend mitts on both hands, in case you need to use your 2nd hand to stabilize.
Landing spot – Make sure you have cleared a safe place to set down your very hot skillet. Whether it's on the stovetop, a thick cutting board, or a sturdy trivet. Err on the side of being too careful, and you will have a stress-free kitchen!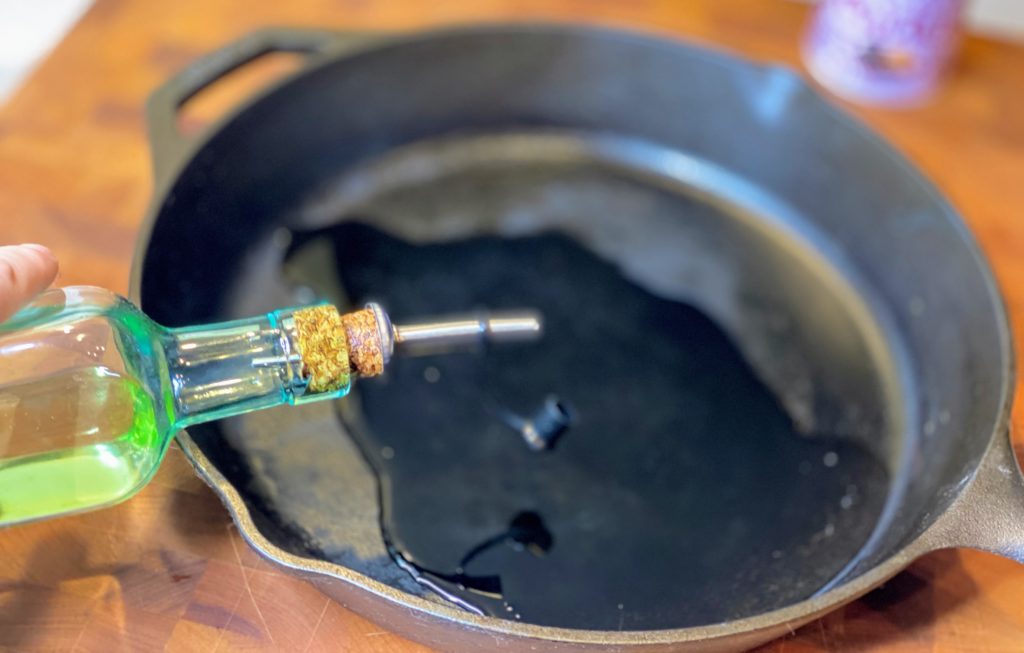 Mix up your wet and dry ingredients separately
OK, now that we're safe and all our ingredients are gathered together, it's time to start to build your Green Hatch Chile Cornbread. In a heat-proof (not plastic) bowl, combine the cornmeal, flour, baking soda, baking powder, and salt. Mix to combine.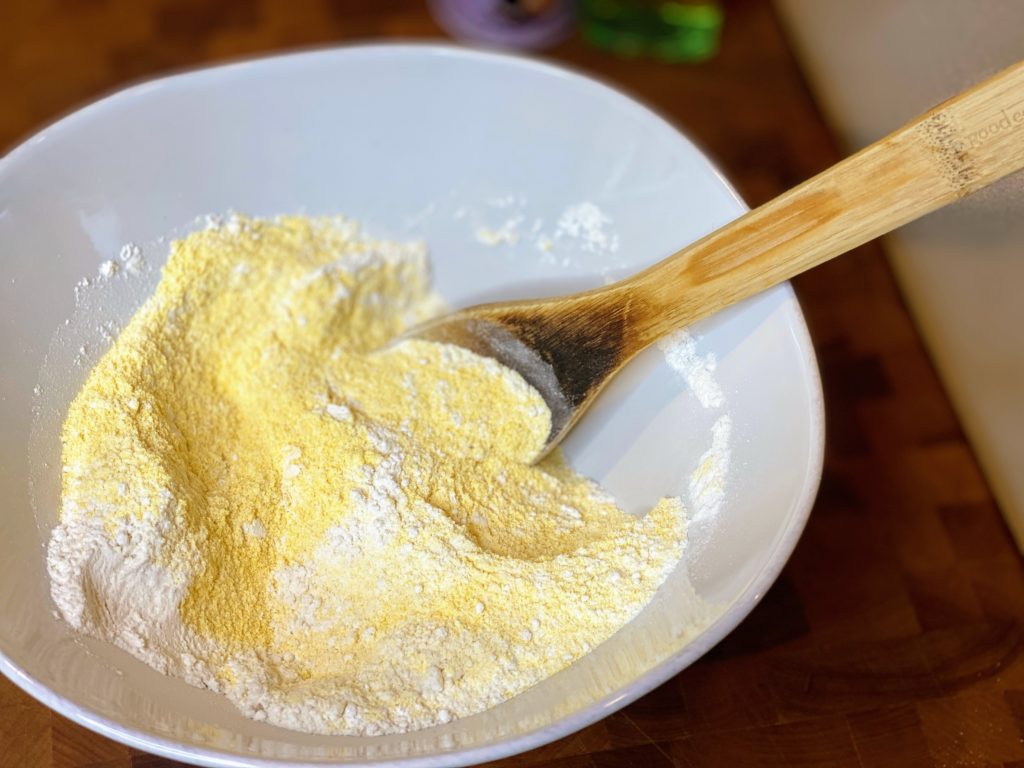 In another bowl, beat together the eggs, sour cream, and milk. Set aside.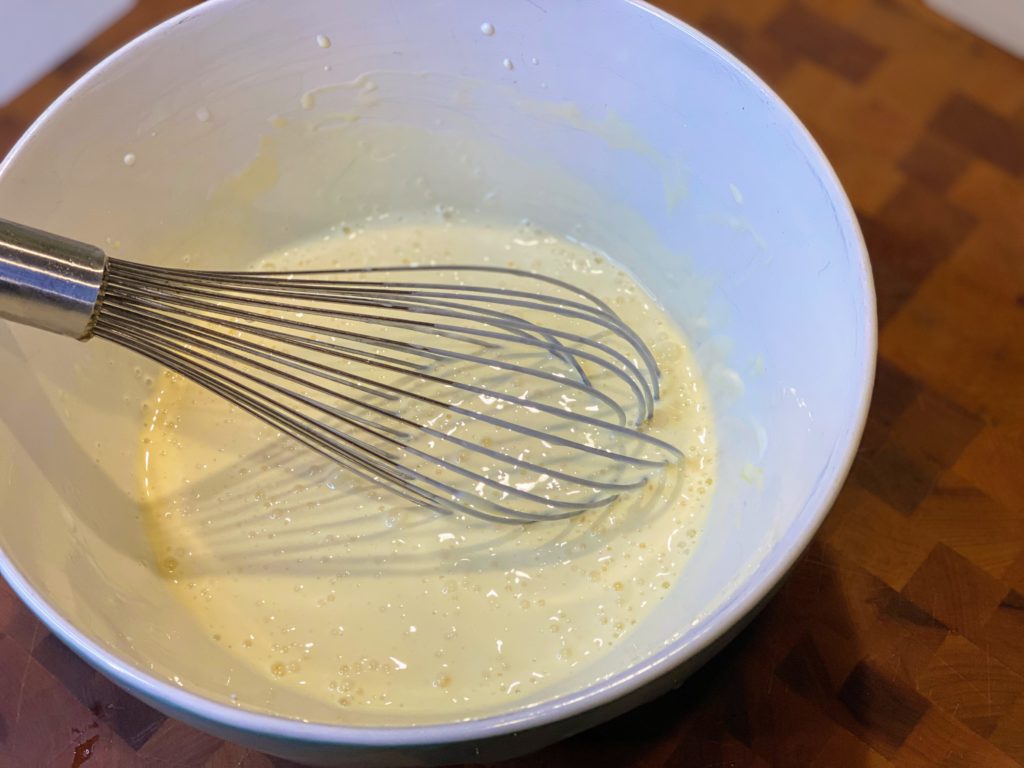 Pour the wet ingredients into the dry ingredients, and mix to thoroughly combine. Set aside.
Mix up the "topping"
Time to put the 'green hatch chilis' in your Green Hatch Chile Cornbread. In a small bowl, combine the chili sauce (or salsa, or cooked, diced chilis) with the corn kernels, and stir together. Set aside.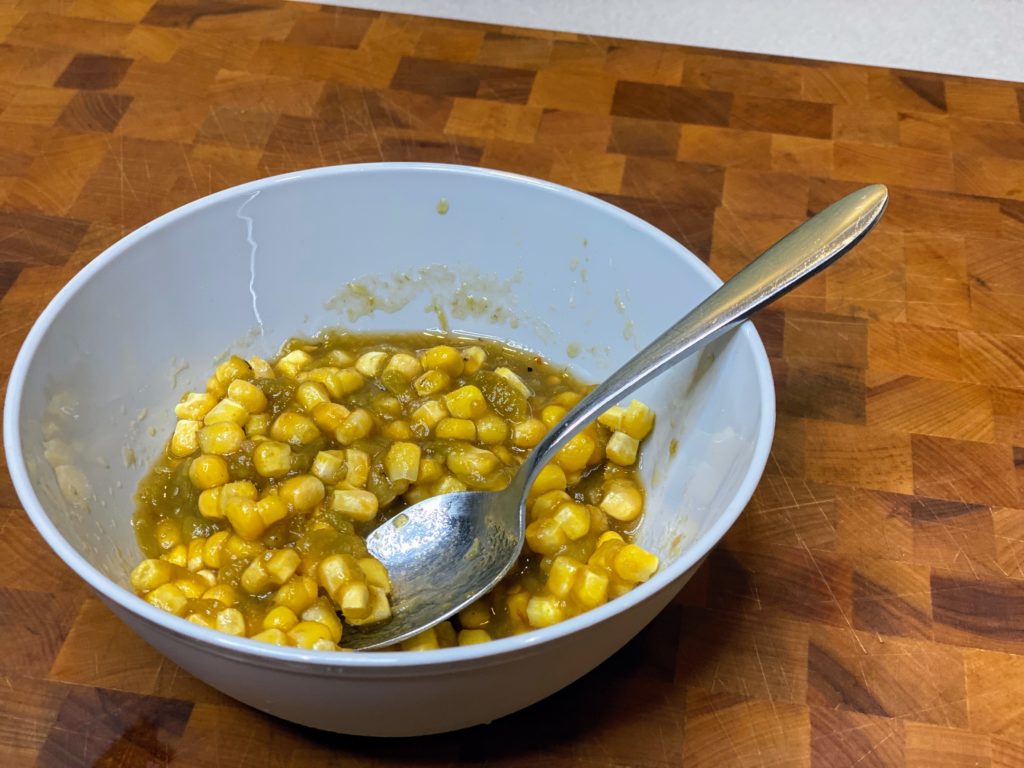 CAREFULLY bring the hot oil to the party
Once the oven reaches temperature, carefuly remove the skillet and pour the hot oil into the bowl where you have combined your wet and dry ingredients. Don't worry about waiting for ALL of the oil to drip out of the skillet – it's good to have the pan coated in oil.
After you've added the oil, set down the skillet in a safe place and mix the oil into the batter completely.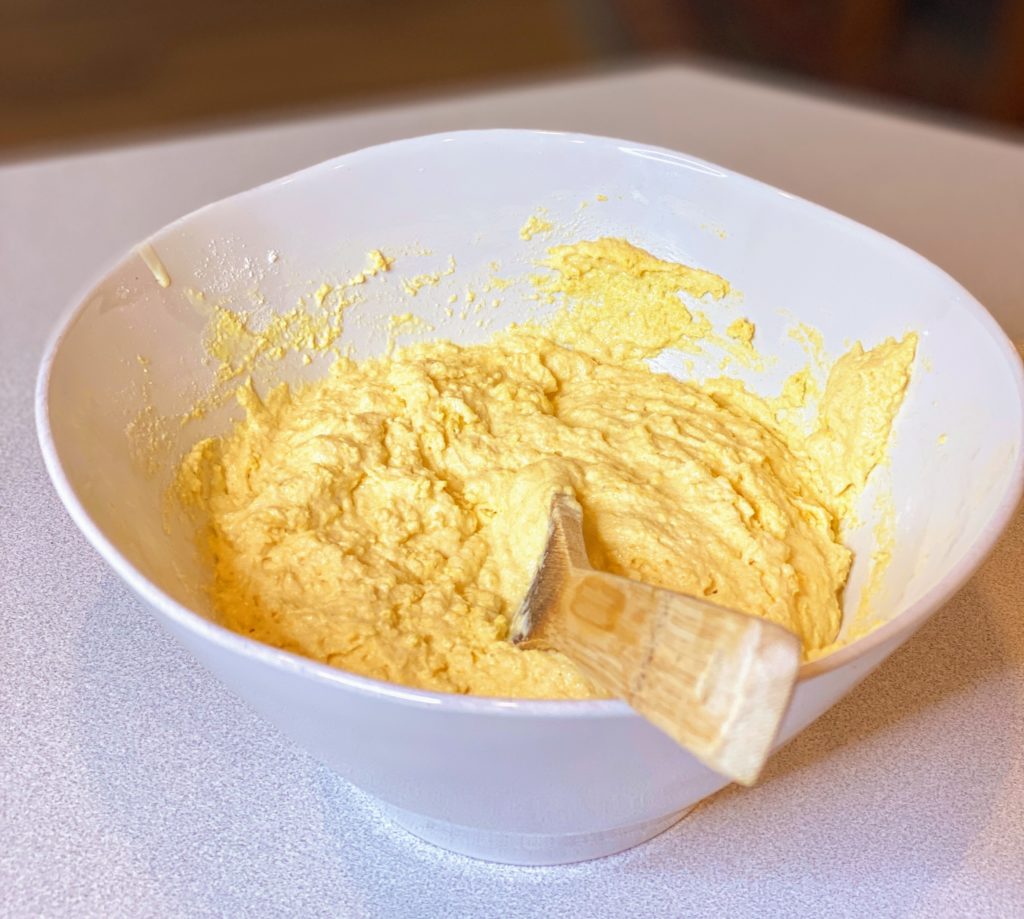 Back into the skillet
Pour the batter back into the hot skillet and carefully spread to the edges.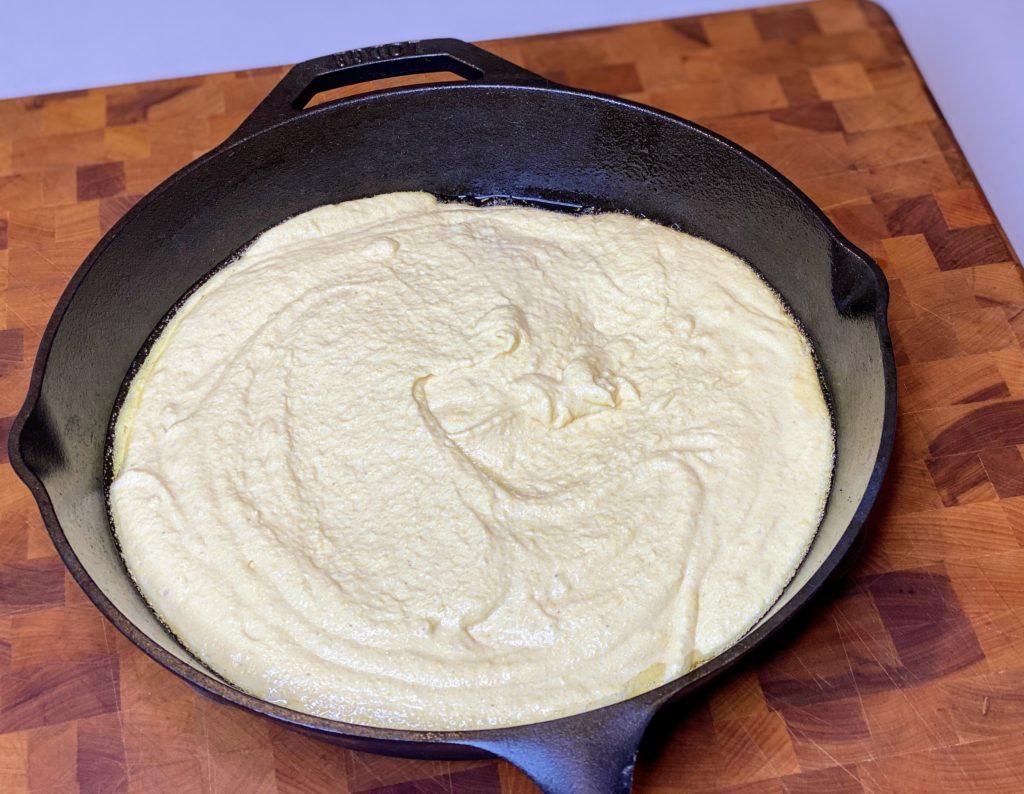 Topping time!
Spoon the corn and chili mixture over the top of the batter to gently swirl it into the top layer of batter. Don't dig in too deep – we're not trying to mix everything together. You just want to spread it a bit and get it slightly pressed into the batter to make your Green Hatch Chile Cornbread.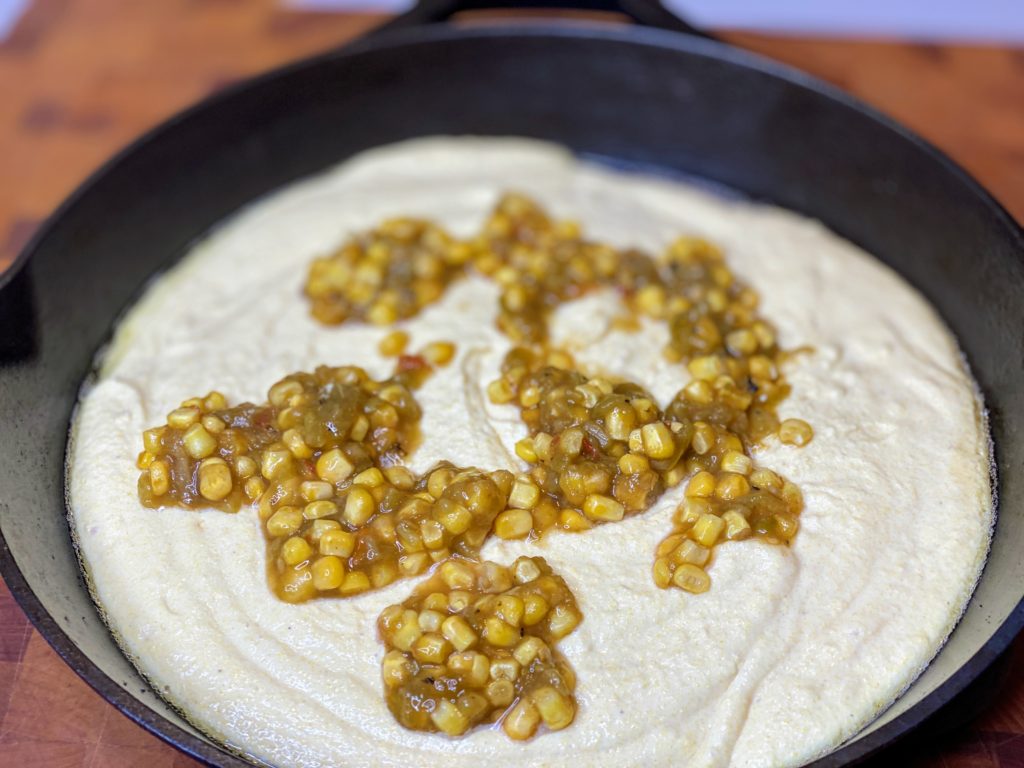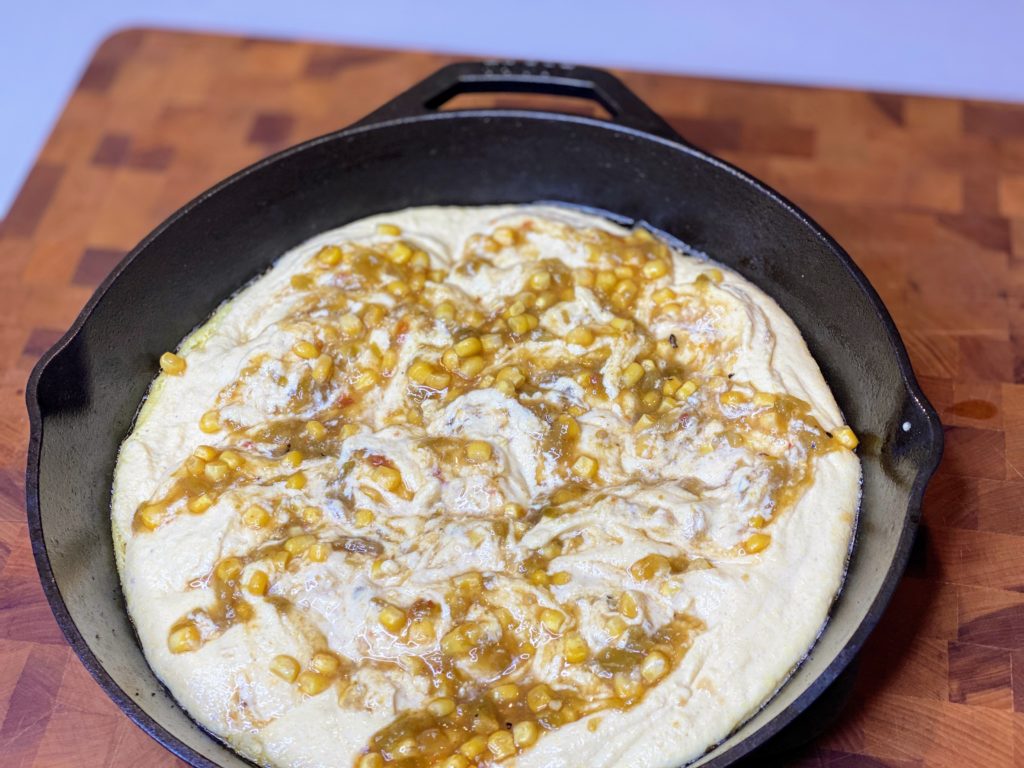 Bake!
Pop the skillet back into the 450-degree oven for 18-20 minutes, until a toothpick or sharp knife comes out with no batter or crumbs.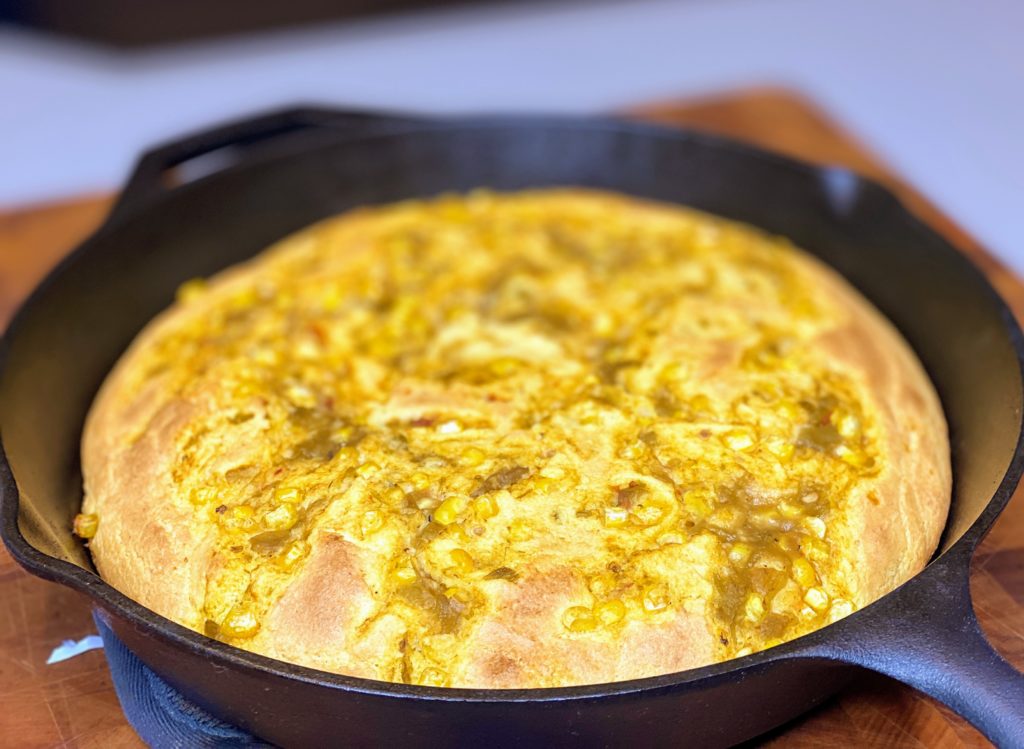 Try this Green Hatch Chile Cornbread on its own or alongside your favorite chili recipe! We love them with Food By Joe's Butternut Squash & Black Bean Enchiladas!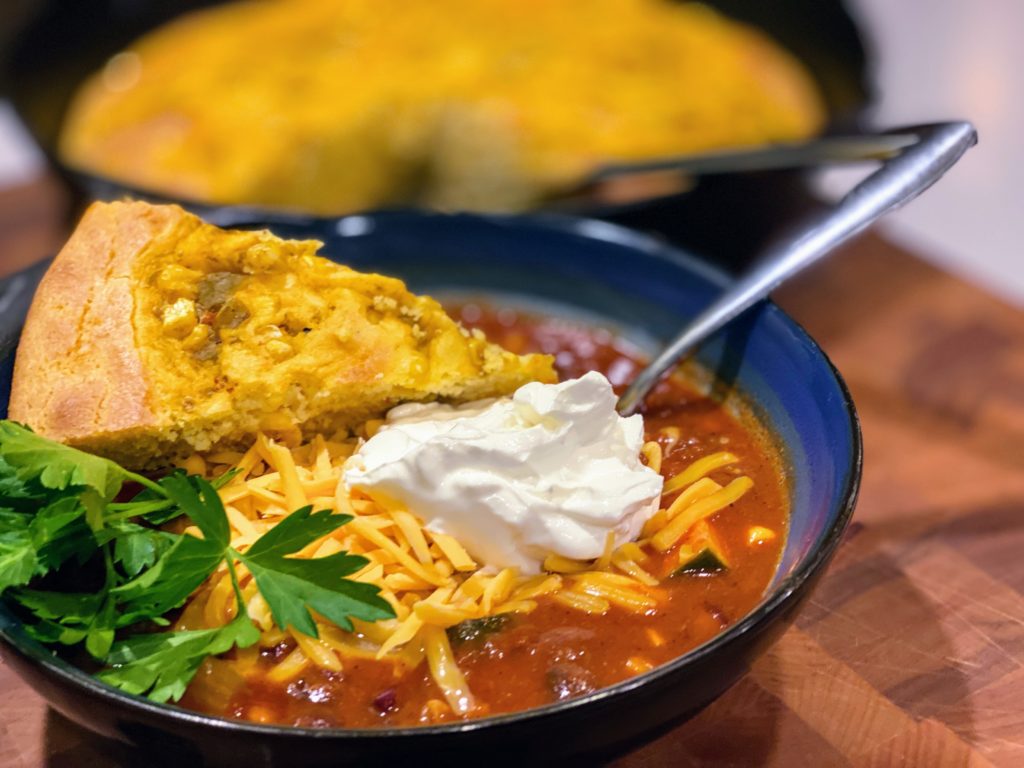 Check out these delicious recipes from Food By Joe: