---
VEGAN POZOLE VERDE SOUP (Green Posole Soup)
RECOMMENDED VIBE:
Here's an album I thought you might enjoy while cooking this recipe ?
---
Pozole (Posole)
Pozole is a soup that is traditional to Mexico, and has been known throughout central America since the pre-Columbian era. It consists of hominy and meat – usually pork or chicken – in a savory broth, and is traditionally served with garnishes of onion, chile peppers, lime, and sometimes greens such as lettuce, cabbage or cilantro.
This non-traditional version leaves out the meat and replaces it with protein-rich pinto beans. Like the original, my vegan pozole features tender hominy cooked in a tart & spicy broth made with tomatillos, lime & garlic. The broth is mouthwatering, and the heartiness of the hominy & beans makes it every bit as satisfying as the original!
Tomatillo + "little tomato'…right?
Yep, that would be the translation – BUT, it's misleading. While they are both part of the nightshade family, tomatillos are not tomatoes at all! Tomatillos are more similar to gooseberries than to tomatoes!
From a cooking and eating perspective, tomatillos have a tarter flavor, adding more acid to a dish than an equal amount of tomatoes. Tomatillos also have firmer flesh and less juice than tomatoes. Finally, tomatillos have a papery husk that needs to be removed, exposing a firm, green skin with a sticky film that needs to be rinsed off before cooking.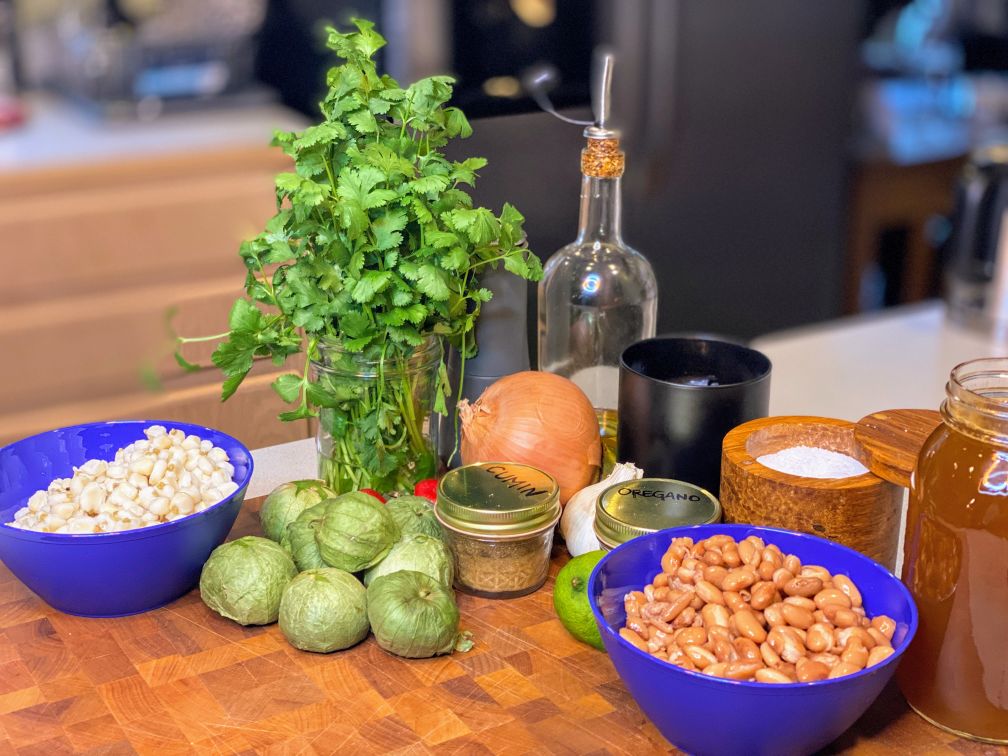 Gather your ingredients!
I always recommend that you take a few moments to read the recipe carefully and gather all of the ingredients you'll need before you begin cooking.
The ingredients for vegan pozole verde are actually quite simple! I don't usually keep hominy or tomatillos in my panty, but everything else can be found in a lot of kitchens already!
This dish is also very affordable, with very inexpensive staples and a few simple fresh vegetables that will cost pennies!
Prepping the tomatillos
Start by removing the papery husk from the outsides of your tomatillos. You'll notice that the skin underneath has a sticky surface. You'll need to rinse that off before cooking, as it has a bitter flavor. Just run the husk-less tomatillos under water and rub with your hands. It's OK to use a tiny bit of dish soap if the residue doesn't want to rinse away. Just be sure you rinse it off very carefully!
Once you have your tomatillos cleaned, use a small paring knife to cut the stem out of each one. This isn't 100% necessary, but I find that the woody stem isn't great to chew. Literally, all the rest of the flesh is great, so only take out a tiny bit around the stem.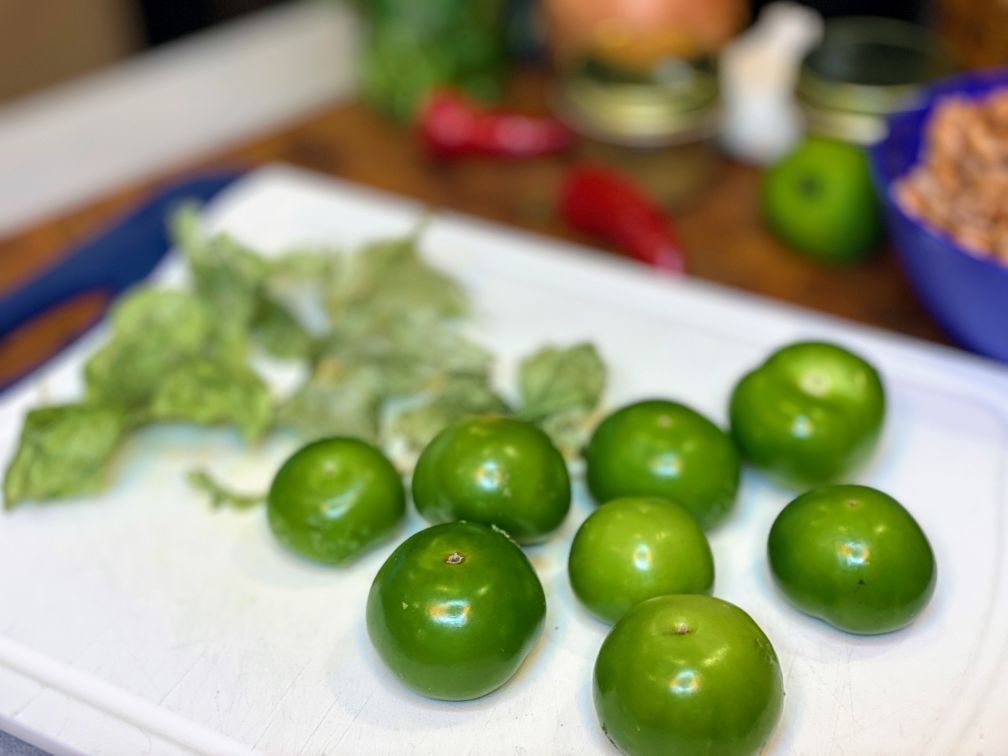 Next, cut the tomatillos into pieces that are around ¾". They will break down in the soup, but it's good to start with pieces that would easily fit in a spoonful.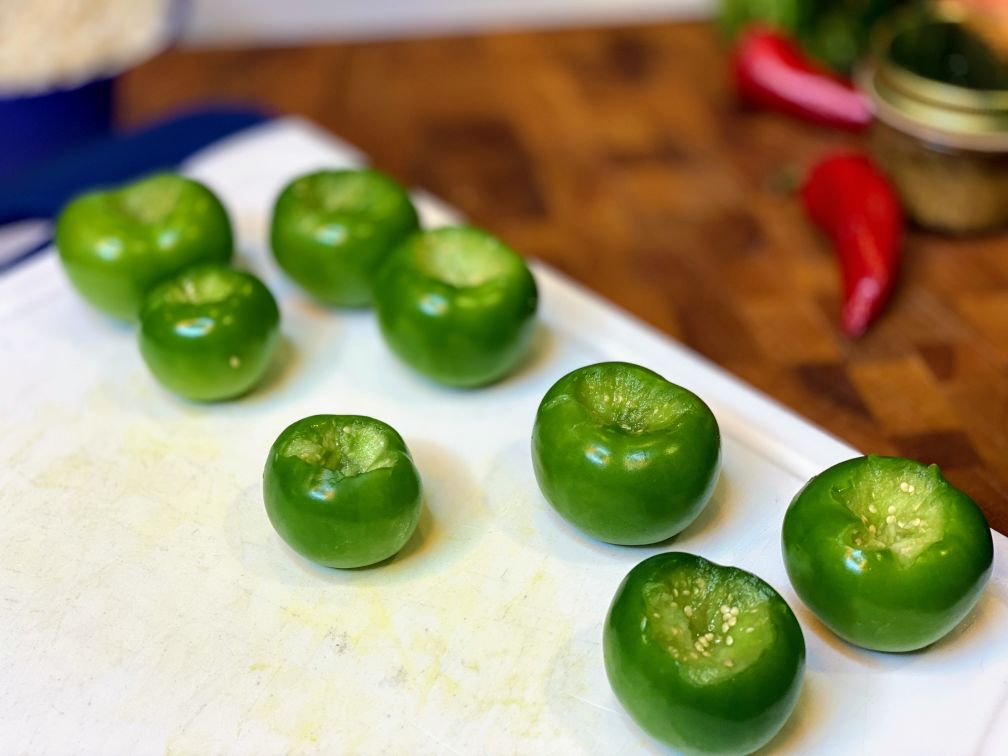 Aromatics
A huge number of dishes begin with cooking flavorful ingredients like garlic, onions, and spices before adding bulk in the form of broth, grains, or meats. These types of ingredients are referred to as 'aromatics' for the flavors and aromas they release into the dish.
The combination of onions, carrots, and celery common in French cooking is known as 'mirepoix'. In cajun cuisine, many dishes begin with the "holy trinity' of onions, celery, and green bell pepper. (see also: sofrito, suppengrün)
We'll be using a combination of onions, garlic, chile peppers, and spices to form the base of our vegan pozole verde. Chop these to the size you like – I like to cut the garlic and peppers fairly small to melt away in the broth a bit, but I like the onions to stay a bit bigger so they'll stay 'present' in the finished soup.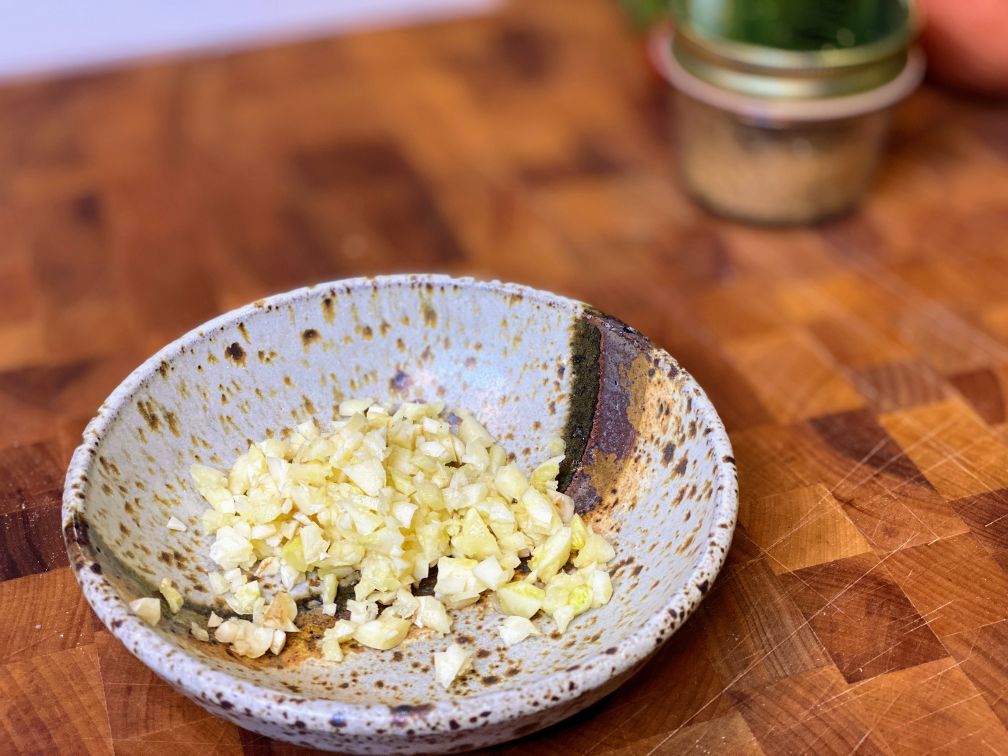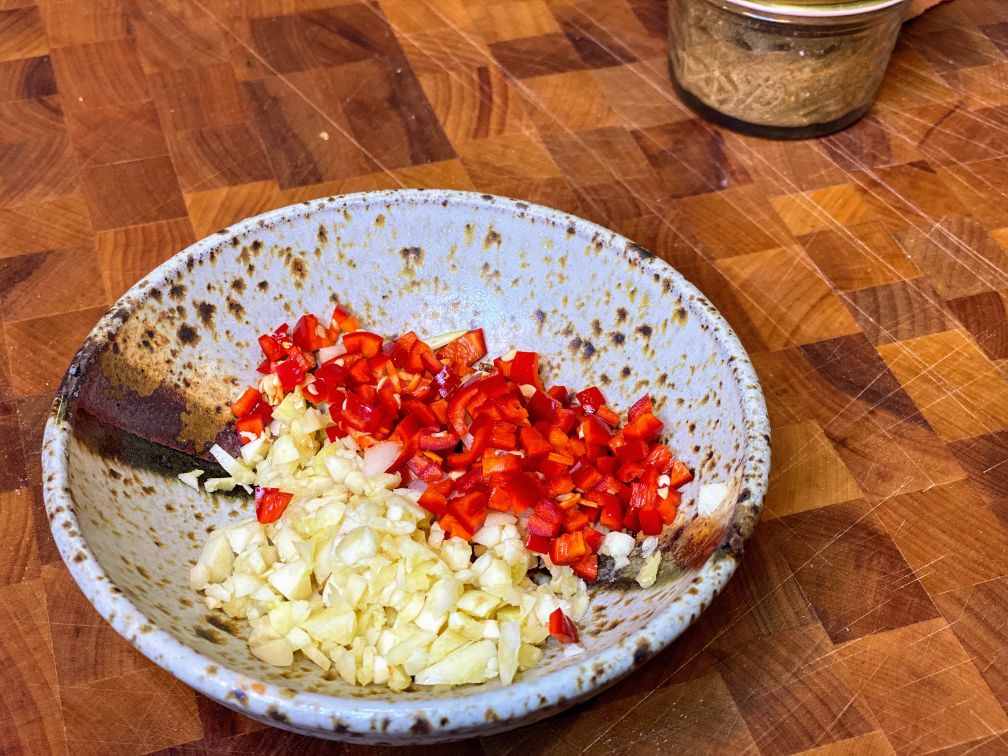 Layering flavors
When I'm starting the foundation fo a dish with aromatics, I try to stagger them by how they cook. Onions have some water content and can stand a bit more heat – so they go in first.
It's best to avoid cooking garlic at too high a temperature for too long. Garlic can burn easily and become very bitter!
For my vegan pozole verde, I give the onions a few minutes head start, before adding the garlic, peppers, and spices.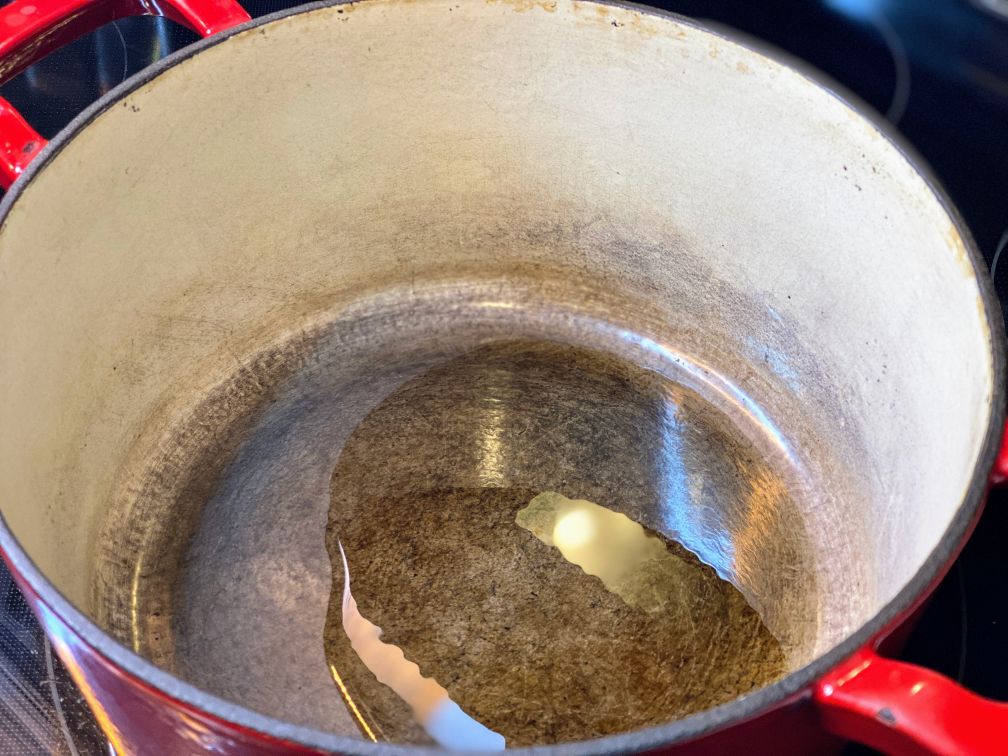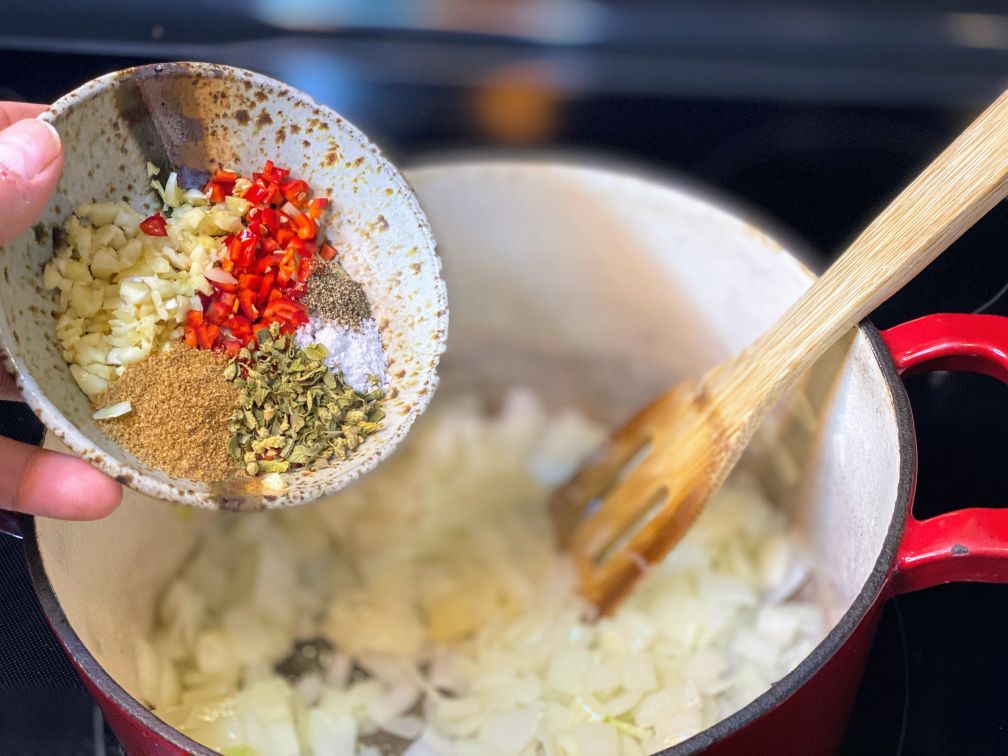 Which peppers to use?
I'm using Fresno chiles, because they are by far my favorites! They have a nice, medium heat level, and their flavor is tart, floral, and a bit fruity. I find them so much more interesting than jalapeños, but you can use whatever chile meets your flavor and heat preferences. You could substitute a jalapeño with great results and a similar heat level.
Love spicy? Try bumping up to the slightly hotter Serrano, or the much-hotter habanero.
Hate spicy? Use a milder anaheim or poblano chile, or leave it out entirely!
Add the rest!
Once you have cooked the garlic & spices for a minute or two, it's time to add the rest of the ingredients to your vegan pozole verde. Just hold the cilantro & lime juice to add at the end!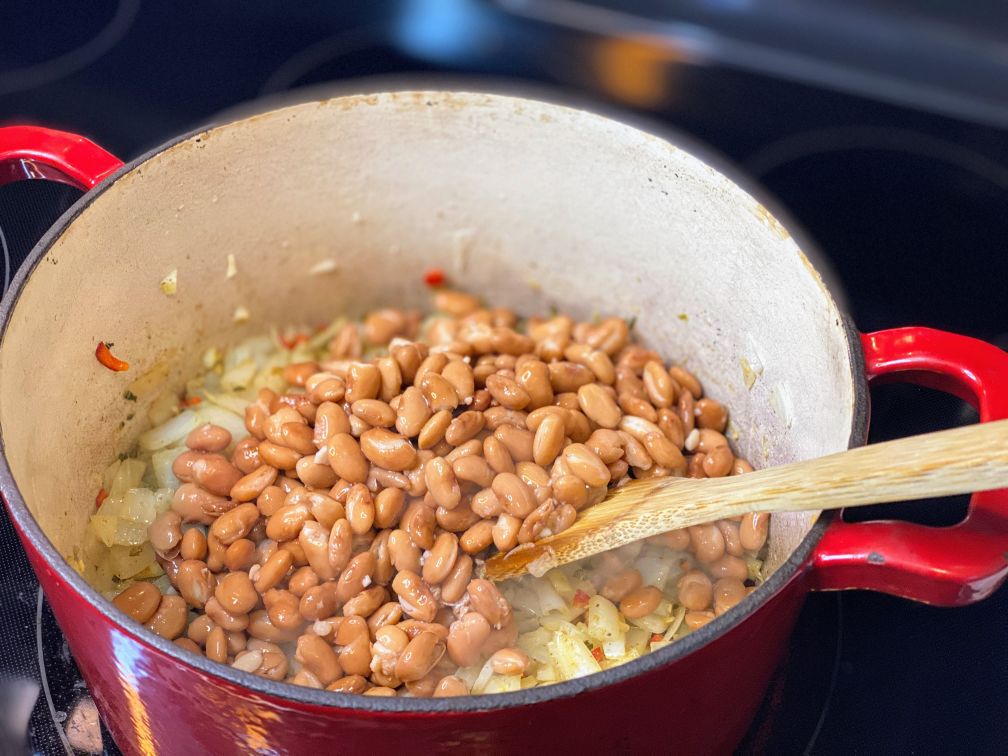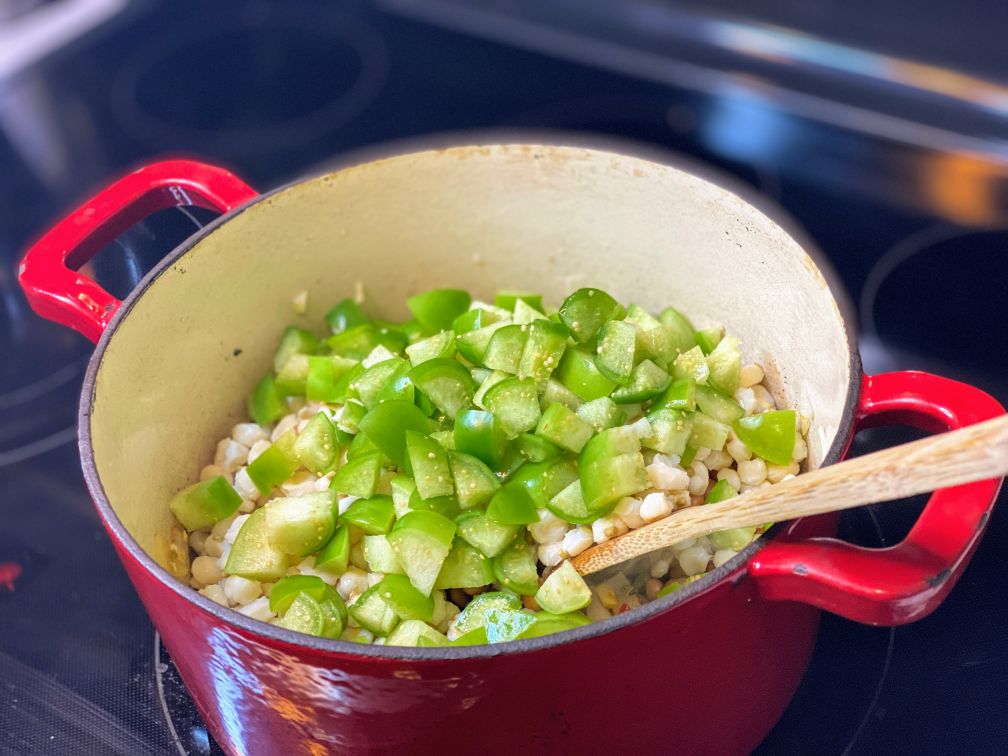 Simmer down, now!
Stir everything to combine ell, and let the soup come up to a gentle boil. Then, reduce the heat to low and let the soup simmer for 30 minutes. Give it a stir every few minutes.
Finishing touches
After 30 minutes of simmering, remove the pot from the heat and add the cilantro and lime juice. The reason we are adding these so late is that we want the fresh notes of the cilantro and the bright acidity of the lime, Adding these earlier in the process will make these flavors dull!
I like to garnish with diced chiles, a wedge of lime and a bit more cilantro. Here are some other possibilities for garnishes!
Toasted pepitas
Cilantro-lime sour cream (not vegan)
Crumbled cotija cheese (not vegan)
Check out these other VEGAN recipes from Food By Joe: