---
RECOMMENDED VIBE:
Here's an album I thought you might enjoy while cooking this recipe ?
---
Who doesn't love a good casserole?
Casseroles are the quintessential comfort food, and this Broccoli Cheese Rice Casserole is a tried-and-true all-star of the casserole world. With this recipe, I replace the canned soup with a super simple bechamel-style sauce that shows how simple the DIY version of the cheesy sauce is incredibly easy, and requires only a few simple ingredients that almost everyone has on hand!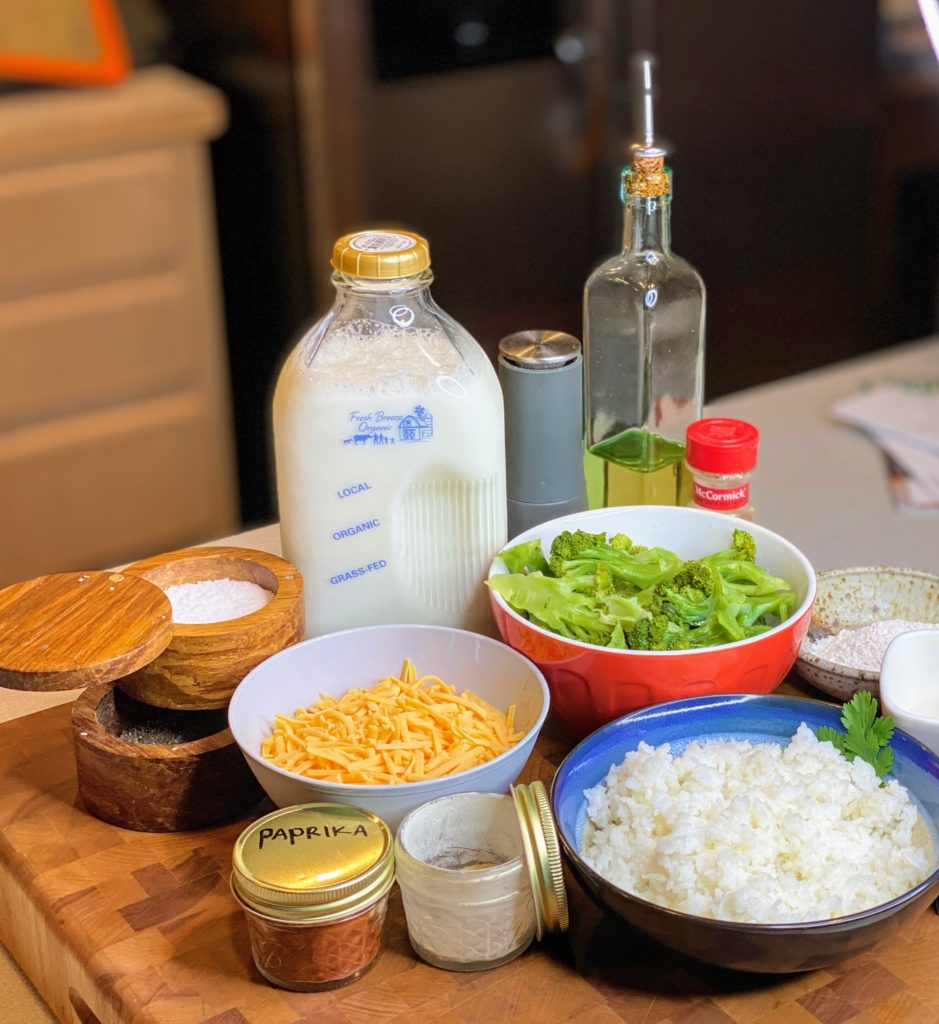 Leftover rice?
You'll want to cook the rice ahead of time, but what better use for leftover rice than a Broccoli Cheese Rice Casserole?. We often have extra rice from takeout meals, and this is a perfect use for it. In this case, I made a small batch of rice in the Instant Pot in under 30 minutes, and I did all the rest of the prep while it cooked!
Start with the onions
No matter what I'm cooking, if it starts with sauteed onions I'm guaranteed to get compliments and yummy noises from Wonderful Wife. I almost feel guilty because it's such a simple step – but I'll take it!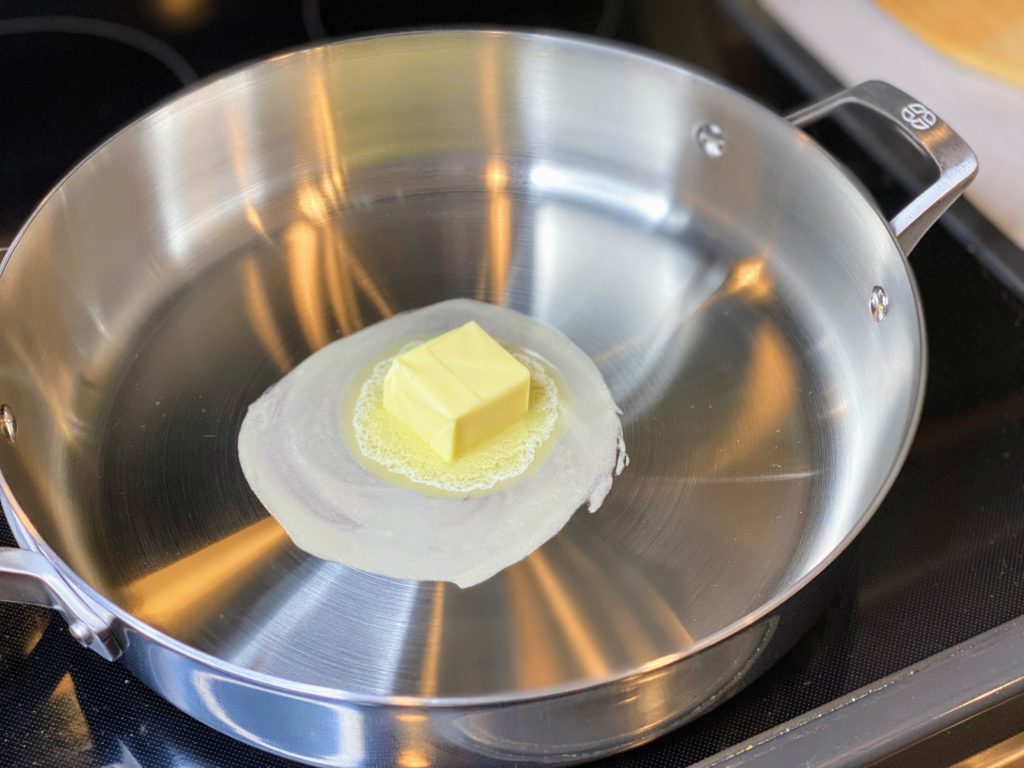 Put your butter in a pan over medium-low heat to melt while you prep your onion. I aim for a ½-inch dice for this casserole. If you have onion-avoiders in your house, you can dice them smaller and/or saute them a bit longer, and they will 'disappear' into the sauce more.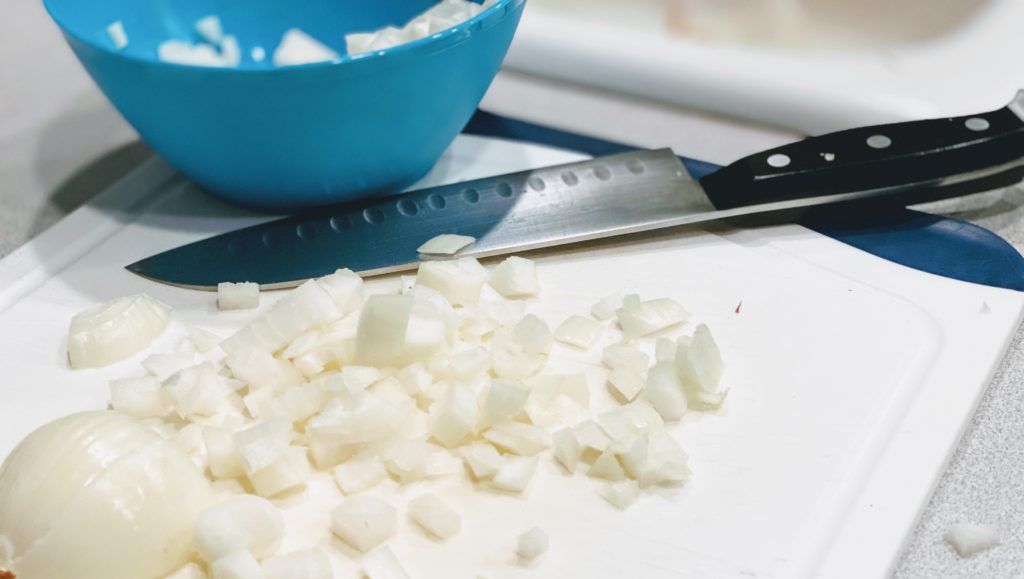 When the butter is fully melted and slightly foamy, drop the onion in the pan and stir to coat with butter. At this temperature, you don't need to hover over them. A stir every minute or so is great. At medium-low, you should achieve optimal softness and translucence in 4-6 minutes or so. You don't need color on them, and you're not trying to cook them fully.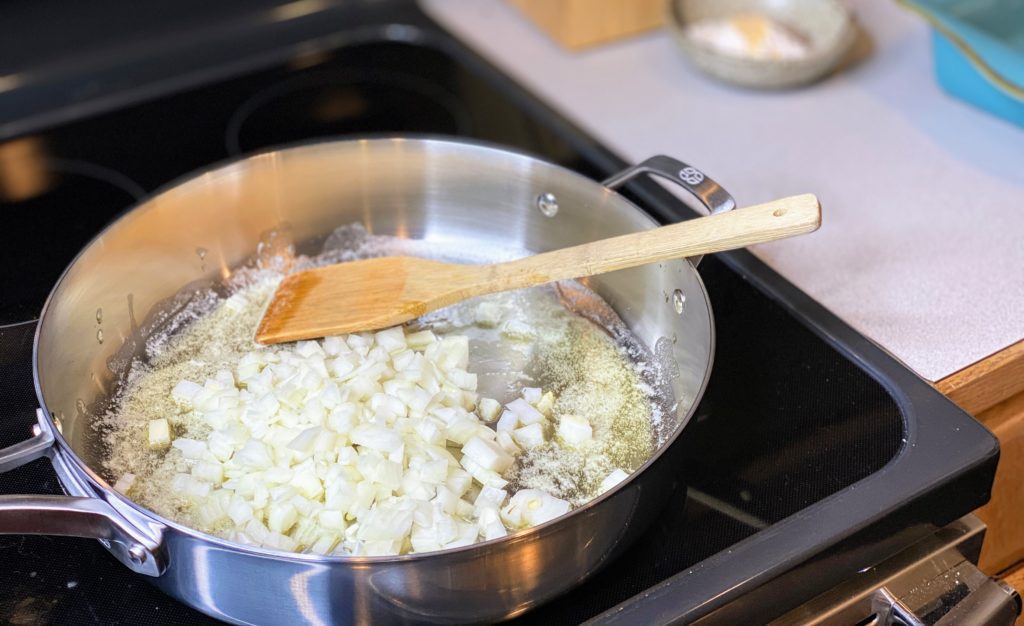 Add the dry stuff
When the onions get where you're happy with them, sprinkle in the flour, garlic powder, and pepper. This will help make a thick and creamy texture for your Broccoli Cheese Rice Casserole. Do this gradually, to coat evenly and avoid large blobs of flour. Keep cooking at medium-low for 2-3 minutes so that the flour cooks through a bit. This flour is the base of the rich cheese sauce that you'll use in this broccoli cheddar cheese & rice casserole.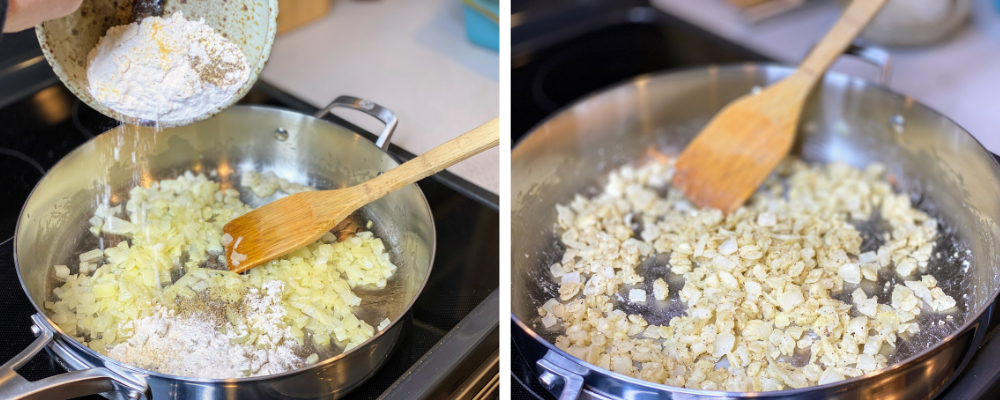 Add the wet stuff
OK, get your whisk at the ready! Gradually pour the milk into the onion mixture, whisking constantly as you go. You don't have to go nuts, just a smooth and consistent whisking motion that covers the whole pan to pull up and yummy bits and incorporate them.
Once the milk is incorporated, increase the heat to medium and continue whisking constantly.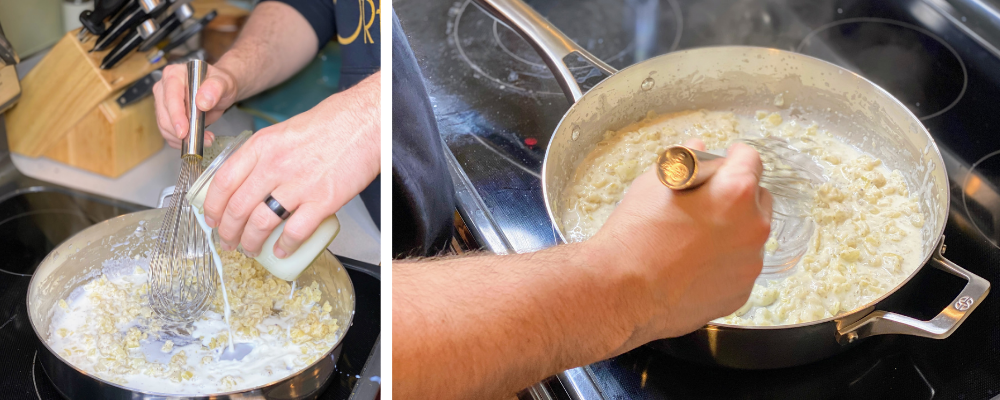 The sauce for your broccoli cheese & rice casserole will thicken as it cooks. You want to cook it (still whisking!) until it thickens and just starts to bubble. You don't want to boil it – just get it to the verge!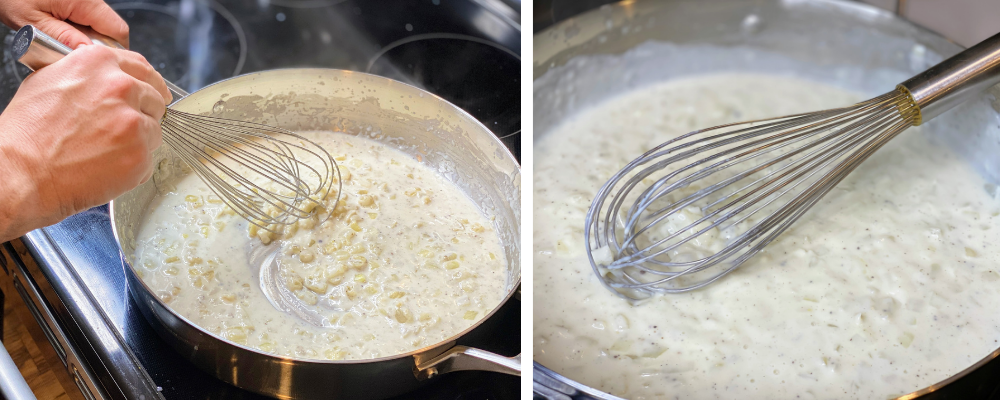 Add the melty stuff to your Broccoli Cheese Rice Casserole
When the sauce has thickened and just started to bubble, remove it from the heat and add the cream cheese, paprika, dry mustard and 1 ½ cups of the cheddar cheese.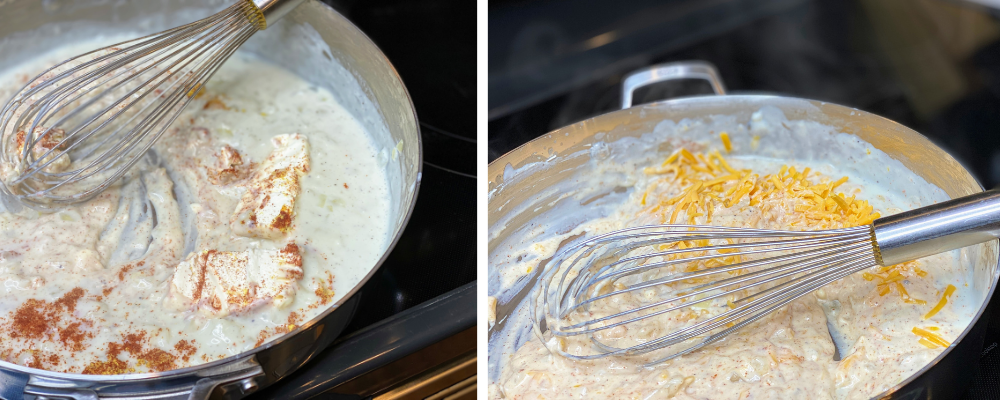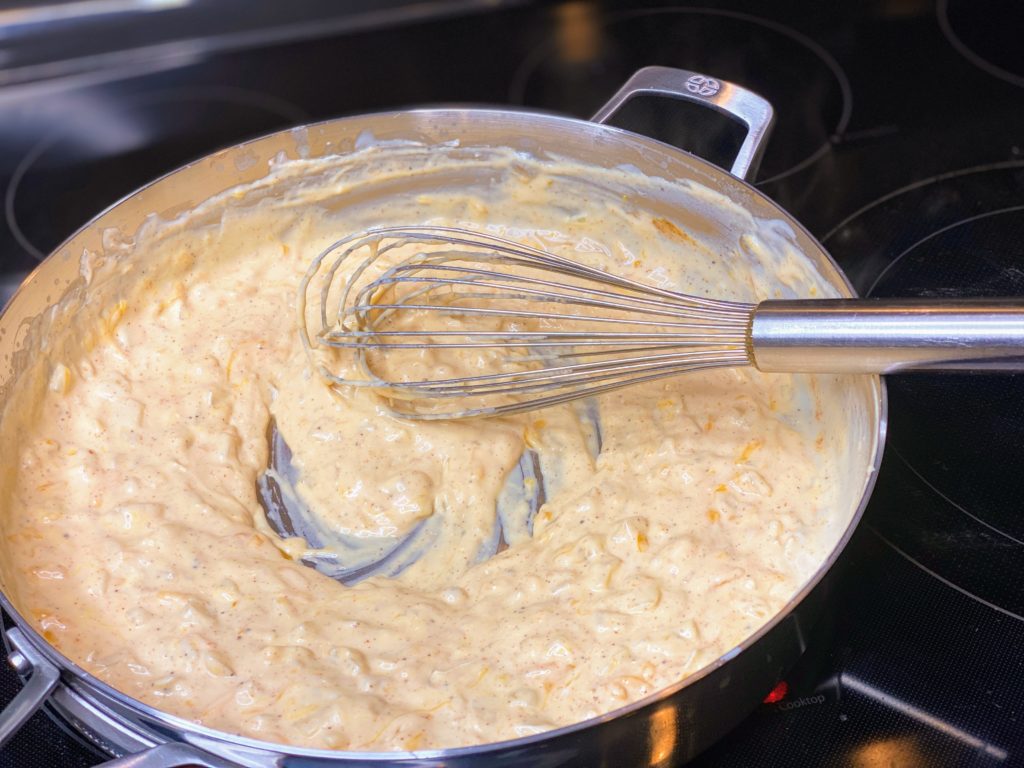 Put your Broccoli Cheese Rice Casserole together!
In a large bowl, pour the cheese sauce over the remaining ingredients and fold to combine your Broccoli Cheddar Cheese & Rice Casserole.
A NOTE ABOUT BROCCOLI (like you do) – Frozen broccoli is fine for this recipe. If you use fresh broccoli, I recommend parboiling it by plunging it in boiling water for 2 minutes, and then into a bowl of ice water to retain the color and stop the cooking. Wonderful father-in-law had a great broccoli crop last year so we had some in the freezer.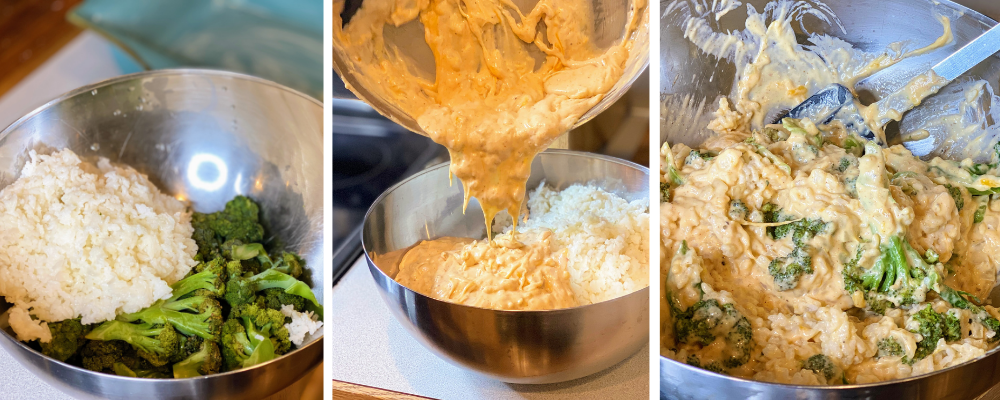 Generously butter a casserole dish and pour the mixture in! Even things up a bit with a spoon or spatula, and sprinkle the remaining cheese over the top.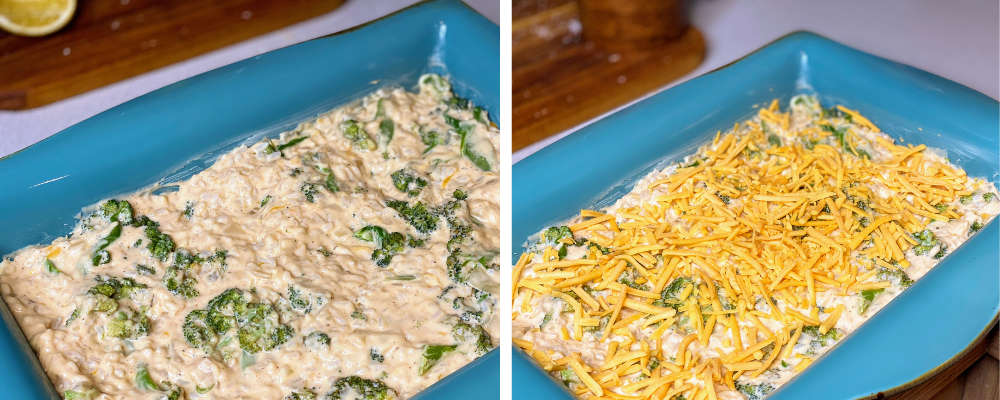 On your mark, get set, bake!
Bake the broccoli cheddar cheese & rice casserole uncovered at 350 for 30-35 minutes. You'll know it's ready when the sauce is bubbling and the cheese on top is just starting to toast a bit.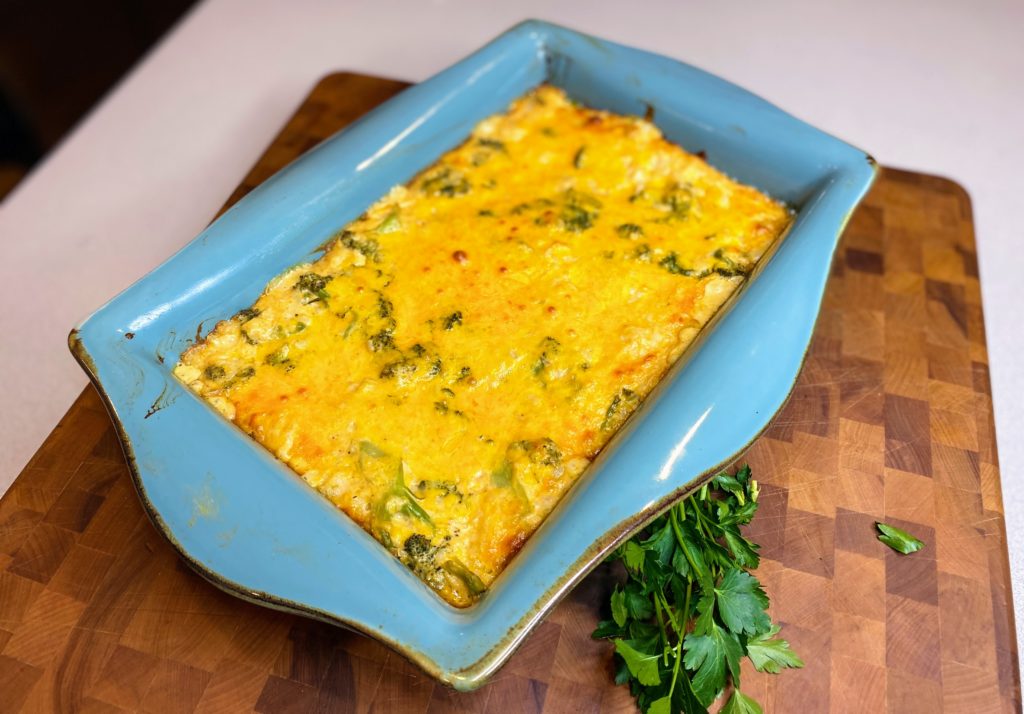 Hot lava!
Let things cool and set up a bit – say 15-20 minutes – before digging in to your Broccoli Cheese & Rice Casserole.
Check out these delicious recipes from Food By Joe: